Easy Asparagus in a Toaster Oven
There are a lot of different ways that you can prepare asparagus. You can roast asparagus in the oven, steam it, or boil. You can even grill asparagus. But did you know you could also use your toaster oven to cook asparagus? It's one of the most simple (and fastest) ways to cook asparagus.
Cooking in the toaster oven is great for a number of reasons. It's usually a bit faster and requires less pre-heating time. It's also a very user-friendly appliance that turns off as soon as the timer is done. That's a great feature for those of us that are multi-tasking in the home and kitchen.
I personally love using the toaster oven to cook because it doesn't require me to turn on the oven for just a small amount of food. I'm using less energy and not unnecessarily heating up the kitchen. This is especially helpful in the summertime, because no one wants to turn their oven on in the summer! So, if you can't get to the grill during the warmer months, or simply looking for an easier recipe, try this one for asparagus in a toaster oven.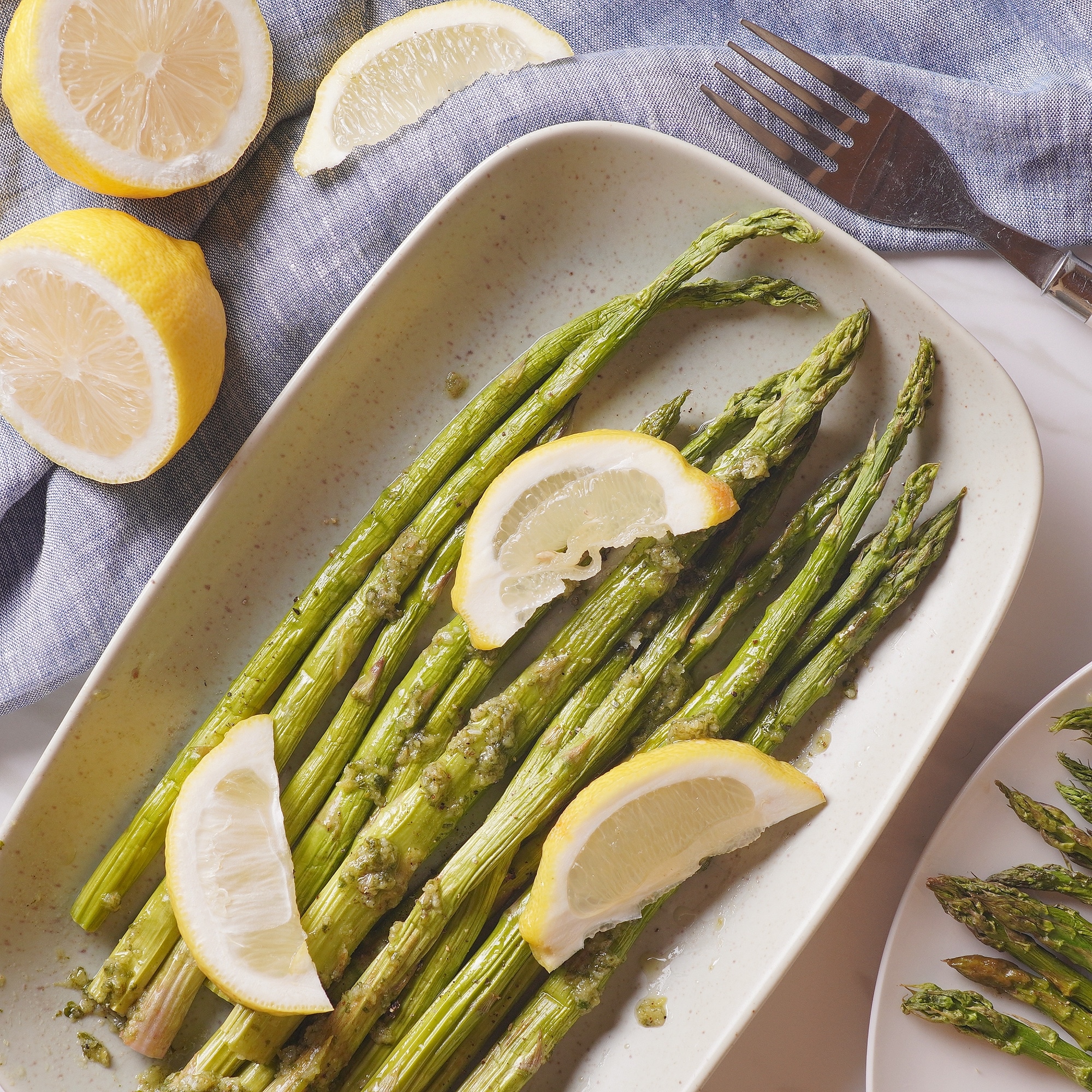 Ingredients
1

bunch

13-15 ounces fresh asparagus

1

teaspoon

extra virgin olive oil

⅛

teaspoon

kosher salt

Fresh ground black pepper

Lemon wedge

for garnish
Optional Herb Topping:
1

tablespoon

parsley

chopped fine

1

tablespoon

chives

chopped fine

1

tablespoon

mint

chopped fine

1

lemon

juiced and zested

1

tablespoon

extra virgin olive oil

1

garlic clove

minced

Salt and pepper

to taste
Instructions
All ingredients ready? Let's begin!

If you would like to make the herb topping, combine all of the ingredients in a mortar.

Using the pestle, smash all of the ingredients until a smooth paste is formed.

Add more olive oil as needed so that it has a consistency of a thick sauce. This can be stored in the refrigerator for up to one day. Leave it out at room temperature before serving so it liquifies again.

To make the asparagus, start by preheating the toaster oven to 425F.

Wash and pat dry the asparagus.

Remove the bottom stalk of each asparagus. You can do this by bending the asparagus slightly and it will break off at the appropriate place on it's own. You can also just cut 1-2" off with a sharp chef's knife.

Lay the asparagus flat on your toaster oven tray. Ideally, it's a rack so that air can move around the asparagus. It's very important that they all lay flat and do not touch each other. Drizzle with olive oil and sprinkle with salt.

Turn the toaster oven timer to 15 minutes. After about 7 minutes, shake the tray so the asparagus flips and turns sides.

After a total of 15-20 minutes, your asparagus should be done.

Divide up each serving and season with the fresh ground black pepper and lemon wedge.

If you'd like to serve with the herb topping, scoop a few dollops of topping over the cooked asparagus.
Video
Nutrition
Calories:
102
kcal
|
Carbohydrates:
6
g
|
Protein:
1
g
|
Fat:
9
g
|
Saturated Fat:
1
g
|
Polyunsaturated Fat:
1
g
|
Monounsaturated Fat:
7
g
|
Sodium:
149
mg
|
Potassium:
127
mg
|
Fiber:
2
g
|
Sugar:
2
g
|
Vitamin A:
412
IU
|
Vitamin C:
34
mg
|
Calcium:
29
mg
|
Iron:
1
mg
Notes & Tips 
Asparagus can come in different sizes. Keep that in mind with your toaster oven times. Small, thin asparagus may only take 8-10 minutes.
You can use purple or white asparagus for this recipe. But, its important to note, that purple asparagus will change color once it's cooked. So it's best to only use purple asparagus in its raw form or minimally cooked if you want to maintain the purple hue.
This recipe would also work really well in an air fryer or combo unit, like this one.
Should You Blanch Asparagus Before Roasting?
Blanching asparagus before roasting isn't necessary, but there are a few reasons why you might want to do it.
For example, if you're planning a big dinner and the asparagus is just a side item, you may want to blanch the asparagus ahead of time. This will cut the roasting time and allow you to focus on the other parts of your meal. If you blanch the asparagus until it's just barely tender (al dente), you can cut your roasting time to 5-7 minutes.
You could also blanch a few bunches ahead of time and store in the refrigerator. Then, you can roast in small batches as you need it.
Should Asparagus Be Crunchy or Soft?
Asparagus will be tender, and maybe even soft, if you decide to cook it. Whether you blanch, steam, saute, or roast the asparagus, it's going to change the texture. It's really up to your personal preference.
You can eat asparagus raw if you would like for it to stay crunchy and crisp. Keep in mind though, that it's harder for your body to digest raw vegetables than if they are cooked. So, eating a lot of raw asparagus may result in stomach discomfort.
If you would like to keep that crunchy texture but don't want to eat it raw, you can blanch the asparagus for a few minutes in salted water. Immediately drop the asparagus into an ice bath to stop the cooking. Then, you can enjoy the slightly cooked asparagus and it will be easier on your digestive system.
What Asparagus Does For The Body?
Adding asparagus to your diet is a great way to mix things up a bit and maintain a healthy diet. It's fairly easy to find at the supermarket or farmers market. And, as you can see, it's pretty easy to make.
Here are a few health benefits from eating asparagus. Whether it's with this recipe in the toaster oven or another asparagus recipe, you're making the right choice in adding this vegetable to your diet.
Asparagus has vitamins A, C, E, and K. It also contains folate which is crucial for cell development. 
Asparagus are also high in antioxidants. Foods that are high in antioxidants are known to reduce the risks of many diseases (including cancer). 
Asparagus also has glutathione which plays a critical role in detoxing the body. 
---
Recent Recipes