Homemade Fatayer (Three Ways)
Fatayer is a baked savory pie that is popular in Mediterranean and Middle Eastern cuisines. It is made with dough filled with various stuffing like cheese, spinach and meat mixed with spices and herbs and baked together to form a light, golden pastry with a warm, delectable stuffing inside. It is a versatile little snack, which is simple enough to make but requires a fair bit of prep.
I have made Fatayer with three different fillings, but you can mix and match or choose whichever filling you like and tweak it to suit your needs. For this fatayer, I have made a spinach filling, a cheese filling and a beef filling and I have used enough dough to make 12 pies.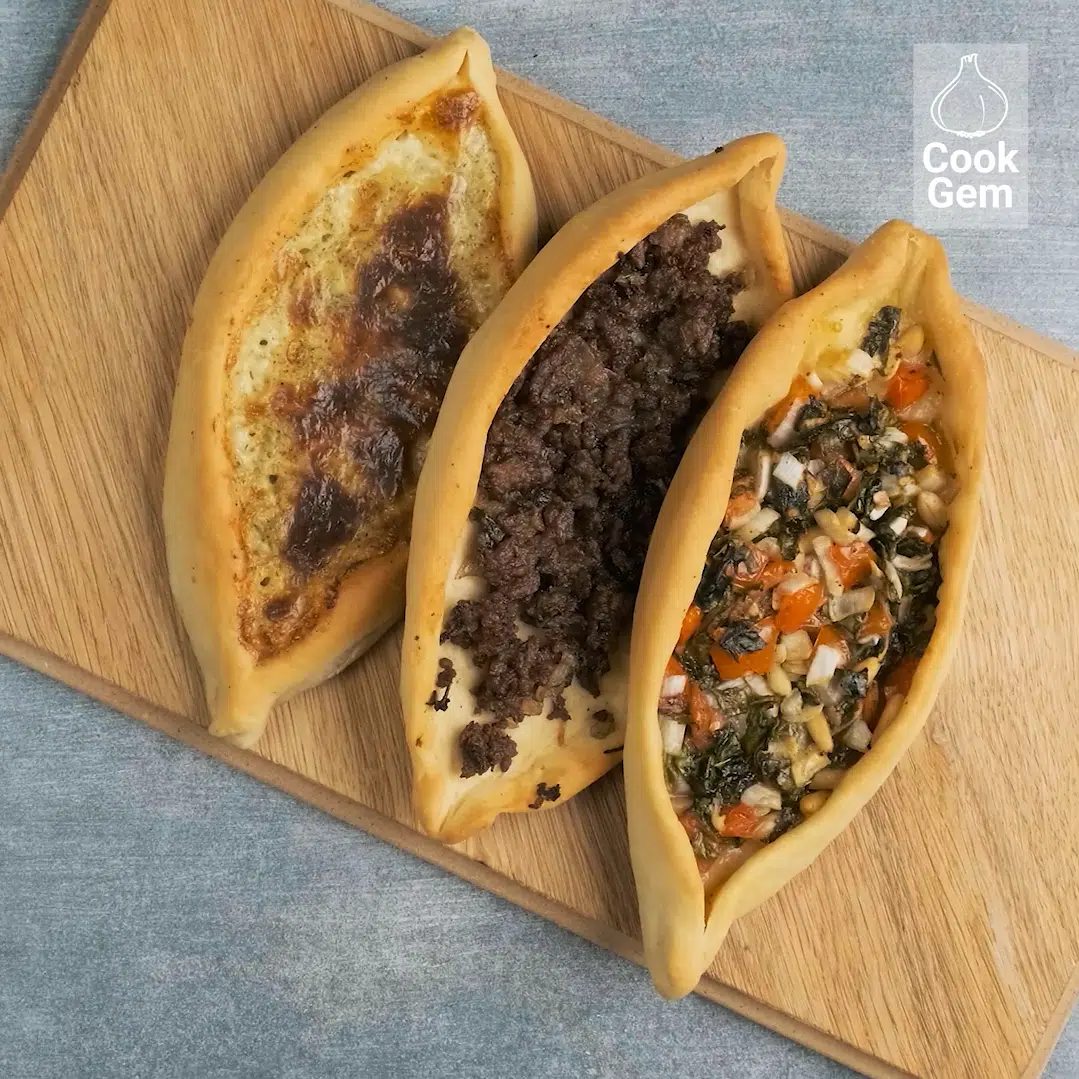 Ingredients
For the dough:
3

cups

of flour

1

cup

water

¼

cup

olive oil

1 ½

teaspoons

of dry active yeast

½

tablespoon

of sugar

Salt
For the spinach filling:
1

cup

of spinach

chopped

1

small onion

chopped

1

tomato chopped

Handful of pine nits

Sumac

¼

cup

olive oil

Lemon juice

Salt
For the cheese filling:
½

cup

of feta

½

cup

of mozzarella

¼

cup

cream cheese

1

small egg

½

tablespoon

of dried parsley

½

tablespoon

of mint
For the beef filling:
1/2

lb

ground beef

1

small onion

finely chopped

2

cloves

garlic

minced

1

tablespoon

of allspice

1

teaspoon

black pepper

1

teaspoon

of salt

4-5

sprigs of parsley

roughly chopped

2

tablespoon

of pomegranate molasses

Oil
Instructions
For the dough:
In a large bowl, mix all the ingredients listed under dough.

Mix it well until it forms a smooth dough. Cover with a cloth and set aside for 1 hour.
Spinach Filling:
Wash the spinach well and pat it dry. Chop and keep in a large bowl.

Sprinkle some salt on the spinach and massage the spinach and salt together until it is well mixed. Add the pine nuts and combine again, gently.

Now add the chopped onions, the tomatoes, the olive oil, sumac and lemon juice.

Mix it well till everything is well combined.
Cheese Filling:
In a bowl mix together the feta cheese, the mozzarella, the cream cheese, the egg, the parsley and the mint. Cover and set aside. You can also refrigerate it until you have to use it.
Beef Filling:
Add the onion and garlic and sauté for a couple of minutes till it turns fragrant.

Add the ground beef and stir it all together.

As the beef cooks, add the allspice, pepper, parsley and salt and mix well.

Once the beef starts browning, add the pomegranate molasses and stir.

Take off heat and set aside.
Assembling the Fatayer:
Preheat the oven to 350 degrees F. Spray one large or two small, lined baking trays and set aside.

After an hour of resting, take the dough, knead it and make it into small balls. You should get about 12 balls.

Roll the balls out into small, flat discs.

Fill four discs with the spinach filling, four discs with cheese filling and four discs with the beef filling.

Put the filling the in center, don't overfill.

With each hand hold one side of the filled disc and pinch each side together, making a boat shape with the filling open in the center.

Place all the filled dough on the baking tray. Spray with oil and bake for 10-12 minutes.
Video
Nutrition
Calories:
277
kcal
|
Carbohydrates:
28
g
|
Protein:
8
g
|
Fat:
15
g
|
Saturated Fat:
4
g
|
Polyunsaturated Fat:
1
g
|
Monounsaturated Fat:
9
g
|
Trans Fat:
1
g
|
Cholesterol:
19
mg
|
Sodium:
276
mg
|
Potassium:
207
mg
|
Fiber:
2
g
|
Sugar:
2
g
|
Vitamin A:
367
IU
|
Vitamin C:
5
mg
|
Calcium:
32
mg
|
Iron:
2
mg
Tips & Tricks
If the dough is too sticky, add more flour. If it is too dry, add a splash of water
It is essential to let the dough rest for an hour. It will rise and bake better.
For the cheese filling, you do not have to add salt as the cheese already has plenty of salt
Don't over fill the Fatayer as they will break out of the dough boats when baking.
Don't over crowd the baking tray, use multiple trays if you must. Overcrowding will make the Fatayers bake unevenly
You can also brush egg wash over the Fatayers instead of spraying with oil before baking
Storage
These pies can be stored in the fridge in an airtight container for about 4 to 5 days. Reheat in the oven before consuming. Preheat the oven to 350 degrees F and cook till warm, which should be about 8 to 10 minutes.
You can also heat it in the microwave.
You can freeze the fully bakes Fatayer for about 2 months in an airtight container. Thaw in the fridge overnight and then warm in the oven.
The Fatayer is a great dish to make ahead and bring it all together on the day of. You can make the dough and keep it in the fridge for about 2 to 3 days. Similarly, each of the fillings can be made and refrigerated in airtight containers for 1 to 2 days. Since so much work goes into making this Fatayer, it is the perfect dish to prep ahead for.
FAQs
What is Fatayer?
Fatayer or Pataeer is a savory pie that is popular in the Middle East. Its origin is still unknown as every country has a version of this and they all claim it as their own. Fatayer is made in Syria, Lebanon, Kuwait, Jordan, Egypt, Palestine and Saudi Arabia to name a few. Fatayer is a baked dish that is filled with cheese, meat or spinach and seasoned with herbs, spices and pomegranate molasses.
What is Sumac?
Sumac is a popular Middle Eastern spice blend, used in the Levant regions made from berries of the Sumac bush. It is a deep red color and has a both fruity and citrusy taste.
Substitutions
The Homemade Fatayer Three Way can be made in multiple ways with multiple fillings. Some of the more popular fillings include, chicken, lamb, vegetables like mushrooms, potatoes and peas, lentils and different kinds of cheese.
The dough in the fatayer is pretty simple and straight forward, but if you want to save time, you can use store-bought pizza dough or store-bought filo dough. You can also make it with premade biscuit dough, but your Fatayer will be a little thicker.
You can also play around with the spices, to use what you like and what is available to you. You can use onion and garlic powder, smoked paprika, ground cloves and cinnamon powder to name few.
Accompaniments
This is a simple and filling snack that is great all on its own. It also makes a great side for a full meal with rice, stews and grilled meat. For more great dishes to pair with the Fatayer, try this light Lemon Asparagus Couscous Salad or this delicious Mediterranean Chicken Wings.
---
Recent Recipes