8 Best Fenugreek Substitutes List
You are in the kitchen cooking your loved ones a great recipe that you saw online that includes fenugreek. You may have thought that you have fenugreek in the pantry, but unfortunately, you are all out of it. What should you do?
Luckily, there are some substitutes that you can try instead of fenugreek. In this article, we are sharing the top fenugreek substitute that you can try.
What Is Fenugreek?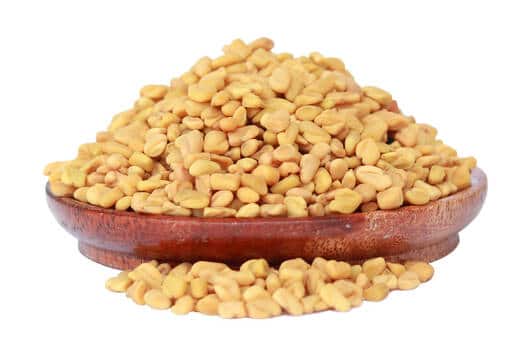 Fenugreek is a popular herb that comes in leaves and seeds forms. The herb is native to Asian and Mediterranean areas. It is popularly cultivated in India, where it is used in many dishes. Fenugreek seeds have a bitter taste when eaten raw. But when you cook it, the taste transforms to sweet, similar to burnt sugar and maple syrup. Generally, people add fenugreek in cooking sauces to add more thickness. However, they are also applied to the meat as a dry rub.
Moreover, fenugreek is an annual plant that is known for its medicinal properties as well. It has been used for thousands of years for many health ailments. It helps in reducing the triglyceride and cholesterol levels, provides anti-inflammatory effects, reduces heartburn, etc.
Along with food, you will also find fenugreek in everyday products such as cosmetics, shampoo, soap, etc.
Best Fenugreek Substitutes
Whether you do not have fenugreek in the kitchen or want to try an alternative, here are some substitutes that you can try:
Maple Syrup
Maple syrup is one of the best fenugreek alternatives that you will find. Both the flavors have similar tastes and consistency. Maple syrup and fenugreek have a sweet taste with bitter undertones. In fact, if you have to describe the taste of fenugreek to someone, tell them it tastes like maple syrup.
You are likely to have maple syrup in the pantry to accompany the morning pancakes. Adding a dash of maple syrup to your dish is a great way to substitute fenugreek. The thickness of this syrup also offers similar consistency to your dish as fenugreek. Ensure that you add maple syrup at the end of the cooking time because it will lose its flavor if cooked for a long time.
Curry Masala Or Powder
Often curry powder is more accessible than fenugreek. And, mostly curry powders have fenugreek powder in them, making them a great substitute. Curry masala includes different aromatic spices, including cardamom, cinnamon, cloves, etc. The powder was originally created in Britain, and its taste resembles garam masala. However, for alternating fenugreek, you should consider curry powder. This is because it has a milder profile. Add the curry powder in the beginning to enhance the taste as well as the aroma of the dish.
Mustard Seeds
There are three types of mustard seeds. And as a substitute for fenugreek seeds, you will want yellow mustard seeds. Moreover, for the alternative of fenugreek leaves, you will want green mustards. The yellow mustard seeds especially resemble the taste quality of fenugreek seeds. They have a mildly bitter taste with slight nutty or earthy flavors that fenugreek has. Yellow mustard seeds are ideal for savory soups or sauces that need fenugreek.
You will need to heat the mustard seeds at a low temperature to get the same flavor as fenugreek. Ensure that you add the same amount of yellow mustard seeds as the recipe needs fenugreek seeds. And if you don't have yellow mustard seeds, you can also add a teaspoon of honey-dijon mustard.
Celery Leaves
Celery leaves are a great fenugreek substitute, even though they are not a spice. You can easily get these leaves in farmers' markets, grocery stores, and supermarkets. So if you don't have fenugreek seeds, you can use celery leaves instead.
These leaves have a bitter and nutty flavor which is similar to fenugreek. You can also add a little sugar to your sauce to sweeten it up and make it taste more like fenugreek.
Fennel Seeds
Fennel seeds can overwhelm the flavors of your dish if you add in excess. Just a small amount of fennel seeds make a good substitute for fenugreek. Fennel is a plant whose seeds are commonly used in European, Chinese, Indian, and Middle Eastern dishes. Fennel seeds and fennel bulbs have similar scents as maple or licorice.
You either use a fennel bulb or dried fennel seeds as a substitute for fenugreek. Both of them are sweeter than fenugreek seed, but they do have the same nutty flavors. Make sure that you use a small amount of fennel as fenugreek alternatives.
Kale
If you are cooking a casserole dish that needs fenugreek, you can add cooked kale as a substitute. Ensure that you cook the kale to reduce its bitterness and add a dash of sugar. Moreover, wash and chop the kale leaves before cooking and then add the leaves to the dish or sauce at the beginning.
Alfalfa Sprouts
While it is not an exact substitute, it is an alternative. These sprouts and celery leaves have a similar taste. So if you don't happen to have celery leaves, you can use alfalfa sprouts. Additionally, it has a similar earthy and sweet flavor and will give you a similar taste as fenugreek. The only problem is that even alfalfa is not easy to find. However, if you do manage to source it, alfalfa can be a good replacement for fenugreek in salads and sandwiches.
Spinach
Similar to Kale, spinach is another leafy, green veggie that comes with a lot of nutrition. Now, if you use spinach as a replacement for fenugreek, it will change the flavor of the dish slightly. However, the reason why it features on this list is because it has the same texture and aroma as fenugreek. Also, another leafy veggie that you can try as a good fenugreek substitute is collard greens.
Fenugreek adds a lot of flavor to various dishes. However, you can use the aforementioned ingredients as its substitute and still make a delicious recipe.
---
Recent Recipes