When I first heard of Guyanese pine tarts, I thought it would be a treat made using pine needles or something like that. If that's what you thought and came here for, I'm sorry to disappoint you. If you already know what pine tarts are, congratulations, you know more than me (not anymore though, because now I know). Guyanese pine tarts are called that because they use pineapple. Which makes more sense I suppose, although why not just call them pineapple tarts? Whatever, it doesn't matter, because Guyanese pine(apple) tarts are delicious!
These tarts consist of a well-spiced, sweet pineapple fruit filling encased in soft pastry. If you use this recipe to make it at home, you're sure to get a fantastic dessert to share with your family and friends (or keep to yourself). The pineapple aspect makes this a fun treat for summer, while the spices make it equally delectable for autumn and winter weather. If you're looking for a cakier Guyanese dessert, try this Guyanese Cassava Pone.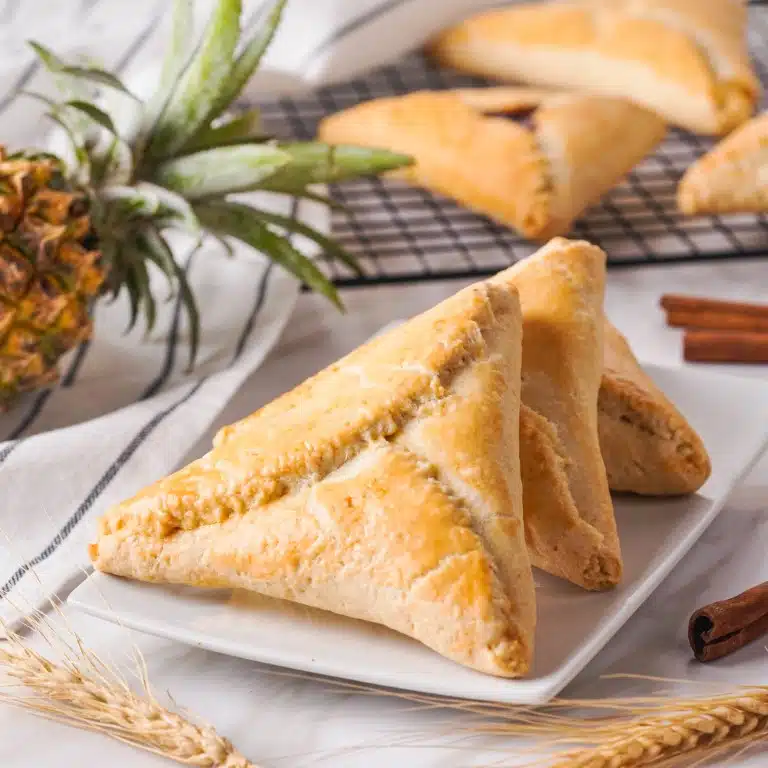 Ingredients
For Pastry:
4

cups

flour

¼

tsp

salt

1

tbsp

sugar

1 ½

sticks cold butter

1/3

cup

shortening

¾

cup

water

1

egg
For Pineapple Filling:
2 ½

cups

fresh pineapple

½

tsp

nutmeg

½

tsp

cinnamon

1 ½

tsp

vanilla

¾

cup

brown sugar
Instructions
All ingredients ready? Let's begin!

Peel the pineapple by carefully using a sharp knife to cut the skin off. The easiest way to do this is cutting from the top of the pineapple down. Once the skin is off, cut the flesh of the pineapple off the core in chunks. Feel free to saw away at the core until you get it all off.

Add the correct amount of pineapple flesh to a blender or food processor and pulse until blended. If it won't cut, you may need to add a little bit of water.

Remeasure the pineapple to make sure there's 2 ½ cups (blend more if needed) then transfer it to a small saucepan over low heat.

Add the nutmeg, cinnamon, vanilla, and brown sugar. Stir to combine and bring to a simmer.

Allow to simmer for roughly 45 minutes, stirring occasionally, or until the mixture has thickened to the consistency of jam.

Once thick, take off the heat and set aside to cool.

While the pineapple filling thickens, you can start on the dough. Add the flour to a large mixing bowl along with the salt and sugar. Whisk together to combine.

Cut the butter into chunks and add to the bowl. Also add the shortening.

Using a pastry cutter, fork, or your hands, mix together, cutting the butter and shortening into smaller pieces about the size of peas.

Use cold water and add half of it to the flour. You will probably need to use your hands to properly knead now.

Mix together the flour mixture and water and add the rest of the water as needed until you get a firm dough that's only slightly sticky.

Once the dough is solid enough, turn it out onto a lightly floured surface and continue kneading there until it is smooth.

Wrap the dough in plastic wrap or cover it on a plate and put it in the fridge for a minimum of 30 minutes to harden.

Preheat the oven to 375F. Prep a large baking tray (or several) by covering them with parchment paper.

Once the dough has chilled, it's ready to shape. Roll it out until it is roughly 1/8th inch in thickness (so quite thin).

Cut it into circles about 6 inches wide. This can be done using a large biscuit or cookie cutter or placing an object like a plate or bowl on the dough and cutting around it with a small, sharp knife. Reroll any scrap dough and cut again to maximize your dough. Use a tablespoon or regular spoon to scoop about 1 ½ spoonfuls of the pineapple filling into each dough circle. Reroll any scrap dough and cut again to maximize your dough. Use a tablespoon or regular spoon to scoop about 1 ½ spoonfuls of the pineapple filling into each dough circle.

Add an egg to a small bowl with 2 tsp of water and whisk until beaten.

Use a pastry brush to brush the egg wash across the clean edges of the dough.

Fold one side of the dough until the edge reaches the middle of the circle.

Repeat with another edge. It should overlap slightly and the two folds should make a sharp point at one end.

Fold the last edge over to the middle. The dough should now be in a triangle shape.

Pinch the overlapping edges to close the tart and place on the previously prepared baking tray before brushing with egg wash.

Repeat with all remaining pieces.

Put in the oven and bake for 15-20 minutes. The top should become a nice golden color.

Once baked, remove from heat and carefully place on a wire cooling rack to allow to cool completely.

Serve and enjoy!
Nutrition
Calories:
308
kcal
|
Carbohydrates:
41
g
|
Protein:
4
g
|
Fat:
14
g
|
Saturated Fat:
7
g
|
Polyunsaturated Fat:
2
g
|
Monounsaturated Fat:
4
g
|
Trans Fat:
1
g
|
Cholesterol:
35
mg
|
Sodium:
120
mg
|
Potassium:
88
mg
|
Fiber:
1
g
|
Sugar:
15
g
|
Vitamin A:
314
IU
|
Vitamin C:
13
mg
|
Calcium:
23
mg
|
Iron:
2
mg
Notes & Tips
You can eat the tarts hot, but not right out of the oven as the filling will be incredibly hot.
Leftovers can be stored in an airtight container or bag at room temperature for four days. They can be frozen for two months. When ready to eat again, remove from freezer and allow to defrost at room temperature.
If you want to save yourself some time and stress, you can prepare aspects of these in advance. Both the dough and the filling can be kept in the freezer for several months, just remove and allow to defrost at room temperature before shaping.
Peeling pineapple can be tricky-a potato peeler won't work but knives can waste a lot of good pineapple flesh. The trick is to start small and take it from there. You can always shave more off the pineapple, but it's hard to get back something you already cut off with the skin.
Substitutions
If it's not the season for fresh pineapple or you don't want to go through the labor of cutting one up, you can exchange it for canned pineapple. One 20 oz can should be the right amount. Make sure you get a canned pineapple that doesn't have any extra additives though as that can affect the flavor. If you use canned pineapple, follow the same process to blend it into a pulp.
---
Recent Recipes