Best Mexican Deviled Chicken
Pollo a la diabla is a spicy, rich-flavored recipe from Mexico. Also known as Mexican deviled chicken, this dish includes chicken thighs, chilies and a spicy tomato sauce. It's not a dish for those who don't like spice. This is a recipe which has to be spicy to be authentic!
What Does Deviled Mean Anyway?
If you're curious about what 'deviled' means, it's a term dating back to the 1700s and means to cook something with hot spices.
Deviled ham and deviled eggs are also best when they contain some heat. However, devil's food cake is an exception and is only called that because it's red!
The sauce for pollo a la diabla differs from region to region and from household to household, like many south of the border recipes tend to. Some cooks will use fresh or dried chilies while others might add ketchup to the mix for a touch of sweetness.
Chile de arbol and guajillo chilies are sometimes used in addition to the chipotles. The sauce needs to be spicy so including chilies in some form is a 'must'!
What to Serve with Pollo a la Diabla
Since Mexican deviled chicken is pretty spicy, you might like to offer non-spicy sides like avocado slices and Mexican rice.
Sour cream, tortillas, refried beans, and cheese can be offered on the side since their mild flavors contrast perfectly with the heat of the spicy tomato sauce.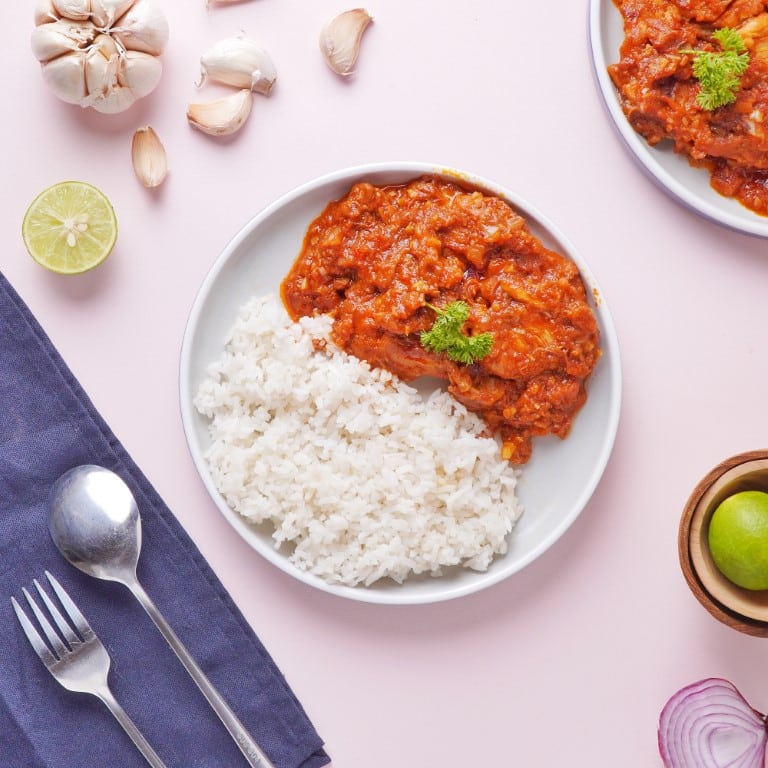 Ingredients
4

boneless skinless chicken thighs

1

chopped red onion

2

tablespoons

olive oil

6

minced garlic cloves

1

cup

chicken broth

2

chopped roma tomatoes

3 ½

ounces

chipotle chilies in adobo sauce

1

or 2 tablespoons lime juice

fresh is best

Salt

to taste
Instructions
All ingredients ready? Let's begin!

Heat the oil in a heavy pot.

Add the onion and cook for about 6 minutes until tender.

Take the onions out of the pot.

Add the chicken to the pot and brown it all over.

Meanwhile blend the chipotle chilies and broth together in a blender for 2 minutes or until the mixture is smooth.

Add the onions back into the pot with the chicken.

Add the tomatoes, garlic and some salt to taste.

Cook for about 12 minutes then stir in the chipotle mixture. Simmer for half an hour or until the sauce is thick and has almost halved in volume.

Taste and add more salt if needed.

Stir in a tablespoon or 2 of lime juice.

Serve pollo a la diabla with your preferred side dishes.
Nutrition
Calories:
242
kcal
|
Carbohydrates:
10
g
|
Protein:
23
g
|
Fat:
12
g
|
Saturated Fat:
2
g
|
Polyunsaturated Fat:
2
g
|
Monounsaturated Fat:
7
g
|
Trans Fat:
0.02
g
|
Cholesterol:
109
mg
|
Sodium:
636
mg
|
Potassium:
428
mg
|
Fiber:
3
g
|
Sugar:
4
g
|
Vitamin A:
1532
IU
|
Vitamin C:
10
mg
|
Calcium:
31
mg
|
Iron:
2
mg
Handy Notes
Pollo a la diabla can be served inside a tortilla burrito-style with your chosen toppings. Else it's great with rice and avocado slices.
Use chicken breast if you prefer that to chicken thighs. Chicken drumsticks would work too and if you prefer the skin on that is also fine.
Pollo a la diabla, or Mexican deviled chicken, is a hot and spicy dish which is simple to prepare. Cooling ingredients such as cilantro, sour cream and Mexican cheese are great served with this dish, since they contrast beautifully with the hot and fiery flavors, to offer a balanced meal.
---
Recent Recipes