Sweet & Creamy Thai Iced Coffee
Are you someone who wakes up in the morning thinking about your first cup of coffee? I know I am. I have a basic drip coffee maker, a French press, and an Italian espresso pot. You could say I enjoy my coffee. I generally drink it black, but every once in a while, I crave a tricked-out coffee beverage with some sort of sweetened milk or cream and a little bit of either cinnamon, vanilla, or almond flavoring.
There are different recipes for sweetened coffee that I enjoy. One of those is a doppio con panna which is a double shot of hot espresso with sweetened whipped cream on top. Another is an Irish coffee that has whiskey and whipped cream. And, I like a cold Thai coffee with sweetened condensed milk and a hint of cardamom. This last one is super refreshing. I like to make it with cold-brewed coffee that I prepare in my French press overnight with really good dark roast coffee and filtered water.
Sweet Thai coffee is cold or room temperature coffee that is mixed with sweetened condensed milk, almond extract, and a touch of ground cardamom. The beverage is served over ice in a tall glass or a glass mug with a straw for sipping.
The key to success with iced Thai coffee is using a good, strong brew. I am partial to fair trade and organic beans. I use a French roast for my flavored coffee beverages. I used to make a mean brew with the most delicious coffee from Venezuela. Alas, we can't get it here in the states any longer. This drink can be caffeinated or caffeine free. You will get enough of a kick from the sweetened milk if you are a decaf person. I actually like to make this with a half-caf blend.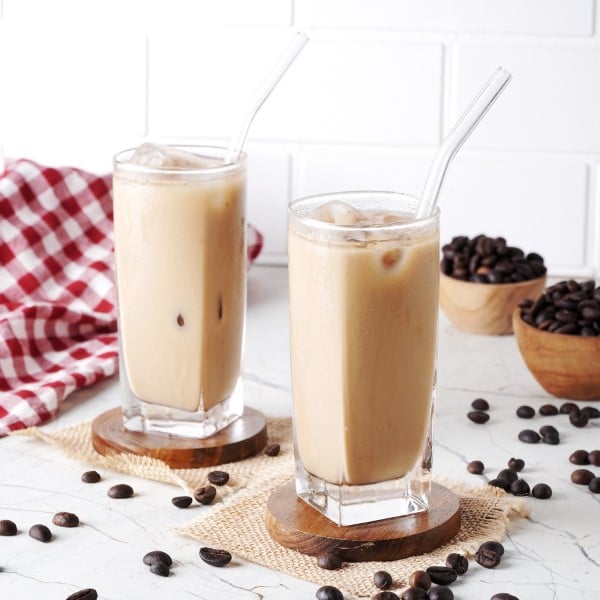 Ingredients
4

cups

strong brewed black coffee at room temperature

1

can

14 ounces of sweetened condensed milk

1

tsp

pure almond extract

¼

teaspoon

ground cardamom

Ice cubes
Instructions
All ingredients ready? Let's begin!

Brew your coffee and set it aside to cool. Alternatively, make a cold brew the night before.

In a pitcher, combine the coffee, sweetened condensed milk, almond extract, and cardamom. Stir well.

Fill 4 tall glasses with ice. Pour the coffee mixture over the ice. Add a straw and enjoy it right away.
Nutrition
Calories:
37
kcal
|
Carbohydrates:
7
g
|
Protein:
2
g
|
Fat:
0.3
g
|
Saturated Fat:
0.04
g
|
Polyunsaturated Fat:
0.1
g
|
Monounsaturated Fat:
0.1
g
|
Sodium:
136
mg
|
Potassium:
410
mg
|
Fiber:
2
g
|
Sugar:
4
g
|
Vitamin A:
213
IU
|
Vitamin C:
9
mg
|
Calcium:
39
mg
|
Iron:
1
mg
Notes & Tips
As mentioned, you really want to make this coffee drink with a good whole bean or ground coffee. Grinding your own beans ensures the freshest brew. I recommend using a dark coffee, such as a French roast.
Don't confuse sweetened condensed milk with evaporated milk. They both come in a small can and look similar. But evaporated milk is not sweet. So, read the label.
Adding spice to coffee really elevates the brew. I highly recommend you add a little spice to this Thai coffee. Check out these suggestions for interesting spices to add to coffee.
You can make a pitcher of this coffee blend in the morning and serve it later for brunch or an afternoon pick-me-up. It will keep well in the refrigerator. Just give it a quick stir before pouring over ice in glasses.
Substitutions & Additions
Milk: While traditional in Thai coffee, I sometimes find sweetened condensed milk to be overly sweet. In keeping with the Thai theme, you can definitely make this beverage with full-fat coconut milk or coconut cream. You can find it plain or sweetened in cans in the Asian section of pretty much every market.
Almond: I love adding almond extract to baked goods and coffee, even just brewed black coffee. You don't need a lot in this recipe. If you don't have almond extract, try a little pure vanilla extract or a tiny bit of maple syrup.
Cardamom: Cardamom is a lovely spice, but it can be an acquired taste for some. I do think the spice is exceptional in this iced coffee, but you can leave it out. Otherwise, there are substitutions for cardamom that you might consider, such as cinnamon, nutmeg, allspice, Chinese five spice, cumin, and pumpkin pie spice blend.
Spiked: To make Thai iced coffee into an alcoholic cocktail or after-dinner drink, you might want to spike each glass with a shot of amaretto or Kahlua. 
Toppings: Feel free to top the coffee with fresh whipped cream and a dusting of cinnamon or cocoa powder.
Common Home Coffee Brewing Techniques
The easiest method for brewing coffee is to use an automatic drip coffee maker. These heat water and drip it through a filtered basket that has ground coffee beans. Some drip makers use pods for individual cups of coffee. You can find a decent drip coffee makers for under $50.
A French press is great for this recipe. It is a tall glass pitcher set inside a metal holder with a handle. You add coffee grounds to the pitcher and fill it with boiling hot water. You allow that to sit for about 4 minutes. Then, you press the coffee grounds to the bottom of the pitcher with what looks like a plunger with a strainer attached for the coffee water to separate from the grounds. This results in a thick, rich brew that has a slightly creamy texture. I use my French press to also make overnight cold brewed coffee.
A percolator is a two-chambered pot. Water goes in the bottom and coffee grounds are placed in a strainer basket sitting on top of the water. The pot is either plugged in or placed over the stovetop burner. As the water starts to boil, pressure builds up so that the water rises, passes through the coffee, and settles in the upper chamber. In Italy, this pot is called a moka and is used primarily for making espresso.
---
Recent Recipes