Easy Cheese Crostini (2 Ways)
These deliciously chewy and crunchy baguette pieces with delectable toppings are one of my all-time favorite creations. They're the perfect antipasti for any dinner party or foodie gathering.
In this recipe I'm going to teach you how to make cheese crostini two ways – both are super easy and delicious. I'll also show you how to make a baguette from scratch! But of course, you can make this recipe using a bakery baguette, and if it's a few days old, even better. Making crostini is a great way to give your baguette a second life.
What is The Difference Between Crostini & Bruschetta?
I love crostini and bruschetta. Both are pieces of toast with a variety of toppings. But, let's dive into what differentiates these enticingly crunchy and chewy appetizers.
What Are Crostini?
Crostini, which translates to "little crusts" in Italian, are slices of bread that have been toasted or grilled until crisp. They're typically made with baguette and brushed with olive oil and salt. Compared to bruschetta, crostini are usually smaller, thinner, and crisper, and there are fewer toppings (if any). They may be served as an appetizer, or with soups and other dishes such as this Low FODMAP Eggplant Caponata as a sort of crouton.
What is Bruschetta?
Bruschetta comes from the Italian word "bruscare" which means to roast over coals. It's a thicker slice of toasted or grilled rustic bread. Unlike crostini, bruschetta is usually rubbed with garlic and sometimes even pepper, in addition to olive oil and salt. Also, toppings are much more copious. It's typically served warm as a snack or an appetizer, with or without toppings.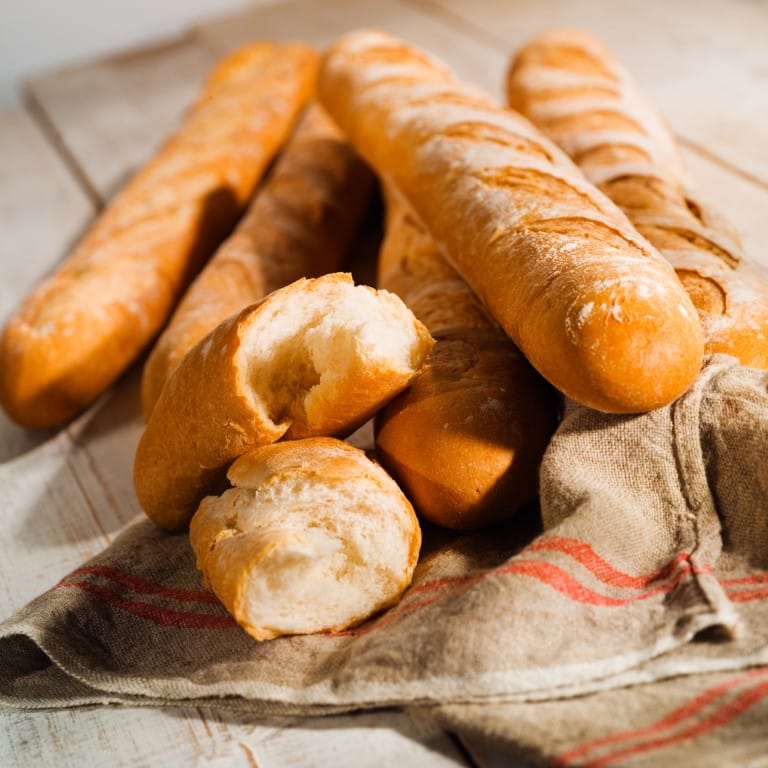 Ingredients
1

cup

warm water

90 °F

3

cups

bread flour

1 ¾

tsp.

salt

1 ¾

tsp.

instant yeast

3

Tbsp.

warm water

86 °F
Instructions
Mix flour and 1 cup warm water in a stand mixer on medium-low for 4-5 minutes or until dough forms a shaggy ball. Sprinkle salt on top and cover the dough.

In a separate container mix yeast with 3 tablespoons warm water. Let both dough and yeast sit for 15-20 minutes.

Mix yeast into dough on low for 4-5 minutes or until it forms a ball. Cover and let rise at room temperature for 30 minutes.

Perform a strength-building fold by grabbing one edge of the dough, stretching it, and folding it over, then repeating 4-5 times. Tuck the dough under and form a nice round ball.

Cover and let sit at room temperature for another 30 minutes.

Perform a second strength-building fold as explained in step 6.

Cover and let sit for another 90 minutes.

Place a piece of parchment paper on a baking tray and generously oil it.

Lightly flour your work surface and divide dough into two equal pieces. Pop any large gas bubbles using your fingers and pre-shape the dough. Degas it, pull the sides of the dough in and fold them over each other, then roll it from top to bottom so that the seam is on the bottom. Shape into a ball, cover, and allow to rest for 15-20 minutes.

Shape dough balls into baguettes by flattening out dough, then stretching out the sides to make a more rectangular shape. Now grab the top 20% of the dough and fold it in. Roll and tuck the dough from the top to the bottom, popping any air bubbles as you go. Once you get to the bottom, you should have a nice tube with a uniform seam. To further stretch the dough out, use your fingertips and thumbs in a triangle pattern to apply downward pressure and start rolling, while also keeping the seam underneath intact. As you get to the end, apply even more pressure to get a nice taper. You should have a 10 to 12-inch baguette with a straight seam running underneath. Repeat for the second ball of dough.

Place shaped baguettes onto oiled parchment paper, cover, and proof at room temperature for 60-90 minutes. After rising, the baguettes should be at least doubled in size.

Spray baguettes with water, cut a slit with a serrated knife every inch, and bake in a preheated oven at 450°F for 30-35 minutes. If using a cover, carefully remove it after 15 minutes of baking. Flip the baguettes around halfway through to get a more even crust.

Remove from oven and let cool, or enjoy hot with a slab of butter.
Nutrition
Calories:
115
kcal
|
Carbohydrates:
23
g
|
Protein:
4
g
|
Fat:
1
g
|
Saturated Fat:
0.1
g
|
Polyunsaturated Fat:
0.2
g
|
Monounsaturated Fat:
0.1
g
|
Sodium:
281
mg
|
Potassium:
38
mg
|
Fiber:
1
g
|
Sugar:
0.1
g
|
Vitamin A:
1
IU
|
Vitamin C:
0.003
mg
|
Calcium:
6
mg
|
Iron:
0.3
mg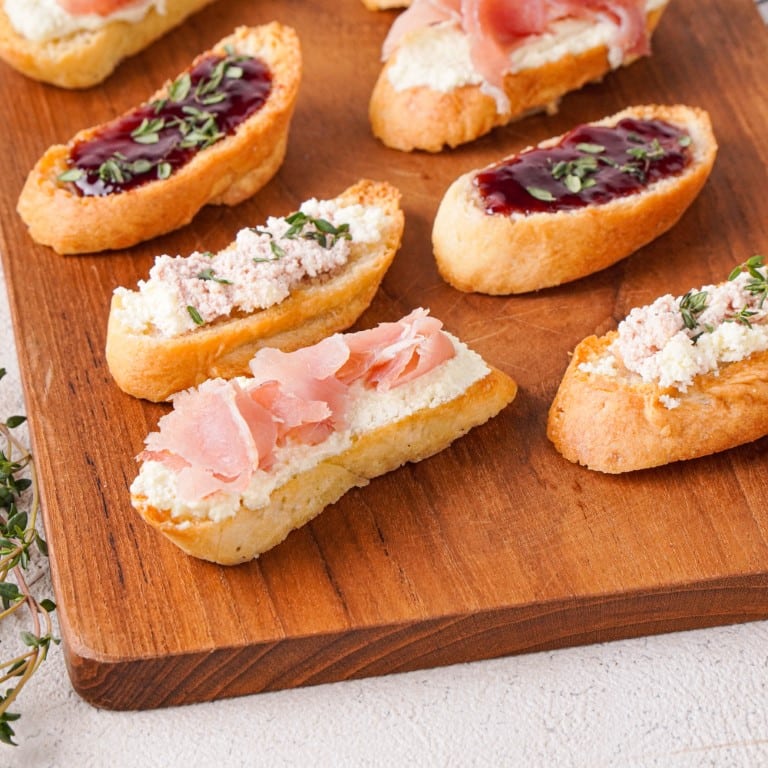 Ingredients
For the crostini:
1

small baguette

about 8 oz

⅓

cup

extra virgin olive oil

1

tsp.

salt
For the prosciutto and blue cheese crostini:
⅓

cup

crumbled gorgonzola

or Roquefort

4

oz.

cream cheese

⅓

cup

black currant jam

3

oz.

prosciutto ham very thinly sliced

1

tsp.

fresh thyme leaves
For the goat cheese with fig compote crostini:
7

ounces

dried Mission figs

¼

cup

white sugar

1

cup

dry red wine

A pinch of salt

½

tsp.

fresh thyme leaves

plus more to garnish

5

ounces

fresh goat cheese
Instructions
All ingredients ready? Let's begin!
For crostini:
Preheat oven to 400 °F and line a baking tray with parchment paper.

Cut the baguette on the diagonal into thin slices (about ¼ inch or 1 cm thick).

Generously brush each side of bread with olive oil. Place slices onto baking tray and sprinkle evenly with salt.

Bake for 15-20 minutes or until toasted to your taste.

Remove from baking tray and let cool before adding toppings.
For the prosciutto and blue cheese crostini:
Mix cream cheese and blue cheese in a small bowl until combined. Spread evenly on crostini (about ½ tablespoon per crostini).

Tear prosciutto into small strips and arrange them on top of the cheese spread.

Whisk the jam so that it's uniform in consistency. Top each crostini with about ½ teaspoon of jam.

Garnish with fresh thyme and serve. Buon appetito!
For the goat cheese with fig compote crostini:
Combine figs, sugar, wine, thyme, and a pinch of salt in a small saucepan.

Bring to a boil, then reduce to a simmer and cook until thickened. About 7-9 minutes. Let compote cool to room temperature.

Spread each crostini with goat cheese. Top with about a teaspoon of compote. Garnish with fresh thyme. Enjoy!
Nutrition
Calories:
461
kcal
|
Carbohydrates:
48
g
|
Protein:
10
g
|
Fat:
24
g
|
Saturated Fat:
9
g
|
Polyunsaturated Fat:
2
g
|
Monounsaturated Fat:
11
g
|
Trans Fat:
0.01
g
|
Cholesterol:
33
mg
|
Sodium:
660
mg
|
Potassium:
277
mg
|
Fiber:
3
g
|
Sugar:
27
g
|
Vitamin A:
460
IU
|
Vitamin C:
3
mg
|
Calcium:
141
mg
|
Iron:
2
mg
Notes & Tips
If you're making the baguette from scratch, make sure to follow the instructions carefully. When it comes to bread-making, each step of the process is crucial to the final result.
If you don't have bread flour, you can make self-rising flour at home by adding 1 ½ teaspoons of baking powder and 1/4 teaspoon salt for each cup of flour, then sifting it all together. Make sure to reduce the salt in the recipe accordingly.
It's super easy to make crostini vegan. I love the simple tomato, basil, olive oil combo, or grilled eggplant and red pepper with caramelized onions.
Adjust the amount of olive oil and degree of toasting to your liking, depending on how oily and crunchy you want the crostini to be.
What Types of Bread Are Best for Crostini?
Crostini are typically made with a long, thin, crusty French baguette. But you can use any long loaf of bread. Some other suggestions are artisan loaves or ciabatta. There are also many types of baguettes: rosemary, sourdough, rustic, olive, artisan, etc. You'll get the best result with a 2-3 days old loaf, but you can use fresh bread instead.
---
Recent Recipes