Best Filipino Steamed Pork Buns (Siopao)
Siopao asado is a steamed pork bun originating from the Philippines, though it has its roots firmly in Chinese cuisine. In China, a similar style of steamed pork bun is called pork bao (or baozi). While there are a few smaller differences between the two, the main difference between the two is that siopao tends to be much larger. The pork bun concept is not unique to Filipino and Chinese cuisine though; you can find it in different styles globally, including this Vietnamese pork belly banh mi.
The dough takes a while to rise and it can be a bit tricky to get the hang of, but once you do, you'll be churning out pork siopao in no time!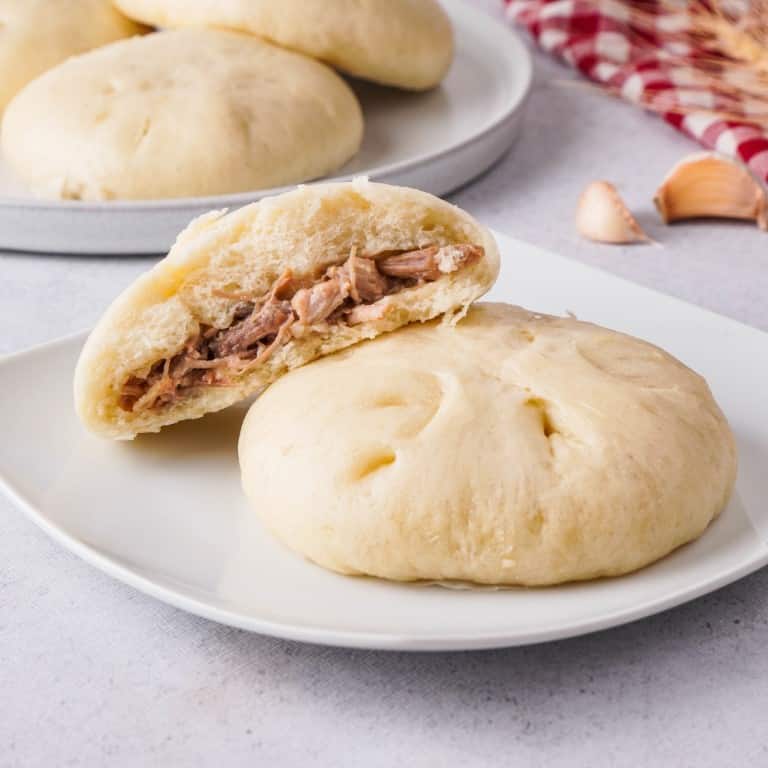 Ingredients
For filling:
2

lbs

pork

1

teaspoon

sunflower oil

6

garlic cloves

1

onion

5

tablespoons

soy sauce

1

teaspoon

salt

1

tablespoon

fish sauce

½

teaspoon

pepper

4

tablespoons

honey

2

tablespoons

cornstarch
For dough:
1

packet instant yeast

½

cup

sugar

4

cups

flour

¾

cup

cornstarch

2

teaspoons

baking powder

¼

cup

sunflower oil
Instructions
All ingredients ready? Let's begin!

Cut the pork into bite sized chunks and pat them dry with paper towels.

Place a pot over medium heat. Add enough oil to thinly cover the base of the pot and heat it through.

While the oil is heating, peel and chop the onion. Peel and finely dice the garlic.

Add the onions and garlic to the hot oil and cook while stirring for about 3 minutes or until the onions turn translucent.

Add enough pieces of pork to the hot oil so it takes up most of the surface, but there is no piling.

You need to brown the chunks on all sides (about 1 minute per side) so you may need to do this step in batches and repeat. Once all the sides of the pork are browned, add it all back to the pot.

Add 4 cups of water to the pot and stir to dislodge anything stuck to the bottom of the pot.

Add the soy sauce, salt, fish sauce, pepper, and honey. Stir to combine. Bring to a boil then reduce to medium low.

Cover the pot and allow to cook for an hour or until the pork falls apart when you pull with a fork. Check on it occasionally and add more water if needed to keep the pork submerged.

While the pork is cooking, you can get started on the dough. Add the yeast and sugar to a small bowl, then add 1 cup of warm water. Mix to combine then let rest for 10 minutes or until bubbles begin forming.

In a stand mixer with a dough hook attachment, add the flour, ¾ cup of cornstarch, and the baking powder. Mix until combined (you can also use a whisk for this part).

Add a cup of warm water, the bubbly yeast mixture, and the oil to the flour mixture. Mix with the dough hook until smooth and it stops sticking to the sides of the bowl (about 10 minutes).

Lightly flour a clean surface and dump the dough onto it to knead with your hands for a few minutes.

Roll into a ball or shape into a ball by pulling all the corners into the middle and pinching.

Grease the inside of a mixing bowl with non-stick cooking spray or some sunflower oil and place the dough ball in the bowl. Cover with a slightly damp kitchen towel and leave to rise somewhere warm for 1-2 hours. The dough should have doubled in size.

Once the dough has risen, briefly knead again then divide into 12 equal portions. Roll each into a ball then cover and allow to rise for another 30 minutes or so.

Once the pork has finished cooking, remove from heat and shred using a fork. Mix 2 tablespoons of cornstarch in a little bit of water and add to the pot.

Place back over medium low heat and cook while stirring for 15 minutes or until the sauce gets very thick. Remove from heat and let cool slightly before handling.

Roll each dough ball into circles 5 inches across.

Place a tablespoon or two of pork filling in the middle of each circle and fold the edges to meet in the middle, making sure to pinch tight to prevent leaking.

Cover the filled dough balls and allow to rise for 10 minutes.

In a preheated steamer, place the buns in a single layer, leaving space between them.

Steam for 20 minutes without removing the lid.

Once they are done, serve immediately.
Nutrition
Calories:
502
kcal
|
Carbohydrates:
58
g
|
Protein:
18
g
|
Fat:
21
g
|
Saturated Fat:
7
g
|
Polyunsaturated Fat:
2
g
|
Monounsaturated Fat:
11
g
|
Cholesterol:
54
mg
|
Sodium:
846
mg
|
Potassium:
312
mg
|
Fiber:
2
g
|
Sugar:
16
g
|
Vitamin A:
6
IU
|
Vitamin C:
2
mg
|
Calcium:
64
mg
|
Iron:
3
mg
Notes & Tips
The siopao can last in the fridge for three days. To reheat, put them back in the steamer (or optionally the microwave). If you want to freeze the siopao, do that before steaming them.
To do that, finish shaping the buns then place them on a baking tray to put in the freezer. Once they have frozen in that way, you can then transfer them to a plastic bag or other container to keep in the freezer. When you are ready to eat them, you can leave them to defrost in the fridge overnight before steaming or put them directly in the steamer and cook them for longer.
If you don't have a stand mixer to knead your dough, you can do it using elbow grease and a wooden spoon before turning it onto a clean, floured surface to knead with your hands.
If you want your buns to come out a crisp white color, add about 2 tablespoons of vinegar to the water when steaming.
What Cut of Pork to Use
Fatty cuts are ideal, so the best options are pork butt or pork shoulder. If you want to up the ante, you could mix in some pork belly as well- it has a very meltable and sweet texture and taste that can really blow your mind. It does tend to be a bit pricey depending on where you find it, but I think it's worth it.
Storage & Reheating:
Store the cooked siopao in the refrigerator for up to three days in an airtight container.
To reheat, simply place them back in the steamer for a few minutes until warmed through. Alternatively, you can use the microwave, but the texture may be less ideal.
Siopao can be frozen before steaming. Freeze them individually on a baking tray, then transfer to a plastic bag or container for long-term storage. When ready to eat, defrost in the fridge overnight before steaming or place directly in the steamer and cook for a longer time.
Serving Suggestions:
Serve siopao with a dipping sauce, such as soy sauce, hoisin sauce, or a spicy chili sauce.
Pair with a light vegetable stir-fry or a simple cucumber salad for a complete meal.
Siopao makes a great appetizer, snack, or light lunch option.
Variations For Common Dietary Restrictions & Diets:
Vegetarian/Vegan: Replace the pork with a mix of tofu, mushrooms, and vegetables. Use tamari or a vegan fish sauce substitute instead of fish sauce.
Gluten-Free: Use a gluten-free flour blend and gluten-free soy sauce for the filling.
Common Mistakes:
Overfilling the dough, which may cause the siopao to burst during steaming.
Not pinching the edges of the dough tightly enough, leading to leakage.
Not leaving enough space between the buns in the steamer, causing them to stick together.
Health Risks & Benefits of This Recipe:
Benefits:
Steaming the buns makes them a healthier alternative to deep-fried or pan-fried buns.
Siopao provides a good source of protein from the pork filling.
Risks:
The recipe contains a relatively high amount of sodium from the soy sauce and fish sauce. Reduce sodium content by using low-sodium alternatives or reducing the amount of these ingredients.
Siopao is high in refined carbohydrates from the white flour used in the dough. Consider using whole wheat flour for a more nutritious option.
Recipe History & Context:
Siopao asado originated in the Philippines but has its roots in Chinese cuisine, where a similar steamed pork bun called baozi is popular. The concept of steamed buns with various fillings is common in many Asian cuisines, each with their own unique flavors and styles.
Common Questions:
Can I use other meats for the filling?
Yes, you can use other meats such as chicken, beef, or even shrimp. Adjust the cooking time and seasoning accordingly.
Can I steam siopao without a steamer?
Yes, you can create a makeshift steamer using a large pot with a lid, a heat-safe plate, and a metal trivet or rack. Fill the pot with water, place the trivet inside, and put the plate on top. Arrange the siopao on the plate, cover with the lid, and steam over medium heat.
Why did my siopao turn out dense?
If your siopao is dense, it may be due to insufficient rising time or the dough being over-kneaded. Ensure you give the dough enough time to rise and avoid over-kneading it.
---
Recent Recipes