Now I know what you're thinking, green tea is the last thing you would associate with alcohol. But I have found the relaxing effects of 'green tea' to be just as enjoyable when you add a little flavor and whiskey to the mix! (Hint, that is because these green tea shots do not actually contain any green tea.)
Whiskey and peach may not be the most obvious flavour combination to use in a drink. However, I had some leftover Jameson Irish whiskey I was not going to in a hot toddy. And I must say that for an unusual flavour combination, there is something undeniably tongue tingling about this green tea shot that is the perfect preface to a more diluted and laid-back drink.
For a less explicitly boozy way to use up your last few shots of Jameson Irish whiskey, use it in place of bourbon in our easy boozy bourbon-soaked cherries.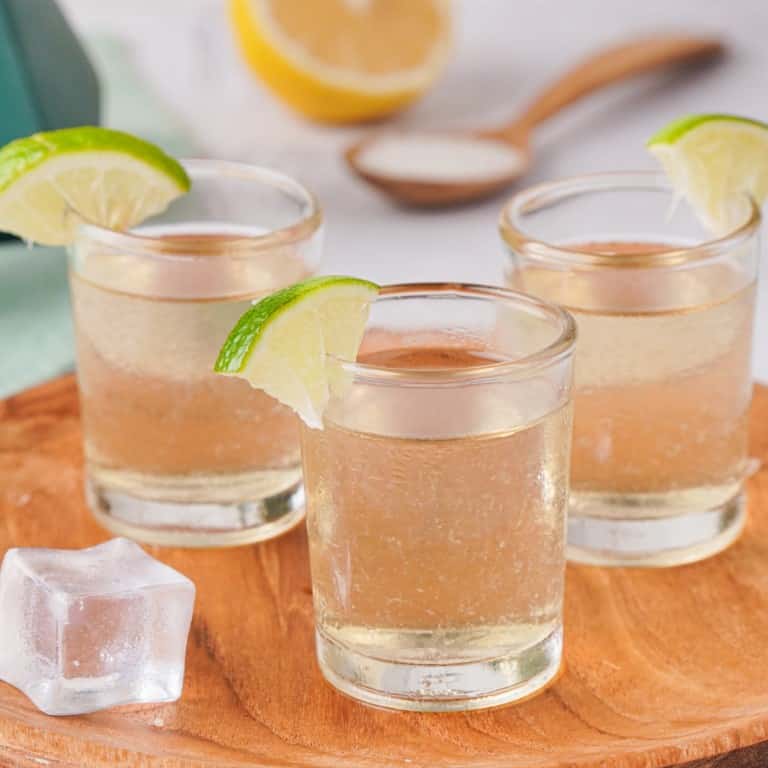 Ingredients
½

cup

water

½

cup

sugar

1

tablespoon

lime juice

1

tablespoon

lemon juice

1/8

teaspoon

salt

Ice cubes

¼

cup

Jameson Irish Whiskey

¼

cup

peach vodka

1

can Sprite

Lime wedges
Instructions
All ingredients ready? Let's begin!

Unless you already have some sweet and sour mix pre-made, you will first need to prepare the mix to use in the shots.

In a medium sized saucepan, heat up the ½ cup water and ½ cup sugar on a medium low heat.

Use a fork or whisk to stir the mixture to prevent the sugar burning at the bottom of the pan. Once all of the sugar has dissolved into the water, remove the pan from the heat and allow the syrup to cool completely.

When the mixture is cool to the touch, add in the freshly squeezed lemon and lime juice as well as the salt. Use the same whisk or fork as before to mix the juice in completely.

Pour the sweet and sour mix into a sealable jar or bottle. Put it in your fridge to stay cool while you complete the next steps.

In a large jug add some ice cubes. Then pour in the Jameson Irish whiskey, peach vodka and ¼ cup of your sweet and sour mix.

Using a long spoon, give the alcohol a very good mix for around 15 seconds.

Now you can add the about ¼ cup of Sprite to the jug, giving the drink an additional quick mix to properly combine the flavours.

Line your 4 shot glasses up and pour an equal amount of the drink into the glasses. Do not let the ice slip into the shot glasses.

Garnish the shot glasses with a wedge of lime.

Serve and enjoy!
Nutrition
Calories:
225
kcal
|
Carbohydrates:
40
g
|
Protein:
0.1
g
|
Fat:
0.1
g
|
Saturated Fat:
0.003
g
|
Polyunsaturated Fat:
0.003
g
|
Sodium:
85
mg
|
Potassium:
15
mg
|
Fiber:
0.2
g
|
Sugar:
39
g
|
Vitamin A:
4
IU
|
Vitamin C:
4
mg
|
Calcium:
6
mg
|
Iron:
0.1
mg
Notes & Tips
When you are mixing your drink together, the key is to ensure that the liquid gets cold. This could take 10 seconds or up to 30, so just keep stirring until the ice cubes have chilled the drink before pouring into your shot glasses. Make sure to push your spoon all the way to the bottom of the judge so that you properly combine all of the drink.
Of course, like any shot, you can prepare these green tea shots in a cocktail shaker. Instead of pouring the contents into a large jug, pour them into your shaker and shake to mix for 15 or so seconds. Then carry on with the directions as instructed above.
For a final finishing touch to your green tea shots, you can salt the rim of the shot glasses if you want. This is a particularly good hack if you are not a fan of the sweetness from the Sprite, though it may overpower the more delicate peach flavour.
Substitutions
Typical green tea shots are made using peach schnapps. However, I have found that using peach vodka gives the shot a satisfying extra kick. If you are a bigger fan of schnapps than vodka, use it with the same measurements.
I used Jameson Irish whiskey in my green tea shot purely because it is what I had on hand at the time. However, any Irish whiskey you have in your kitchen will work fine as a replacement if you so desire. Just be cautious of any obvious flavour differences, like if your whiskey has been aged for longer which would make the taste of the whiskey itself much harsher. If you only have aged whiskey then either use less of it or add extra Sprite and/or sweet and sour mix to your drink. This will help to cover up the more intense flavour with a sweetness instead.
Can I Use Green Tea Shots In A Cocktail?
If, like me, you take a shot at these… well, shots, you might want to use them and enjoy them in any way you can. And how better to enjoy your favourite shot than in a cocktail?
You can use the same amount of ingredients and follow the same method as listed above to make 2 full sized green tea shot cocktails. Or you can half the ingredients to make 1 cocktail. The only changes you will need to make to the recipe is how much Sprite you use and the type of glass that you pour the drink into.
A cocktail, while still obviously alcoholic, is not typically as strong as a shot. You will need to use a bit more sprite to make a cohesive cocktail. Even then, the drink may be a little too strong depending on your preference. If you find that to be the case, top the green tea cocktail off with a little more Sprite.
You can garnish a green tea shot cocktail in a similar manner to the green tea shot itself – with a lime wedge and a potentially a salted rim.
For a more spicey and citrus based cocktail than this green tea shot, I think you will find our simple and spicy blood orange margarita cocktail the perfect drink for you.
---
Recent Recipes