Simple Alfredo Sauce Without Heavy Cream
Have you made homemade alfredo sauce before? Homemade alfredo sauce, by far, tops the sauce you can get in the jar at the supermarket. Yes, it requires a few extra steps, but it's well worth it. It doesn't take that long for homemade alfredo sauce to come together. And, better yet, it only takes a few simple ingredients that you probably already have.
However, alfredo sauce isn't known to be very light. It's a fatty, creamy sauce that's really delicious but not exactly low fat.
It's typically made with butter and heavy cream and then thickened with parmesan cheese. This isn't exactly ideal if you're trying to follow a low fat diet. There are a few substitutions you can make that make alfredo sauce lighter but without sacrificing it's delicious creaminess.
One of the main ingredients that you can easily swap out is the heavy cream. What usually happens when we purchase heavy cream is that we only use a small amount and then have no other use for the rest of the container. So, instead of letting that carton spoil in the fridge, we're going to find a few other ways to make alfredo sauce without heavy cream.

Replacing the heavy cream doesn't mean that the sauce needs to be dairy-free. Though, the option is there. It's totally up to you and your specific taste preference and health needs.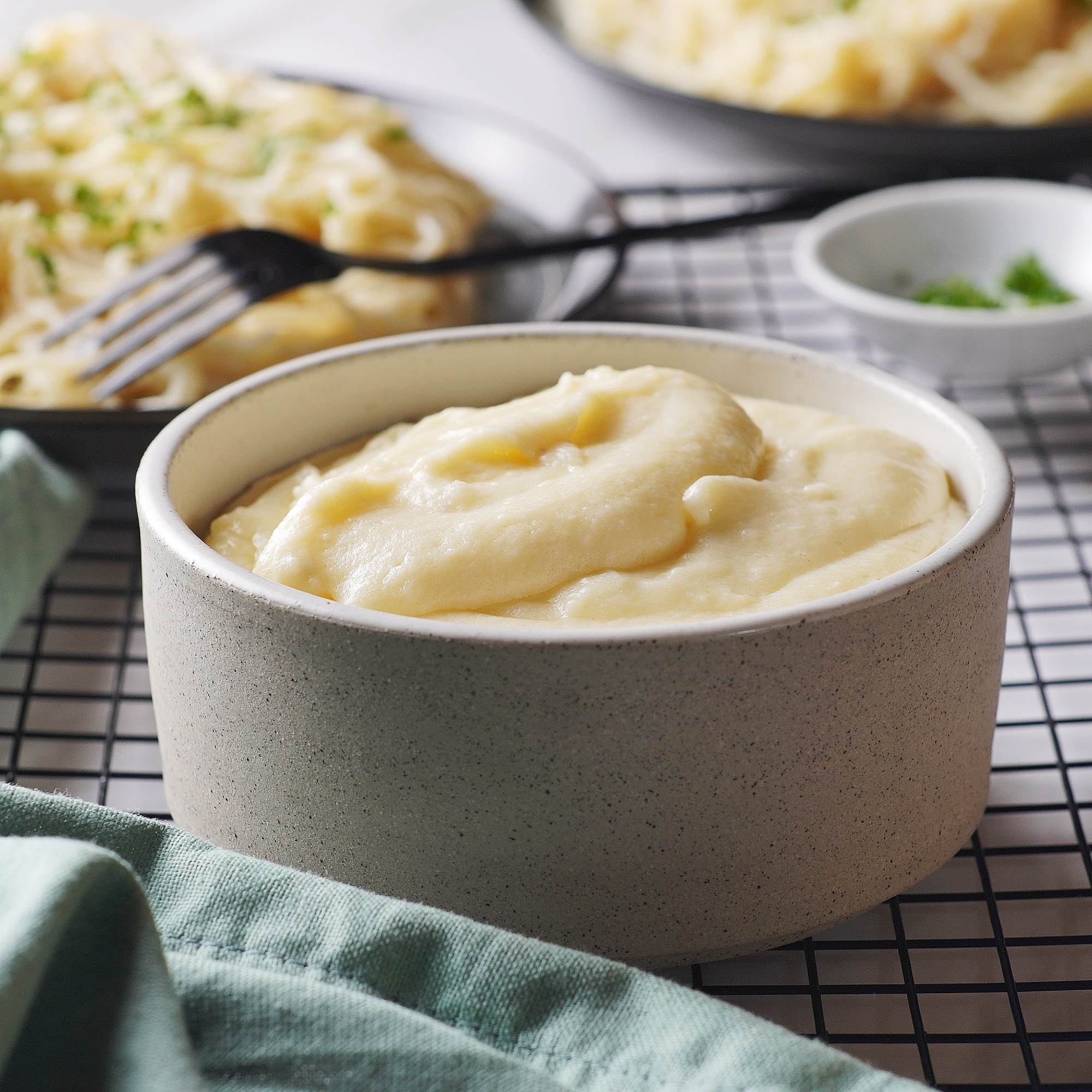 Ingredients
¼

cup

4 tablespoons unsalted butter

¼

cup

all purpose flour

2

garlic cloves

minced

3

cups

whole milk

¼

teaspoon

salt

Fresh ground black pepper

2

cups

fresh parmesan cheese

grated

1

pinch

ground nutmeg
Instructions
All ingredients ready? Let's begin!

First, you're going to make a roux. Place a medium saucepan on the stove. Add the butter and turn the heat to medium heat. Begin to melt the butter, taking care not to brown it.

Add the garlic and stir.

Once the butter is completely melted, add the flour. Use a whisk to mix together the flour and butter. Whisk together until a paste is formed.

Keep stirring so that the flour begins to cook, but not burn. You'll be able to tell that the roux is done cooking when it starts to develop a nutty flavor.

Gradually pour in the milk, whisking as you pour it in.

Bring the milk mixture to a simmer.

While the milk mixture is simmering, gently add in the grated parmesan. Stir everything together with the whisk.

Season with salt, black pepper, and nutmeg.

Use the sauce immediately for best results.
Video
Nutrition
Calories:
307
kcal
|
Carbohydrates:
12
g
|
Protein:
17
g
|
Fat:
21
g
|
Saturated Fat:
13
g
|
Polyunsaturated Fat:
1
g
|
Monounsaturated Fat:
6
g
|
Trans Fat:
1
g
|
Cholesterol:
62
mg
|
Sodium:
660
mg
|
Potassium:
215
mg
|
Fiber:
1
g
|
Sugar:
7
g
|
Vitamin A:
723
IU
|
Vitamin C:
1
mg
|
Calcium:
513
mg
|
Iron:
1
mg
Notes & Tips
Whole milk is going to work best for this recipe. Try to use milk that has the highest fat percentage. Another option would be to use half and half. 
You can use dairy-free milk, as well. The flavor will change a bit, but almond, oat, or even soy milk could be dairy-free alternatives. Remember to use dairy-free fat, too, if you choose to go that route. 
The nutmeg adds a slight nutty flavor to the sauce. You can omit it, if you'd like. You could also use white pepper instead of black pepper for a different flavor profile.
If the sauce is too thin, continue to cook it on the low heat and it will start to thicken. Alternatively, here are a few other ways you can thicken alfredo sauce. 
If the sauce is too thick, you can add more milk.
You can add chopped, fresh herbs (like parsley) to enhance the flavor of the sauce.
It's best to use fresh garlic. Try to avoid using granulated garlic or garlic powder for the best flavor.
Check out this post with a homemade pasta recipe to complete your alfredo dish. 
What is a Roux?
A roux is a mixture of flour and fat that is cooked together and used as a thickening agent. Typically, the fat is full-fat butter. Using butter and flour is going to result in a rich, tasty sauce. 
You can use other fats and sometimes even other flours to make a roux. For example, you could use olive oil, bacon fat, or other rendered fats to make a roux. You could use rice flour or gluten-free flour as an all purpose substitute.
A roux is often used instead of using cornstarch or arrowroot powder. You can use it in many other applications, too. Using a roux is a great option to thicken soups, stews, chicken pot pie, and other dishes.
Why is My Alfredo Sauce Gritty?
Your alfredo sauce is likely gritty because of the type of parmesan cheese that you are using. You should use high quality fresh grated parmesan cheese from the block. This kind of cheese is going to melt the best and create a smooth consistency.
If you use the pre-packed, powdered parmesan cheese, it won't melt correctly, and therefore you'll have a gritty cheese. Be aware that even some of the pre-packaged cheeses that are labeled "fresh" may still have preservatives that will prohibit the cheese from melting completely.
How Do You Keep Alfredo Sauce From Separating?
Sometimes, when you cook with dairy, the item will separate. This means that the sauce may look chunky or like it has oil sitting on top of it. This is likely a result of overheating the sauce.
The best way to prevent alfredo sauce from separating is to keep the heat manageable and not too hot. You don't ever want the sauce to boil, but a light simmer is necessary for everything to bind together.
Another way to keep the sauce from separating is to use a whisk when mixing, instead of spoon or spatula.
There is a quick way to fix your sauce if it does separate. You can add a little bit of cold milk and slowly whisk it into the separated sauce.
---
Recent Recipes