Simple Honey Soy Chicken Thighs
If you enjoy chicken thighs as much as I do, you will really like these honey and soy glazed thighs. They are salty, sweet, and sticky. This is an easy recipe that you can prepare in 35 minutes for a great and easy weeknight meal.
I am fond of skin-on and bone-in thighs for this recipe. The bones have so much flavor and the skin keeps the meat juicy as it crisps up in the oven. Yes, you will roast the thighs in the oven.
The glaze can be made a day ahead of time if you want to cut the prep time short. Just store it in a sealed container in the fridge and warm it up right before you roast the chicken. You will need vegetable or seed oil, garlic, ginger, soy sauce, honey, and butter for the glaze. The glaze will be prepared in a sauté pan or sauce pot on the stove before it dresses the chicken.
This Asian-inspired chicken dish is nice when served with simply steamed rice and some roasted veggies. You can also slice the cooked chicken and eat it in a lettuce wrap with your hands. Warm sake is a nice beverage pairing as is green tea.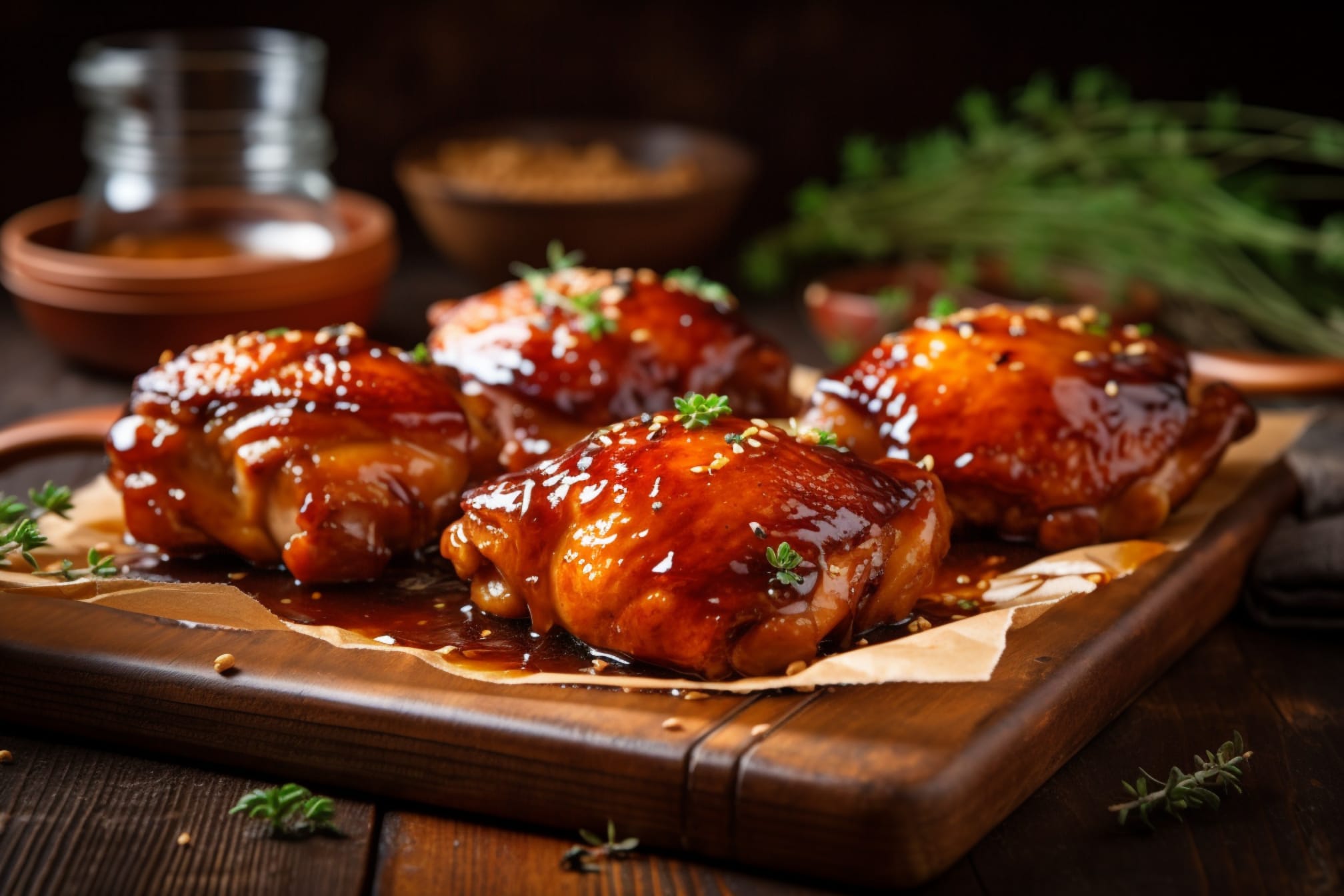 Ingredients
2

tbsp

raw sesame oil

divided

2

large garlic cloves

peeled and minced

1

Tbsp

minced ginger

1/3

cup

soy sauce

5

Tbsp

honey

3

Tbsp

unsalted butter

1/2

tsp

freshly ground pepper

8

bone-in and skin-on chicken thighs

Sesame seeds for garnish

2

scallions sliced thinly for garnish

4

lemon wedges for serving
Instructions
Take the chicken out of the refrigerator and give it a quick rinse under cold water. Pat it dry with paper towels and set it aside to come to room temperature. Preheat the oven to 425°F. Line a rimmed sheet with aluminum foil.

In a small saucepan over medium heat, warm 1 tablespoon of the oil. Add the garlic and ginger to the pan and sauté until they are soft, approximately 2 to 3 minutes.

Reduce the heat to low and add the soy sauce and honey. Stir to combine. Simmer the glaze, stirring occasionally, until the liquid has reduced and thickened into a syrup consistency, about 10 minutes. Make sure it doesn't burn.

Remove the pan from the heat. Whisk in the butter and pepper.

Place the thighs, skin side facing up, on the lined sheet pan. Drizzle the remaining sesame oil over the chicken. Then, spoon 1/2 of the glaze over the chicken and spread it out to cover each piece completely. Don't place the spoon back into the glaze.

Put the pan in the oven and roast the chicken until just browned for 15 minutes.

Using a clean spoon, coat the chicken with 2 more tablespoons of the glaze. Return the pan to the oven and continue to roast until the internal temperature reaches 165°F when checked with a digital thermometer.

Transfer the thighs to a serving platter. Drizzle the remaining glaze over the thighs. Garnish with sesame seeds and scallion slices. Add lemon wedges to the platter.

Serve while warm with steamed rice and some roasted or steamed broccoli.
Nutrition
Calories:
942
kcal
|
Carbohydrates:
26
g
|
Protein:
55
g
|
Fat:
69
g
|
Saturated Fat:
21
g
|
Polyunsaturated Fat:
14
g
|
Monounsaturated Fat:
27
g
|
Trans Fat:
1
g
|
Cholesterol:
337
mg
|
Sodium:
1330
mg
|
Potassium:
757
mg
|
Fiber:
1
g
|
Sugar:
22
g
|
Vitamin A:
518
IU
|
Vitamin C:
10
mg
|
Calcium:
42
mg
|
Iron:
3
mg
Notes and Tips
You can make the glaze a day ahead of time to make it quicker to prepare a weeknight dinner. Simply rewarm the glaze in a pan or in the microwave.
Make sure you don't use the same spoon when glazing the chicken, or clean it between steps. You don't want it to touch raw chicken and then contaminate the remaining glaze.
Have a digital or instant-read thermometer on hand to check the temperature of the chicken. You don't want to roast beyond 165°F because it will dry out and become tough.
More Chicken Thigh Recipes
I do eat a lot of chicken, especially thighs. They are moist and tender. We have more thigh recipes that I think you might enjoy. They are all very different and equally delicious.
Storage & Reheating
Store leftover honey soy chicken thighs in an airtight container in the refrigerator for up to 3 days.
To reheat, preheat the oven to 350°F. Place the chicken thighs on a lined baking sheet and cover with aluminum foil. Reheat for 15-20 minutes, or until warmed through. You can also reheat in a microwave for 2-3 minutes, checking at 1-minute intervals to prevent overcooking.
Serving Suggestions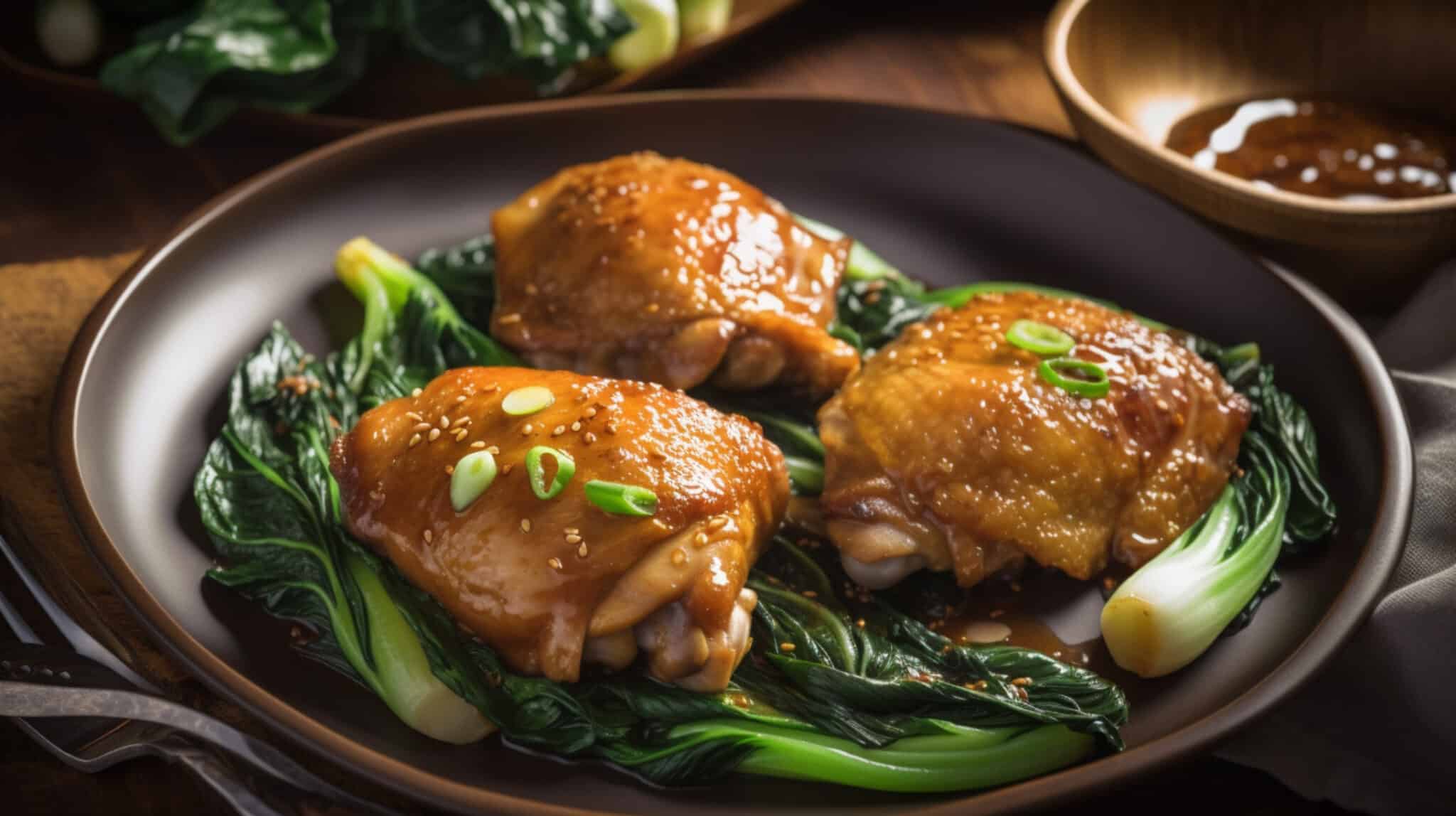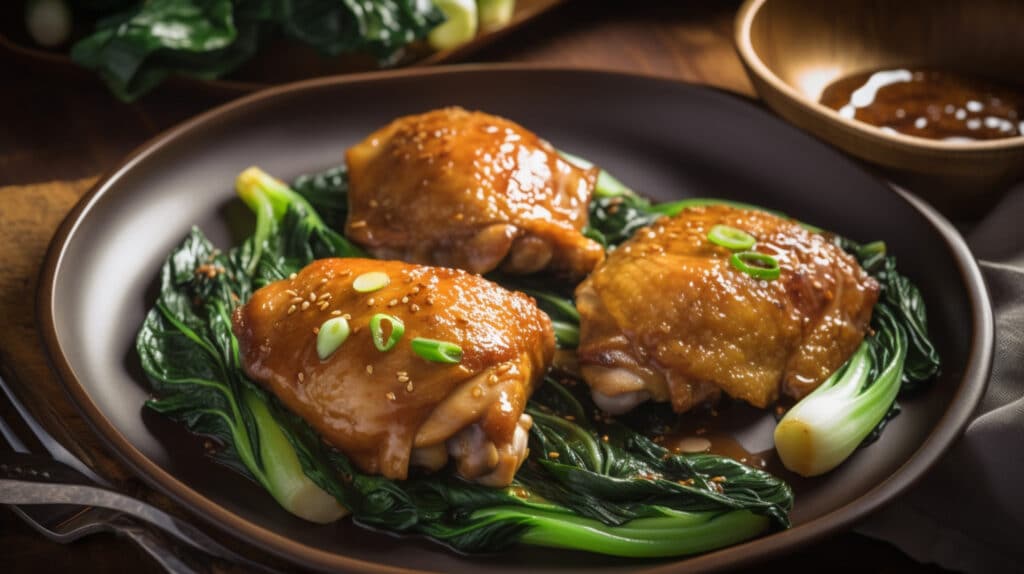 Serve with steamed jasmine or brown rice.
Pair with a side of roasted or steamed vegetables like broccoli, green beans, or bok choy.
Add a simple cucumber salad or coleslaw for a refreshing contrast to the rich flavors.
Include a dipping sauce, such as sweet chili sauce or sriracha mayo.
Variations For Common Dietary Restrictions & Diets
Gluten-free: Use gluten-free soy sauce, tamari, or liquid aminos.
Soy-free: Substitute soy sauce with coconut aminos.
Vegetarian/Vegan: Use a plant-based protein like tofu or tempeh, and replace honey with maple syrup or agave nectar. Substitute butter with a vegan butter alternative or coconut oil.
Substitutions
Raw Sesame Oil: The sesame oil adds so much flavor to the glaze. You don't want to cook with toasted sesame oil, but you can add a little to the glaze just before serving if you want a stronger sesame flavor. You can certainly use canola oil for this recipe if raw sesame oil isn't available.
Soy Sauce: For a gluten-free glaze, substitute liquid aminos or tamari. For soy-free, you can use coconut aminos.
Honey: I have not tried this yet, but I think you could use maple syrup if you don't have honey in your pantry.
Chicken Thighs: You can make this recipe with boneless, skinless chicken thighs if you prefer. I think they might take a few minutes less to roast, so keep an eye on them. You can also make this recipe with drumsticks or wings.
Garnishes: You don't have to garnish the dish with sesame seeds and scallions. You can leave them off or change it up with chopped toasted peanuts and chopped flat-leaf parsley. For some heat, try a few thin slices of Thai red chilis.
Common Mistakes
Overcooking the chicken, which can result in dry and tough meat. Use a digital or instant-read thermometer to ensure proper internal temperature.
Overcrowding the pan, leading to uneven cooking and less-crispy skin. Make sure to give each thigh enough space on the sheet pan.
Burning the glaze while reducing it. Keep the heat low and stir frequently to avoid scorching.
Health Risks & Benefits
Risks: High sodium content due to soy sauce, which can contribute to high blood pressure if consumed excessively. Opt for low sodium soy sauce to reduce the risk here.
Benefits: Chicken thighs are a good source of protein, essential amino acids, and vitamins such as B6 and B12. The dish also includes antioxidant-rich ingredients like garlic, ginger, and sesame oil.
Recipe Context
Honey soy chicken is a popular fusion dish that combines the flavors of Asian cuisine, particularly Chinese and Japanese, with the simple cooking techniques of Western cuisine.
The combination of sweet and salty flavors, as well as the use of soy sauce and sesame oil, are common in many Asian dishes. The inclusion of honey as a sweetener is a nod to the preference for natural sweeteners in traditional Asian cooking.
Common Questions
Can I use boneless, skinless chicken thighs or breasts instead?
Yes, but adjust the cooking time accordingly as they may take less time to cook. Check the internal temperature with a thermometer to ensure doneness.
Can I use a different sweetener instead of honey?
Yes. Maple syrup is the most suitable alternative, although it may alter the flavor profile slightly.
What can I substitute for soy sauce if I'm allergic to soy?
Coconut aminos can be used as a soy-free alternative to soy sauce.
Can I prepare the glaze in advance?
Yes, the glaze can be made a day ahead and stored in a sealed container in the refrigerator. Warm it up before using it on the chicken.
---
Recent Recipes