Delightful Dynamite Mussels
Dynamite mussels are a popular dish at upscale Japanese restaurants, but you can create the same taste at home for a fraction of the price. Take your taste buds on a global adventure with this sushi appetizer.
You can use green or black mussels if you prefer. For this recipe, we'll be using green mussels on the half shell.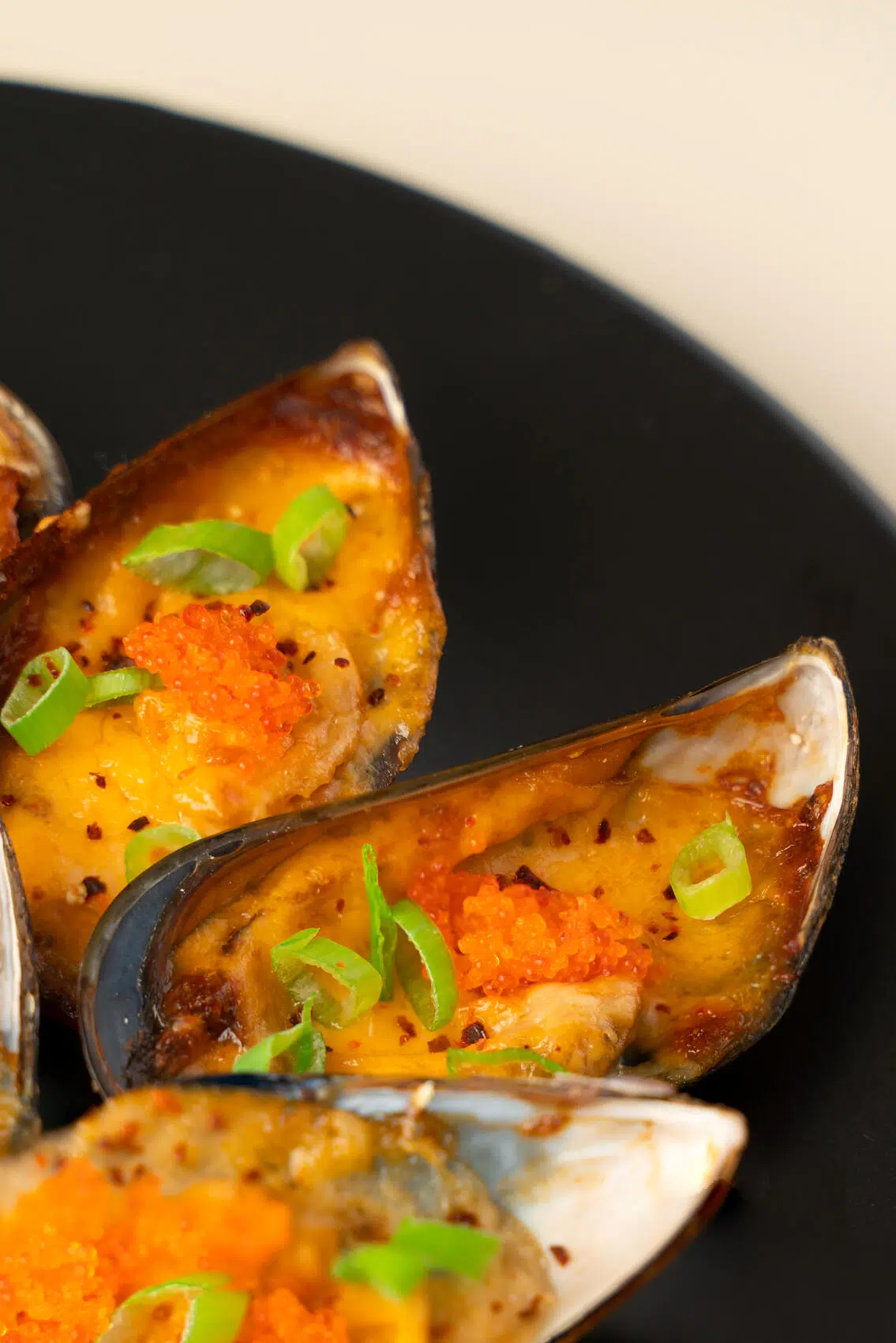 Ingredients
12

green mussels on the half shell

1/4

cup

Japanese mayonnaise

see shopping notes

1/2

teaspoon

granulated sugar

2

teaspoons

sriracha

2

tablespoons

freshly grated parmesan cheese

or a cheese substitute

1/8

teaspoon

masago

see shopping notes per mussel

1

pinch

scallions and red pepper flakes for garnish
Instructions
Preheat the oven to 350°F (180°C)

Wash the mussels and pat them dry with a paper towel.

Add the mayonnaise, sugar, sriracha, and parmesan cheese (or cheese substitute) to a bowl and stir until well combined. Add more mayonnaise and sriracha if desired.

Place the mussels in evenly spaced rows on a baking sheet. Distribute the sauce on top of the mussels (each mussel should be completely covered in sauce) and add more parmesan cheese (or cheese substitute) on top.

Bake the mussels for about 18-20 minutes until their edges are brown and caramelized.

Carefully remove from the oven, taking care to not let the juices fall off.

Transfer the mussels to a serving plate and place a little masago on each mussel. Garnish them with scallions and Japanese pepper flakes.

Serve immediately, enjoY!
Video
Nutrition
Calories:
129
kcal
|
Carbohydrates:
2
g
|
Protein:
4
g
|
Fat:
12
g
|
Saturated Fat:
2
g
|
Polyunsaturated Fat:
6
g
|
Monounsaturated Fat:
3
g
|
Trans Fat:
1
g
|
Cholesterol:
15
mg
|
Sodium:
254
mg
|
Potassium:
87
mg
|
Fiber:
1
g
|
Sugar:
1
g
|
Vitamin A:
72
IU
|
Vitamin C:
3
mg
|
Calcium:
38
mg
|
Iron:
1
mg
Shop Ingredients
Notes & Tips
Dynamite mussels get their name from the "dynamite" sauce made from Japanese mayonnaise, sugar, spicy sriracha, and parmesan cheese. You can adjust the level of spiciness according to your preference, especially in how much sriracha you choose to add.
It is very important to wash the mussels thoroughly before cooking them in order to remove the "beard." This is a thin, sticky membrane that mussels use to attach themselves to rocks and other stable surfaces.
Most farm-raised mussels will come debearded at the store, but it's still a good idea to check each one carefully to make sure there are no filaments still attached.
How to shop for mussels
Mussels are usually found in the frozen section of the grocery store. However, if you are purchasing live mussels, make sure to check that they are still alive before cooking. This is because enzymes quickly break down the meat and can cause the mussels to be inedible or even toxic when cooked.
As a general rule, live mussels will clamp shut when disturbed, while unresponsive mussels are dead and should be discarded.
How to shop for masago
Masago is orange fish roe (ripe and unfertilized fish eggs) that is used for making sushi. You can find this at any specialty store that sells sushi ingredients. You can also buy fish roe online if you don't have a local sushi store.
How to shop for Japanese mayonnaise
American mayonnaise is not an exact swap for Japanese mayonnaise, so it's important to use the latter if you can. Japanese mayonnaise is thicker, richer, and slightly sweeter than American mayonnaise. Japanese mayonnaise is made with egg yolks and apple or rice vinegar, while American mayonnaise uses whole eggs.
You can find Japanese mayonnaise in the Asian food aisle of your local grocery store or at a specialty Asian supermarket. Kewpie is the most prominent Japanese mayonnaise brand. Look for it in large or small squeeze bottles.
If you can't find Japanese mayonnaise, you can add a little rice vinegar to American mayonnaise, which will make it taste somewhat similar to Japanese mayonnaise.
Optional sides or compliments
There are plenty of optional sides that could pair well with the mussels. Below is just a fraction of the tastes you can explore.
Sweet and meaty mussels will pair well with any crusty bread (use gluten-free bread if desired).
French fries will kick up the salty taste of the sea in the mussels. For a more Asian-inspired pairing, make tempura instead.
Steamed saffron rice is another carbohydrate option, too.
For a vegetable side, consider roasted broccoli, steamed beans, or tomato salad.
You can also snack on some edamame while making the mussels!
Goyoza are half-moon shaped dumplings from Japan that would taste great with the mussels. You can make them with minced pork or vegetable filling, but a vegetable filling may pair better with the briny taste of the mussels.
Storage
Cooked mussels will last for three to four days in the fridge when stored properly. Refrigerate the mussels in a shallow airtight container or wrap them tightly in plastic wrap or aluminum foil.
The cooked mussels can also be frozen. They will maintain best quality in the freezer for two to three months. Freeze the mussels in a covered airtight container or heavy-duty freezer bag or wrap them with freezer wrap or aluminum foil.
After defrosting and thawing, the mussels should be eaten immediately.
Common questions
Which type of mussels should I use for this recipe?
This recipe uses green mussels, but you can use black mussels instead. There are a few key differences between them.

Flavor: Black mussels will have a more intense briny flavor. Green mussels are milder tasting.

Shell: green mussels usually come on the half shell when you buy them. If you use black mussels, you will have to break apart each shell in order to pour the sauce on.
What do dynamite mussels taste like?
Mussels have a soft and chewy texture and a briny taste, which is common across mollusk species. The dynamite sauce adds rich and creamy flavor.
---
Get Foodie Deals
We collect great foodie-focused deals from across the web daily. Get yourself or your favorite foodie a great deal at big name stores.
Recent Recipes