All The Five Guys Vegan Menu Options
Some restaurants are vegan-friendly, and some are less so. But few are as vegan unfriendly as Five Guys.
We know, it's a shame; Five Guys is well known for its delicious burgers and tasty sides. It's a great place to have a Friday after-work party or to take your family for lunch or dinner. Unfortunately, if you're a vegan, your options are very limited and you might be better off going somewhere else.
If you are stuck going to Five Guys for one reason or another, however, we've put together a basic breakdown of the vegan options on their menu. Let's take a closer look now.
| Menu Item | Dish Type | Notes |
| --- | --- | --- |
| Cajun Fries | Fries | |
| Grilled Mushrooms | Toppings | Cross-contamination warning |
| Grilled Onions | Toppings | Cross-contamination warning |
| Green Peppers | Toppings | |
| Jalapeno Peppers | Toppings | |
| Lettuce | Toppings | |
| Peanuts | Snack | |
| Pickles | Toppings | |
| Raw Onions | Toppings | |
| Regular Fries | Fries | |
| Tomatoes | Toppings | |
Note: Cross-contamination can occur. Menu items as of 1/10/2023 as menu items may have changed.
Fries and… Fries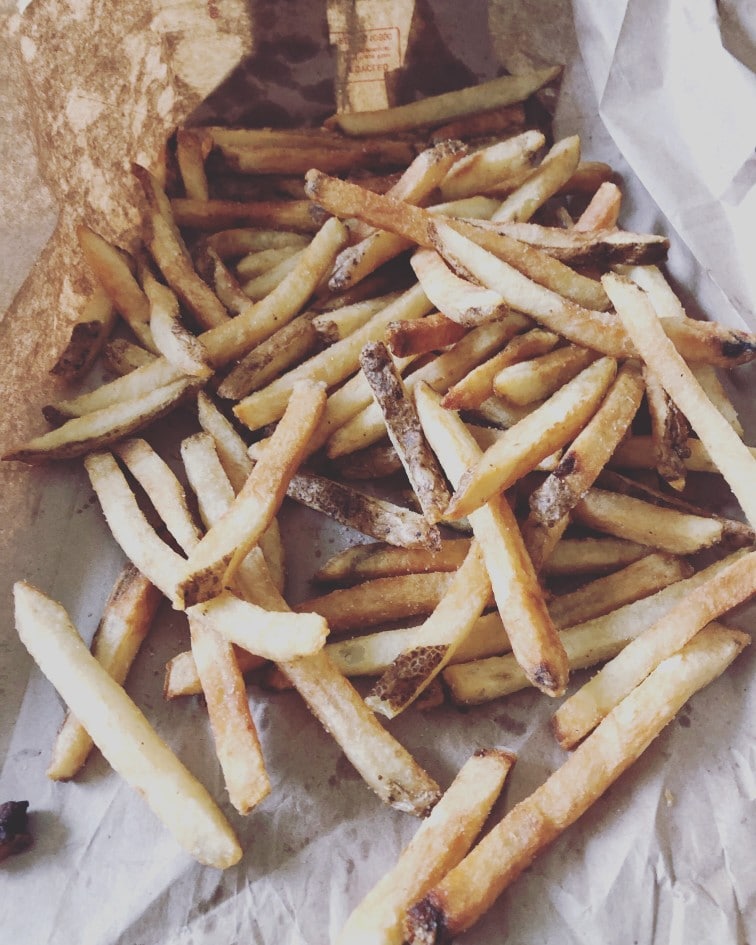 That's right – practically all you can eat as a vegan at Five Guys are the French fries. This is a huge bummer compared to many other burger places or sit-down restaurants, which usually offer some vegan-friendly alternatives like salads, sandwiches, or something else.
As it stands today, Five Guys only offers its seasoned Cajun fries or salt-and-pepper fries for vegans. These are vegan friendly because of the oil they are cooked in, not because they are made of anything special like sweet potatoes or so on.
Because this is your only real option, we definitely don't recommend going to Five Guys as a vegan unless you really love their French fries and want a quick snack. You can't put together a half-decent meal using Five Guys' menu whatsoever.
One other thing – some Five Guys restaurants to offer peanuts. These are vegan friendly but not because of any special effort on Five Guys' part. They simply don't add anything to the peanuts to make them anti-vegan (though they are pretty salty, so your mileage may vary as to whether these are worth it).
Vegan Toppings/Condiments
Granted, Five Guys does have a variety of toppings and condiments you can check out if you're a vegan. That said, you'll only be able to use these toppings and condiments with your French fries, and some of them definitely aren't meant to be used with fries at all! The vegan-friendly toppings and condiments at Five Guys include:
Onions
Relish
Mustard
Green and jalapeno peppers
BBQ sauce, hot sauce, and A1 steak sauce
Lettuce
Pickles
Grilled onions and mushrooms
Tomatoes
Ketchup
Unfortunately, none of Five Guys's breads are vegan friendly either. So you'll need to look elsewhere for anything more substantial than a cup of French fries.
What About the Veggie Burger/Veggie Sandwich?
Some time ago, word got out that Five Guys was offering a vegan-friendly burger or vegetable sandwich. But this isn't really vegan friendly; let's explain why.
In a nutshell, the "Veggie Burger" is really a veggie sandwich. At first glance, it seems to be a pretty good choice for both vegetarians and vegans. It includes grilled onions, green peppers, mushrooms, lettuce, and tomatoes, all sandwiched between a soft, toasted bun.
Here's the problem; the toasted bun in question has both milk and eggs, and the buns are made in-house from a specific recipe. So you can't ask the Five Guys servers to simply modify the buns to make them vegan friendly.
As a result, the veggie sandwich is a good choice for vegetarians but not for vegans.
Five Guys Vegan Options FAQs
Are the fries at Five Guys really vegan?
Yep, and that's about the only good thing going for this restaurant when it comes to vegan friendliness. All the fries are cooked in peanut oil without any animal products. That being said, you'll have to keep cross-contamination in mind; the fryers are definitely shared between French fries and any other fried things at Five Guys.

Furthermore, shared cooking surfaces are the norm at this burger and fry joint. So if "vegan" to you means that the food in question never came into contact with animal products, Five Guys' fries are actually not very vegan friendly at all.
Which of the two French fries is better?
That comes down to personal preference; Five Guys offers the French fries in cups or baskets depending on how many you want. The salt-and-pepper fries are pretty basic, but the Cajun fries are seasoned with some extra spices. So they serve as a tasty (if not exactly health) middle-of-the-day snack for many. Plus, they don't seem to be as salty as the salt and pepper fries (though this may depend on the restaurant you visit).
Is there an Impossible Burger at Five Guys?
No, sadly, though there was a rumor that an Impossible Burger was coming to Five Guys sometime soon. At this time, Five Guys doesn't offer any plant-based meat alternatives for their burgers or other dishes. We hope to see this change sometime in the near future as vegan alternatives become more accepted by the mainstream public.
Why is the veggie burger not vegan?
It's not vegan just because of the milk and eggs included in the bun. Everything else is good to go. Theoretically, you could bring your own bun and just ask for the grilled vegetables, but why not make yourself a vegan sandwich at home instead?
Is Five Guys a Good Vegan Eatery?
As you can see, Five Guys' vegan choices are absolutely terrible from start to finish. There are tons of other restaurants, including Denny's, Chili's, and even KFC that do much better when it comes to vegan alternatives and options.
Plus, for being such a well-known burger joint, Five Guys doesn't offer any burgers for vegetarians or vegans. Instead, the restaurant seems determined to stick with its meat focus for the foreseeable future. Hopefully, that will eventually change!
If you're interested in eating somewhere else, or you want to know where there are vegan-friendly burgers to enjoy, you should check out our collection of restaurant vegan menus and locations today. Even better, you can find some easy vegan recipes on Cook Gem if you want to brush up on your cooking skills and make yourself some tasty vegan treats!
---
Recent Recipes