There is nothing quite like a really good French onion soup. It is a comfort food that is hard to dislike with the umami of the slow-cooked onions that are both savory and sweet. They are then steeped in beef broth. The soup is topped with a crouton or crostini and stretchy gruyere cheese. This is baked under a broiler until the cheese melts and browns a little. This is indeed a rich dish.
Because I make a lot of vegan versions of classic comfort foods, I decided to see how I could make a caramelized onion dish similar to French onion soup. I remembered that when I was eating a mostly macrobiotic diet, I made a condiment called onion jam. This was onions that were caramelized until they were so soft, you could spread them on toast as you would butter. The flavor of caramelized onions is incredible.
Using a similar cooking technique is perfect for making a vegan French onion sauce to serve over pasta. French onion pasta is rich, savory, sweet, creamy, and comforting. Onions are the key ingredient. They are sliced and sautéed in a combination of olive oil and any vegan butter you like. The onions are caramelized with the help of red wine vinegar and brown sugar. Garlic and thyme are added for more depth of flavor. To make the sauce creamy, plant-based milk is simmered with the caramelized onions. Nutritional yeast is what gives the sauce a cheesy flavor.
Once the sauce is made, you simply toss al dente cooked small pasta shapes into the sauce. You serve this warm with flat-leaf parsley as a colorful garnish. I like to serve vegan French onion pasta with a lightly dressed leafy green salad and a glass of dry white wine.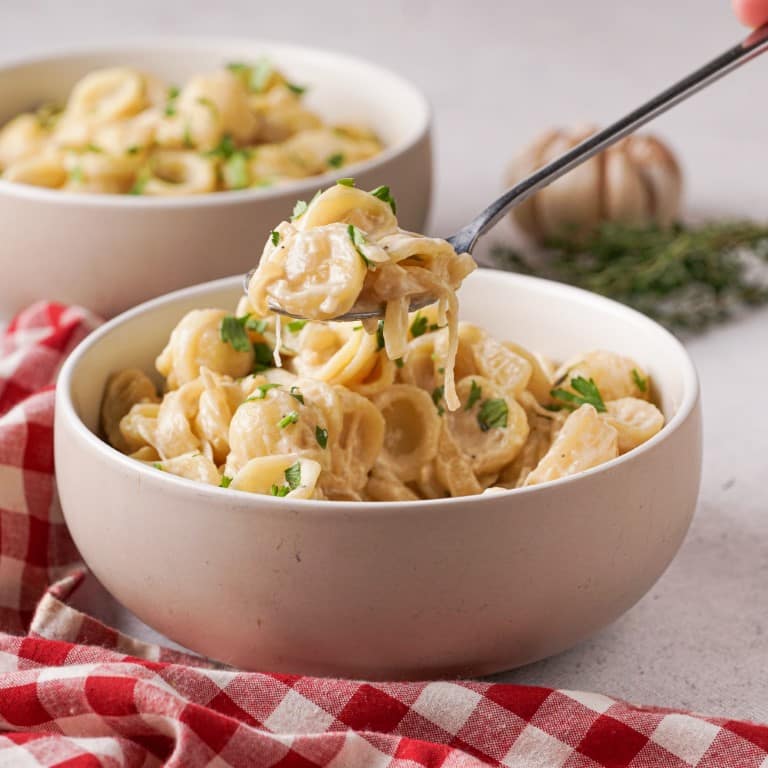 Ingredients
1

Tbsp

extra virgin olive oil

1

Tbsp

vegan butter

1

lb

of onions

about 4, peeled and sliced thinly into half moons

1

Tbsp

red wine vinegar

1

Tbsp

brown sugar

4

garlic cloves

minced

1

Tbsp

fresh thyme leaves

roughly chopped

12

ounces

of plain unsweetened rice milk

2

Tbsp

nutritional yeast

Salt and freshly ground pepper to taste

12

ounces

of orecchiette pasta

1

Tbsp

kosher salt

2

Tbsp

fresh flat-leaf parsley

chopped
Instructions
All ingredients ready? Let's begin!

Slice the onions evenly. In a large heavy-bottomed skillet over medium heat, melt the butter in the olive oil. Add the onion slices and toss to coat with the oil and butter. Sauté the onions for 2 minutes, stirring a couple of times.

Reduce the heat to medium-low and continue to cook, stirring a few times, for 10 minutes longer. You can cover the pan to ensure the onions remain moist if they appear dry.

Add the vinegar and sugar to the pan and cook for 5 minutes, stirring a couple of times.

Stir in the garlic and thyme. Continue to cook, stirring a few times, until the onions have softened and turned a caramel color, approximately 15 to 30 minutes. Keep an eye on the onions so they don't burn.

While the onions are caramelizing, bring a deep pot of water over high heat to a boil. Stir in 1 tablespoon of salt. Add the pasta and cook until just al dente, about 1 minute shy of the package directions.

Reserve a ladle full of the pasta water. Drain the pasta in a colander and set aside.

Once the onions have caramelized, turn the heat up to medium-high and stir in the milk and simmer for about 2 to 3 minutes until the sauce starts to thicken. Stir in the nutritional yeast and cook just until the yeast dissolves and the sauce has reduced some. Season to taste with salt and pepper.

Add the pasta to the sauce. Turn off the heat. Toss pasta to coat it evenly with the sauce. If the sauce is too thick, add a little of the reserved pasta water to thin it.

Transfer the pasta to a serving bowl. Sprinkle the parsley over the pasta and serve immediately.
Nutrition
Calories:
488
kcal
|
Carbohydrates:
89
g
|
Protein:
15
g
|
Fat:
8
g
|
Saturated Fat:
1
g
|
Polyunsaturated Fat:
2
g
|
Monounsaturated Fat:
4
g
|
Trans Fat:
0.01
g
|
Sodium:
1821
mg
|
Potassium:
471
mg
|
Fiber:
6
g
|
Sugar:
14
g
|
Vitamin A:
388
IU
|
Vitamin C:
15
mg
|
Calcium:
72
mg
|
Iron:
2
mg
Notes & Tips
It is important to slice the onions into evenly sized half-moons so they all caramelize completely.
If the onions start to dry out too much while cooking, you can add a splash of water to help keep them from sticking to the pan.
Cook the pasta to about 1 minute shy of the package directions so it is al dente. It will finish cooking in the sauce.
Substitutions & Variations
Onions: I was taught by a great home chef from Paris to make onion soup with a variety of onions. She used white, yellow, and red. The reason for this is that onions have varying degrees of pungency and sweetness. The key to French onion pasta is to get a good caramelization on the onions due to the natural sugars. I like to combine yellow and Vidalia onions for this recipe. Vidalia onions are the sweetest of all.
Red Wine Vinegar: If you don't have red wine vinegar, you can use champagne vinegar, white wine vinegar, or even a little dry white wine. Don't use cooking wine because the flavor is too concentrated for this dish.
Brown Sugar: I like the way brown sugar caramelizes the onions. You can skip the sugar if using all sweet onions. Or, you can use white granulated sugar or agave nectar.
Fresh Thyme: If you only have dried thyme leaves, use about 1-1/2 teaspoons rather than a tablespoon of fresh.
Rice Milk: I mostly keep almond, oat, or coconut milk in my fridge. Shelf-stable rice milk is in my pantry because it has so little flavor compared to the other kinds of vegan milk. That is what makes it a good choice for this pasta recipe. But you can use whatever plant-based milk you prefer.
Nutritional Yeast: This item is a staple in my kitchen. I also keep vegan cheese shreds in my fridge. If you don't have nutritional yeast, swap it out for vegan parmesan shreds.
Orecchiette Pasta: Orecchiette is small pasta shaped like little ears. Another small pasta type is shells. These are like little bowls that collect the sauce. Ziti is also a good substitution.
Benefits of Consuming Alliums
Onions, leeks, garlic, chives, and shallots are all in the allium family of plants. Alliums are flowering plants with root bulbs that are edible and have a distinctly strong and pungent flavor used in sauces, dressings, condiments, soups, etc.
Allium bulbs are believed to combat cancer and boost immunity. They are packed with antioxidants that fight free radicals. Onions and garlic contain antimicrobial properties as well as vitamin C that make them excellent for dealing with bacterial and viral infections. There may be some truth to garlic being used to repel vampires.
Vegan French onion pasta is loaded with onions and garlic. This dish is not only comforting, but it may also be healing.
---
Recent Recipes