Best Low FODMAP Bone Broth
Bone broth is a key part of all kinds of tasty recipes, including stews, baked goods, and more. But there's a problem if you follow a low FODMAP diet – many bone broth recipes use so-called cartilaginous bones or bones that include cartilage. These bones, which are often bones with joints and which are harvested from chicken carcasses, may have GAGs or glycosaminoglycans.
Even though GAGs aren't technically high in FODMAPs, they can still irritate people with SIBO or irritable bowel syndrome, making bones with these compounds inappropriate for low FODMAP diets. We do have some good news, though; there are some great low FODMAP bone broth recipes you can and should check out.
Not sure where to look? We have a tasty and versatile low FODMAP bone broth you can try starting today. Naturally, it's made without any cartilaginous bones whatsoever, so there's no need to worry about it upsetting your stomach. Let's take a look at this recipe in more detail.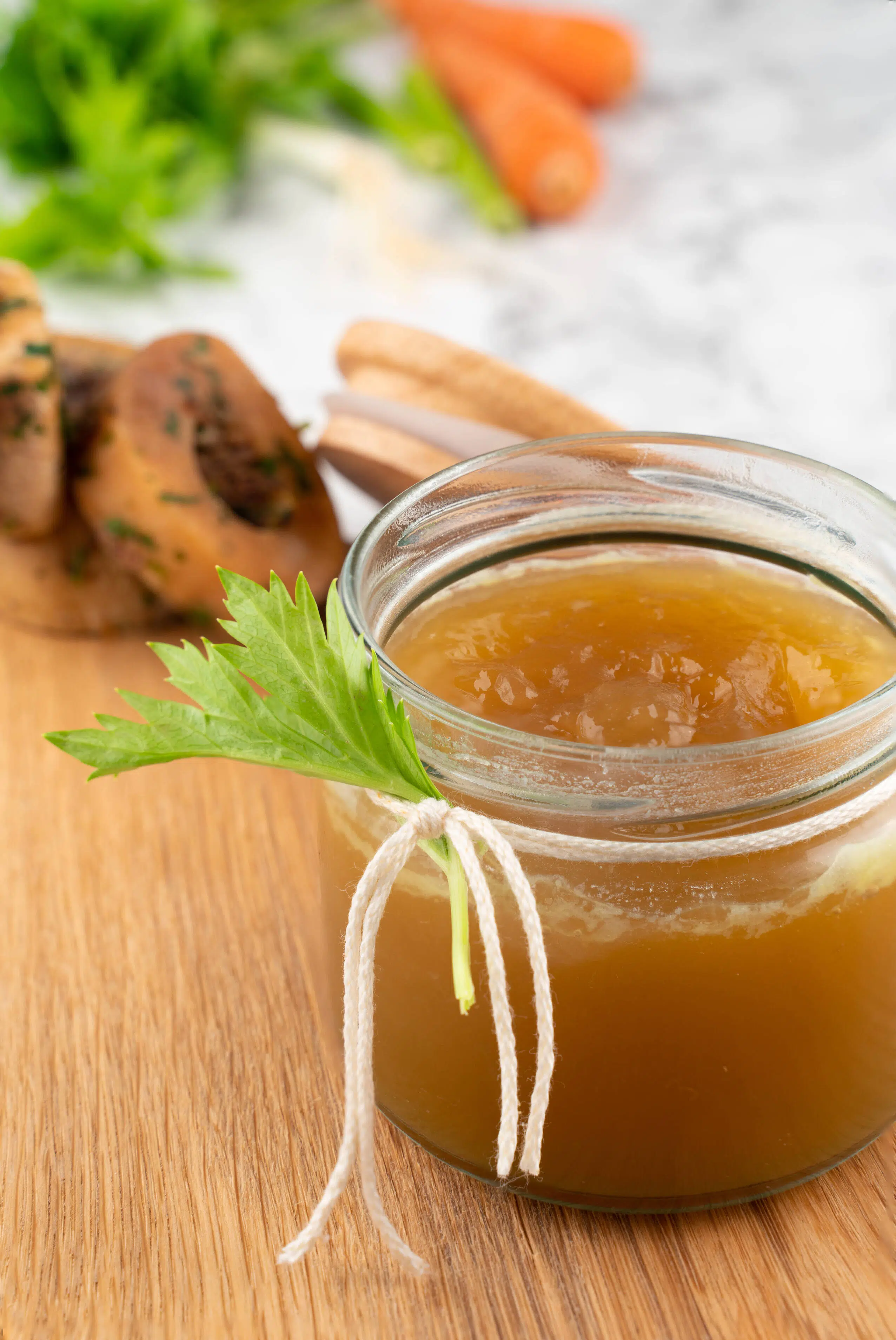 Ingredients
3

pounds

beef marrow bones

4

quarts

cold water

½

cup

apple cider vinegar

2

pounds

beef stew meat

2

tablespoons

coconut oil or ghee

1

bunch of green onions

coarsely chopped

3

carrots

coarsely chopped

3

celery sticks

also coarsely chopped

1

bunch parsley

1

teaspoon

dried green peppercorns

crushed

2

teaspoons

dried thyme

Sea salt to taste
Instructions
To begin, place the marrow bones in a large soup pot or Dutch oven with the apple cider vinegar. Cover the mixture with water and let the bone broth stand for about one hour under no heat at all.

Next, heat the coconut oil or ghee in a large frying pan until it is hot and simmering. Add the stew meat and cook until it is brown on all sides, about one minute per side. Add the meat and the fat from the frying pan into the Dutch oven or soup pot. Combine everything with the carrots, celery, and green onions.

At this point, you can add some additional water if needed to cover the beef marrow bones. Just make sure that the water doesn't reach the top of the soup pot completely. Bring the budding beef broth to a boil.

Take a wooden spoon and skim off the scum that may rise to the top. This will probably take a few minutes from start to finish. Then reduce the heat to a simmer and add the crushed peppercorns or thyme.

Let the stock simmer for at least 12 hours, though you can also let it simmer for up to 72 hours in total. You'll need to check the bone broth as it simmers every few hours and add more water as needed to keep the bones covered by water throughout the process.

Once you're finished letting the stock simmer, add the crushed parsley and let it simmer for another 10 minutes to ensure the parsley oil flavors are infused into the brew.

Take the bones and stew meat out of the pot using a slotted spoon. At this point, since they have been cooking for so long, the meat and bones won't have a lot of nutritional value, so don't plan to add them to any other meals.

Strain your new bone broth into a large bowl or container and allow it to cool in the refrigerator, giving it at least a few hours. Once this is done, remove the container and skim off any fat that has risen to the top.

Congratulations! Now you have low FODMAP bone broth to enjoy in any recipes you desire. You can transfer the broth to smaller containers if needed for refrigeration or freezing. If the broth is refrigerated, keep in mind you need to consume it within three days before it goes bad.
Video
Nutrition
Calories:
223
kcal
|
Carbohydrates:
1
g
|
Protein:
14
g
|
Fat:
18
g
|
Saturated Fat:
2
g
|
Polyunsaturated Fat:
1
g
|
Monounsaturated Fat:
2
g
|
Cholesterol:
40
mg
|
Sodium:
41
mg
|
Potassium:
238
mg
|
Fiber:
1
g
|
Sugar:
1
g
|
Vitamin A:
1956
IU
|
Vitamin C:
1
mg
|
Calcium:
18
mg
|
Iron:
2
mg
Notes & Tips
When making bone broth from scratch, you won't be able to really accelerate the process. With that in mind, be prepared to spend several days making the broth and letting it settle and cook. Don't try to rush it or make it in a hurry. Remember, it will take at least 13 hours to make from start to finish (though, fortunately, you won't be in the kitchen for that entire time!).
When adding water to the bone broth throughout the process, make sure that it is at least room temperature or a little warmer. This will help it heat up more quickly and will prevent it from cooling down the bone broth for too long, potentially altering the settling process.
However, you can make the recipe easier on yourself by prepping the vegetables and everything ahead of time. In this way, all you have to do is throw the ingredients in your Dutch oven or large pot and let it simmer on the oven for between 12 and 72 hours.
Substitutions
While the recipe the above calls for crushed peppercorns by default, you can also replace these with ground pepper for a similar flavor profile and cut down on time. You won't need to crush the peppercorns yourself in this case.
Keep in mind you can make bone broth with other types of bones too – chicken bone broth is often a good substitute for beef bone broth.
Common Questions
How long should I let the broth simmer?
There is indeed a huge range of time you can settle on for the broth. The longer you let it settle, the more intense the flavor will be and the more nutrients will be in the resulting broth (and the less nutritious the bones and remaining meat will be, as well).

72 hours is the best time overall if you can spare it. However, going for at least 20 hours or so (or even a full day) will also result in a delicious and useful low FODMAP bone broth for your upcoming recipes.
Where can I get the cartilage-free bones?
You might be able to get them from a local butcher or the meat counter at your local grocery store, if it includes such a place.
---
Recent Recipes