Homemade Breadfruit Puffs
There is a good chance that you have never heard of, let alone eaten, breadfruit. That's okay because this easy-to-make Breadfruit Puffs recipe is a fantastic introduction to this unique food. If you like french fries (and who doesn't), you are going to love this spicy and savory fried snack!
What the Heck is a Breadfruit, Anyway?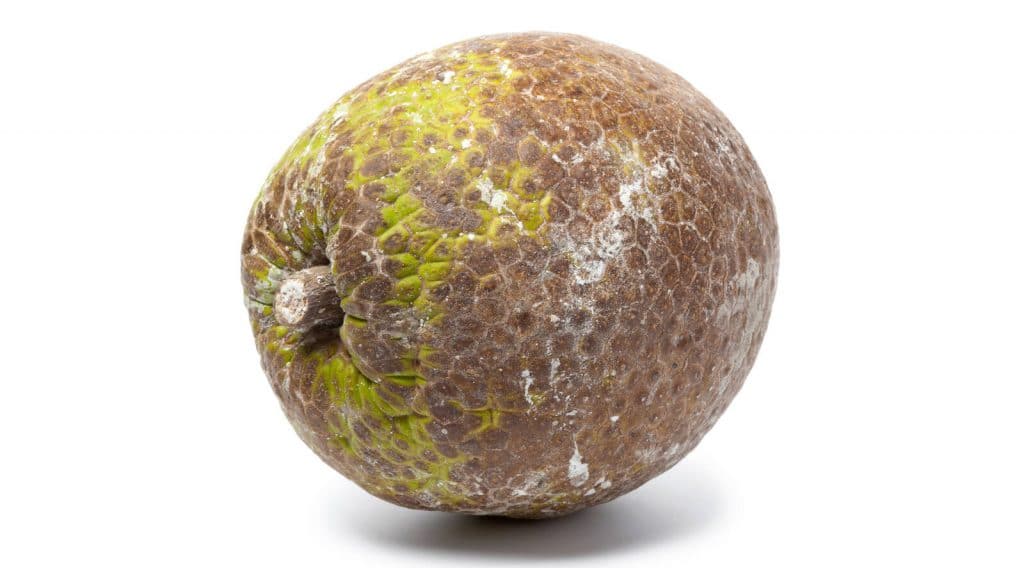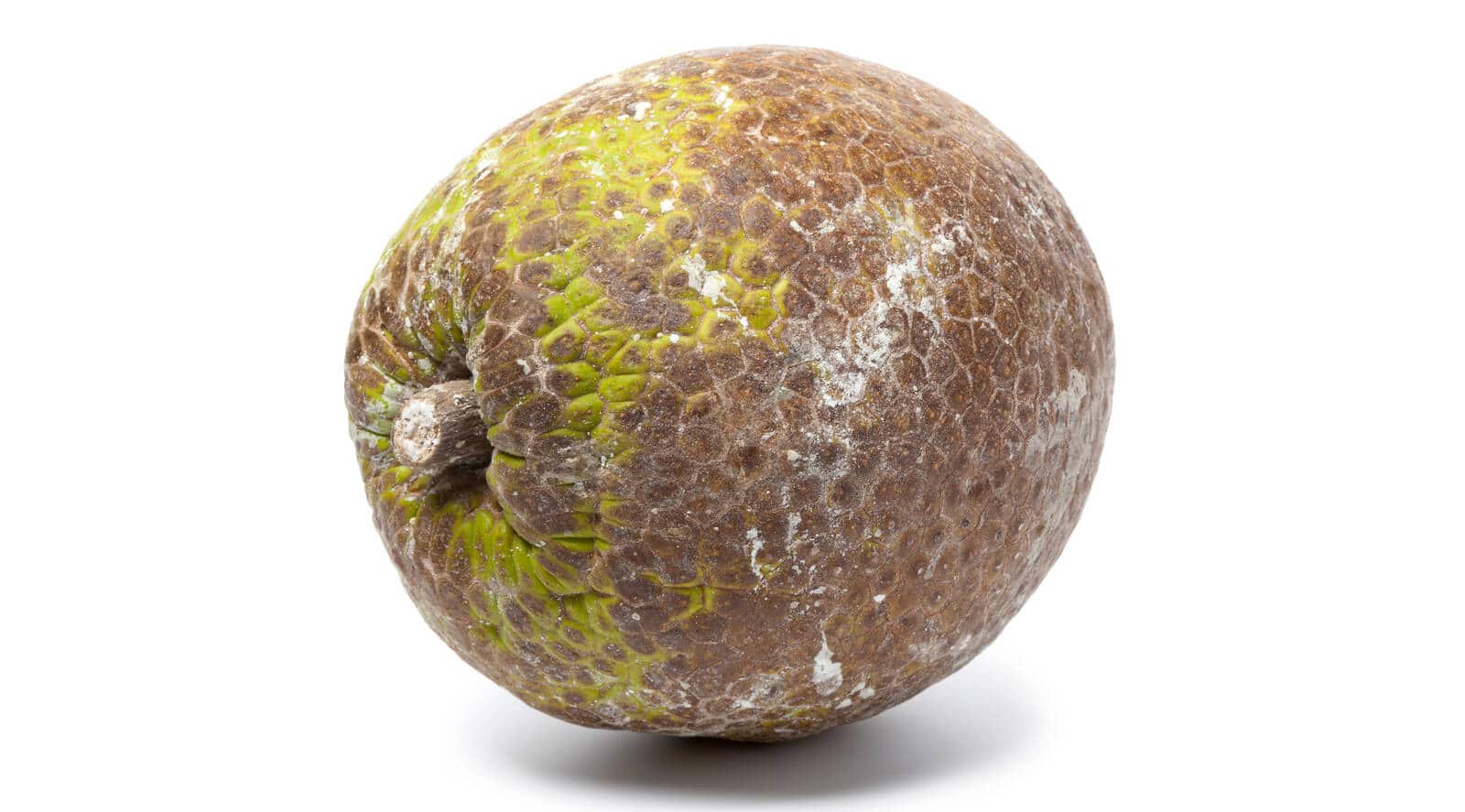 Spend enough time in Southeast Asia or the Caribbean, and you are bound to come across breadfruit in the marketplace or even growing on a tree. You can find them everywhere, but you would never think they taste the way they do unless you know what you are looking at.
Fully grown, grapefruit-sized breadfruits range in color from green to pale yellow-green all the way up to dark brown. These starchy fruits have a similar taste to potatoes, with the darker and more mature breadfruits being sweeter. For this Breadfruit Puffs recipe, you should choose a pale yellow-green fruit with little specks of brown between the segments on its surface. Bright green breadfruit may look appealing, but don't be fooled; they lack flavor and have a rubbery, unappetizing taste. Unlike bananas, breadfruit will not fully ripen after picking, so you need to choose wisely at the store.
Finding breadfruit locally may be difficult, depending on where you live. Your best bet is to visit an ethnic Caribbean or Southeast Asian market, but some larger supermarkets may sell breadfruit as well. It is best to use the breadfruit as soon as possible, but if you have to wait to cook it, the breadfruit will last for a couple of days in the refrigerator. Do not freeze raw breadfruit because it will develop an unpleasant flavor.
Prepping the Breadfruit for Cooking
Most breadfruits contain a small amount of white sap, and you need to get rid of as much of it as possible before cooking. If the breadfruit still has its stem attached, cut it off as close to the fruit as possible and place the breadfruit cut-side down in the sink. You should notice the sap starting to drain. Wait until the sap stops dripping, and then soak the breadfruit in clean water for 2 – 3 minutes. While the breadfruit is soaking, gently rub the surface with your hand to help loosen any dirt or sap. Remove the clean breadfruit from the water and dry with a kitchen towel.
Roll the damp kitchen towel into a tube and make a ring with it on the cutting board. Place the breadfruit on the towel ring to help keep it from moving around when you try to cut it. Use a very sharp knife to slice the breadfruit into quarters.
Some Like It Hot, or Not
As written, this recipe for Breadfruit Puffs is pretty spicy. After all. Scotch Bonnets are legendarily for their heat. But if you aren't someone who enjoys setting your mouth on fire, feel free to use a more mild chili pepper instead, like a Serano. Opting for habaneros, which are about half as hot as Scotch Bonnets, is a good middle ground.
Don't forget that most of the heat is in the seeds and the ribs of the pepper. So, you can try removing them if you want to tame the fire, but remember to wear gloves and wash your hands well with soap before touching your eyes or anything else.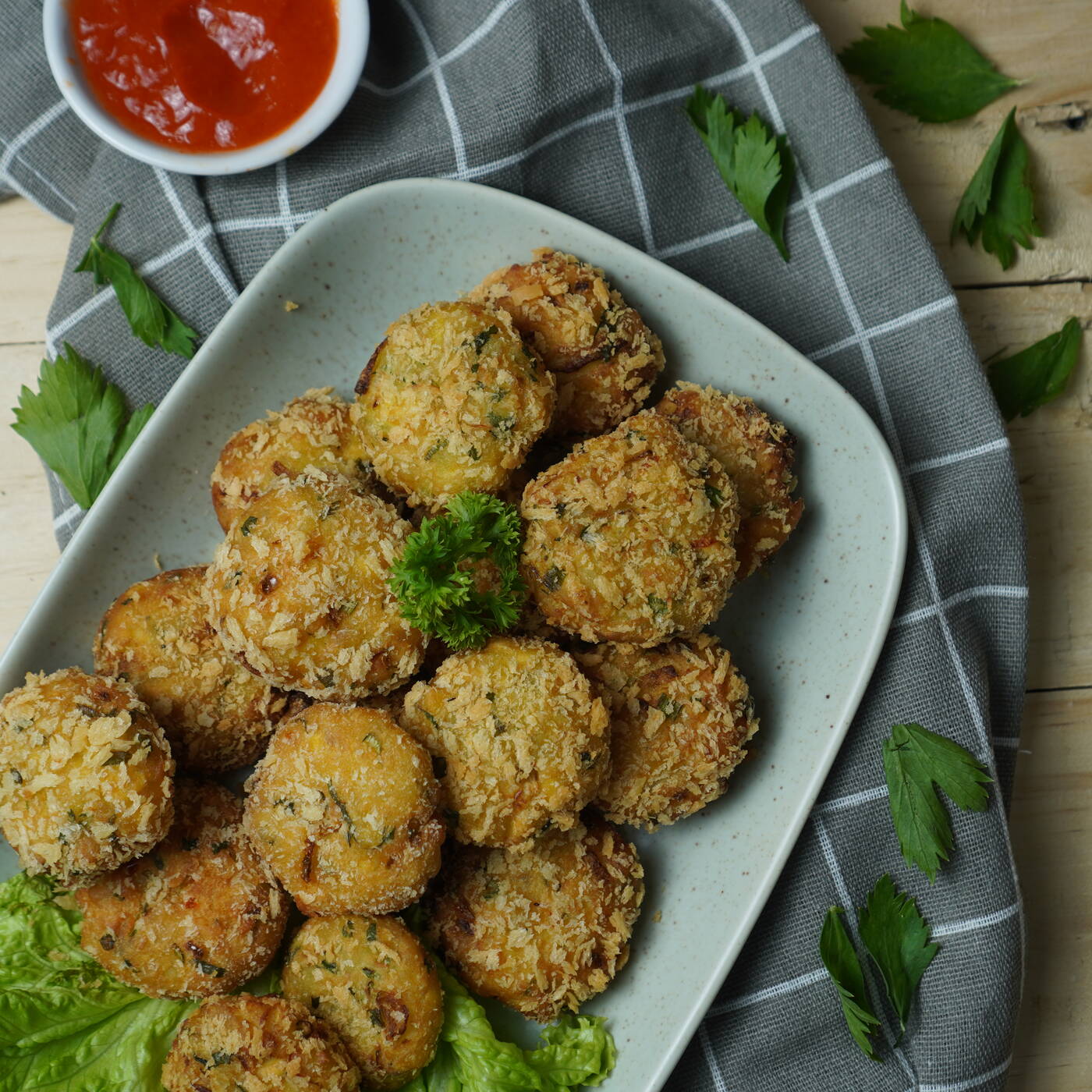 Ingredients
1

breadfruit

quartered (use a pale yellow-green breadfruit with specks of brown)

1/4

cup

milk

1

egg

1/2

white onion

finely grated and squeezed dry

1

Scotch Bonnet Pepper

finely chopped. If you want, you can choose a milder Serrano or Habanero pepper instead

1/4

cup

chives

finely chopped

1/4

cup

flat-leaf parsley

finely chopped

1/2

teaspoon

sea salt

pinch

nutmeg

freshly grated

1/4

teaspoon

black pepper

finely ground

1 1/2

cups

breadcrumbs

you can use regular or Panko-style breadcrumbs or chickpea flour to make the recipe gluten-free

oil

(use a neutral oil with a high smoke point like canola)
Instructions
Fill a large stockpot half-full of water, and bring it to a boil.

Put the quartered breadfruit in the pot and cook uncovered until they are fork-tender, about 40 minutes. Be careful not to overcook the breadfruit.

While the breadfruit is cooking, whip together the milk and egg in a small bowl and set aside.

After cooking, lay each breadfruit quarter on a cutting board and cut away the core. Remove the skin of the breadfruit with a knife. Work quickly to prevent the breadfruit from cooling down.

While the breadfruit is still warm, use a potato masher to crush the breadfruit. Don't over-mash, or you may wind up with gluey puffs.

Add the milk and egg mixture to the mashed breadfruit.

Put on food-safe gloves and use your hands to combine the milk and egg with the breadfruit gently. Break up any lumps you find with your fingers.

Sprinkle in the onion, Scotch Bonnet, chives, flat-leaf parsley, sea salt, grated nutmeg, and black pepper.

Use your fingertips to combine all the ingredients.

Pour 2 – 3 inches of oil into a heavy-bottomed pot. Heat the oil to 365 degrees. Check the oil with a thermometer to make sure it's the correct temperature.

Roll the Breadfruit Puff batter into 1 1/2 tablespoon balls and toss with the breadcrumbs or chickpea flour. You can make things much quicker by using a 1-ounce scoop.

Fry the Breadfruit Puffs until golden brown on all sides, about 2 – 3 minutes. Don't fry too many puffs at once, or the oil will cool down, and the puffs will get greasy. Remember to let the oil come back to 365 degrees before starting each new batch.

Pat dry with a paper towel and serve immediately with a side of your favorite hot sauce.
Video
Nutrition
Calories:
80
kcal
|
Carbohydrates:
13
g
|
Protein:
3
g
|
Fat:
2
g
|
Saturated Fat:
1
g
|
Polyunsaturated Fat:
1
g
|
Monounsaturated Fat:
1
g
|
Trans Fat:
1
g
|
Cholesterol:
17
mg
|
Sodium:
245
mg
|
Potassium:
87
mg
|
Fiber:
1
g
|
Sugar:
2
g
|
Vitamin A:
248
IU
|
Vitamin C:
13
mg
|
Calcium:
45
mg
|
Iron:
1
mg
---
Recent Recipes