Homemade Guyanese Curry Chicken
Guyana is a country in South American and home to a plethora of good food. One popular food is Guyanese curry, filled with hearty chicken, potatoes, and spices. If the word "curry" puts you off because you expect it to be spicy, I have some good news for you. Yes, this recipe does have a bit of spice, but if you scroll down to our substitutions list, you'll see how you can easily adjust it to suit your taste buds.
While this recipe might look intimidating, it is fairly hard to mess up. Regardless of whether or not you are a beginner chef or how spicy you want your curry to be, you're sure to love this yummy Guyanese curry chicken.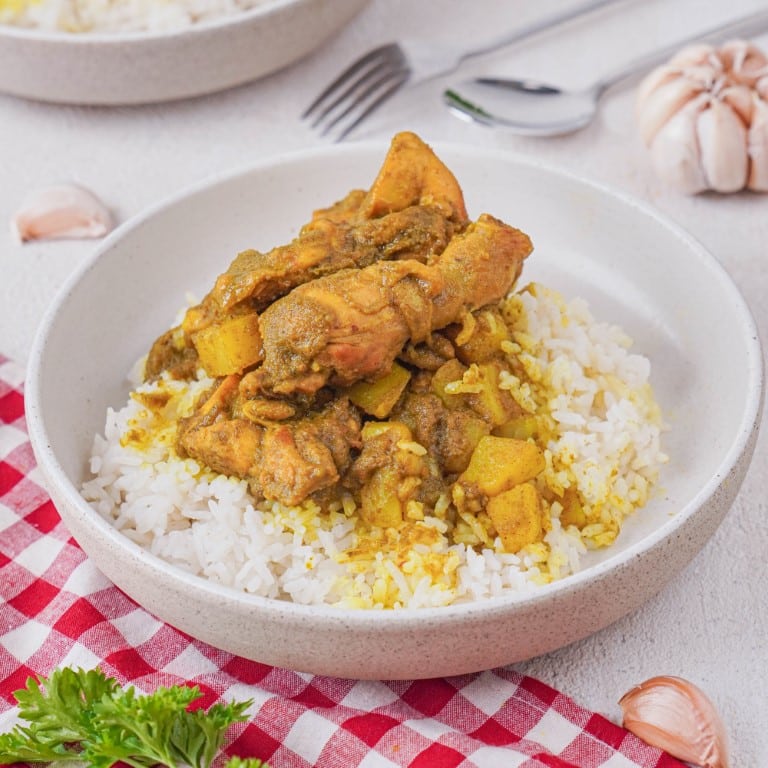 Ingredients
1

chicken

3

potatoes

1

onion

8

garlic cloves

½

habanero pepper

1 ½

tbsp

onion powder

1

tsp

garlic powder

1 ½

tsp

salt

3

green onions

¼

cup

cilantro

1

tbsp

thyme

¼

cup

parsley

3

tbsp

yellow curry powder

½

tsp

turmeric powder

1

tsp

dried coriander

2

tsp

cumin powder

½

tsp

garam masala

1

tsp

paprika powder

1

tsp

mustard powder

3

tbsp

olive oil

2

bay leaves
Instructions
All ingredients ready? Let's begin!

Clean the chicken as you normally would (e.g., remove the liver etc) then use a sharp knife to chop it into pieces about 2 inches in size.

Peel the potatoes and dice them. Set aside. Peel the onion and roughly chop into fourths. Peel the garlic. Remove the stem and seeds of the pepper half.

In a large mixing bowl, add the onion powder, garlic powder, and salt. Briefly mix together before adding the chicken pieces. Toss using your hands or tongs until the chicken is well coated in the seasoning. Set aside.

In a food processor or strong blender, add the previously prepared onion, garlic, and pepper. Also add the green onions, cilantro, thyme, and parsley. Add ½ cup of water.

Pulse the food processor or blender until everything combines into a smooth paste.

Add to the food processor the yellow curry powder, turmeric, dried coriander, cumin, garam masala, paprika, and mustard powder. Blend again until incorporated.

Place a large pot over high heat. Add the oil and wait until the oil has warmed through. You can test this by flicking a drop of water or flour into the oil; if it sizzles, it is hot enough.

Transfer the blended curry paste from the bowl of the food processor or blender into the pot with the hot oil. Add the bay leaves.

Allow to cook for roughly 5 minutes, stirring frequently. You want the paste to dry out a little bit and avoid burning it.

Add the previously seasoned chicken to the pot with the curry paste and mix together for another 5 minutes, making sure to thoroughly coat the chicken in curry.

Turn the heat down to medium and cover the pot with a lid. Allow to sit and cook for 10 minutes before stirring it again to avoid chicken sticking to the bottom of the pot.

Cook for another 15-30 minutes or until the juices thicken slightly.

After the liquid has thickened some, uncover and add the potato chunks. Continue stirring, uncovered, for another 15 or more minutes. You want the liquid to reduce, so keep the pot at a simmer.

Once the curry has reduced a decent amount, add 1 cup of water and turn the heat back up to high. Cover the pot again and continue cooking for about 10 minutes.

Every so often, remove the lid to stir. You want the curry to end up thick, but you also need enough time for the chicken to be thoroughly cooked through and the potatoes softened. If you lose all your liquid but the chicken still isn't done, you can add a bit more water.

You will know the dish is ready when the chicken is cooked and the potatoes can be easily stabbed with a fork. At that point, the sauce should also be nice and thick.

Remove from heat and serve. Enjoy!
Nutrition
Calories:
460
kcal
|
Carbohydrates:
27
g
|
Protein:
28
g
|
Fat:
27
g
|
Saturated Fat:
7
g
|
Polyunsaturated Fat:
5
g
|
Monounsaturated Fat:
13
g
|
Trans Fat:
0.1
g
|
Cholesterol:
95
mg
|
Sodium:
686
mg
|
Potassium:
877
mg
|
Fiber:
5
g
|
Sugar:
2
g
|
Vitamin A:
798
IU
|
Vitamin C:
35
mg
|
Calcium:
85
mg
|
Iron:
4
mg
Notes & Tips
To store any leftovers, place in an airtight container and keep in the fridge for up to 5 days. Curry is a dish that also freezes really well, so if you want to do that, put it in an airtight container in the freezer and it will last for several months. To reheat it, simply remove from the freezer and put in the microwave or heat in a pot again until hot.
To check your chicken temperature when cooking to make sure it is done, you can always use a meat thermometer. Stick the thermometer into the center of a chicken piece (not all the way through) and see what temperature it is. Chicken is cooked at 165F. You can also check for doneness by cutting open a piece of chicken. If there is any pink still left in the middle, it needs to cook longer.
Serving Suggestions
I love any kind of curry over some freshly steamed rice. I also enjoy it with this Guyanese braided bread. Add a little butter to the bread and you have a full, well-rounded meal!
Substitutions
If you don't want to bother with cutting a whole chicken and dealing with the bones, you can use chicken breast or thighs to make your job easier.
Depending on how comfortable you are with spice, you can easily adjust the amount in this recipe. If you need the curry to be milder, reduce the amount of habanero pepper or eliminate it entirely. If you want to ramp up the heat, just add more.
The recipe is best made with fresh herbs, but if you don't have any, feel free to experiment using their dried counterparts. You'll probably want to use less than if you were using fresh because dried herbs tend to shrink, which makes them a little more pungent.
---
Recent Recipes