Easy Graham Cracker Crust Apple Pie
It's apple season which means it's time to bake homemade apple pie with graham cracker crust and crumble topping! I love using a graham cracker crust instead of a traditional pie crust because it's a lot easier to make and it's also more flavorful. And the crumb topping with oats is the cherry on top of this pie.
Apple pie is one of my favorite desserts of all time. I'm always excited when fall comes because that means I can make lots of apple desserts such as classic apple pie, apple crumble, apple empanadas, applesauce, apple butter, or this amazing graham cracker crust apple pie with crumb topping.
It's so rewarding to bake your own apple pie at home and it's a lot more affordable than buying a pie at the market. The aroma of a fresh apple pie baking in the oven fills the entire kitchen with warmth and love. Nothing gives me the feeling of home more than this sweet scent.
Let's make this easy graham cracker crust apple pie and fill our homes with lovely autumn vibes!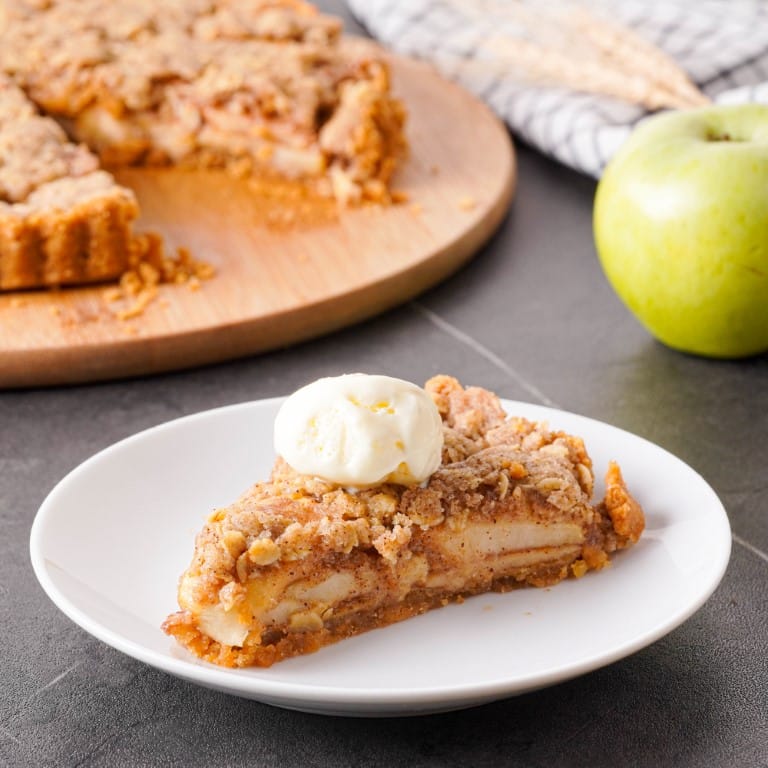 Ingredients
The crust:
1 ½

cups

honey graham crackers

about 12 full sheets, broken into pieces

¼

cup

granulated sugar

¼

tsp.

fine sea salt

6

Tbsp.

unsalted butter

melted

1

egg

beaten
The crumble topping:
¼

cup

all-purpose flour

¼

cup

oatmeal

rolled oats

½

cup

granulated sugar

1

Tbsp.

cinnamon

¼

tsp.

salt

4

Tbsp.

unsalted butter

cold and cubed
The filling:
2 ¼

pounds

of tart apples

about 6-8 small/medium apples

2

Tbsp.

brown sugar

1

tsp.

cinnamon

1

Tbsp.

cornstarch

2

Tbsp.

freshly squeezed lemon juice

1

Tbsp.

cold unsalted butter

cubed
Instructions
All ingredients ready? Let's begin!

Preheat oven to 350°F.

Lightly spray with cooking spray or butter a 9" pie dish.

In a food processor bowl, add the graham crackers, sugar, and salt and process until the crackers are almost fully ground. Then add the melted butter through the feed tube and pulse until evenly combined. The mixture should be moist and clumpy.

Transfer the crumbs to the prepared pie dish and press evenly into a compact layer. You can use the back of a glass to do so. Press the crumbs up the sides of the pie dish as well and make a firm layer, trying to make it as evenly as possible. Pop the pie dish in the freezer for 10 minutes.

Make the crumble topping: in a large bowl, mix flour, oatmeal, sugar, cinnamon, and salt until combined. Add the cubed butter and work it in with your fingers until it's incorporated and the dry ingredients start clumping together. Make sure there aren't any clumps of just butter or any loose dry mixture.

Remove the pie crust from the freezer and use a pastry brush to lightly coat the bottom of the crust with the beaten egg. You will only need a bit of the egg, you can save the rest to make an omelet. Make sure the egg layer is thin and evenly spread.

Bake the graham cracker crust for 10-12 minutes. It should just begin to turn brown and the egg layer should be cooked.

While the crust bakes, prepare the filling. Peel, core, and slice the apples into about ½" thick slices and toss them into a large bowl. Coat with sugar, cinnamon, cornstarch, and lemon juice. Toss until evenly coated.

Add the apple mixture to the pie crust, being careful not to crumble the sides of the pie crust. Evenly distribute the butter cubes into any visible creases between the apple slices. The apple layer will be higher than the crust and the plate – they'll reduce while baking.

Add the crumble topping over the apples until the graham cracker crust line so that the crust and topping fuse together while baking.

Place the pie dish on a baking tray and bake in the oven at 350°F for 55-65 minutes until the pie is bubbling and the apples are tender when pierced with a knife.

Allow the pie to cool completely before serving to get perfect slices or enjoy a messy warm slice with vanilla ice cream!
Nutrition
Calories:
409
kcal
|
Carbohydrates:
60
g
|
Protein:
3
g
|
Fat:
19
g
|
Saturated Fat:
11
g
|
Polyunsaturated Fat:
1
g
|
Monounsaturated Fat:
5
g
|
Trans Fat:
1
g
|
Cholesterol:
64
mg
|
Sodium:
244
mg
|
Potassium:
204
mg
|
Fiber:
5
g
|
Sugar:
40
g
|
Vitamin A:
614
IU
|
Vitamin C:
7
mg
|
Calcium:
60
mg
|
Iron:
1
mg
Notes & Tips
Don't skip the egg wash layer on top of the graham cracker crust. It creates a moisture barrier to help prevent the bottom crust from disintegrating under the pie filling. This is the real secret of the trade.
You can make the graham cracker crust without a food processor by using a jar with a lid and a large pot. Simply put the roughly broken-up crackers in the pot and then mash them with the bottom of a jar. This takes a bit more effort, but you'll get the same result.
Alternatively, you can crush the graham crackers by putting them in a Ziploc bag and crushing them with a rolling pin. You want the crumbs to be really fine, so don't be afraid to go ham on them.
Don't skip peeling your apples. Apple skins become dried out and chewy while baking – definitely an unwanted texture.
Make sure the juices in the pie are bubbling before taking the pie out of the oven. This indicates that the apples have cooked fully and released a luscious syrup that also helps bind the pie together.
Short-cuts & Substitutions
To save time, you can use a store-bought graham cracker crust. They usually need to be pre-baked for only 5-7 minutes. Don't forget to add the egg wash layer before baking.
You can prep the, crumble topping, graham cracker crust, and apple pie filling ahead of time. Just make sure to follow the instructions:
For the crumble topping – follow the instructions to make the crumb topping and store it in an airtight container in the fridge until ready to use. It can stay in the fridge for up to a month.
If you're making a homemade graham cracker crust, you can prepare it and store it in the freezer until ready to make the pie. When ready, take it out of the freezer, brush it with the egg wash, and bake for 10-12 minutes according to the recipe.
You can prep the apples 1-2 days in advance. Simply peel them, slice them up, and store them in a Ziploc bag in the fridge. Don't add the other filling ingredients because this will cause the apples to macerate.
I love that this graham cracker crust apple pie filling is gluten-free, but if you don't have cornstarch, you can substitute all-purpose flour.
To make the crumb topping with only oats, blend a heaping ¼ cup of oats in place of the flour and follow the instructions as needed. Oats are highly nutritious and I always love when something is nutritious and delicious at the same time.
To make a gluten-free graham cracker crust, you can use gluten-free graham crackers. For the crumb topping, replace the flour with gluten-free flour, and make sure you have gluten-free rolled oats.
You may be wondering, do Graham crackers have dairy or egg? Typically, graham crackers are made of enriched flour, graham flour, oil, molasses, and salt. Some brands may add honey as a sweetener, so if you're looking for a vegan option make sure to check.
So, to make a vegan graham cracker crust apple pie, check if your graham crackers are vegan-friendly. Then, you can replace the butter with vegan butter and the egg with a vegan egg. We even have a list of the best vegan egg brands for you.
The Best Apples For Apple Pie
The best apple pie has a combination of tart, crisp, and soft apples. The soft apples release more juice while baking which not only improves the flavor of the pie but also helps glue everything together.
Some great crisp apple options include Pink Lady (or Cripps Pink), Mutsu (Crispin), Honeycrisp, and Winesap apples. They hold up well while baking and are also flavorful.
To add tartness to the apple pie use at least 1/3 part of Granny smith, Braeburn, or Pink Lady apples.
McIntosh or Gala are wonderful soft apple choices. Just make sure to pair them with some crisp and tart apples. Granny smiths, Winesap, or Pink Lady apples would be a perfect match.
---
Recent Recipes