Easy Toasted Italian Breadcrumbs
Pangrattato tostato aka toasted Italian-seasoned breadcrumbs are often referred to as the poor man's parmesan. They're exquisite in taste and texture, and much more budget-friendly than your authentic Parmigiano Reggiano.
Why We Love Italian Breadcrumbs
They're bursting with Italian flavors thanks to the herbs, garlic, and extra virgin olive oil. Toasting the breadcrumbs also gives them a rich and nutty quality that regular breadcrumbs are missing.
Italian breadcrumbs have an amazing texture – they're super crispy and melt in your mouth at the same time. They can definitely compete with parmesan cheese on top of pasta or salads.
They're an awesome way to save food. In today's world, it's not only crucial for the planet to reduce food waste. It's also beneficial for our wallets. And transforming day-old bread into a tasty ingredient is a great place to start.
Making Italian-seasoned bread crumbs is a piece of cake. Follow the method of toasting on a pan and you can have pangrattato tostato ready in 15 minutes.
What Do Italian Bread Crumbs Have In Them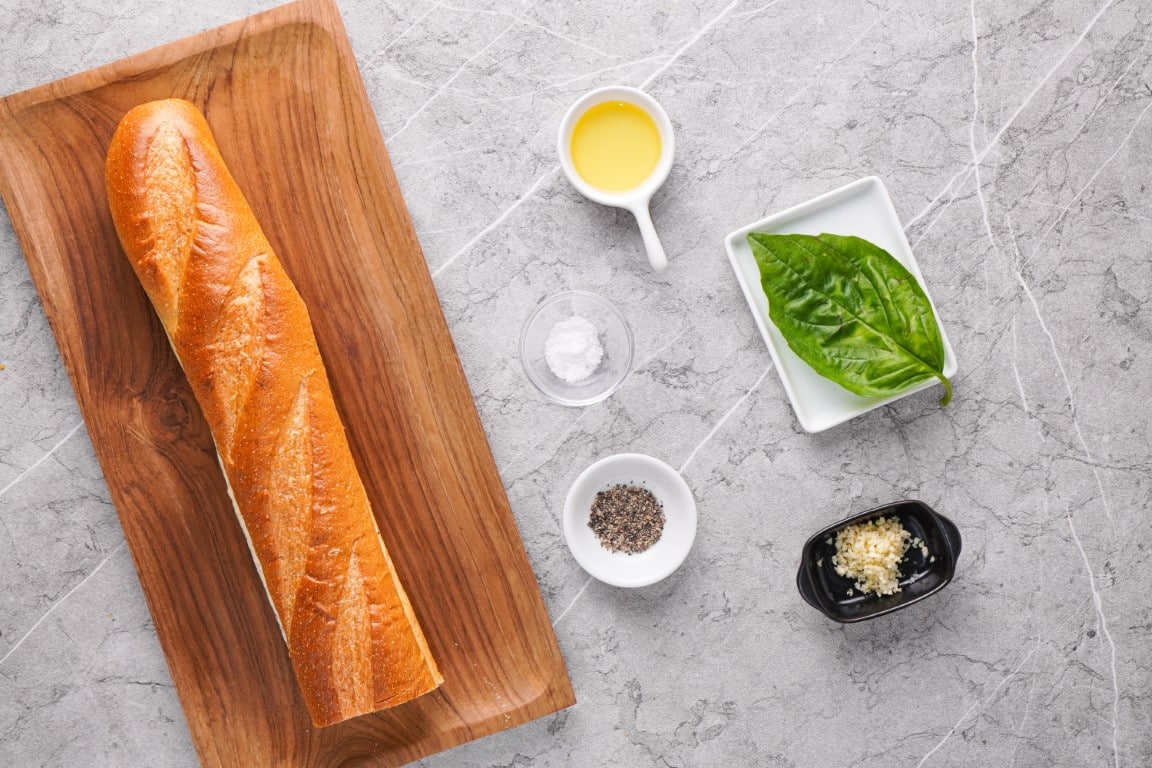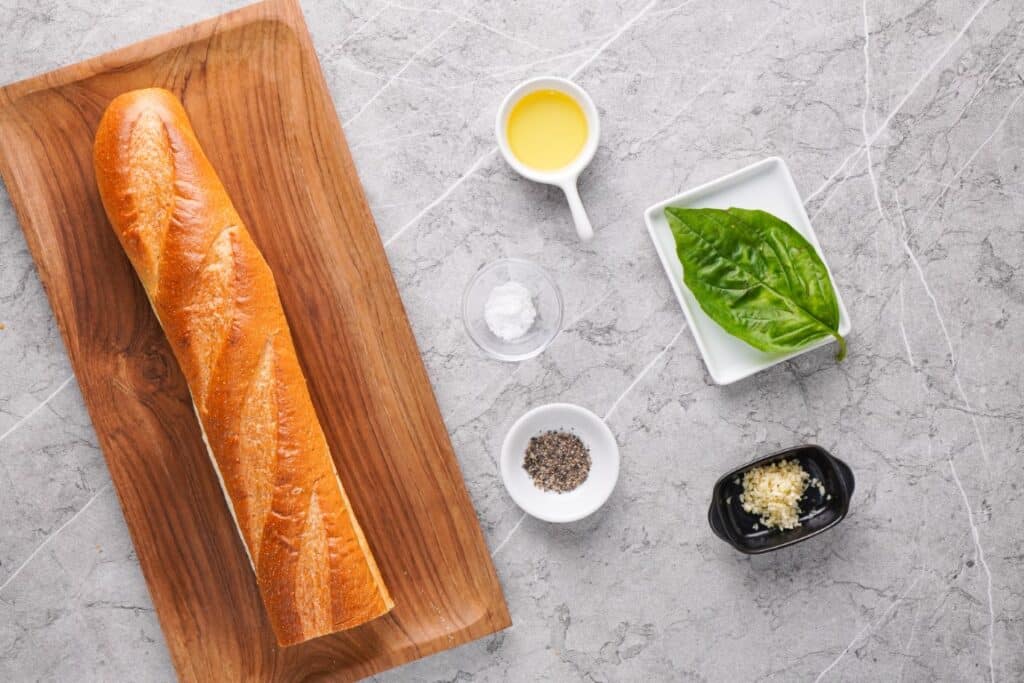 The ingredients for Italian breadcrumbs are simple pantry staples:
6 oz. day old French baguette, Italian ciabatta, or sourdough bread (any artisanal bread will work)
2 garlic cloves, finely minced
½ tsp. salt
¼ tsp. freshly grounded black pepper
2 ½ Tbsp. extra virgin olive oil
Optional: 1 Tbsp. each fresh rosemary and fresh basil
How To Make Pangrattato
There are several ways to make Italian breadcrumbs. It depends on how dry the bread is and on whether you want to use a stovetop or an oven.
Step 1: Turn the bread into bread crumbs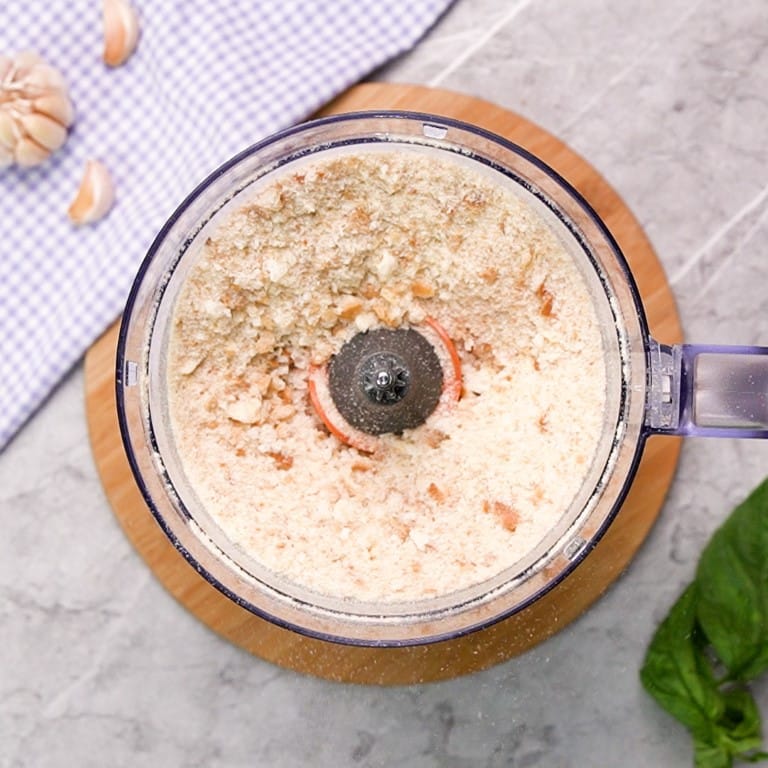 If your bread is still a bit soft, preheat the oven to 300°F and arrange slices of bread on a lined baking tray. Place the tray in the center of the oven and bake for about 20 minutes.
Once the bread is nicely dry and crunchy, remove the bread slices from the oven and let them cool. Now you can proceed with the recipe and blend the bread slices in a food processor until crumbly.
If your bread is already very dry, simply place it in the food processor and mix until crumbly. It should take about 2-3 minutes.
Step 2: Toast the bread crumbs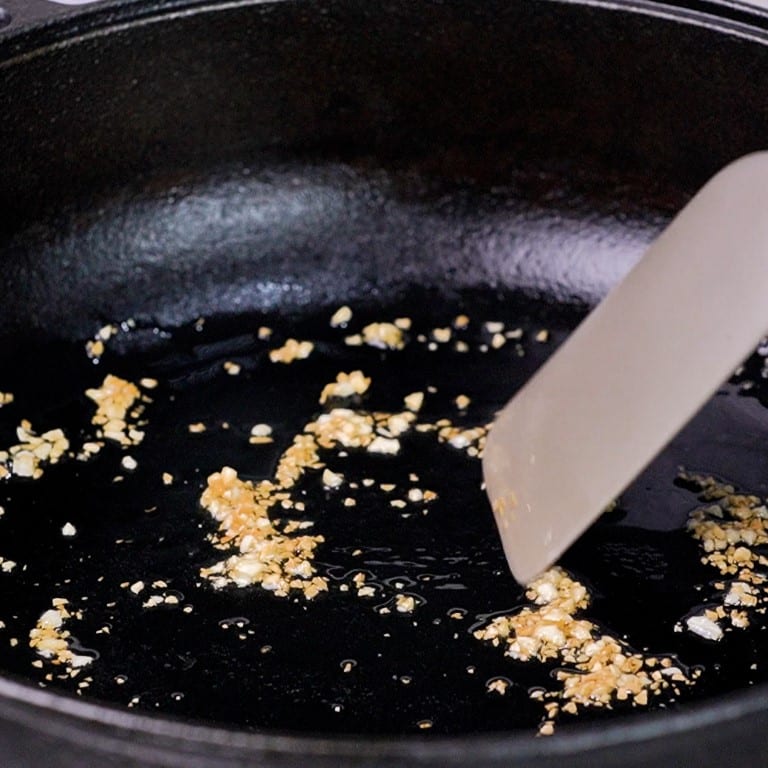 Here, you have two options:
You can add the garlic, salt, pepper, olive oil, and optional rosemary and basil to the food processor, and blend until combined. Then bake the breadcrumbs in the oven at 300°F for 35-40 minutes, stirring every 15 minutes.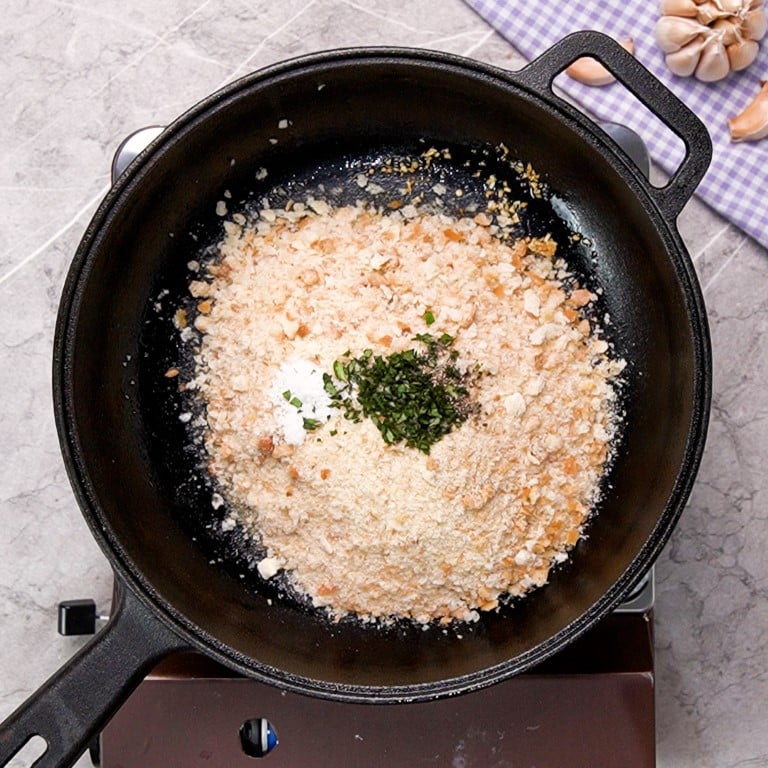 Or you can fry the breadcrumbs in a cast iron pan or skillet on the stovetop on low heat. To do so, first fry the garlic in oil until fragrant, then add the breadcrumbs, salt, pepper, and optional fresh herbs. You also need to stir constantly, but this method only takes about 10 minutes.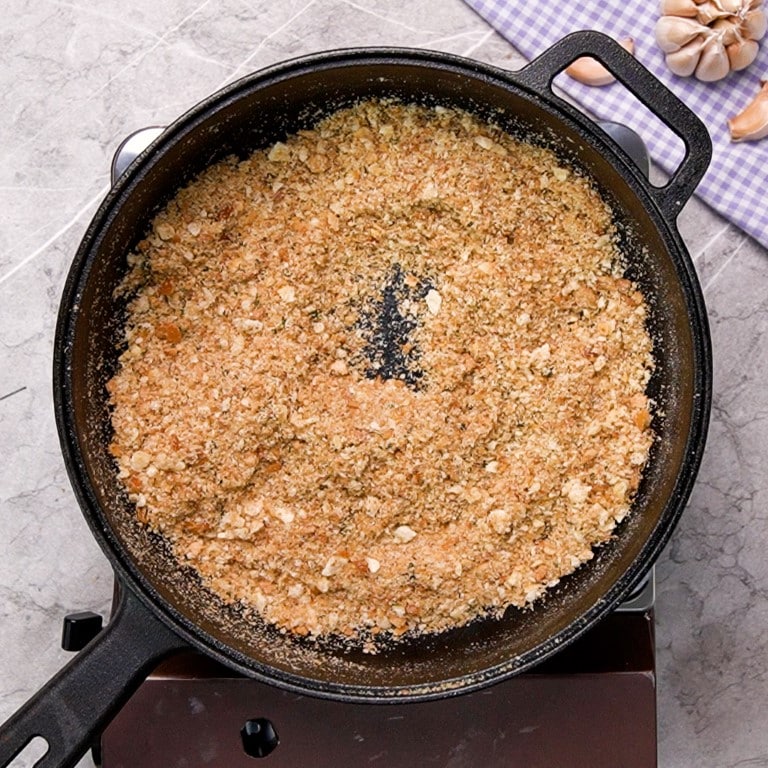 Step 3: Serve or store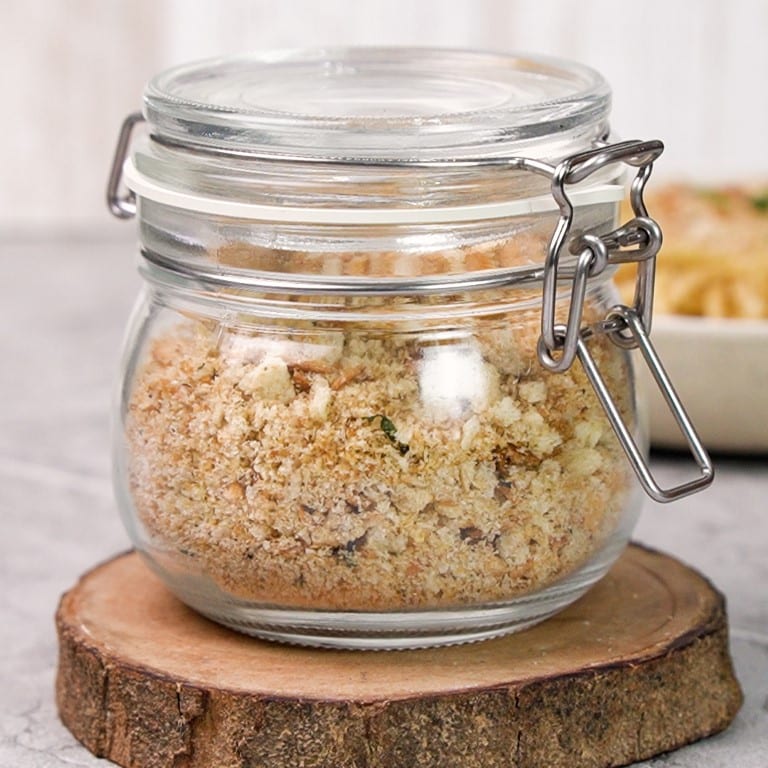 Once your pangrattato is nice and toasted, you can serve it immediately on top of pasta, in salads, or to add crunch and flavor to any dish, such as casseroles.
Let the pangrattato cool down completely and store it in an airtight container for up to 4 months in a cool, dry storage area.
Notes & Variations
Italian-seasoned breadcrumbs can be made with any artisanal bread loaf. You can use Italian ciabatta, French baguette, regular white bread, gluten-free bread, rye bread, or sourdough bread.
Day-old bread or even a few days-old bread is best because dry bread renders the finest bread crumbs. But if you're using fresh bread, dry the slices in the oven at 300°F for about 20 minutes. Keep in mind that the toasting time in the pan will be reduced.
Instead of fresh rosemary and basil, you can try other herbs like fresh parsley and oregano, or spices like red pepper flakes, chili powder, or smoked paprika. You can also use dried herbs such as marjoram, oregano, basil, or simply Italian seasoning.
Add some freshly grated parmesan, parmesan powder, or another hard cheese like Grana Padano for some extra flavor. In this case, store the Italian breadcrumbs in the fridge for up to 2 months.
Another yummy and nutritious addition is nuts or seeds such as walnuts, almonds, hazelnuts, pecans, sunflower seeds, pumpkin seeds, hemp seeds, and flax seeds. Make sure to blend them in the food processor along with the bread crumbs (except the flax seeds).
Remember that you can either bake the bread crumbs or toast them on the stovetop. In both cases, don't forget to stir often or constantly to get evenly toasted crumbs.
Do Italian Bread Crumbs Expire?
Yes, while bread crumbs can last up to 6 months or even more, Italian breadcrumbs may expire sooner. This is due to the fresh garlic and herbs in the breadcrumbs.
Italian bread crumbs don't need to be refrigerated unless you've added shredded hard cheese. Simply store them in an airtight container with a tight lid in a dry and cool area.
Don't forget to label your bread crumbs and keep them visible. To store them longer, keep Italian-seasoned breadcrumbs in the freezer for up to 6 months.
Can I Substitute Italian Breadcrumbs For Panko?
Yes. Despite differences in texture, Italian breadcrumbs and panko breadcrumbs can most often be used interchangeably in recipes.
Recipes To Try With Italian Breadcrumbs
You don't have to limit yourself to sprinkling pangrattato on pasta. We've got many recipes that you'll want to try substituting panko or breadcrumbs with Italian breadcrumbs.
This cozy Butternut Squash Casserole recipe is full of warm spices, and hearty vegetables, and has a deliciously crunchy topping. Take the crispy topping to the next level by replacing the panko with pangrattato.
Use pangrattato instead of panko in this decadent and comforting Brie Mac & Cheese recipe. Mac & Cheese is one of my weekly meals and I love mixing it up with different cheeses, toppings, and veggie additions.
Try this ridiculously addicting Vegan Cauliflower Gratin with shredded vegan cheddar (or regular cheddar) and panko mix or pangrattato for a nuttier flavor. It's so easy to make and you won't believe it can be vegan.
Italian breadcrumbs can also be used to bread and fry or bake meat cutlets or fish fillets. Or even to make deep-fried sushi. You can try this Simple Crumb Topped Oven Baked Haddock or Easy Double Ranch Fried Chicken.
Make classic lasagna with a crispy pangrattato topping. Or maybe a Homemade Eggplant And Zucchini Lasagna? This is a great low-carb, noodle-free option with all the lasagna feels.
If you want to have a different lasagna every week, make sure to check out our page with over 30 lasagna recipes. You can find vegan options, dairy-free, gluten-free, meaty and cheesy lasagnas, and even fully-raw lasagnas.
Recipe Notes
You can use a combination of oil and butter to toast the bread crumbs for a richer flavor. Think of mac-n-cheese breadcrumb topping with Italian seasonings. Yum!
If you want to bake the breadcrumbs, place them on a lined baking tray on the middle rack for 35-40 minutes at 300°F. Stir every 25 minutes to evenly toast.
Pangrattato is often called the poor man's parmesan and it's delicious on top of pasta, salads, roasted veggies, or as a replacement for breadcrumbs in any recipe.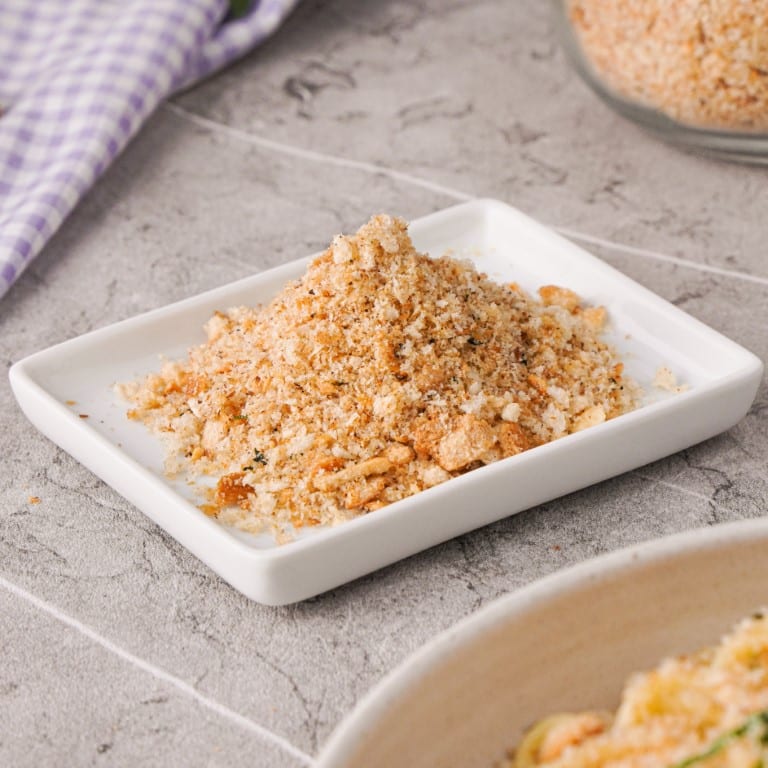 Ingredients
6

oz.

day old artisanal bread

2

garlic cloves

finely minced

½

tsp.

salt

¼

tsp.

grounded black pepper

2 ½

Tbsp.

extra virgin olive oil

Optional: 1 Tbsp. each fresh rosemary and fresh basil
Instructions
All ingredients ready? Let's begin!

Cut dry bread into thin slices, place in the food processor and mix until crumbly. It should take about 2-3 minutes.

Heat oil in a cast iron pan over medium-low and fry the garlic until fragrant.

Add the breadcrumbs, salt, pepper, and optional fresh herbs, and turn the heat to low.

Stir constantly until the breadcrumbs are brown and evenly toasted.

Serve immediately on top of pasta or salad, or let cool completely and store it in an airtight container for up to 4 months in a cool, dry storage area.
Nutrition
Calories:
80
kcal
|
Carbohydrates:
8
g
|
Protein:
2
g
|
Fat:
4
g
|
Saturated Fat:
1
g
|
Polyunsaturated Fat:
1
g
|
Monounsaturated Fat:
3
g
|
Trans Fat:
0.01
g
|
Sodium:
176
mg
|
Potassium:
26
mg
|
Fiber:
1
g
|
Sugar:
1
g
|
Vitamin A:
0.4
IU
|
Vitamin C:
0.2
mg
|
Calcium:
22
mg
|
Iron:
1
mg
---
Recent Recipes