Easy Boozy Bourbon Soaked Cherries
Countless cocktails call for alcoholic cherries. The flavor of your cherries makes all the difference to each drink. Spend a little time soaking your own, and you'll have a flavor lift that's fresher than ever. Our boozy bourbon-soaked cherries integrate subtle flavors like orange, rosemary, clove, and cinnamon to complement and elevate the flavor of whichever brand of bourbon you prefer.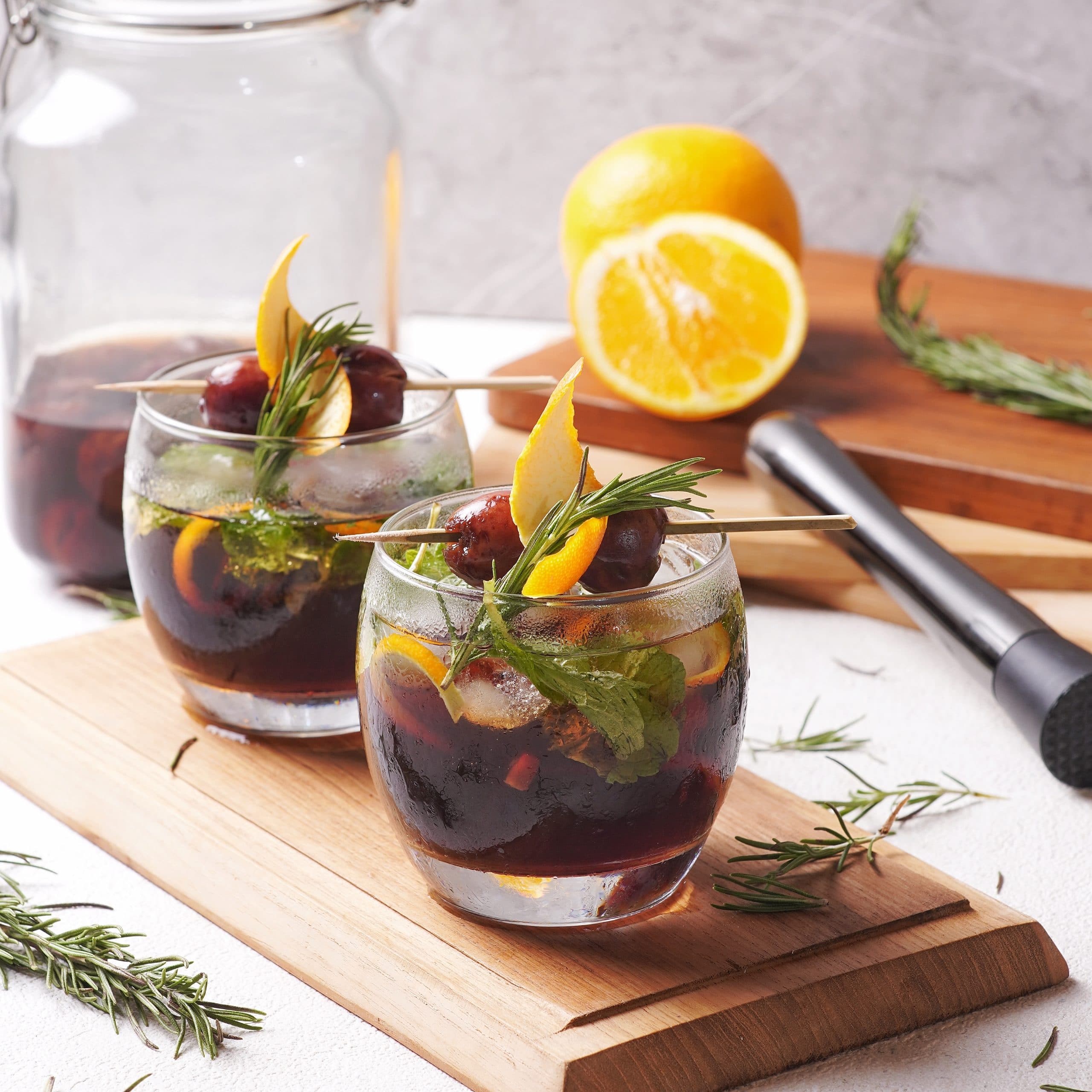 Servings:
8
pints mason jars
Ingredients
4

Cups

Cherries

Pitted & Stemmed

1

Cup

Bourbon

½

Cup

Brown Sugar

½

Cup

Water

2

Slices

Orange Peel

1

Vanilla Bean

1

Sprig Rosemary

1

Clove

1

Cinnamon Stick
Instructions
Place the cherries into two 4-pint mason jars.

Heat a medium saucepan or pot over medium heat add the bourbon, sugar, and water.

Bring to a simmer while constantly stirring, then stir in the orange peel, slit vanilla pod, rosemary, clove, and cinnamon.

Once the sugar is completely dissolved, allow the mixture to cook for a further 5 minutes.

Remove from the heat and pour half into each mason jar over the cherries ensuring that you cover the fruit completely.
Video
Nutrition
Calories:
173
kcal
|
Carbohydrates:
28
g
|
Protein:
1
g
|
Fat:
1
g
|
Saturated Fat:
1
g
|
Polyunsaturated Fat:
1
g
|
Monounsaturated Fat:
1
g
|
Sodium:
7
mg
|
Potassium:
213
mg
|
Fiber:
2
g
|
Sugar:
25
g
|
Vitamin A:
48
IU
|
Vitamin C:
6
mg
|
Calcium:
29
mg
|
Iron:
1
mg
Tips
Keep in mind that soaking cherries in bourbon not only infuses the cherries with bourbon's flavor, but the bourbon itself is infused with the taste of cherries. The intensity of the cherry flavor in the infused alcohol is directly proportional to the ratio of cherries to bourbon used. Keep quantities equal or imbalanced while topping up with bourbon daily, and you'll have a more prominent flavor to either side.
Use pitted, stemmed cherries only. The stem and pip are especially dangerous when you're not expecting it and indulging. If you're lucky enough to be sorting through fresh cherries, choose the firmest darkest cherries with no visible cracks in the skin. Don't use any cherries that have blemishes, and always remember to both wash your cherries and pat them dry.
We've listed a range of ingredients that pair well with cherries and bourbon. If you are making boozy bourbon cherries for use in cocktails other than bourbon or whisky, we recommend leaving out the rosemary, clove, and cinnamon so that you keep the base flavor as neutral as possible.
How Long To Soak Cherries In Bourbon?
Decide how long you're willing to soak your cherries at a maximum and start there. There is a distinct difference between each stage of soaking. One should soak cherries for at least 36-hours. Independent testing reveals that cherries soaked in all varieties of alcohol develop a strong but fruity taste delivering a fuller spectrum of flavor than longer periods of soaking at 36-hours.
At 72-hours, the taste of cherry was overcome by all the alcohols tested. However, leaving the cherries for a full week revitalized flavors while bringing out the sweet notes of the booze. A far stronger alcoholic burn was present across all tests, but the bite was still rewarding. Any longer than a week, and you lose the cherry completely as it becomes completely saturated with alcohol.
Do Cherries Soaked In Alcohol Go Bad?
Alcohol is a preservative. Cherries soaked in alcohol do not go bad but will develop an unpleasantly strong flavor if soaked for too long. While shorter periods are generally recommended, cherries and other fruit can be safely submerged in alcohol for up to two years or more.
What Are The Best Cherries For Soaking In Alcohol?
The best cherries for soaking in alcohol are arguably dark red morello cherries with a sour tart taste. If you can't find morello, sour red cherries are next best. In the US, dark black Bing cherries are common but have a sweet flavor. However, the firm texture suits soaking well, making them a suitable choice if you can't find anything sour available.
How To Pick Cherries?
When picking cherries, always look for plump and shiny fruit without any marring of the skin. If you're buying cherries that still have their stems, look for stems that still have signs of life instead of dried-out sticks.
What Is The Easiest Way To Pit Cherries?
Very few of us own a cherry pitter but pitting cherries is still easy. Use the tip of a chopstick or a sturdy drinking straw to press the pit out the cherry. Insert the tip of a chopstick or a straw at the point where the stem emerges from the cherry. Give it a steady push and drop the pit out into a bowl below.
What To Do With Bourbon Cherries?
Boozy bourbon-soaked cherries are ideal for Manhattans and Old Fashioneds. You'll also find that they work well in Mai Tai's and drinks like the Tequila Sunrise and Claremont. They're also ideal for innovative cocktails like cherry soda, bourbon, and lime, or any drink that incorporates cherry. Most bourbon cocktails suit the taste well but keep in mind whether your cocktail calls for sweet sweetness or sour sweetness. Not all soaked cherries will match every bourbon.
Can You Make Bourbon Cherries With Frozen Cherries?
You can make bourbon cherries and all other varieties of alcohol-soaked cherries using frozen cherries, but the texture of the fruit will be slightly different. Soaking frozen cherries will disintegrate the integrity of the cherry flesh far faster than when using fresh cherries. Roughly two weeks to three weeks is the most that you can soak frozen cherries before they start falling apart.
Bourbon Cherries & Bitters
One of the most popular cocktails, including bourbon, cherry, and bitters, is a cherry Old Fashioned. To make an irresistible spin on this classic cocktail that's been around since the sixties, start by muddling a slice of orange in an Old Fashioned Glass. Scoop in a boozy bourbon-soaked cherry. Top the orange slice with a large ice cube. Shake over two dashes of bitters and pour two or three ounces of bourbon or whiskey over the ice. Serve and enjoy slowly.
Which Is The Best Bourbon For Bourbon Soaked Cherries?
The best brand for bourbon-soaked cherries is a highly subjective matter. Ideally, you don't want to splash out on a top-end bourbon because the flavor will change. Similarly, a cheap, tasteless bourbon results in cherries that taste like plain alcohol. Everyone has their own favorite, but bartender recommendations for cooking include Wild Turkey 101, Old Crow, Jim Beam, and George Dickel No. 9, to name but a few. Ideally, you're looking for a sweet, tart bourbon with bold flavor notes.
---
Recent Recipes