How Long To Deep Fry Frozen Chicken Tenders?
Frozen chicken tenders are a kitchen staple that comes to the rescue for those late workdays and unexpected guests. Best of all, you can deep-fry chicken tenders from frozen, and with just the right amount of time in the fryer, you will have a juicy, crispy, and finger-licking-worthy meal!
Deep-fry store-bought chicken tenders directly from frozen for 3 to 5 minutes in oil that has been preheated to 350°F (180°C). The chicken is cooked when it is 165°F (74°C) on the inside, and the coating is golden-brown. Drain excess oil and allow to cool and crisp before serving.
Fast, easy, and delicious, deep-frying is the most effective way to cook frozen chicken tenders. Accuracy is everything in the kitchen, and we are going to share essential steps and the ideal amount of time it takes to produce perfectly crisp and juicy chicken tenders every time.
Gather your family and friends — or go solo — and enjoy those delicious chicken tenders!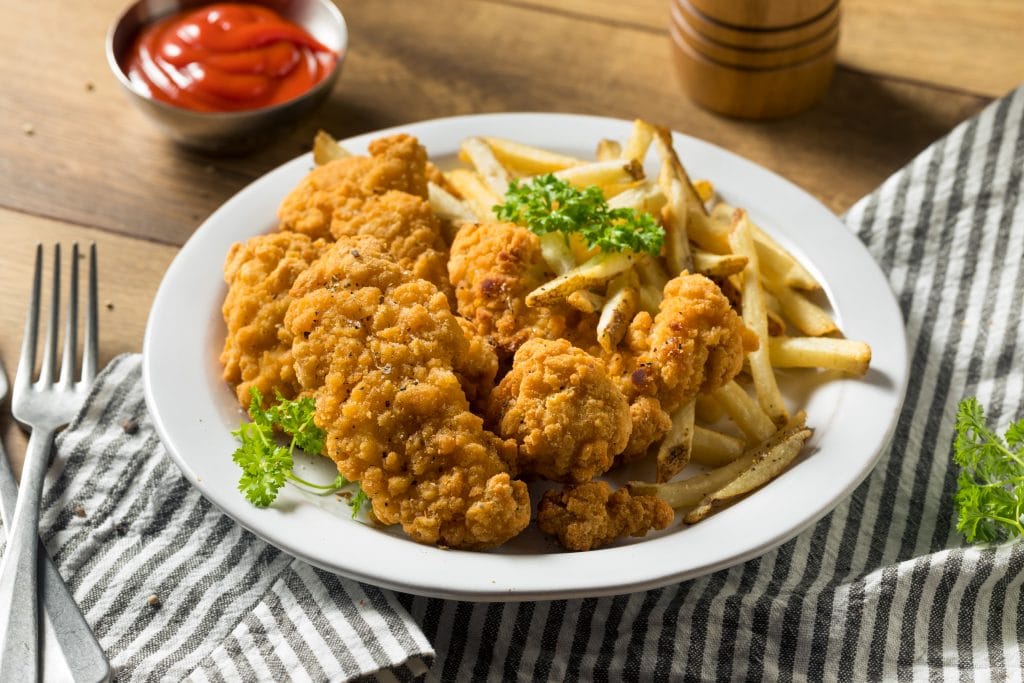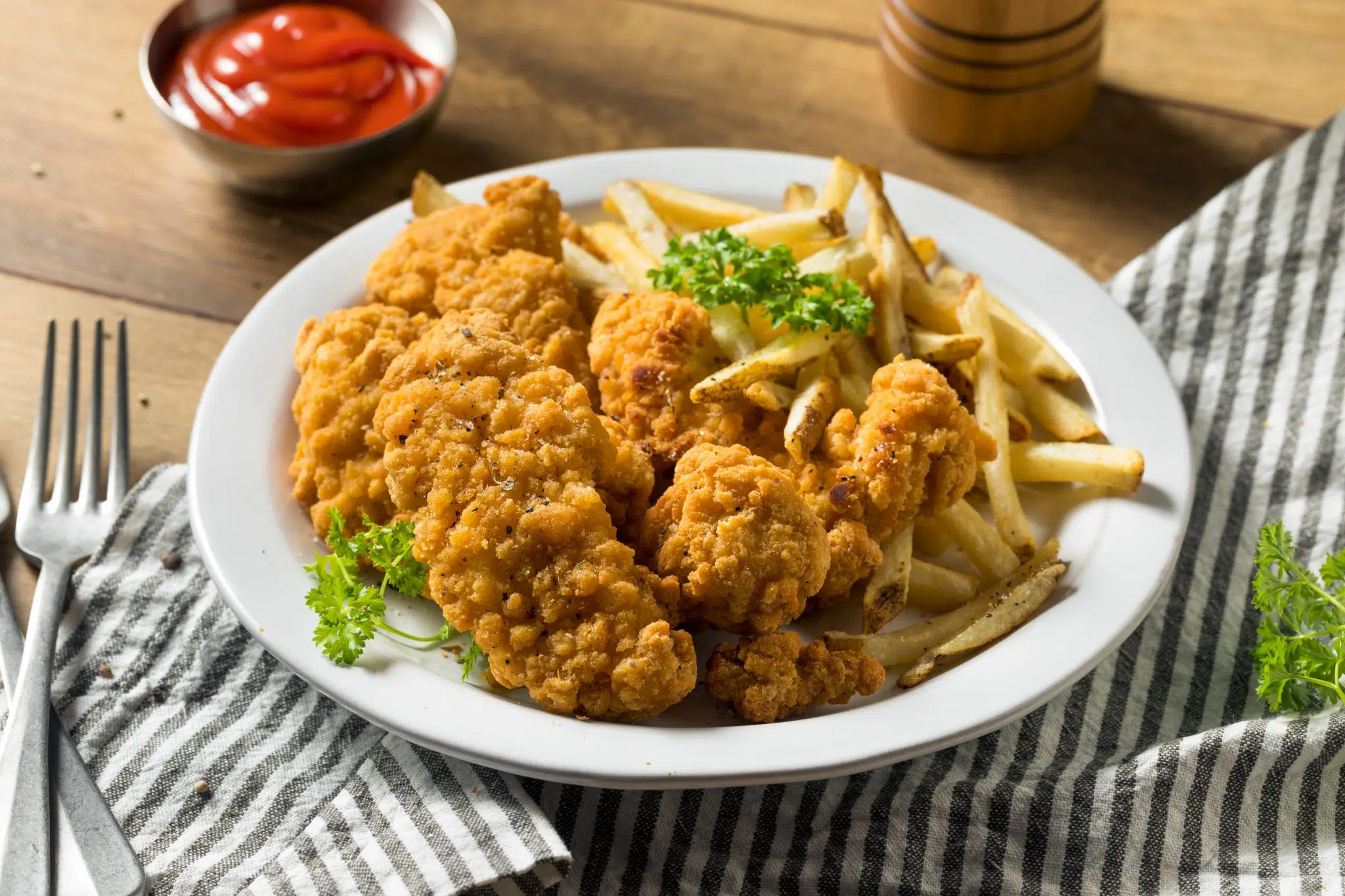 What Is The Time Required To Deep Fry Frozen Chicken Tenders?
Deep frying frozen chicken tenders generally takes between 3 to 5 minutes to cook in oil preheated to 350°F (180°C).
Set the temperature high for a good deep fry! The high heat removes excess moisture and speeds up the cooking process. This is essential for a crisp, crunchy coating and depth of flavor.
The recommended oil temperature and cooking time may vary from brand to brand. Always read the packaging instructions before cooking to ensure the best results.
The chicken tenders are ready and safe to consume once they reach an internal temperature of 165°F (74°C). You can modify the cooking time at this point:
If you prefer tender, succulent chicken with a golden coating and lightly crisp texture: Deep fry for 3 to 4 minutes.
If you prefer crispier chicken with a deep golden-brown coating and an audible crunch: Deep fry for 5 to 6 minutes.
Which Oil Is The Best Oil For Deep Frying Chicken Tenders?
Select an oil with a high smoke point.
When the oil reaches this temperature, it starts to smoke and will eventually catch fire when the temperature increases. As soon as oil begins to smoke, it develops an unpleasant 'stale' taste and loses a lot of its nutritional value.
Vegetable and canola oils are superb for deep frying. They have a neutral taste and can withstand high temperatures. Other good oil options would be safflower, corn, rice bran, or peanut oil. The hot oil and lack of air enable the chicken to cook quickly and evenly.
Can I Deep Fry Frozen Chicken Tenders In A Pan?
If you do not have a deep fryer, use a Dutch oven or a large heavy-based saucepan instead of a shallow skillet. Don't fill the oil more than halfway. These deeper pots are safer and more effective to use, as they prevent overflow, reduce oil splatter and maintain a constant temperature during frying.
If you are frying in a Dutch oven or a deep-fryer without a built-in temperature setting, make use of a candy or deep-frying thermometer to monitor and maintain the correct temperature while you fry.
How To Tell If The Chicken Tenders Are Fully Cooked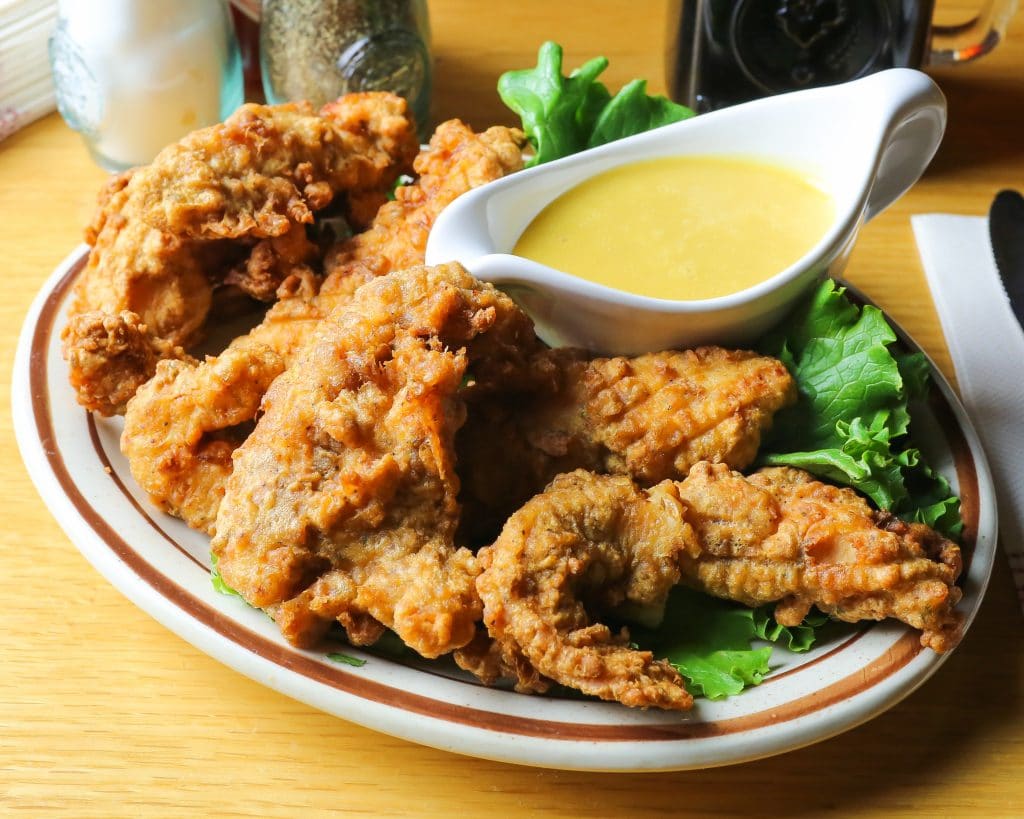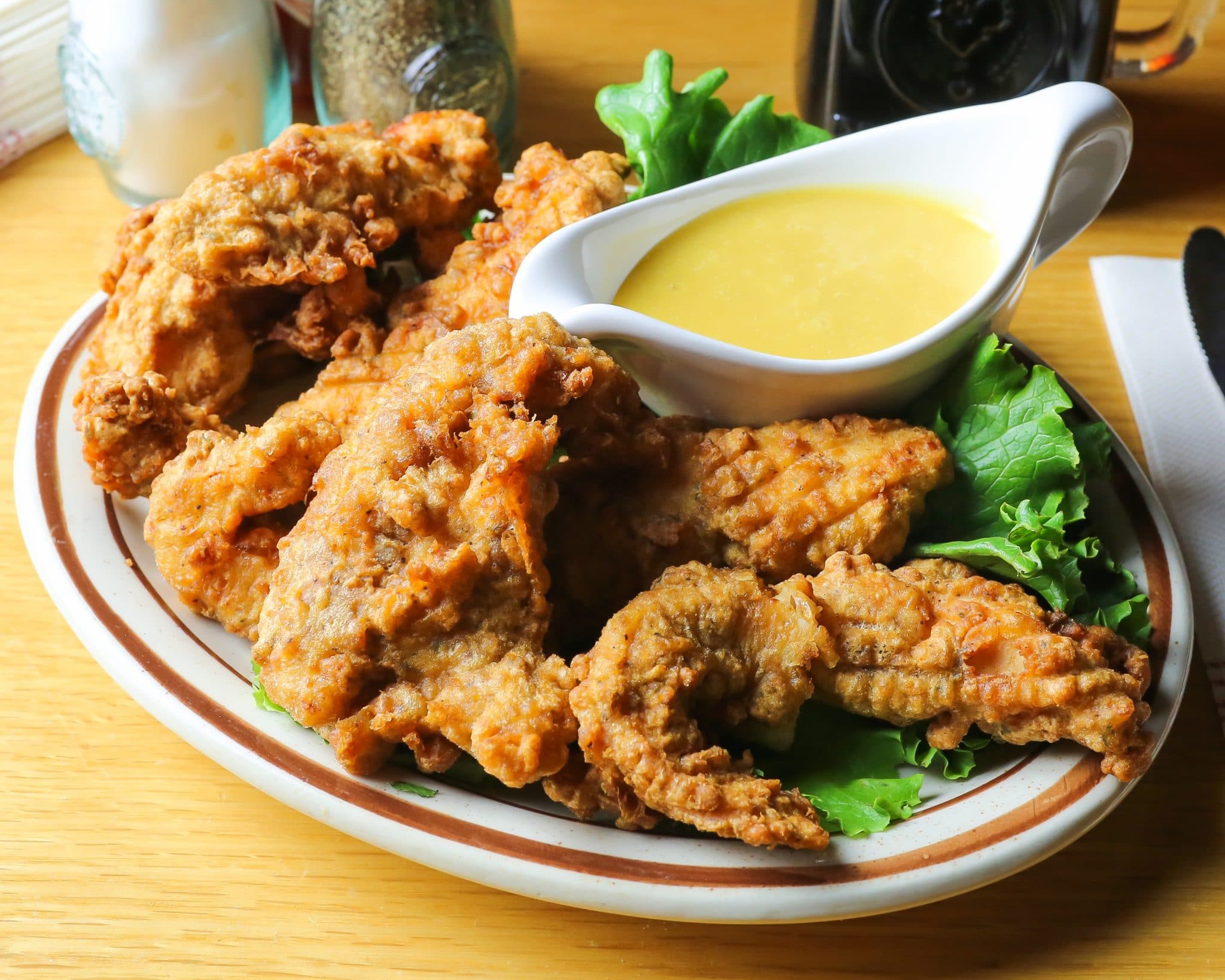 It's all about that crispy crunch and juicy center.
It is important to remove chicken tenders from the freezer for thorough cooking and shake off as much ice and water as possible.
Fry small batches at a time for evenly-cooked, crispy chicken. Do not overfill the deep fryer or Dutch oven as the oil might bubble over, which can be dangerous. A crowded fryer will lower the oil temperature and result in greasy, soggy, sad-looking chicken tenders.
The crispy brown coating is not an accurate indicator of whether the chicken has been thoroughly cooked. If you don't have a thermometer, poke the chicken to see if the juices run clear. If they are a pinkish or red color, you may need to cook the chicken for a little longer. Alternatively, check the color of the meat – it should be creamy white.
Undercooked chicken will have a rubbery texture and a slightly slimy or shiny appearance. Avoid consuming and pop it back in the fryer for an extra minute or so.
Overcooked chicken will be extremely dry, flaky, and devoid of flavor. Do not lose hope – you can repurpose the chicken tenders by adding them into other dishes. Shred the chicken, mix it with some barbeque sauce or ranch dressing and add it to sandwiches, wraps, or salad. Dice the chicken and incorporate it into soups, stir-fry, or creamy pasta.
How Long Do Deep Fried Chicken Tenders Last?
When stored in an airtight container, deep-fried chicken tenders will last up to 4 days in the refrigerator and approximately 6 months in the freezer.
Cool any leftovers completely before refrigerating. Transfer the chicken to an airtight container lined with paper towels. This will keep it crispy fresh. Do not leave the cooled chicken tenders to stand unrefrigerated for more than 2 hours.
Are Frozen Chicken Tenders Already Cooked?
Even though frozen chicken tenders may look cooked or lightly browned, they should be handled and prepared as you would any raw meat. Cook raw poultry products to a safe internal temperature of 165°F (74°C).
How To Serve Deep Fried Chicken Tenders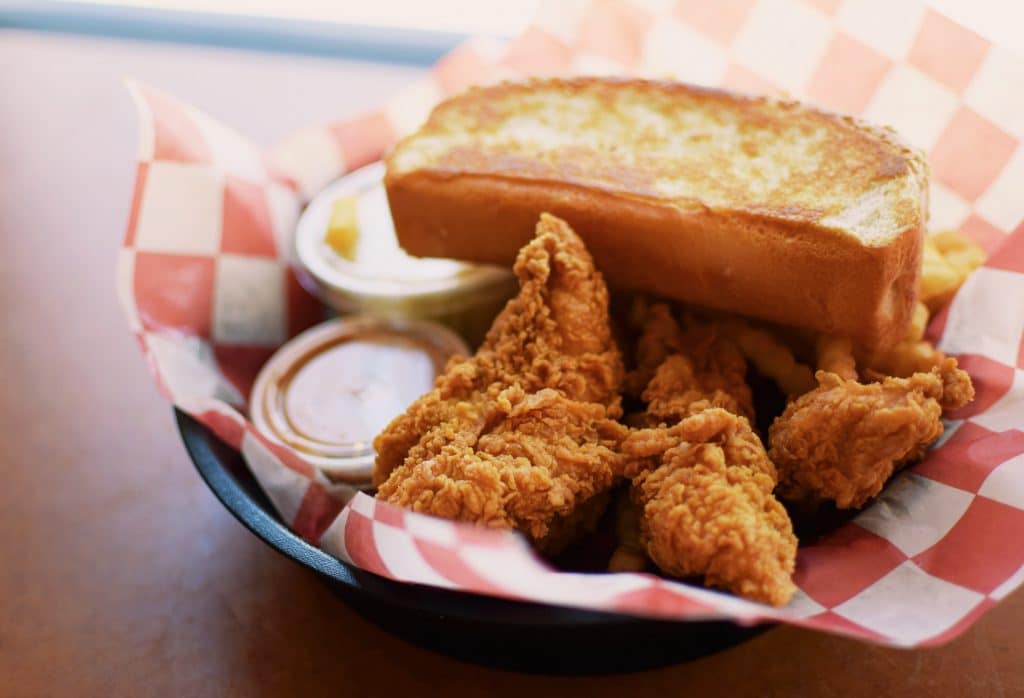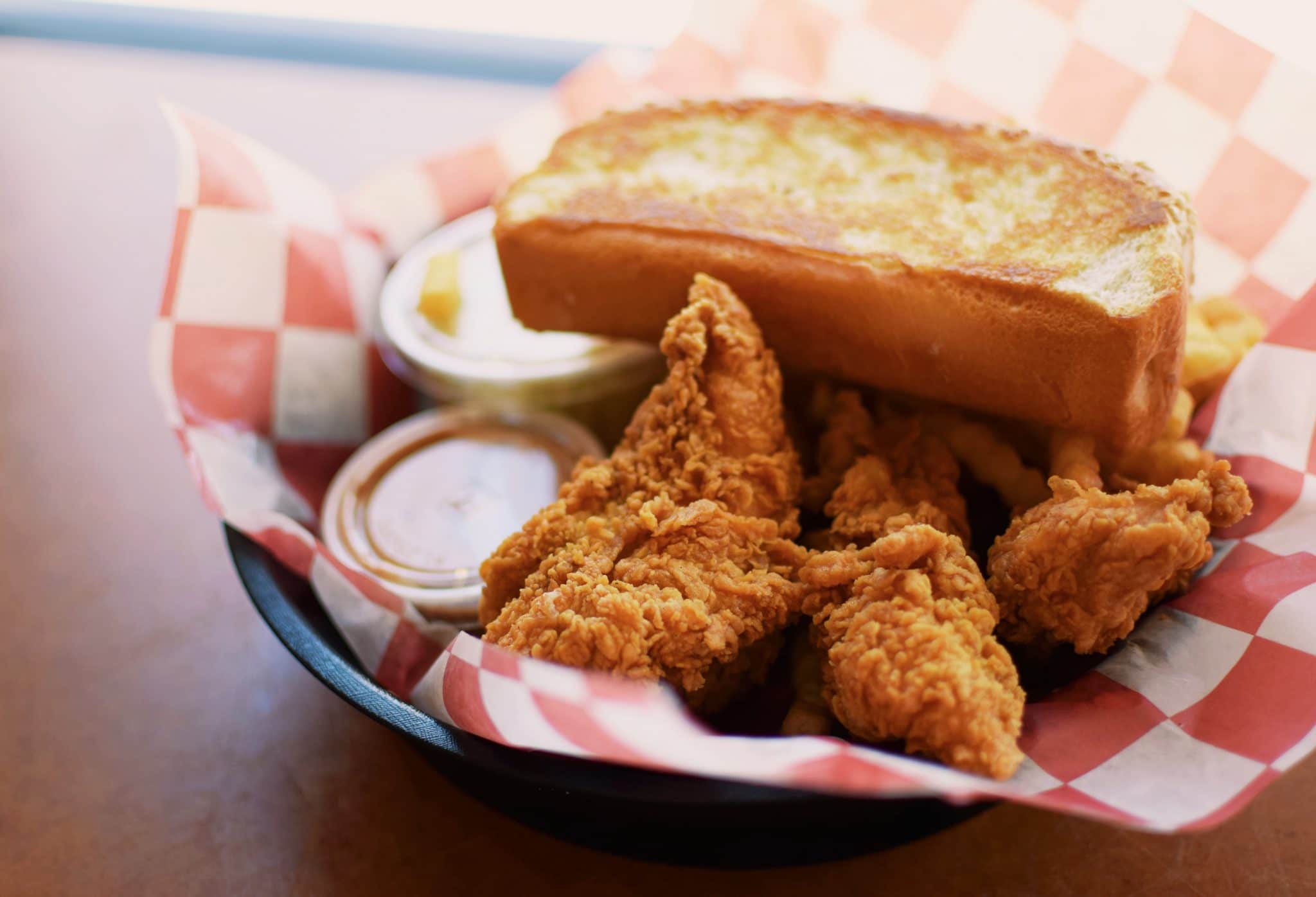 Deep-fried chicken tenders are satisfying on their own, but they are also super versatile and delicious when paired with other ingredients. Serve your next batch with one or more of these tasty side dishes:
Pasta salad
Roasted vegetables
French fries (always a classic combo!), sweet potato wedges, or hashbrowns
Coleslaw or a leafy green salad
Your favorite dip or sauce – pesto, ketchup, sweet chili, ranch, BBQ sauce, tzatziki
Chicken tenders will add amazing flavor and crunch to:
Sandwiches or wraps
Waffles (for a sweet and savory sensation)
Omelets or shakshuka
Nachos or tacos
Final Thoughts About How Long To Deep Fry Frozen Chicken Tenders
Deep fry your frozen chicken tenders for exceptional flavor and an irresistible crunch. With only 3 to 5 minutes in the fryer, you can easily serve a tasty and convenient meal that's sure to be a hit!
---
Recent Recipes