Homemade Double Fried Chicken Wings
Billions of chicken wings are consumed worldwide over the course of a year. Yep, that's right, billions. In fact, that amounts to about 942 million servings. That's 924 million plates of chicken wings. People love chicken wings.
A chicken wing platter is a staple among many restaurant menus. Served with your choice of sauce and usually a side of carrots and celery. Unfortunately, though, we haven't been eating out as much as normal. If you aren't ordering take out, then how are you getting your chicken wing fix?
Making chicken wings at home can be a bit intimidating, but don't sweat it. With a few simple tricks, some equipment, and a little patience, you can whip up your own restaurant-quality crispy wings right in the comfort of your own home.
What do you need to double fry chicken wings?
Chicken wings
There has been an increase in chicken wing demand, so it shouldn't be surprising that prices are going up. Despite people eating out less, chicken wing sales still went up, and so did the prices. Ultimately though, buying and making wings at home is going to save you money.
Ideally, you're going to want to use fresh chicken wings. The standard grocery store brands will work fine. However, if you can splurge on organic, free-range chicken wings, do it. The wings may be smaller, but the flavor and tenderness will be much better.
Don't worry if you need to buy frozen wings (they are often cheaper and easy to buy in bulk). Frozen wings will retain more moisture than fresh chicken wings. So, to remove that moisture, thaw them overnight in the fridge on a cooling rack over a sheet tray with a little bit of salt sprinkled on top. The salt will help draw out that extra moisture.
Something to fry in
A countertop deep fryer is the ideal chicken wing appliance, but we all don't have the space or ability to have one in our home. Why is a deep fryer the best for frying chicken wings? Because it can be temperature controlled.
The next best thing is going to be a sturdy dutch oven with a high temperature thermometer.
Can you use an air fryer to double fry chicken wings?
Sure! Air fryers are a hot commodity these days. My personal opinion is that you're still not going to get that authentic deep fry flavor, but you'll still end up with a tasty chicken wing. Plus, it will be slightly healthier. You can learn more about frying without oil here.
Fry oil
Canola oil works really well for double frying chicken wings because of it's neutral flavor. Vegetable oil will also work. It's not recommended to use olive oil to fry chicken wings.
Chicken wing sauce or seasoning
The best part about making double fry chicken wings at home is that you can play around with the seasonings. Sure, you can go with tried and true buffalo or barbeque sauce, but feel free to get creative.
What are some sauce ideas for double fried chicken wings? I like an Asian-style wing that is tossed in equal parts soy sauce and brown sugar (boiled together). Experimenting with other hot sauces is also a great idea. Just remember to melt a little butter into the hot sauce first.
Sometimes, a dried seasoning is all that you need. Dry rubs are great on double fried wings and they are less messy.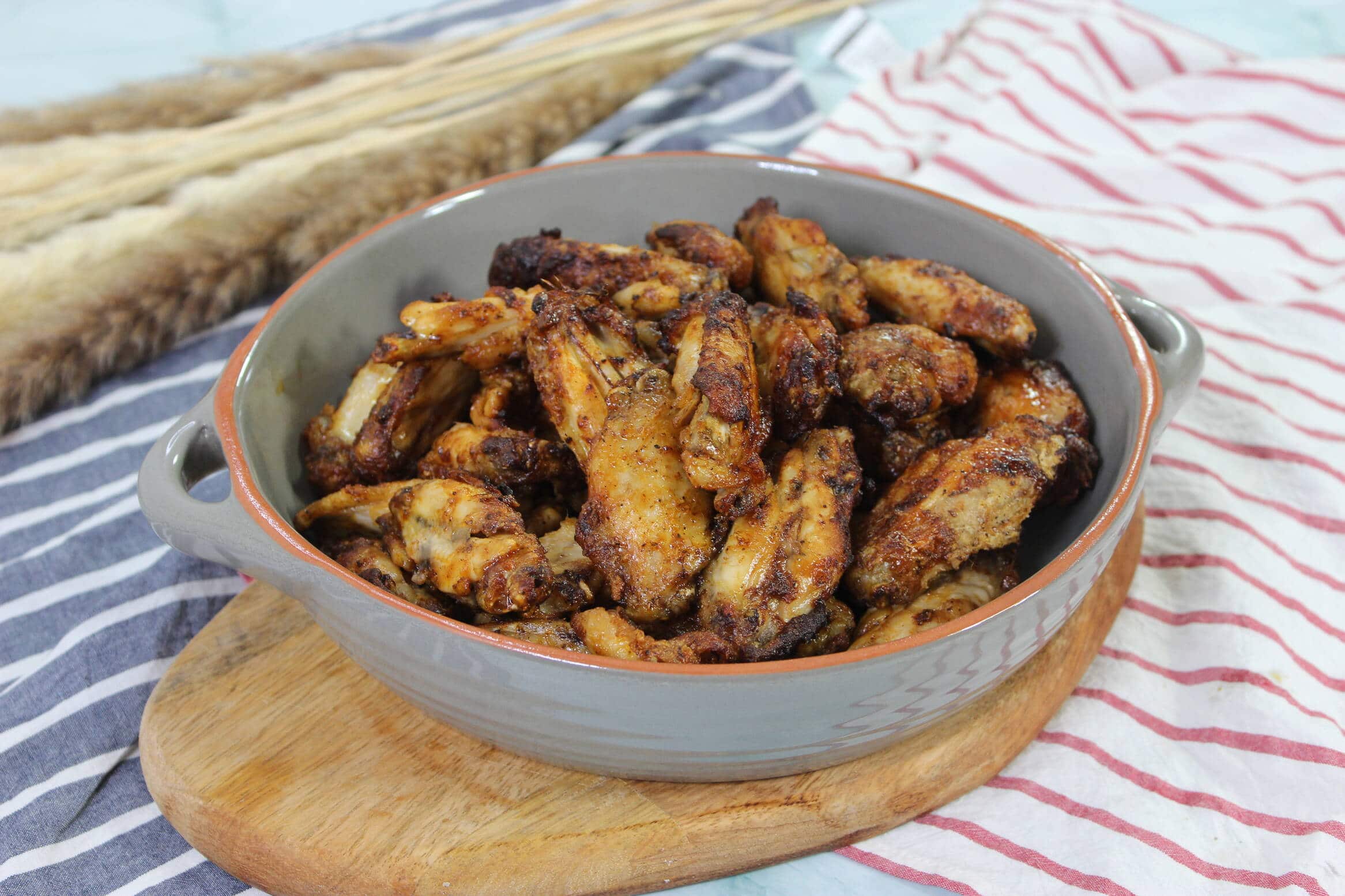 Ingredients
2

pounds

chicken wings

Vegetable or canola oil

for frying

Salt and pepper

½

cup

hot sauce + ¼ cup unsalted butter

melted together
Instructions
Preheat your fry oil to 275F. If you are using an air fryer, preheat the temperature to 275F. Make sure that your chicken wings are at room temperature.

Brush off any salt if you thawed your chicken wings in the refrigerator. We are frying these wings unseasoned.

For regular frying, gently place the chicken wings into the pre-heated oil. Do not overcrowd the deep fryer. Work in small batches.

If you're using an air fryer, spray the cooking rack with non-stick spray. Then lay the chicken wings flat on the cooking rack and make sure that they are not touching.

Cook the wings for about eight minutes. The goal of this step is to cook the chicken wings through and not necessarily brown them. When you remove the wings, drain them on a paper towel or cooling rack.

Once all of the chicken wings have been fried the first time, increase the heat of the oil (or air fryer) to 400F.

Now, working in small batches again, fry again for 2-3 minutes or until the skin starts to brown and crisp.

Season the wings immediately after the second fry with salt and pepper. Then, if desired, toss the wings in a large bowl with your choice of sauce. Serve them right away and don't forget the dipping sauce!
Video
Notes
You can skip the hot sauce and use any tossing sauce of your choice like barbeque, honey mustard, sweet chili and so on.
Nutrition
Calories:
531
kcal
|
Carbohydrates:
1
g
|
Protein:
23
g
|
Fat:
49
g
|
Saturated Fat:
21
g
|
Polyunsaturated Fat:
7
g
|
Monounsaturated Fat:
18
g
|
Trans Fat:
1
g
|
Cholesterol:
155
mg
|
Sodium:
292
mg
|
Potassium:
198
mg
|
Sugar:
1
g
|
Vitamin A:
889
IU
|
Vitamin C:
1
mg
|
Calcium:
22
mg
|
Iron:
1
mg
Notes and Tips
The first fry can be done well ahead of the second fry. Ideally, you'll want to do both steps on the same day. but if you do want to do the first step the night before, store the cooked chicken wings in the refrigerator and let them come to room temperature before frying again.
Dry wings = crispy wings. Before each fry, make sure that there is no extra moisture on the wings. You can blot any extra moisture with a paper towel.
Here's a fun fact, this same method works great with french fries. In fact, to get the crispiest fries (similar to shoestring restaurant style) professional chefs use the same low temperature/high temperature double fry method.
Are you looking for the best buffalo chicken wing sauce? Some claim that Anchor Bar in Buffalo, NY has the best chicken wings in the country. If you can't get to Buffalo, you can find their sauce online and try it at home.
---
Recent Recipes