Crispy Fried Chicken Gizzards
If you have ever roasted a whole chicken, you know that you must remove the bag of giblets from the cavity of the bird first. The giblets generally include the neck bone, liver, and gizzard. Sometimes you will also get the heart and the kidneys. A lot of people discard the giblets. I like to add them to bone broth, chop them up and add them to gravy, or use them to make Creole dirty rice.
Gizzards are unusual and not many home cooks know exactly what to do with them. The chicken gizzard is a small hard-working organ that aids in digestion because chickens don't have teeth to break down their food. As a food source, they are affordable, tasty, and nutritious. But they are a little chewy if not cooked properly. Many cuisines around the world make use of the whole bird, including those tough little gizzards. Gizzards are very popular in the Southeastern US. You can even find them on the menus of some popular fast-food restaurants.
There is no reason to be afraid of gizzards. While a chicken only has one, you can buy a whole package of them from your butcher or grocery store for very little money. They can be boiled and fried or slow-braised.
Chicken gizzards taste like dark meat, such as the meat of the wings. They are much tougher than the flesh of the wing or leg. My preference is to clean the gizzards well by soaking them in buttermilk. Buttermilk pulls any blood or impurities from organ meats. I then rinse, parboil, and fry them. Parboiling tenderizes the meat. Frying turns them into incredibly tasty nuggets that you can eat with your fingers.
The recipe here has a few steps to it. It is worth taking the time to prepare the gizzards properly so they aren't unpleasantly chewy or mineral tasting. I like to use a cast-iron skillet for frying gizzards. Any heavy-bottomed skillet will do, preferably 12-inches in diameter.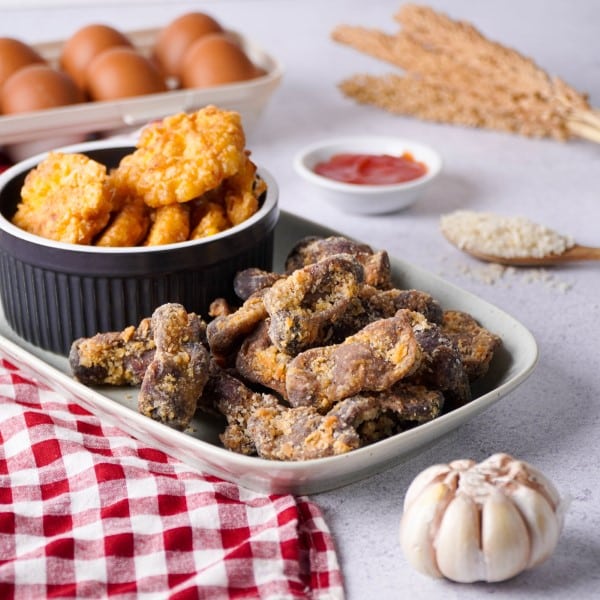 Ingredients
1 ½

pounds

of chicken gizzards

2

cups

buttermilk

1 ½

tsp

sea salt

1

large whole egg

2 ½

Tbsp

whole milk

½

cup

all-purpose flour

½

cup

panko bread crumbs

½

tsp

sea salt

½

tsp

sweet paprika

¼

tsp

garlic powder

¼

tsp

onion powder

¼

tsp

freshly ground black pepper

Neutral vegetable oil for frying

canola, avocado, or sunflower
Instructions
All ingredients ready? Let's begin!

Rinse the gizzards under cold running water and drain them in a colander. Trim any excess yellow fat or tough sinew from the gizzards. Cut them in half for bite-size nuggets, if desired.

Place the cleaned gizzards in a large bowl and cover with the buttermilk. Set aside for 15 to 20 minutes. Rinse under cold water and drain.

Place the gizzards in a saucepot and cover them with water. Season the water with 1-1/2 teaspoons of salt. Turn the heat to high. When the water comes to a boil, lower the heat to a rolling simmer (medium-low). Cover the pot and simmer for 30 minutes or until the gizzards are fork-tender.

While the gizzards are cooking, prepare your dredging station. In a shallow bowl or pie plate, whisk together the egg and milk.

In another shallow bowl, whisk together the flour, breadcrumbs, salt, paprika, garlic powder, onion powder, and pepper.

Drain the cooked gizzards in a colander and set aside until cool enough to handle. Meanwhile, heat about 1-1/2-inches of oil in a skillet over medium-high heat to 375°F, hot but not smoking.

Using the wet/dry hand method, dunk the gizzards in the egg bath with one hand, and then in the breading mixture with the dry hand until completely coated, a few at a time.

Add the gizzards to the hot oil. As soon as the oil bubbles, turn the heat down to medium. Cook the gizzards, turning over halfway, until golden brown and crisp. This can take up to 10 minutes, being mindful that the gizzards are already cooked. You are looking for a crunchy coating and hot gizzard inside.

Drain the gizzards on paper towels or a brown paper bag. Season lightly with salt, if desired.

Serve while hot with classic southern sides, such as corn fritters and braised collard greens with bacon.
Nutrition
Calories:
375
kcal
|
Carbohydrates:
24
g
|
Protein:
40
g
|
Fat:
12
g
|
Saturated Fat:
5
g
|
Polyunsaturated Fat:
2
g
|
Monounsaturated Fat:
3
g
|
Trans Fat:
0.1
g
|
Cholesterol:
522
mg
|
Sodium:
1616
mg
|
Potassium:
550
mg
|
Fiber:
1
g
|
Sugar:
7
g
|
Vitamin A:
666
IU
|
Vitamin C:
11
mg
|
Calcium:
202
mg
|
Iron:
6
mg
Notes & Tips
I have tried adding raw, chopped gizzards to gravy. I have also tried frying raw gizzards. It just doesn't work. Gizzards really benefit from being parboiled before adding to a dish or frying. Otherwise, they are tough and unpleasantly chewy.
The buttermilk bath is not a must if you want to skip that step. I like that buttermilk can draw impurities out of organ meats, especially liver and sweetbreads. It also seems to remove the natural mineral flavor that some organs carry. You could use regular milk if you don't have buttermilk.
You can cook the gizzards in 2 batches for best results by not crowding the pan.
Substitutions & Shortcuts
I do like my gizzards fried with a crunchy coating. My partner used to make a stew with gizzards by slowly braising them with onions in a thickened broth. Braising gizzards is a good alternative to frying if you want a lighter dish.
If you want to save some time, parboil the gizzards the day before and keep them in the refrigerator until ready to fry. You can also freeze the boiled gizzards and fry them when needed for a quick snack or dinner entrée.
In the south, you are likely to have fried gizzards that are coated only in flour and seasoning. I add panko breadcrumbs for a thicker and crunchier coating. The egg and milk bath helps the coating to stick better. You might also find the seasoning will include cayenne pepper for a kick. This is common in Creole cuisine.
If you order a gizzard dinner at your favorite poultry fast food place, you will be offered a dipping sauce of your preference. This could be simple ketchup, tangy barbecue, or ranch dressing. For a special treat, try our lacto-fermented peach jalapeno sauce recipe.
---
Recent Recipes