Low FODMAP Chex Mix Recipe
Chex is a classic on the cereal aisle. In fact, Rice Chex is one of the healthiest cereals you can buy today! It's gluten-free, has no artificial colors, artificial flavors, or preservatives. They have a good amount of whole grain in each serving, and are made from whole grain rice, sugar, salt, and molasses. This makes it low FODMAP, and excellent for you!
But what about Chex Mix? Unfortunately, the classic snack mix isn't as accommodating as the single ingredient it's inspired by. It's got large amounts of garlic and onion powder in it, as well as crispy slices of bagel. All of these cause Chex Mix to be classified as a high FODMAP food. The best way to get around this issue? Make your own! We're covering how to make a low FODMAP version of Chex Mix that you'll be sure to love.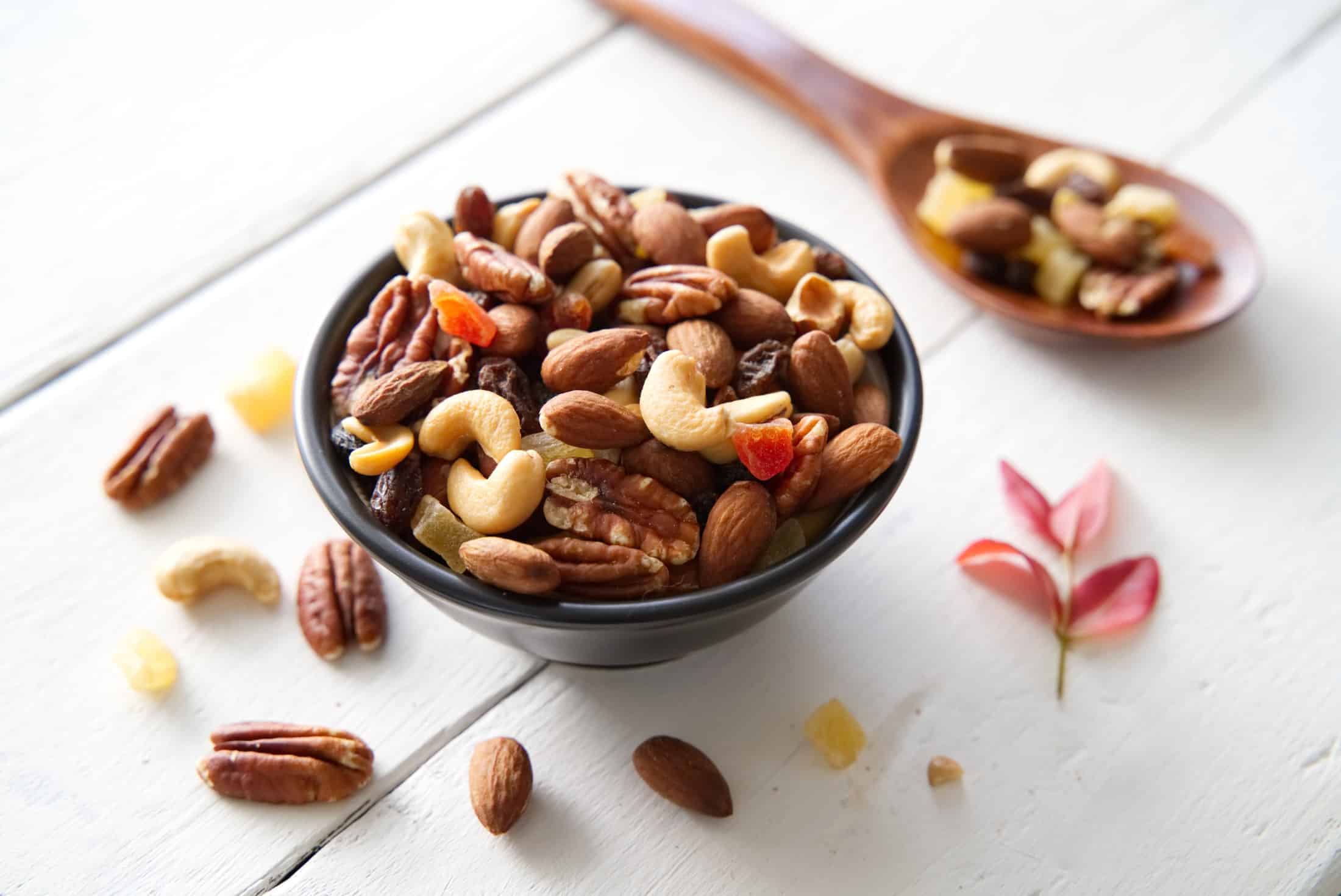 Ingredients
3

cups

Rice Chex

½

cup

miniature gluten-free pretzels

⅛

cup

peanuts

⅛

cup

almonds

⅛

cup

macadamia nuts

⅛

cup

pecans

1 ½

tablespoons

unsalted butter

1 ½

garlic-infused olive oil

2

teaspoons

Worcestershire sauce

½

teaspoon

salt
Instructions
Preheat your oven to 250°F. Make sure a rack is in the center of the oven, as well.

Using a microwave safe bowl, melt the butter and the oil together in the microwave.

Remove the bowl from the microwave. Which in Worcestershire sauce and salt.

Using a spatula, fold in the Rice Chex, pretzels, and nuts until all pieces are evenly coated. The coating will be light.

Put a wax paper lining on a cookie sheet. Scrape the contents of the bowl out onto the sheet, spreading them evenly.

Bake for 30 to 45 minutes, until the Rice Chex has reached a light brown color. Turn the ingredients once while cooking.

Allow the Chex Mix to cool on a rack. Once cool, serve or store in an airtight container. Chex Mix will last for one week at room temperature in most cases.
Nutrition
Calories:
37
kcal
|
Carbohydrates:
3
g
|
Protein:
1
g
|
Fat:
2
g
|
Saturated Fat:
1
g
|
Polyunsaturated Fat:
0.4
g
|
Monounsaturated Fat:
1
g
|
Trans Fat:
0.03
g
|
Cholesterol:
2
mg
|
Sodium:
83
mg
|
Potassium:
26
mg
|
Fiber:
0.3
g
|
Sugar:
0.4
g
|
Vitamin A:
85
IU
|
Vitamin C:
1
mg
|
Calcium:
17
mg
|
Iron:
1
mg
Notes and Tips
When making your own homemade Chex Mix, the sky's the limit in terms of ingredients! This is a base recipe, ready to be modified by you to best fit your palette. The biggest tip that should be taken is making sure your ingredients are as fresh as possible. You may want to buy ingredients specifically for this recipe, even if you have some of them on hand already. This makes them pop when you bake them, locking in that crunchy, delicious snack you're chasing when you crave Chex Mix.
If you're looking to spice your Chex Mix up a little bit, you can mix in ⅛ of a teaspoon of cayenne pepper to heat things up, too. This makes a big difference, and you may feel like you're eating one of the spicy versions that you can find in the store!
One way to reduce the number of ingredients you have to buy is by buying mixed nuts. However, you'll have to look at the nuts included in the ingredients list. Many nuts are high FODMAP foods, like cashews, meaning that they could trigger unwanted digestive stress. In the end, buying specific nut mixes may work, but so does buying all of the nuts separately.
Because many of the ingredients need to be purchased in larger packages than what the ingredients call for, you may want to make multiple batches at one time. This is a snack that can be enjoyed by most people, barring them having a nut allergy. As such, plan on giving some away to others! Prepackaging the portions also forces you to follow portion sizes, which is never a bad thing.
Substitutions
When it comes to making this Chex Mix, the only real substitution that should be brought up has to do with the nuts being used. If you don't like one, or some, of the types of nuts being used, you can substitute them for others in the mix. If you're still looking for a way to have some variety in your nuts, then you can also use Brazil nuts, walnuts, chestnuts, or pine nuts! These are all great for low FODMAP diets.
If you decide to increase the amount of almonds in your mix, be sure to do so sparingly. A moderate FODMAP serving of almonds is 10 or less. As such, when mixed into a snack mix, you're almost always in low FODMAP territory. Just be wary of increasing the amount, of course.
Now, these aren't substitutions, but they could be considered additions to the mix! Before baking, you could add some pumpkin seeds to the mix for a little bit of variety. After it's cooled, throw in some dark chocolate and banana chips! These are all low FODMAP foods that can be added for some variety.
Common Questions
Can I add cashews to my Chex Mix?
Unfortunately, cashews are one of the few nuts that are unable to be added to this mix. Cashews, along with pistachios, are high FODMAP nuts, no matter how few you consume.
Can I freeze my Chex Mix to make it last longer?
Yes you can! Frozen Chex Mix will last up to 6 months when stored in the proper containers, meaning you can make large batches at a single time.
Can I make this recipe vegan?
Absolutely! Consider using a vegan butter option, like some of the options that Country Crock offers, or replacing the butter with avocado oil or coconut oil for a quick swap!
Sides and Pairings
If you're looking for a snack, you might be looking for other snack-like options to go with it. Pair this homemade Chex Mix with some cheddar cheese, or use the Chex Mix as a side for a low FODMAP sandwich, like peanut butter and banana. If you're looking for more recipes, we offer some of the best global and vegan recipes in our cooking guides! Be sure to check them out today!
---
Recent Recipes