Pad woon sen is a Thai stir-fry dish made with veggies and, in this recipe, chicken. Unlike noodle dishes that you are probably used to, pad woon sen uses glass noodles instead of wheat-based or rice-based noodles. Glass noodles are incredibly thin and practically see-through (hence the name), made from plant starch, usually originating from mung beans. Other starches that can be incorporated include sweet potato starch and pea starch. Glass noodles cook much faster than other noodles and have a very chewy, slightly sticky texture. They work well in cold noodle dishes as well as hot, but they do not save very well once cooked.
This recipe is similar to pad Thai, the main difference being that pad Thai uses a different sort of noodle. If you make this pad woon sen and decide you want to try even more Thai dishes, you should check out these simple Thai curry puffs.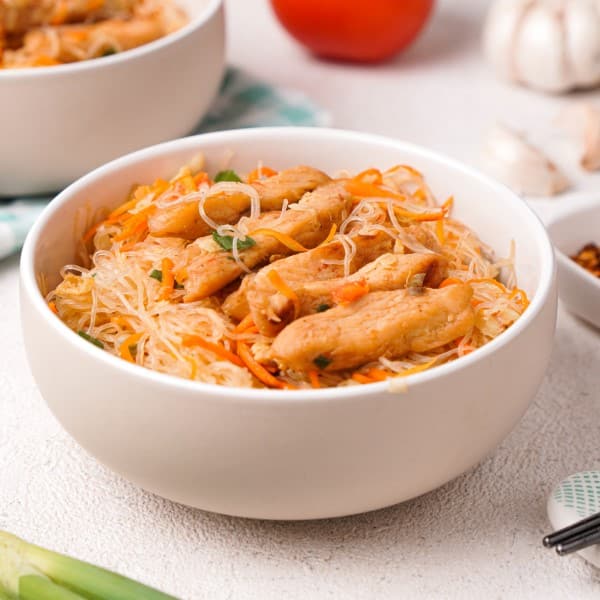 Ingredients
5

clumps glass noodles

3

tbsp

fish sauce

4

tbsp

soy sauce

2

chicken breasts

8

garlic cloves

1

red onion

1

cabbage

6

carrots

2

tomatoes

5

green onions

4

eggs

3

tbsp

sugar

1

tsp

pepper

2

tbsp

vegetable oil
Instructions
All ingredients ready? Let's begin!

Place the uncooked noodles in a large bowl and cover with room temperature water. Allow to soak for 10 minutes or until soft before draining.

In a medium bowl, add the fish sauce and soy sauce. Chop the chicken into strips or, if you prefer, bite-sized pieces. Place in the bowl with the soy sauce and fish sauce and leave to marinate while you prepare other ingredients.

Finely chop the cabbage or use a potato peeler to grate it.

Cut the carrots in half then into thin slices or you can grate the carrot too.

Cut and dice the tomatoes and set aside. Finely dice the green onions from the whites up and set aside.

Heat the oil in a large skillet over medium high heat until hot.

Add the chopped onion to the hot oil and cook for 3 minutes or until they turn translucent. Add the garlic and cook for another minute while stirring.

Add the pieces of chicken to the skillet and cook for 8 minutes or until the chicken is brown and cooked all the way through (if you have a meat or candy thermometer you can stick it into the middle of the chicken to check if it is fully cooked–cooked chicken should be at least 165F).

Crack the eggs into a bowl and whisk to separate.

Push everything in the skillet to one side. Add a little bit more oil if needed then pour in the beaten eggs.

Scramble the eggs around the skillet for 5 minutes or until mostly cooked, then scramble with the chicken and onion until the eggs are fully cooked, about another 2 minutes. Add the shredded cabbage and carrot and cook for 2 minutes.

Add the marinade from the chicken, the sugar, and pepper. Stir to mix.

Add the noodles and quickly toss them with the sauce and other ingredients until they are coated. Cook for 3-5 minutes or until the noodles are fully soft and cooked through.

Add the chopped tomatoes and green onions and toss to combine.

Remove from heat and evenly divide into four bowls.

Serve hot and enjoy!
Video
Nutrition
Calories:
989
kcal
|
Carbohydrates:
192
g
|
Protein:
38
g
|
Fat:
8
g
|
Saturated Fat:
2
g
|
Polyunsaturated Fat:
2
g
|
Monounsaturated Fat:
3
g
|
Trans Fat:
0.03
g
|
Cholesterol:
236
mg
|
Sodium:
2389
mg
|
Potassium:
1521
mg
|
Fiber:
11
g
|
Sugar:
25
g
|
Vitamin A:
16485
IU
|
Vitamin C:
106
mg
|
Calcium:
244
mg
|
Iron:
8
mg
Notes & Tips
As nice as it is to have leftovers, I do not recommend doing that with glass noodles. They save very poorly, getting sticky and goopy and, if reheated in the microwave, get soft and icky, so it is best if you can eat them in one go.
If you are vegan or vegetarian, this recipe is still for you. It can be made without chicken or egg entirely, or the chicken can be exchanged for tofu.
Serving Suggestions:
If you enjoy spicy food, why not sprinkle a few red chili flakes on top before eating? You can also cook chili flakes with the onion, but be aware that the longer chili flakes are cooked, the more heat they release. Another topping option is fresh bean sprouts to add an enticing crunch.
Where to Find Glass Noodles?
Glass noodles can sometimes be found at general food stores, most likely in the international food section rather than with other noodles. If your local supermarket does not carry glass noodles, you can find them at Asian food shops or online.
Glass noodles have a few aliases, so if you cannot find them as "glass noodles," try looking for "mung bean noodles" or "vermicelli." They can also be referred to as "bean thread noodles," and "cellophane noodles," so make sure you've covered all your bases.
More About Thailand
Thailand is a country in Southeast Asia and, before it was the Kingdom of Thailand, it was known as Siam. It shares borders with Laos, Myanmar, Cambodia, Malaysia, and two different bodies of water. Its capital is Bangkok, where you can find oodles of fantastic street food stalls, more than one serving this pad woon sen.
Thailand's climate is called a tropical savanna and the land experiences a lot of monsoon weather. Unfortunately, Thailand is in the top 10 list of countries that are most vulnerable to climate change, mostly at risk of rising sea levels that could swamp it on two different sides. Despite that, a whopping 49% of the work force is employed in agriculture, mostly growing rice. Incidentally, fragrant Thai rice is one of my favorite rices due to its sweet aroma and delicate taste.
Thailand enjoys a healthy amount of tourism, bringing in guests from other Asian countries as well as visitors from other continents. There is a wealth of historic areas to visit as well as pristine beaches. Thailand also hosts a large percentage of medical visits from people seeking more affordable surgery outside of their home country. Of course, all these visitors need to eat, so the delicious cuisine can be found across the country with local delicacies wherever you go.
---
Recent Recipes