Are you familiar with Wisconsin cuisine? Yes, there is such a thing. The first time I visited the Upper Midwest of the United States, I was immediately immersed in a food culture that was full of local pride. Because I arrived on a Friday, dinner was a freshwater fish fry with a cold beer. This is traditional for those who abstain from meat on Fridays during Lent.
The next day, I went with my host family to a cookout that was a nod to the region's strong German heritage. There were grilled brats, potato salad, corn on the cob, and lots of cheese. Not only does Wisconsin have its own bratwurst industry, but it is also pretty much the cheese capital of the U.S.
People from the area take their bratwurst and dairy very seriously. Bratwursts are types of link sausages that originated in Germany. They are often made with ground pork, beef, or veal. The meat is generously seasoned with spices and herbs. These often include caraway, coriander, ginger, nutmeg, salt, and pepper. In some preparations, eggs and cream are added to the ground meat before everything is piped into natural casings. In Wisconsin, it isn't unusual to see little cubes of diced cheddar cheese in brats.
Bratwursts can be grilled, smoked, or steamed in simmering beer. But Wisconsin has some harsh winters with plenty of snow, so grilling and smoking options are limited. And frankly, I don't like steamed bratwurst because I love that pop of the casing from a grilled brat. That is where the air fryer comes in very handy. I love my air fryer because it serves as my grill when the snow is flying. I plug it in on my screened porch and "grill" all sorts of proteins and vegetables in it.
My air fryer can hold about 4 bratwursts, giving them plenty of space for the hot air to circulate around them. If your fryer is larger, you may be able to get 6 in at once. They only take about 15 minutes to cook through and achieve that crisp exterior and juicy filling. I serve them on either ciabatta rolls or potato hot dog buns. As in Wisconsin, I serve a variety of toppings, such as sauerkraut and pickles.
I like to have a few side dishes to choose from when serving brat sandwiches. Of course, potatoes in some form are on the menu. I like a good, simple potato salad or just some kettle chips. Macaroni salad is another good side dish, as is cabbage slaw. Corn on the cob with butter and salt is another option. And, you will want some cold beer on tap for adults and lemonade for kids.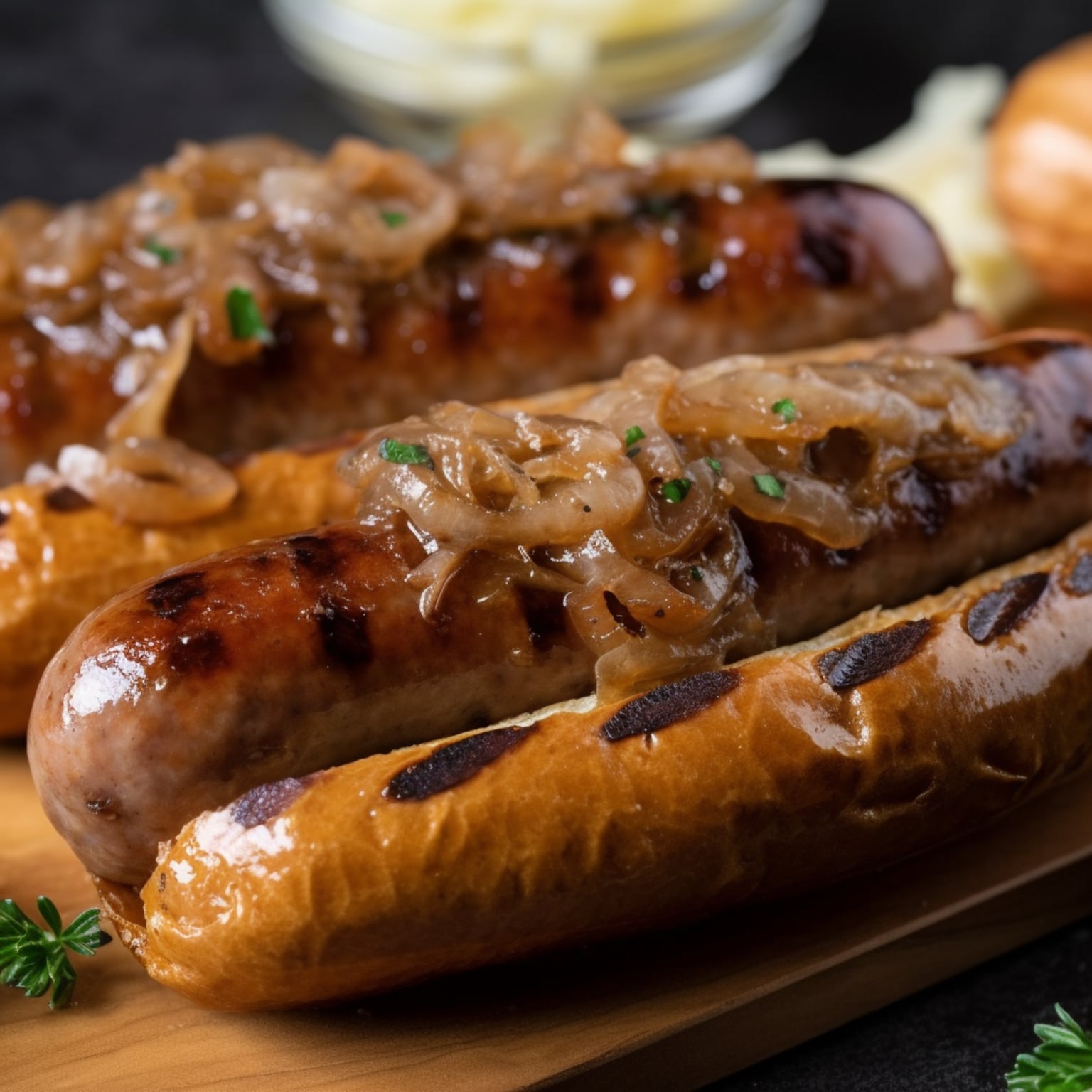 Ingredients
4

uncooked bratwursts

any flavor

4

hot dog or ciabatta rolls
Topping Options
Shredded cheddar cheese

Chopped white onions

Sauerkraut

Pickle relish or dill slices

Stone ground brown mustard

Ketchup

BBQ sauce
Instructions
Preheat your air fryer to 370°F for 5 minutes.

Place the brats in a single layer on the crisper plate or in the basket of the air fryer. Make sure there is a little room between each brat to allow for air circulation. Close the air fryer.

Cook the brats for 7 minutes. Roll them over and continue to cook until the internal temperature reaches 165°F when checked with a digital meat thermometer, approximately 5 to 7 minutes longer.

Serve the bratwursts in split rolls with toppings on the side. Enjoy while warm with a variety of side dishes.
Nutrition
Calories:
372
kcal
|
Carbohydrates:
26
g
|
Protein:
13
g
|
Fat:
24
g
|
Saturated Fat:
8
g
|
Polyunsaturated Fat:
2
g
|
Monounsaturated Fat:
10
g
|
Cholesterol:
70
mg
|
Sodium:
807
mg
|
Potassium:
239
mg
|
Fiber:
2
g
|
Sugar:
3
g
|
Vitamin A:
86
IU
|
Vitamin C:
0.1
mg
|
Calcium:
72
mg
|
Iron:
1
mg
Notes and Tips
Bratwursts are normally sold uncooked. So, you want to make sure you cook them thoroughly to an internal temperature of 165°F. The exception would be the white veal brats that are steamed or boiled prior to packaging them. These only need to be heated until the casing is golden brown.
Don't be tempted to load the air fryer with too many bratwursts, they cook best when the hot air is allowed to circulate around them. Keep them in a single layer, not stacked.
The casings can split while cooking, causing the juices to jump and ooze out so be careful when rolling them over and when checking the internal temperature with a pointed thermometer.
You can store cooked brats in a sealed container in the fridge for a couple of days. Reheat them in the air fryer for about 5 minutes and serve. Or, slice them and add them to pizzas, salads, or casseroles.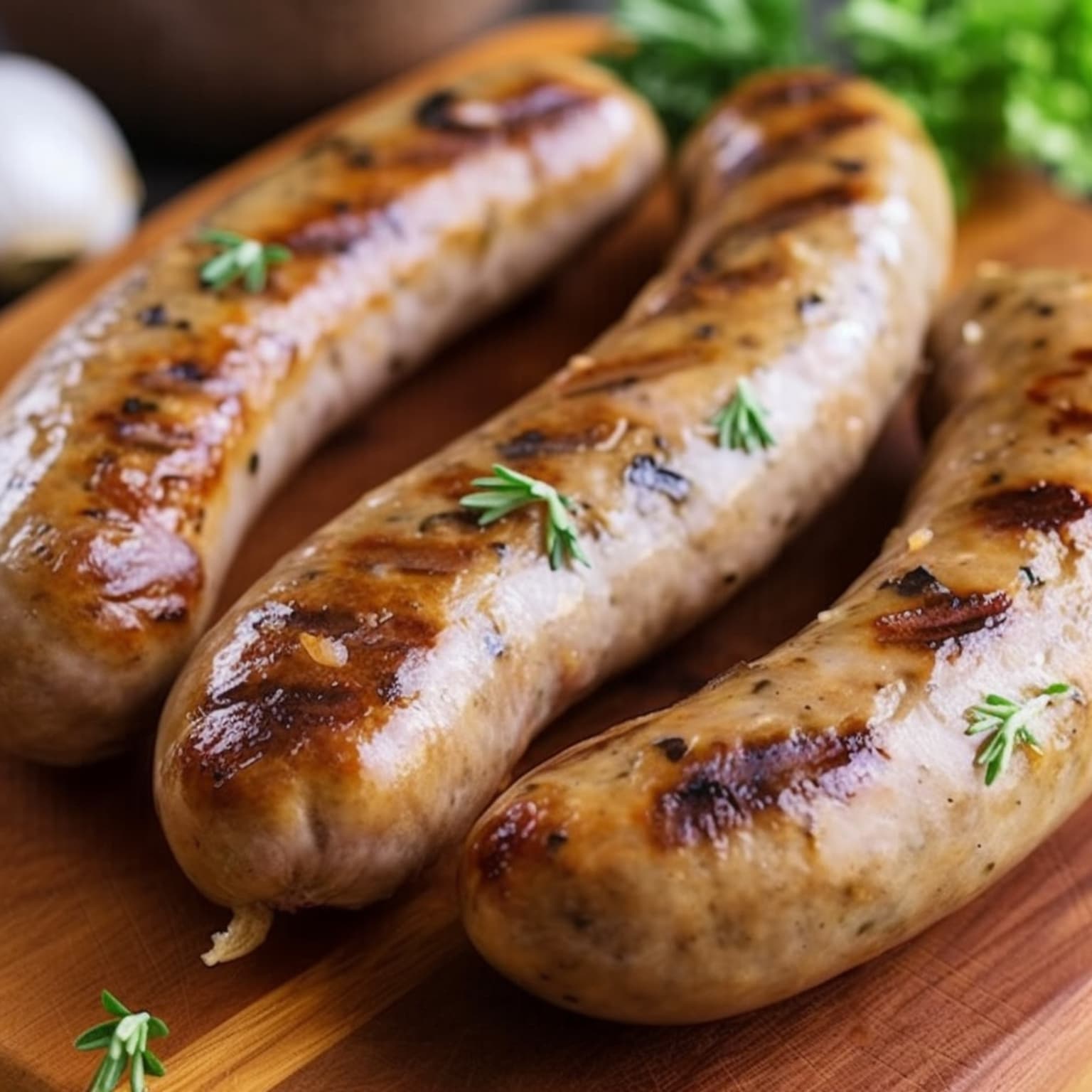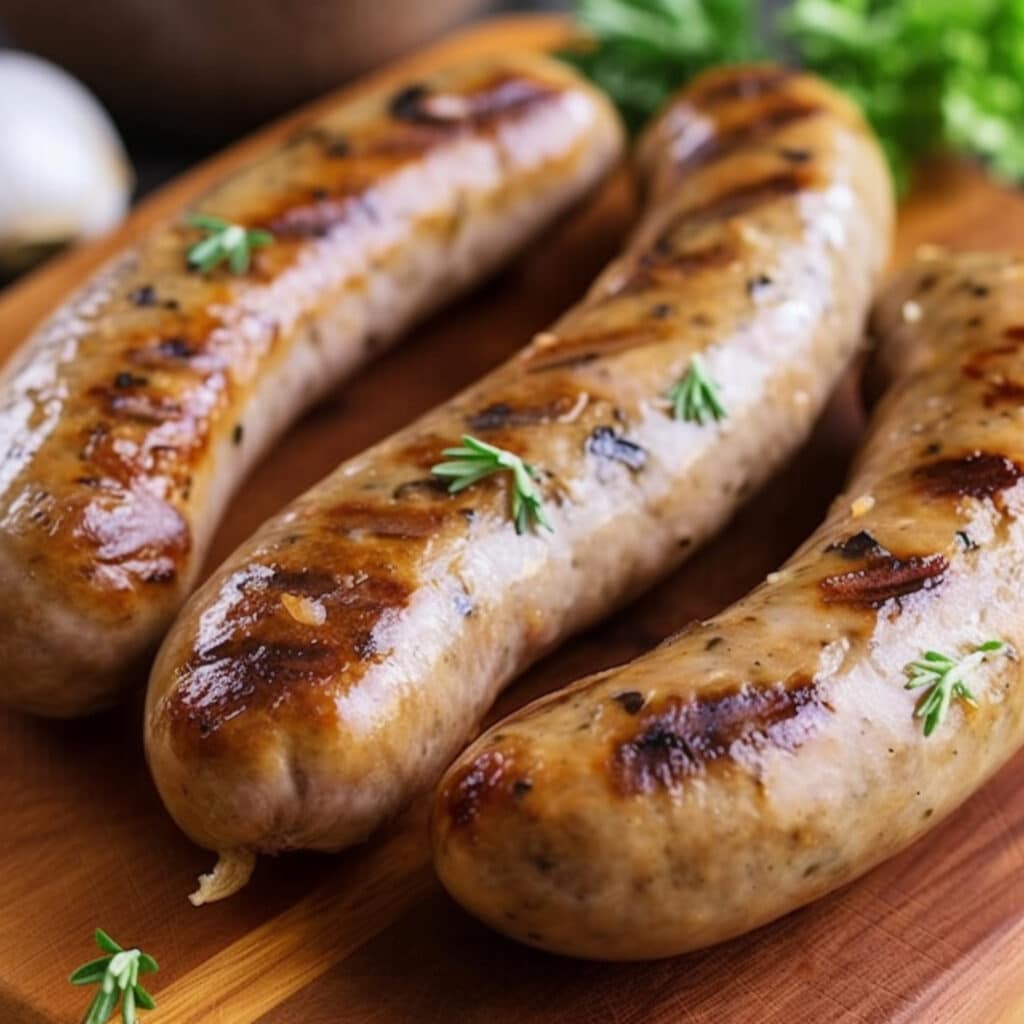 Substitutions and Additions
Bratwursts: While bratwursts are almost always available in the packaged meat display of most supermarkets, you can substitute the brats with Italian sausage if need be. For the vegetarians in the family, there are a variety of plant-based sausages available that simply need to be heated up in the air fryer.
Rolls: I like the soft potato buns for brats. Hoagie or ciabatta rolls are sturdier and a good option. If you are keto or paleo, skip the rolls and serve the brats on top of a platter of warmed-up sauerkraut.
Toppings: When I am feeling ambitious, I will get creative with the toppings. Caramelized onions and bell peppers are a favorite. Another fun topping is spicy bean chili. And it goes without saying that crispy air-fried bacon strips are excellent atop a brat sandwich.
Storage & Reheating
Store cooked brats in a sealed container in the refrigerator for up to 3-4 days.
To reheat, place the brats in the preheated air fryer at 350°F for about 5 minutes, or until heated through.
For an alternative method, you can also reheat them in a microwave or on a stovetop skillet.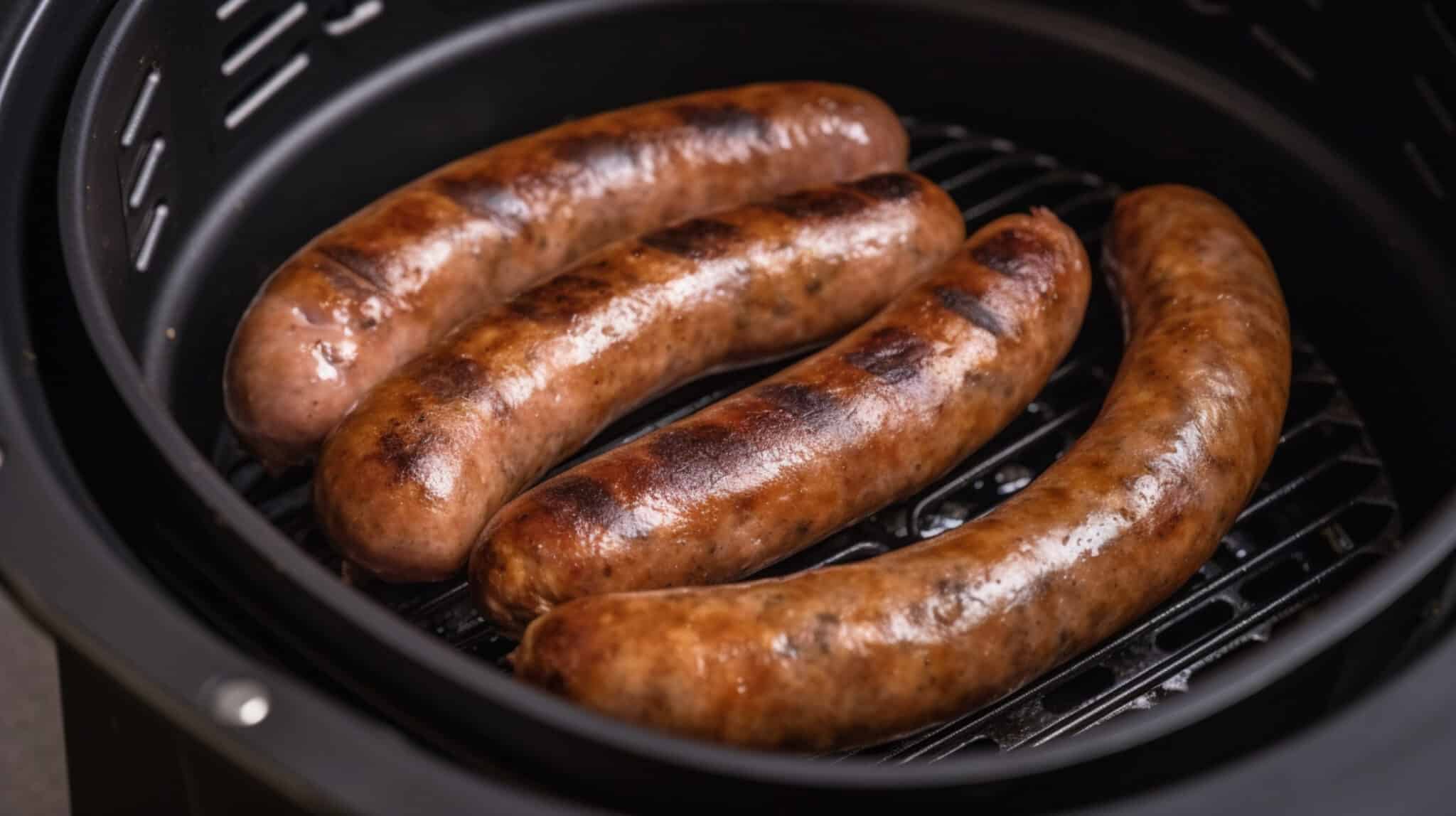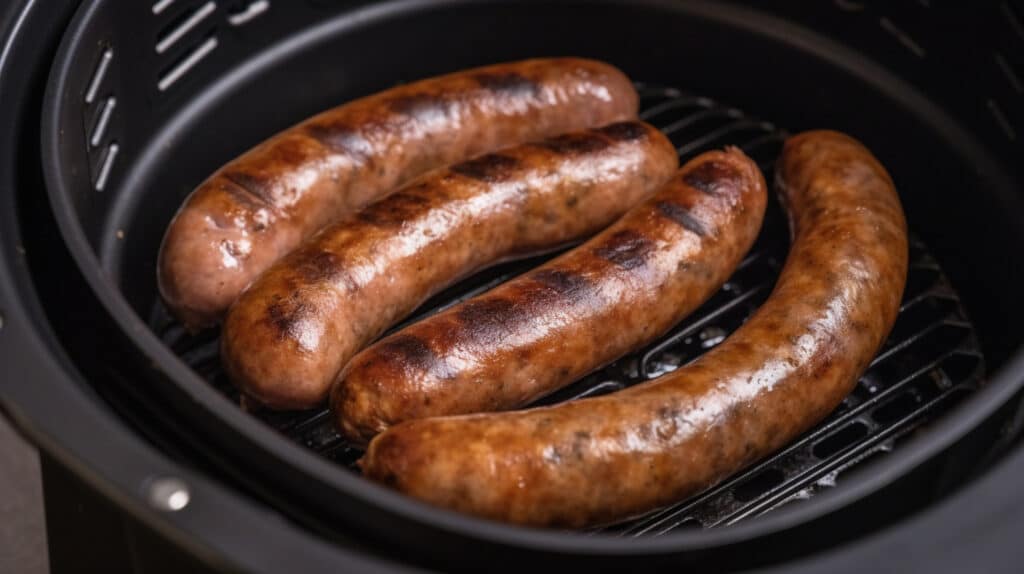 Serving Suggestions
Serve bratwursts in soft potato buns, hoagie rolls, or ciabatta rolls with various toppings, such as sauerkraut, pickles, mustard, or ketchup.
Accompany the brat sandwiches with side dishes like potato salad, kettle chips, macaroni salad, cabbage slaw, or corn on the cob with butter and salt.
Offer cold beer for adults and lemonade for kids as refreshing beverages.
Common Mistakes
Overcrowding the air fryer, which prevents even cooking and crispiness. Ensure brats are placed in a single layer with some space between them.
Not cooking brats to the proper internal temperature of 165°F, risking foodborne illness. Always use a digital meat thermometer to check for doneness.
Puncturing the bratwurst casings while rolling them over or checking the internal temperature, causing juices to leak out.
Health Risks & Benefits of This Recipe
Risks:
Bratwursts are often high in saturated fat and sodium, which can contribute to heart disease and high blood pressure when consumed in excess, so moderation is key.
Consuming undercooked bratwursts can lead to foodborne illnesses like salmonella or E. coli.
Benefits:
Bratwursts are a good source of protein, which is essential for muscle building and overall body function.
Serving bratwursts with healthy side dishes, such as cabbage slaw or a mixed green salad, can provide additional nutrients and fiber to the meal.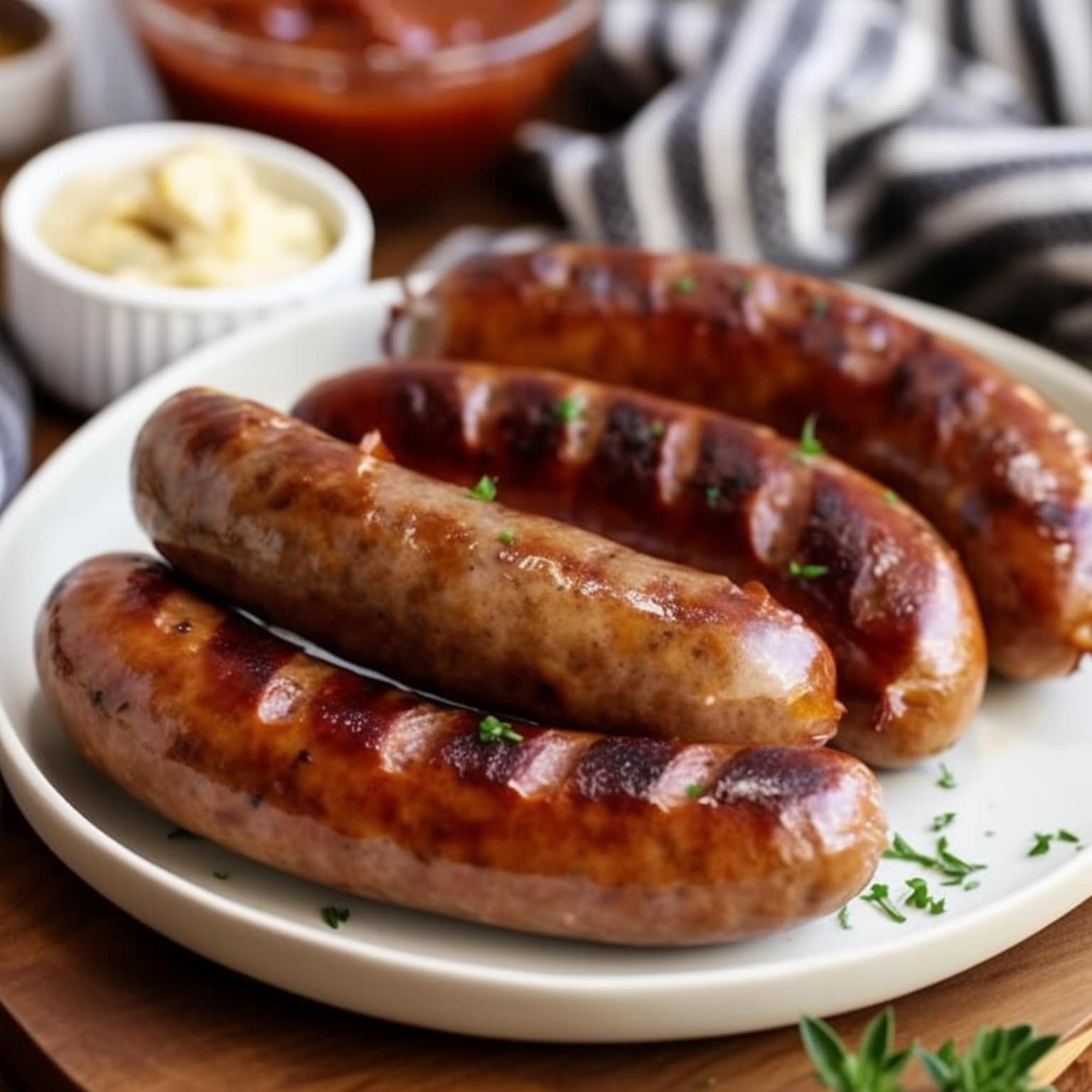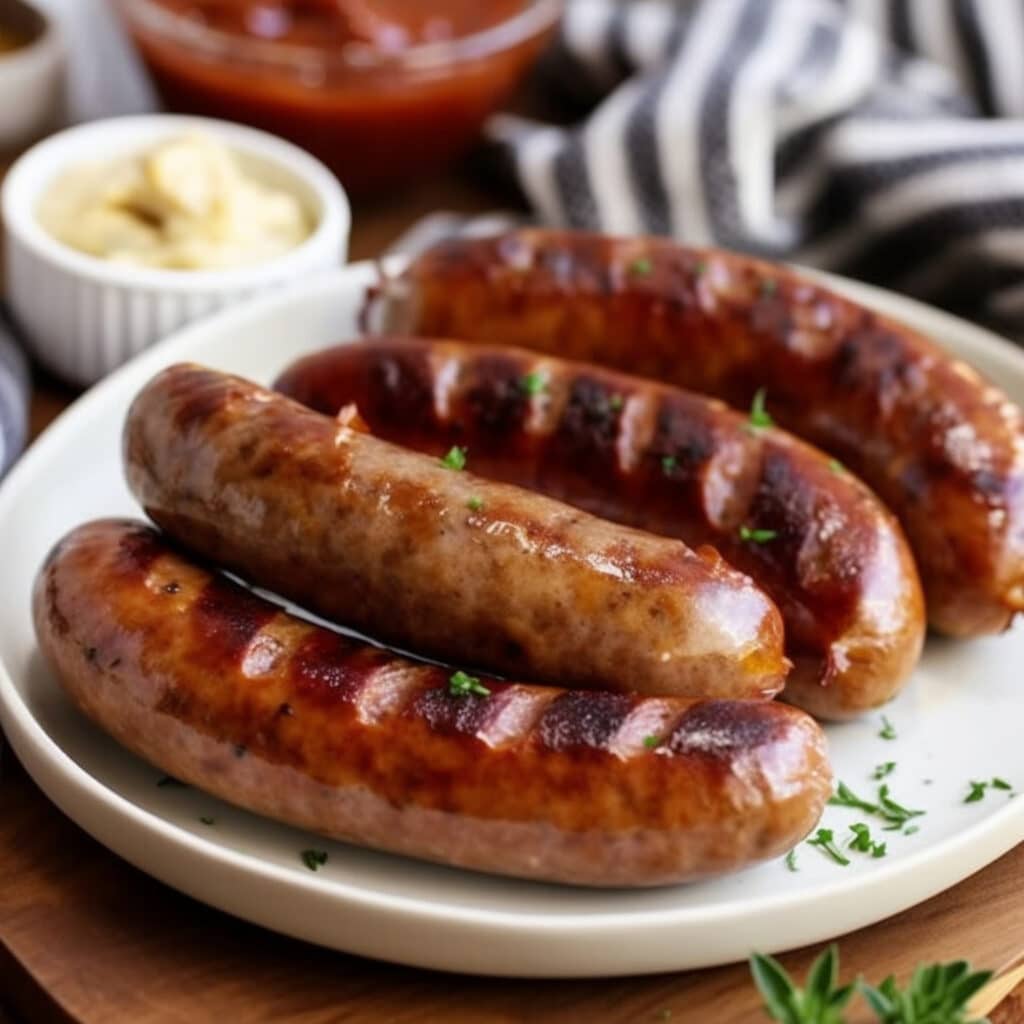 Recipe History & Context
Bratwursts originated in Germany and were brought to the United States by German immigrants, who settled in regions like Wisconsin. This recipe adapts the traditional grilling method for bratwursts by using an air fryer, making it convenient for those who live in colder climates or lack outdoor grilling space.
Common Questions
How many bratwursts can I cook at once in my air fryer?
It depends on the size of your air fryer. A standard air fryer can hold about 4 bratwursts, giving them plenty of space for the hot air to circulate around them. If your fryer is larger, you may be able to cook 6 at once. Remember to keep the bratwursts in a single layer and not stacked.
Can I cook frozen bratwursts in the air fryer?
Yes, you can cook frozen bratwursts in the air fryer, but the cooking time will be slightly longer. Add about 3-5 minutes to the cooking time, and ensure the internal temperature reaches 165°F before consuming.
Can I use other types of sausages in this recipe?
Yes, you can substitute the brats with Italian sausage or other types of sausages if needed. For vegetarians, there are various plant-based sausages available that simply need to be heated up in the air fryer.
---
Recent Recipes