I love soups with tiny pasta shapes. They are affordable, filling, and perfect for little kids who are still getting used to handling a spoon. I was onboard with alphabets until I discovered star shapes. My new tiny pasta love is ditalini. These are tiny tubes or little thumb-size macaroni that things like soup and sauce can cling to. Ditalini is a common ingredient in minestrone.
Ditalini is also great in noodle-based casseroles. You can make a wicked macaroni and cheese or seafood casserole with tiny pasta. You can also go completely vegan and make a baked dish with steamed butternut squash, chickpeas, and a creamy cashew "cheese" sauce.
While I think these little gems are perfect in soups and casseroles, I also like to make a family-size bowl of these mini pasta shapes with peas, fresh herbs, and 2 types of cheeses. The peas are about the same size as the pasta, so everything fits on a spoon for the perfect bite. I use creamy, mild ricotta and dry, sharp parmesan for a nice contrast in texture and flavors.
I almost always use frozen peas these days. Organic peas that have been flash frozen right after being picked are delicious and nutritious. I can only get fresh English peas for a short time in spring. They are fabulous. In fact, peas are my favorite green vegetable with zucchini coming in at a close second. I think this is because I have grown both in my many gardens. If you are lucky enough to find fresh green peas, use those. But frozen is fine here.
The fresh herbs really finish off the dish with a punch of flavor. We'll discuss fresh herb options and substitutions after the recipe. I encourage you to use only fresh and not reach for dried herbs for this particular recipe.
Ditalini pasta with peas is vegetarian but not vegan. I haven't yet tried to make a vegan version of this recipe but I plan on working on that. You can add protein to this dish, such as roasted chicken, shrimp, or pancetta. Just be mindful of the size of the pasta and peas and dice the proteins so they fit onto a spoon.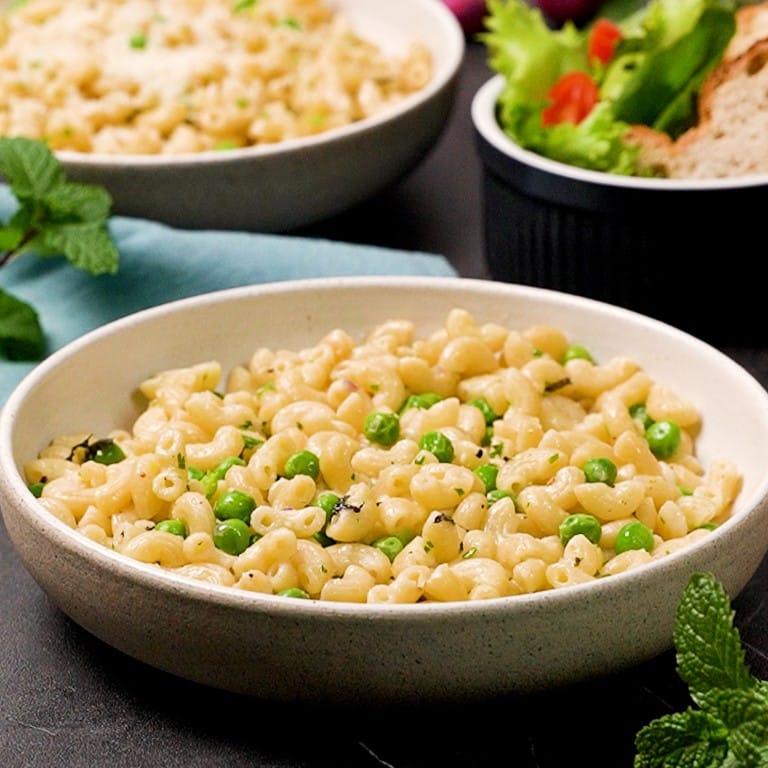 Ingredients
1 16-

ounce

package of ditalini pasta

2

Tbsp

kosher salt

2

cups

frozen sweet peas

3

Tbsp

extra virgin olive oil

2

medium shallots

peeled and finely diced

2

Tbsp

butter

⅓

cup

ricotta cheese

¼ to ⅓

cup

pasta water

Sea salt to taste

Freshly ground black pepper to taste

2

Tbsp

minced fresh mint leaves

2

Tbsp

minced fresh flat-leaf parsley

⅓

cup

shredded parmesan cheese
Instructions
All ingredients ready? Let's begin!

Bring a large pot of water to a boil over high heat. Add the kosher salt to the water and stir to dissolve. Add the pasta to the boiling water and cook until a minute shy of the package directions. When there is 1 minute of cooking time left, add the peas to the pot.

While the pasta is cooking, place a large sauté pan over medium heat. Add the olive oil and warm it up. Place the shallots in the pan and cook until softened for approximately 4 minutes.

Remove 1 cup of pasta water from the large pot and set it aside. Drain the pasta and peas in a colander.

Add the butter to the sauté pan and stir until it melts. Whisk the ricotta into the butter and shallot mixture. Add the pasta and peas to the cheese sauce and toss to coat. Add the reserved pasta a little at a time to loosen the sauce and make it silky.

Add the fresh herbs to the pasta and toss with tongs just to incorporate. Season with salt and pepper to taste. Place the cheesy pasta in a serving both and top it with the parmesan cheese.

Serve the pasta immediately with a green salad and some crusty bread.
Nutrition
Calories:
452
kcal
|
Carbohydrates:
69
g
|
Protein:
17
g
|
Fat:
12
g
|
Saturated Fat:
3
g
|
Polyunsaturated Fat:
1
g
|
Monounsaturated Fat:
6
g
|
Cholesterol:
11
mg
|
Sodium:
2447
mg
|
Potassium:
352
mg
|
Fiber:
6
g
|
Sugar:
5
g
|
Vitamin A:
666
IU
|
Vitamin C:
22
mg
|
Calcium:
138
mg
|
Iron:
2
mg
Notes & Tips
You will do well to cook the pasta to just al dente. It will cook a bit more when it hits the warm cheese sauce in the pan.
Don't forget to reserve some of the pasta water for loosening the sauce. Alternatively, you can take the pasta and peas right from the pot of water into the sauce using a spider or slotted spoon that will transfer some of the water to the sauce.
Substitutions & Variations
Ditalini Pasta: I can't always find this particular shape in my market. If that is the case, I can pick up small elbows, tiny shells, or orecchiette. Whole Foods has a 365 brown rice pasta that is small shapes designed for kids. I love this when I am making a gluten-free meal.
Sweet Peas: I mentioned that I love peas and I always have a bag of peas in my freezer. I also keep a couple of cans of beans on hand. If I am feeling like a change, I will make this recipe with 1/2 peas and 1/2 chickpeas because they are all the same size and similar in texture. The chickpeas add some protein. You could also use frozen mixed veggies, such as peas, corn, and carrots that are diced.
Mint: Mint isn't for everyone, especially kids. Feel free to substitute with fresh basil, oregano, thyme, or chives.
Parmesan Cheese: There are some great alternatives to parmesan cheese. Just stick with an aged, dry, hard cheese that is naturally salty in flavor. Options include asiago, pecorino Romano, Manchego, and cotija.
Vegan Ditalini Pasta: This dish is vegetarian, but it includes dairy. To go full vegan, you can skip the butter and use all olive oil. Or, use your favorite vegan butter. There are all sorts of vegan "cheeses" that you can use in place of ricotta and parmesan. Though, many of them are made from nuts, which might be problematic for some. Sometimes, I completely skip the ricotta and parm and just finish the dish with nutritional yeast. I also might stir in some almond milk for a creamy sauce.
---
Recent Recipes