Easy Vankaya Pachadi Eggplant Chutney
Vankaya pachadi is a spicy Indian eggplant chutney that originates in the South Indian state of Andra Pradesh. It pairs particularly well with curries and other Indian food like steamed rice dumplings but is versatile enough to be served with a range of dishes from all around the world. The rich flavor of eggplant is transformed into a tangy taste sensation that you can enjoy as a relish with everything from a hearty, meaty stew to a simple slice of freshly baked bread.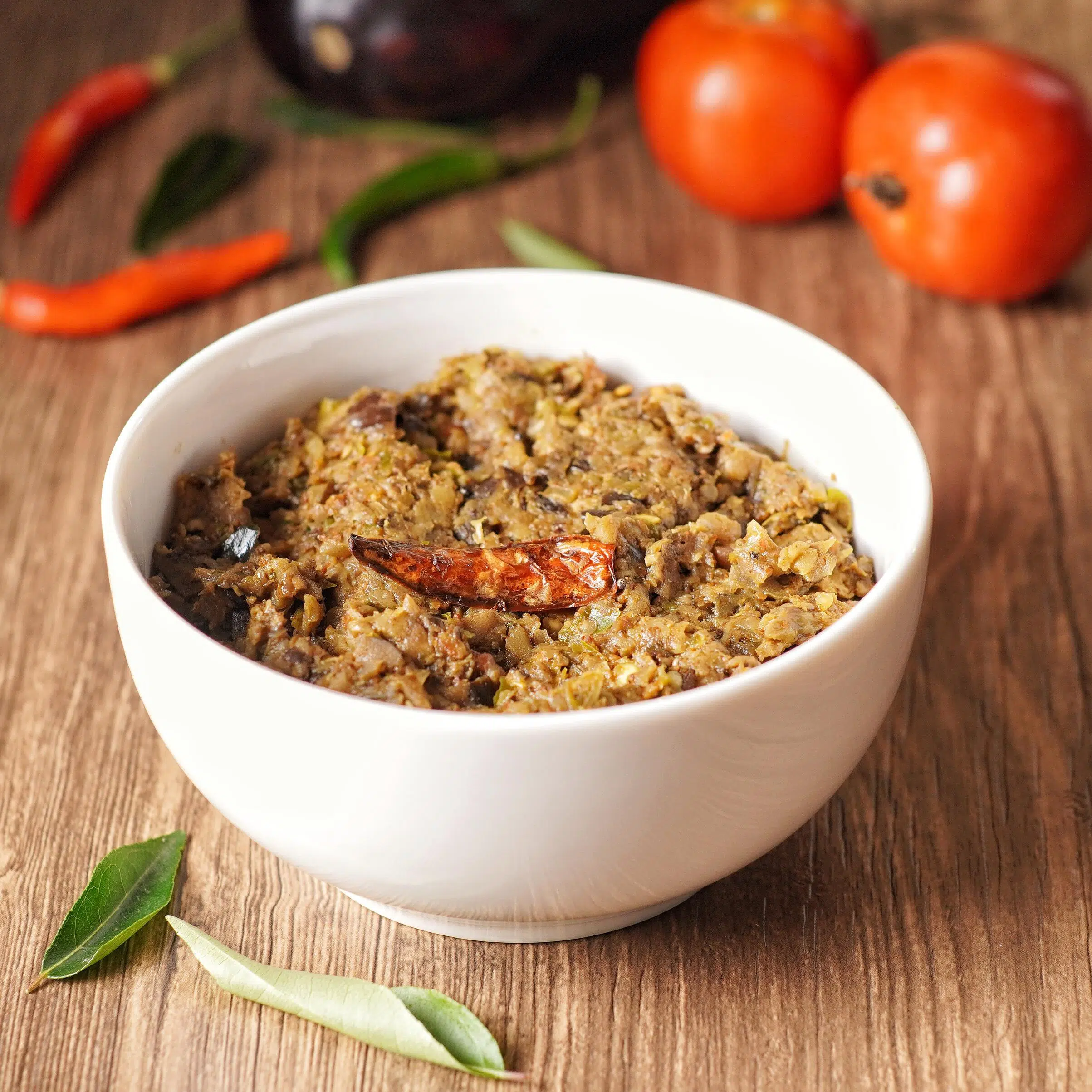 Ingredients
8

Small Eggplants

or up to 10

3

Tablespoons

Ghee

4

Large Green Chilis

Stemmed & Halved

2

Red Chilis

Stemmed & Halved

4

Cloves

Garlic

Pressed & Minced

2

Small Shallots

Diced

2

Large Tomatoes

Skinned & Chopped

1

Tablespoon

Split Black Lentils

1 ¼

Teaspoon

Dry Coriander Seeds

1 ¼

Teaspoon

Cumin Seeds

1 ¼

Teaspoon

Fenugreek Seeds

1/2

Teaspoon

Cumin Powder

1/2

Teaspoon

Garam Masala

1

Teaspoon

Salt

½

Teaspoon

Turmeric

2

Teaspoons

Fresh Coriander

Finely Chopped

2

Tablespoons

Tamarind Paste

2

Tablespoons

Lemon Juice

5

Curry Leaves
Instructions
Heat a dry large saucepan over medium heat.

Add the split black lentils and the cumin, fenugreek, and coriander seeds and fry until the seeds begin to crackle and pop.

Add the curry leaves and continue frying until they begin to curl.

Remove the mixture and allow it to cool down.

Transfer the mix to a mortar or blender, add half a teaspoon of turmeric, and grind it to a powder.

Heat two tablespoons of ghee in the same saucepan over medium heat and fry the shallots until they begin showing signs of translucency.

Adding the garlic and green chilis while constantly stirring.

As soon as the shallots are translucent, taking care not to brown them, add the tomatoes and the cubed eggplant.

Saute for eight to twelve minutes or until mushy.

Mix in the tamarind paste, fresh coriander, lemon juice, cumin powder, garam masala, a teaspoon of salt, and the processed masala powder you made earlier

While still relatively warm, mash using a masher or fork, or transfer to a blender or food processor.

Process until you reach the desired consistency of chutney preferred.

Prepare a tadka (tempering oil) by heating two tablespoons of oil or ghee in a pan or large ladle (traditionally known as a Tadka ladle or melting pot)

When the oil/ghee is hot, add a quarter teaspoon of cumin and fenugreek seeds.

As soon as the seeds begin to pop, add two finely chopped red chilis and three to four curry leaves.

When the curry leaves start curling, carefully pour the ghee/oil into the chutney and mix thoroughly.
Video
Nutrition
Calories:
277
kcal
|
Carbohydrates:
49
g
|
Protein:
9
g
|
Fat:
9
g
|
Saturated Fat:
5
g
|
Polyunsaturated Fat:
1
g
|
Monounsaturated Fat:
2
g
|
Cholesterol:
19
mg
|
Sodium:
413
mg
|
Potassium:
1695
mg
|
Fiber:
21
g
|
Sugar:
29
g
|
Vitamin A:
876
IU
|
Vitamin C:
107
mg
|
Calcium:
87
mg
|
Iron:
3
mg
What Is Vankaya Pachadi?
Vankaya pachadi is a South Indian spicy eggplant chutney from Andra Pradesh with a smoky, rich flavor ideally offset by the off sour tanginess of tamarind and a select range of aromatic spices. The smoky, rich flavor complements curries while also working well as a relish, spread, and flavor enhancer for other meals.
What Does Vankaya Pachadi Mean?
Vankaya pachadi quite literally translates to 'eggplant chutney.' In Telugu, 'vankaya' means eggplant, and the word 'pacahdi' translates to chutney or fresh pickled side-dish. Freshly made chutneys are an integral part of Indian cuisine, and vankaya pachadi is one of the most popular.
Vankaya Pachadi Substitutions



Ghee's best replacement which many chefs prefer for its neutral taste, is groundnut oil which can be hard to find outside of India. If you don't have clarified butter (ghee), opt for canola or sunflower oil instead. Butter is another option, but it will impart a strong flavor to your chutney, and it shortens the time that it can be safely stored without spoiling.
Tamarind brings a distinct taste that some people are outright opposed to. If you're averse to the tangy pungency of tamarind, make vankaya pachadi with a 50/50 mixture of lemon and lime juice instead. For this recipe, you'll need a quarter cup which equates to four tablespoons of lime juice and four tablespoons of lemon juice. Feel free to adjust according to taste.
Although split black lentils are recommended, any variety of lentils will do in a pinch. Opt for split lentils over whole lentils whenever possible. Using an assortment of split lentils infuses extra flavor. If you've got split chickpea lentils on hand, we suggest adding a teaspoon extra to your mix. Alternatively, leave out the lentils and add two tablespoons of peanuts instead at the same stage of cooking.


Vankaya Pachadi Without Tomato
The tomato in this vankaya pachadi recipe can be omitted. If you decide to leave out the tomato, we suggest that you modify the recipe slightly. Swap out the coriander seeds for mustard seeds and use three tablespoons of peanuts in the place of the lentils. Everything else stays the same. Season according to taste, adding lemon juice to reach the right degree of sourness.
Vankaya Pachadi Tips
The older and larger an eggplant is, the bitterer the skin becomes. We've advised cooks to use small eggplants. The smaller, the better. If you do end up using two or three large eggplants instead, roast and peel the skin first before cutting into cubes. Oil the skin of each eggplant before roasting in the oven, and you'll find that it's much easier to remove the skin. To make Vankaya Pachadi with the most authentic traditional flavor possible, char grill your eggplant over an open flame.
How To Pick The Best Brinjals
The healthiest brinjals are always going to be firm, shiny, and far heavier than their counterparts. Look for an even skin texture that covers the whole eggplant without tears, wrinkles and breaking. If an eggplant has wrinkles, it's old, bitter, and should be avoided. You know that eggplant is perfectly ripe when you can't depress it as much as a ripe tomato, and the stem is still green. Ripe brinjals are firm but not hard.
What To Serve Vankaya Pachadi With?
Vankaya pachadi is a tangy but versatile chutney that goes extremely well with any traditional Indian food. It pairs spectacularly with simplistic but flavorful Undrallu. Serve Vankaya Pacahadi as a dipping sauce for these delectable South Indian steamed rice balls, and you're guaranteed a hit. It's just as tasty on poppadoms, chapati (otherwise known as roti's), or as a spread for sandwiches.
---
Recent Recipes