Best Rosemary Olive Oil Cake
This is not your traditional birthday cake, it's better. Rosemary olive oil cake is more similar to a pound cake than a fluffy, tiered cake (though you can double this recipe and make multiple layers). It is not as sweet as other cakes, which makes it the perfect option for an adult get together. I began requesting this cake for my birthday when I was 16 and my mom made it so well for my next few birthdays that it became my favorite.
Where most cakes use butter, this one uses olive oil instead and the end texture is a bit like this bundt cake. The oil makes up the required fat for cooking and helps the cake be incredibly moist. Because the cake is so moist, it is also a little bit dense, so small slices can be filling, which helps the cake serve more people.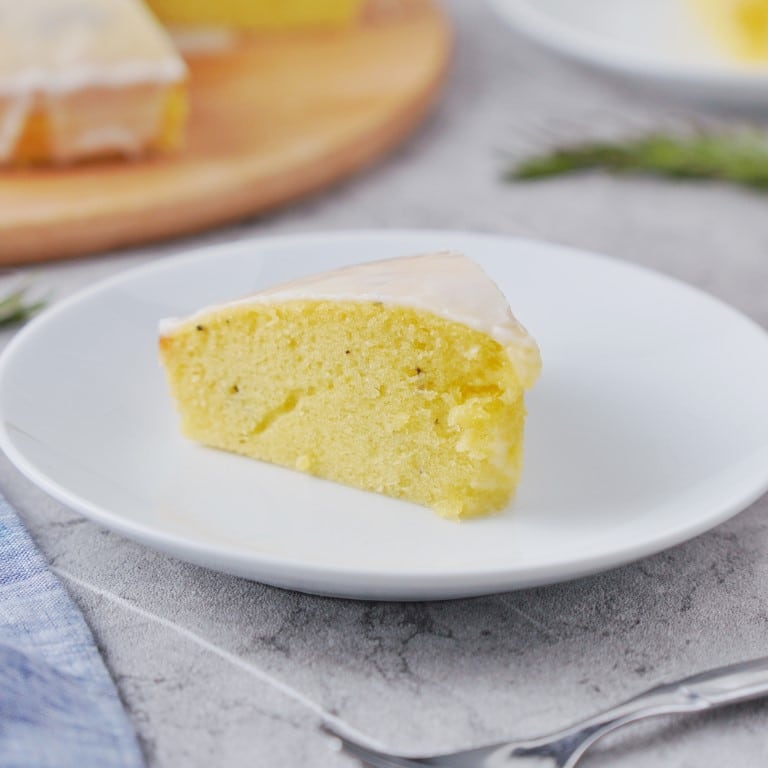 Ingredients
3

eggs

¾

cup

sugar

½

cup

1 tsp olive oil

½

cup

1 tsp milk

1

tsp

vanilla

1 ½

cups

flour

½

tsp

salt

1 ½

tsp

baking powder

2

tbsp

rosemary leaves

1

cup

powdered sugar

1

rosemary sprig
Instructions
All ingredients ready? Let's begin!

Preheat the oven to 350F.

Prep a round 8-inch cake pan by rubbing butter along the sides and base of the pan, then sprinkling flour across the surfaces. Shake the pan to make sure the flour coats all the butter, then discard any excess flour.

In a large bowl, add the eggs and sugar. Use a whisk and mix thoroughly for a few minutes or until the egg yolks are broken and well mixed.

Add the ½ cup of olive oil and mix for another couple of minutes or until combined.

Slowly add in ½ cup milk and the vanilla while continuing to whisk.

Whisk rapidly for a few more minutes until well combined.

In a different bowl, add the flour, salt, and baking powder. Whisk to combine.

If you haven't already, pull the rosemary leaves off the stalk. Finely chop into small pieces then add to the dry ingredients and whisk again.

Add half the dry ingredients into the wet ingredients and stir to combine.

Add the second half of the dry ingredients to the wet ingredients and stir again. You may need to switch from a whisk to a spatula. Scrape down the sides as needed.

Pour the batter into the previously prepared cake pan and use a spatula to smooth the top.

Bake for 30-35 minutes or until you can insert a toothpick or fork and it comes out clean. If it comes out wet, let it cook for a few more minutes.

Allow the cake to cool in the pan for a few minutes before turning it out onto a wire cooling rack. If the cake doesn't come out easily at first, use a butter knife to carefully dislodge the sides of the cake from the pan.

Let the cake cool completely for about 30 minutes.

While the cake cools, you can prepare the glaze. In a small bowl, add the powdered sugar, 1 tsp of olive oil, and a teaspoon of milk.

Mix together with a fork, making sure all the sugar clumps break up. If it is too thin, add more powdered sugar. If it is too thick, add more milk.

After the cake has cooled, drizzle the glaze on top of the cake. Garnish with the fresh rosemary sprig.

Cut the cake into even slices before serving. Enjoy!
Nutrition
Calories:
370
kcal
|
Carbohydrates:
53
g
|
Protein:
5
g
|
Fat:
16
g
|
Saturated Fat:
3
g
|
Polyunsaturated Fat:
2
g
|
Monounsaturated Fat:
11
g
|
Trans Fat:
0.01
g
|
Cholesterol:
63
mg
|
Sodium:
255
mg
|
Potassium:
76
mg
|
Fiber:
1
g
|
Sugar:
34
g
|
Vitamin A:
129
IU
|
Vitamin C:
0.1
mg
|
Calcium:
78
mg
|
Iron:
2
mg
Notes & Tips
If you have leftovers, you can store them covered at room temperature for up to 5 days.
If you have an electric stand mixer, you can use it to make this recipe. Use the paddle attachment and mix together the wet ingredients in the mixer. Prepare the dry ingredients the same before adding to the bowl of the stand mixer.
Substitutions
I do not always have fresh rosemary on hand. If you find yourself in the same position, there is no shame in using dried rosemary. You will still need to finely chop it, but the flavor should not be terribly altered. Another way to truly permeate the cake with rosemary is to use essential oil.
I have found that essential oils are a really convenient way to infuse dishes with flavor. If this is an option you are considering, please note: you must make sure your essential oil is food grade so it is safe for consumption. Some essential oils are only for diffusing, not eating. Once you have confirmed that your essential oil is safe to eat, you can completely omit fresh or dried rosemary in your recipe and instead use 3-6 drops of rosemary essential oil. The oil is very strong, so you might think that a few drops is not enough, but it is. The flavor gets more intense as it cooks too. You can also add a drop to the glaze, but be warned that doing so will be very pungent, so I do not recommend that unless you really enjoy rosemary.
Another way you can switch up this cake is with the topping. If you do not want a super sugary glaze, a good alternative is using a small sieve to sprinkle a bit of powdered sugar on top. It is less sweet and equally as aesthetic.
You can also turn this cake into an olive oil lavender cake by replacing all the rosemary with equal amounts of lavender. Or, if you want something a little different, you can try this chocolate lavender cake.
What Kind of Olive Oil to Use
There are a surprising amount of olive oils out there to choose from, but the best olive oil to use here is extra virgin olive oil. It's been perfectly processed to result in the smoothest taste and texture. If you want to experiment with this recipe, you can look for some of the fancy, infused olive oils. You could find a rosemary olive oil to ramp up this recipe, or try something totally new.
---
Recent Recipes