Best Homemade Chocolate Lavender Cake
Dried culinary lavender delicately infuses this chocolate cake with the subtlest hint of floral flavor.
This cake will form the perfect homemade centerpiece for any gathering. Even people who aren't a fan of lavender will be wowed by the taste of this cake!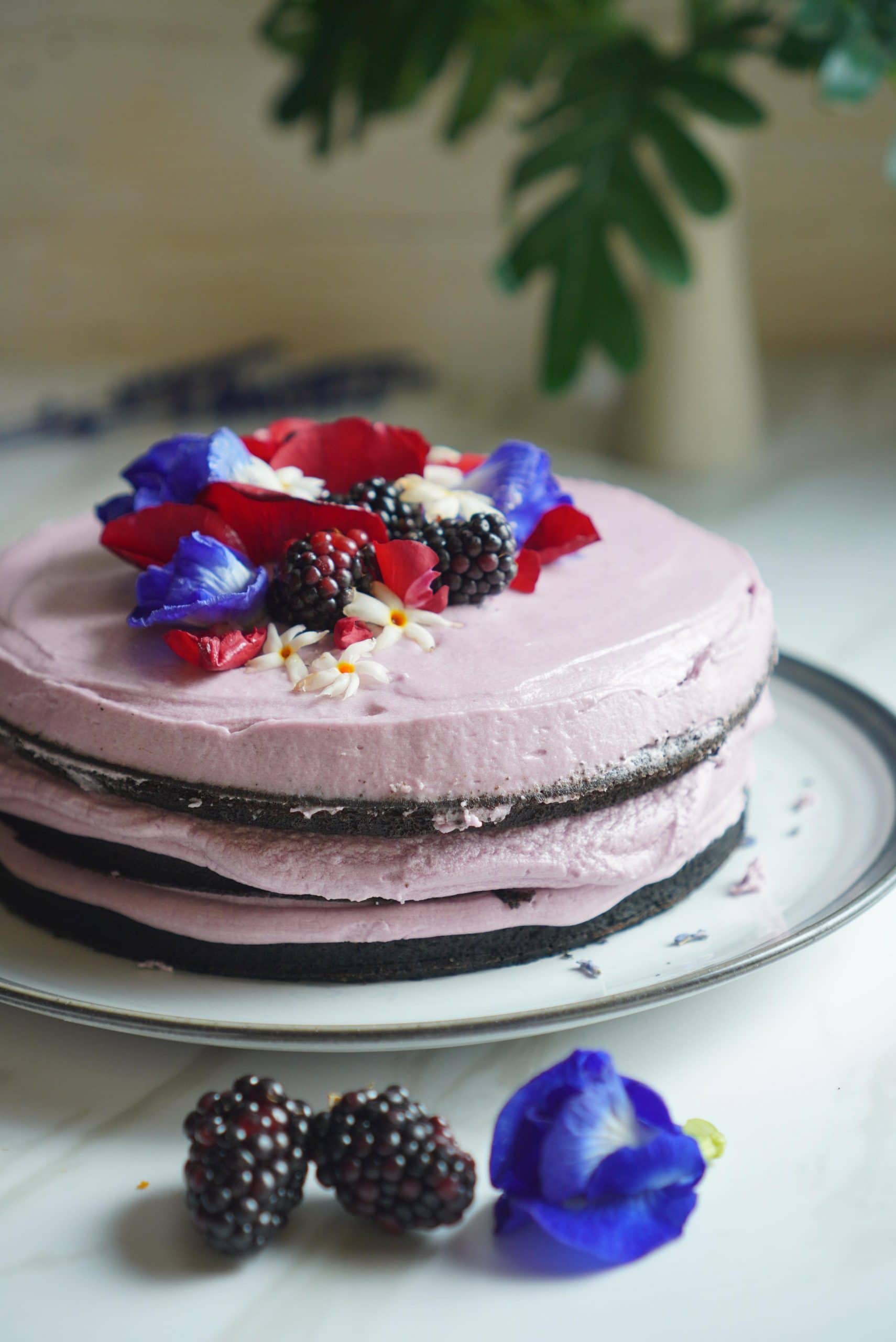 Ingredients
For the lavender milk:
1/4

cup

milk

2

tablespoons

dried culinary lavender
For the cake:
2

cups

sugar

1 3/4

cups

all-purpose

or gluten-free flour

3/4

cup

dark cocoa powder

1 1/2

teaspoons

baking powder

1 1/2

teaspoons

baking soda

1

teaspoon

salt

2

eggs

1

cup

1% milk

1/2

cup

vegetable oil

1

cup

boiling water

Cocoa powder for dusting the cake pans

Blackberries and edible flowers for garnish
For the frosting:
6

cups

powdered sugar

1

cup

2 sticks unsalted (or vegan) butter

1/4

cup

lavender milk

see above

1

teaspoon

vanilla extract

Purple food coloring as desired
Instructions
To make the lavender milk:
Heat 1/4 cup milk with 2 tablespoons dried culinary lavender in a small saucepan.

Allow to cool and put the lavender in the fridge to steep for about four hours.
To make the cake:
Preheat the oven to 350° Fahrenheit (177° Celsius).

Grease three 8-inch cake pans and coat with cocoa powder (this prevents the white lines that you would get on your cake from dusting the cake pans with flour).

In a large mixing bowl or stand mixer bowl, combine the sugar, flour, baking powder, salt, baking soda, and dark cocoa powder. Add the eggs one at a time and mix after each one.

Add the milk, vanilla, and vegetable oil and mix until incorporated.

Stir in the boiling water.

Divide the batter into the three cake pans. Use a silicone spatula to evenly spread out the batter in each pan, making sure to get into all the corners.

Bake 22-25 minutes or until a toothpick inserted in the center comes out clean. Let the cake layers cool in the pans for about 10 minutes, then remove them from the pans and transfer to wire baking racks to cool completely.
To make the frosting:
Beat the softened butter with an electric mixer. Carefully add 3 cups of powdered sugar and beat until uniform in color.

Get the lavender that we steeped with milk in the fridge earlier. Strain the lavender by pouring it into a sieve.

Add this lavender-infused milk, vanilla extract, and the remaining powdered sugar to the frosting. Beat until smooth and tint the frosting your desired shade of purple.
Assembling the cake:
Spread the frosting on each of the three layers of cake and put them on top of each other.

Garnish the top with the blackberries and edible flowers.
Video
Nutrition
Calories:
900
kcal
|
Carbohydrates:
168
g
|
Protein:
7
g
|
Fat:
26
g
|
Saturated Fat:
16
g
|
Polyunsaturated Fat:
1
g
|
Monounsaturated Fat:
7
g
|
Trans Fat:
1
g
|
Cholesterol:
104
mg
|
Sodium:
615
mg
|
Potassium:
232
mg
|
Fiber:
3
g
|
Sugar:
140
g
|
Vitamin A:
839
IU
|
Calcium:
119
mg
|
Iron:
3
mg
Shop Ingredients
Notes & Tips
An electric or stand mixer will provide the best results for mixing the cake batter and the frosting.
When you add the eggs one at a time for the cake batter, use the medium speed setting on your mixer to incorporate each egg.
While adding the powdered sugar for the frosting, add it one cup at a time and use the lowest possible setting on your mixer to mix it in with the butter. Doing so will prevent the powdered sugar from spraying everywhere.
The trick to frosting a cake successfully is to make sure the cake is completely cool before you begin to apply the frosting.
Use a cake knife to make each layer as level as possible for an even application. Finally, add a "crumb coat" of frosting to seal in crumbs before you apply the first layer of frosting. When you apply the frosting, spread it in one direction, not back and forth, to avoid pulling out loose crumbs or chunks of cake.
Common Questions
Where can I find culinary lavender?
Good culinary lavender will add the right texture and taste to this recipe. You can find it online from most major retailers or at a local spice store.
Can I use non-dairy milk in this recipe?
Yes, you can use your preferred nut or oat milk instead of dairy milk.
Can I make this ahead of time?
Yes, you can make the cake itself a few days in advance before you put it together with the frosting. Then, on the day you are ready to assemble the cake, make the frosting and put the cake together.
Optional sides or compliments
Coffee or raspberry ice cream
Frozen berries with a little grated lemon zest
Tea or dessert coffee
What does chocolate lavender cake taste like?
Chocolate lavender cake tastes like such a delicious dream. The frosting is light and fluffy and the cake itself is rich and moist.
Storage
Since this cake is made with frosting, it should be refrigerated immediately. Cover it with plastic wrap or foil to prevent it from drying out in the fridge. Properly stored, the cake will last for about 7 days in the fridge.
Chocolate lavender cake can also be frozen. Wrap it tightly with aluminum foil, plastic freezer wrap, or place in a freezer bag. It will maintain best quality for 4-6 months.
You can reheat the cake in the oven or microwave. Place the cake on a foil-lined baking sheet in a cold oven. Preheat to 250°F (121°Celsius) and let the cake warm for about 8-15 minutes.
To reheat the cake in the microwave, put the cake on a microwave-safe plate and reheat on medium power for 2-4 minutes, or until the cake is warm but not hot.
---
Get Foodie Deals
We collect great foodie-focused deals from across the web daily. Get yourself or your favorite foodie a great deal at big name stores.
Recent Recipes