Homemade Salmon Avocado Sushi Roll
I learned to make sushi rolls or maki when I lived in NYC after graduating from College. Someone at my office brought in homemade sushi for lunch on occasion and explained how to make this treat at home. I bought a bamboo sushi mat for around $3.00 at a local Asian market, along with toasted nori sheets and my journey began. The first 2 attempts were a disaster.
Since then, I have been making my own sushi rolls at home for an easy lunch or a fun dinner when one of the kids comes to visit and we can make them together.
I make a batch of rice on weekends to keep in my fridge for making sushi. I make it a little wetter than normal so it stays moist during the week. I also keep tinned fish, such as tuna, salmon, and sardines that I use in my rolls when taking them with me. But for sushi I am having at home, I do grab the freshest, wild-caught, not previously frozen salmon or tuna.
My absolute favorite fresh sushi fish is king salmon. This is a real treat albeit a bit pricey, but you don't need a lot because sushi rolls really stretch the ingredients and your budget. The rest of the filling is sushi rice, all sorts of veggies or fruits, and condiments. Wasabi and pickled ginger are almost always in my fridge to have with maki rolls.
I make my salmon avocado sushi rolls gluten-free by serving them with tamari or coconut aminos as a soy sauce substitute. I also make my sushi rice with short-grain brown rice because it is naturally sticky and has such a nutty whole-grain flavor and texture that I enjoy. For this recipe, we'll use white sushi rice. It is a little easier to work with and a great place to start if you are a first-time sushi roller maker. When you conquer the mat, you can venture into the world of brown rice, quinoa, black rice, couscous, and cauliflower rice.
You will want to make the sushi rice about an hour ahead of time so it has cooled by the time you are ready to assemble the rolls. Sushi rice is super easy to make. I do recommend using white rice that is labeled "sushi rice" or "Japonica rice".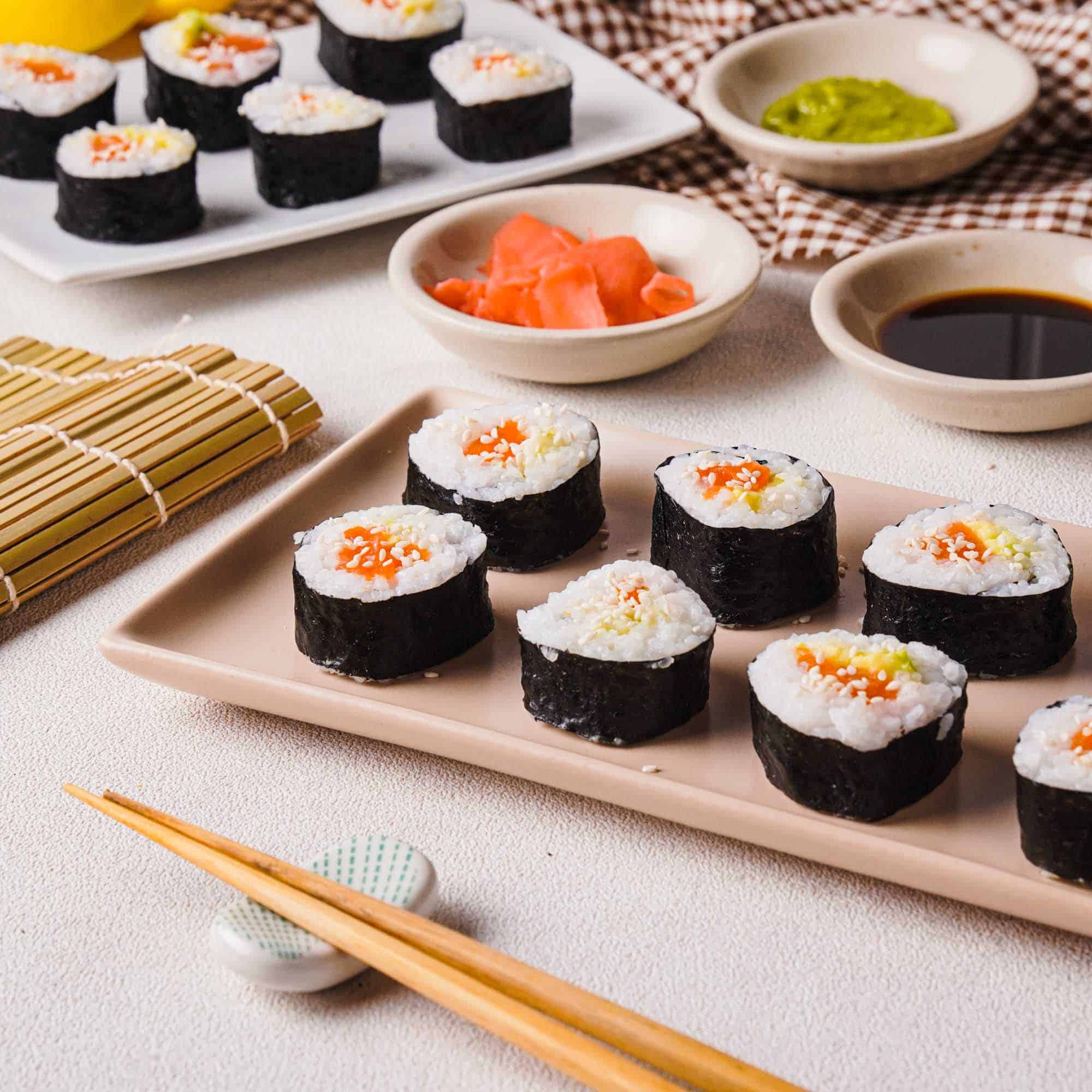 Ingredients
2

cups

uncooked sushi rice

3 ½

cups

cold water

¼

tsp

sea salt

1/3

cup

rice vinegar

1 ½

tsp

granulated sugar

¼

tsp

kosher or coarse salt
Maki Rolls
1

large ripe avocado

pitted, peeled, and sliced thinly

1

Tbsp

freshly squeezed lemon juice

4

sheets of toasted nori

3 to 4

cups

of cooked sushi rice

8

ounces

fresh wild-caught salmon

sliced into 1/2-inch strips

1

Tbsp

sesame seeds
For Serving
Wasabi paste

Pickled ginger slices

Soy sauce
Instructions
All ingredients ready? Let's begin!
Sushi Rice
Place the rice in a fine mesh sieve and rinse it under cold running water for about a minute to clean it well. Set it aside to drain.

In a medium saucepot with a well-fitting lid over high heat, add the rice, cold water, and sea salt. As soon as this comes to a boil, place the lid on the pot and reduce the heat to low. Allow the rice to simmer until all the water is absorbed, approximately 15 minutes.

Remove the rice from the heat and leave it covered while you prepare the vinegar. In a measuring cup, whisk together the vinegar, sugar, and coarse salt.

Using a silicon spatula or wooden spoon, spread the warm cooked rice out on a rimmed sheet pan. Pour the seasoned vinegar over the rice and toss gently to make sure it is all coated. Set this aside for at least 15 minutes to cool.
Maki Rolls
Pit and peel the avocado. Slice it into thin pieces. Place them in a bowl and squeeze the lemon juice over the slices to prevent them from browning.

Place your bamboo sushi mat on a flat work surface with the slats running east to west or horizontally facing you. Place a sheet of plastic wrap on the mat. (This step is optional). Place a sheet of toasted nori, shiny side facing down on top of the plastic wrap.

Have a small bowl of water nearby to wet your fingertips. Using wet fingers, spread 3/4 to 1 cup of the sushi rice on the nori, leaving about 1 inch of empty space at the edge farthest away from you. Press the rice down into an even layer.

Layer the salmon slices horizontally, end to end, in the upper 1/3 of the rice.

Just above and next to the salmon, away from you, layer a few slices of avocado.

Start rolling the edge of the mat that is closest to you over the salmon and avocado, pressing a little firmly. Keep going until you reach the bare edge of the nori. Wet this with a little water so it will seal well. Continue to roll until the maki is sealed.

Remove the plastic wrap and place the roll on a cutting board. You can cover the roll with a slightly damp kitchen towel while you make the other 3 rolls. Using a small-toothed serrated knife or a very sharp chef's knife, slice each roll into 8 equal pieces.

Transfer the sushi roll slices, cut side facing up, to a serving platter and top with the sesame seeds. Place the wasabi, pickled ginger, and soy sauce in individual ramekins for serving. You will need serving spoons and a fork. Serve right away or store in a sealed container in the fridge to enjoy later.
Nutrition
Calories:
1040
kcal
|
Carbohydrates:
196
g
|
Protein:
29
g
|
Fat:
13
g
|
Saturated Fat:
2
g
|
Polyunsaturated Fat:
3
g
|
Monounsaturated Fat:
7
g
|
Cholesterol:
31
mg
|
Sodium:
362
mg
|
Potassium:
725
mg
|
Fiber:
10
g
|
Sugar:
2
g
|
Vitamin A:
227
IU
|
Vitamin C:
8
mg
|
Calcium:
68
mg
|
Iron:
5
mg
Notes & Tips
It is important that you get the freshest salmon possible for making maki rolls. Don't be afraid to ask your fishmonger how fresh the fish is and if it is sushi grade. Also, ask if you can smell it. If there is any fishy odor, it isn't fresh. Fresh salmon should smell clean and faintly of the sea.
Rolling the perfect maki is not an easy feat. It takes trial and error to become skillful. Don't worry if your first roll or your fifth falls apart when you slice it. Roll it as tightly as possible while still being gentle.
When cutting the rolls, you do need a very sharp knife. It also helps to dampen the knife blade with a small amount of water. If your rolls don't hold together, toss the contents into a bowl and turn this dish into a healthy buddha bowl.
Substitutions & Additions
Sushi Rice: While I think the Japonica sushi rice is perfect for this recipe, there are other types of white rice that can work. Lundberg does offer sushi rice that is cultivated in California. You could also use short-grain white rice, arborio rice, or Carnaroli rice. The latter two are commonly used for risotto due to their round shape and starchy consistency. Short-grain brown rice also works but you need to cook it for about 30 minutes.
Rice vinegar: You can actually find seasoned rice wine that already has sugar and salt in it if you want to save a small step. If you can't find rice vinegar, use mirin. Mirin is a sweet rice wine that is commonly used in Japanese recipes.
Toasted Nori: Not everyone likes sea vegetables. Nori can be an acquired taste for some. You can definitely make sushi rolls without the nori. Just use rice as the base for the roll. This is known as a ghost roll. Your other options are rice papers or soy wraps.
Salmon: This roll is excellent when made with smoked salmon, sushi-grade ahi tuna, steamed shrimp, crabmeat, or just fruits and veggies. I will often make a vegan roll with avocado and cucumber.
Wasabi: Wasabi is a spicy Japanese horseradish. I love it, but it is strong. I use the paste when I can find it at my market. A great substitute is finely diced kimchi or a few dashes of sriracha sauce.
Soy Sauce: Traditional soy sauce is made with wheat. If you are gluten-free, try tamari, liquid aminos, or coconut aminos.
Additions: There isn't any reason why you can't add other ingredients to this recipe. Try julienned carrots, cucumber strips, pickled vegetables, daikon radish slivers, or shredded savoy cabbage for crunch.
Nutrition of Salmon Avocado Rolls
What I love about these rolls is that they hit so many food groups, making them a complete well-rounded meal. Salmon avocado rolls supply us with protein, quality fat, carbohydrates, and fiber.
The nori is a sea vegetable that is naturally high in minerals, such as iron, sodium, and calcium. Rice is a low-FODMAP source of carbohydrates. Avocado is a fruit that is high in mono-unsaturated fats and dietary fiber. Salmon is the star here with beneficial omega-3 fatty acids necessary for cardiovascular health. Salmon is also a rich source of the vitamins D and B-12.
---
Recent Recipes