Best Good Old Fashioned Pancakes
In our home, pancakes are a special breakfast treat that is generally reserved for weekends. It isn't that they are hard to make, but the cleanup is a bit tedious for a weekday morning.
What is fun about making pancakes is that the kids can help. I used to make pancakes with my dad on Saturday mornings. I didn't even change out of PJs before heading down to the kitchen. Our kitchen had a flat top griddle built into the center of the cooktop that we used only to make pancakes. I couldn't reach it, so my dad kept a small metal stool next to the counter for me to stand on. He also put aprons on each of us. Pancake batter is sloppy and eating pancakes can be sticky and messy. So, embrace the experience with your kids and let them do what they do best – making a mess and having fun doing it.
You can load your pancake batter up with all sorts of goodies, like chocolate chips, bananas, berries…… You can also top them with syrup, honey, hazelnut spread, etc. For this recipe, we are keeping it simple and going for good old-fashioned classic pancakes with traditional toppings. That is how I like them and it is a great foundation for expanding your pancake repertoire. Once you have mastered the classic pancake recipe, you can only expand your creativity from there.
Basic pancake batter starts with all-purpose flour, baking powder, sugar, salt, an egg, milk, and butter. You could just open a box of pancake mix. But you still need the egg, milk, and fat. So why spend the money on a mix when you can just as easily make pancakes from scratch with items you almost for sure have in your pantry and fridge. As you cook the pancakes, transfer them to a sheet pan and keep them warm in a low oven (200°F). So, let's get started.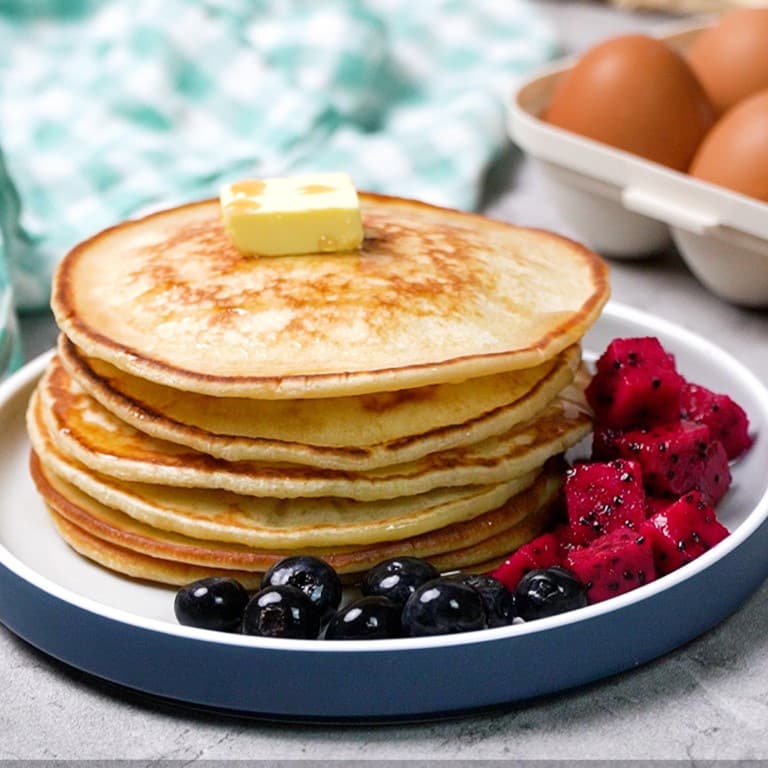 Ingredients
1 ½

cups

all-purpose flour

1

Tbsp

granulated sugar

2 ¾

tsp

baking powder

1

tsp

kosher salt

1 ¼

cups

whole milk

1

large whole egg

2

Tbsp

melted unsalted butter

Vegetable oil and butter for cooking

1

stick butter at room temperature for serving

¾

cup

pure maple syrup for serving
Instructions
All ingredients ready? Let's begin!

Preheat the oven to 200°F. Have a sheet pan ready to place the pancakes on as you cook them.

In a large mixing bowl, whisk together the flour, sugar, baking powder, and salt. In a smaller bowl, lightly beat the egg. Add the milk and butter and whisk gently to combine.

Pour the wet ingredients into the dry and whisk to combine. Don't over mix the batter. Set the batter aside to rest for 10 minutes.

While the batter is resting, preheat a griddle or large cast-iron or another heavy-bottomed skillet over medium-high heat. Add about 2 teaspoons of oil and a small pat of butter to the pan.

As soon as the butter melts, use a ladle to add batter to the griddle or pan to form a 5-inch pancake, approximately 1/4 to 1/3 cup of batter. Repeat until the griddle or pan is filled with pancakes.

Cook until you see bubbles forming on the surface of each pancake and the underside is golden brown. Flip the pancakes over and continue to cook until the other side is golden. This will take only a few minutes. Reduce the heat if the pancakes are starting to brown too quickly.

Remove the cooked pancakes to the sheet pan and place them in the warm oven. Then, add more oil and butter to the griddle or pan and repeat the process until all the pancakes are cooked.

Place the softened butter in a serving ramekin with a spoon. Place the syrup in a small serving pitcher, such as that used for cream, also known as a creamer. Transfer the pancakes to a serving platter and serve while still hot. This is delicious with crispy bacon and fresh fruit on the side.
Nutrition
Calories:
538
kcal
|
Carbohydrates:
67
g
|
Protein:
7
g
|
Fat:
27
g
|
Saturated Fat:
16
g
|
Polyunsaturated Fat:
2
g
|
Monounsaturated Fat:
7
g
|
Trans Fat:
1
g
|
Cholesterol:
105
mg
|
Sodium:
887
mg
|
Potassium:
261
mg
|
Fiber:
1
g
|
Sugar:
34
g
|
Vitamin A:
858
IU
|
Calcium:
275
mg
|
Iron:
2
mg
Notes & Tips
Butter is the preferred fat for cooking pancakes. It is rich, creamy, and robustly flavored. Yet, butter can burn and blacken the pancake surface resulting in a bitter taste. To prevent this, use a combination of vegetable oil and butter for frying. Another option is ghee. Ghee is clarified butter that has had the milk solids removed preventing it from burning without sacrificing the buttery flavor.
Don't over mix the batter. It is actually best for the batter to be a bit airy so the bubbles can form easily.
Substitutions
I love this basic pancake batter recipe and it is hard to improve upon. One thing that I do think can improve it is using buttermilk instead of whole milk. Buttermilk adds a bit of tang that really goes well with the sugar. It also actually encourages the batter to "rise" ever so slightly while it rests.
If you want to make this gluten-free, just swap out the all-purpose flour for a gluten-free flour blend. If you aren't gluten-free, and simply want to increase the fiber and nutrition, I like to use stone ground whole wheat pastry flour. It adds a slightly nutty quality to the pancakes.
Fillings & Toppings
I think pancakes are a perfect vehicle for adding your own fillings and toppings for personal creativity and flavor preferences. Pancakes by themselves are basically carbs and a great breakfast for someone carb-loading before a triathlon. I don't know about you, but I have attempted one triathlon in my lifetime. I ate a bagel before and probably 2 after. My body needed the carbs. I also ate 2 whole oranges. Our bodies need balance. You can load your pancakes with sweet treats, such as chocolate chips, M&Ms, or Oreo cookie pieces. You can top the pancakes with powdered sugar or chocolate fudge syrup. Here are some ideas for putting a healthier spin on your pancake fillings and toppings for balance.
Fillings: banana slices, wild blueberries, unsweetened cacao nibs, spinach puree, diced avocado, fresh corn kernels, probiotic and protein-rich cottage cheese, chopped nuts.
Toppings: Raw organic honey, vanilla-infused yogurt, baked apple chunks with cinnamon, sliced strawberries with crème fraiche, homemade lavender syrup.
You might also like these recipes for unique pancakes:
---
Recent Recipes