Simple Shrimp Avocado Roll
When you study the menu at a sushi bar, you will notice that many rolls or maki are named after various locations. There is the Alaska roll with smoked salmon, avocado, and cucumber. A California roll has imitation crab, avocado, and cucumber. A Philadelphia roll is made with salmon, avocado, and cream cheese. A Boston roll is an inside-out roll with shrimp, avocado, and cucumber topped with tobiko (fish roe) on the outside.
Then, there is the New York roll. This is a really simple and straightforward maki that is made with cooked shrimp, creamy avocado, and crunchy cucumbers. The filling is wrapped in sushi rice and nori. It is served with pickled ginger slices, wasabi, and soy sauce.
This is the sushi roll that I make most often at home for a quick weeknight dinner or for lunch that I can carry with me when I am working. I do make the sushi rice ahead of time and keep it in a sealed container in the fridge for a couple of days. You want it to be cool when you make the rolls.
What I really love about this sushi roll is that it is a complete and nutritious meal option that can be eaten without utensils. One roll offers vitamin C and fiber from the cucumber, healthy mono-unsaturated fat from the avocado, lean protein from the shrimp, low-FODMAP carbohydrates from the rice, and essential minerals from the nori.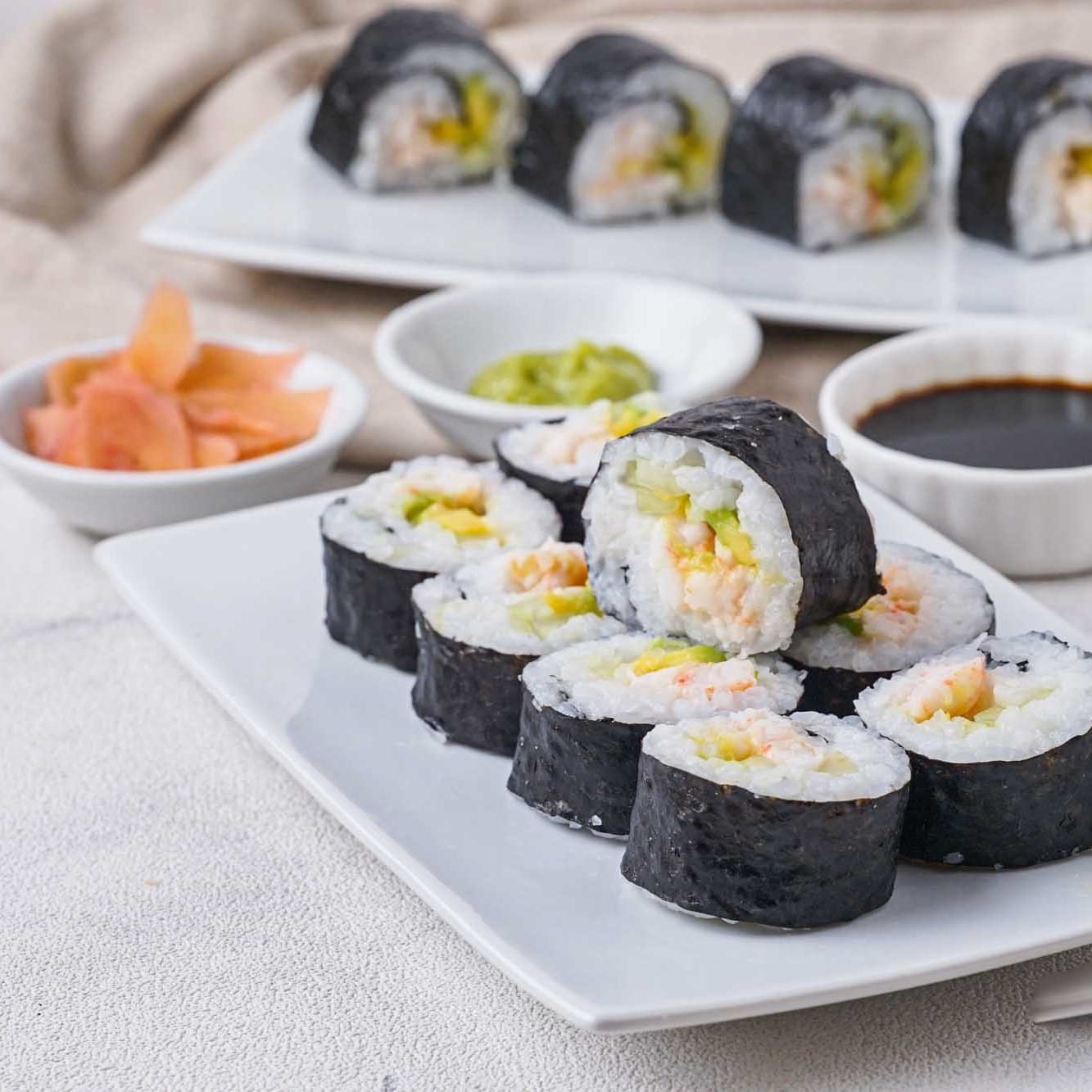 Ingredients
Sushi Rice
2

cups

uncooked sushi rice

3 ½

cups

cold water

¼

tsp

sea salt

⅓

cup

rice vinegar

1 ½

tsp

granulated sugar

¼

tsp

kosher or coarse salt
Rolls
1

large ripe avocado

pitted, peeled, and sliced thinly

1

Tbsp

freshly squeezed lemon juice

4

sheets of toasted nori

3 to 4

cups

cooked and seasoned sushi rice

cooled

8

ounces

cooked large shrimp

sliced in half lengthwise

1

cucumber

peeled and sliced into sticks or strips about 1/4-inch in thickness
For Serving
Wasabi paste

Pickled ginger slices

Soy sauce
Instructions
All ingredients ready? Let's begin!
Sushi Rice
Place the rice in a fine mesh sieve and rinse it under cold running water for about a minute to clean it well of dust and excess starch. Set the rice aside to drain.

In a medium saucepot with a well-fitting lid over high heat, add the rice, cold water, and sea salt.

As soon as the water comes to a boil, place the lid on the pot and reduce the heat to low. Simmer the rice until all the water is absorbed, approximately 17 minutes.

Remove the rice from the heat and leave it covered while you prepare the seasoning vinegar. In a small mixing bowl, whisk together the vinegar, sugar, and coarse salt.

Using a silicon spatula or wooden spoon, spread the warm cooked rice out evenly on a rimmed baking sheet. Pour the seasoned vinegar over the rice and toss gently to make sure it is all coated. Spread the rice out again into a single layer. Set this aside for at least 15 minutes to cool completely.
Rolls
Pit and peel the avocado. Slice it into thin pieces. Place them in a bowl and pour the lemon juice over the slices to prevent them from turning brown.

Place a bamboo sushi mat on a flat work surface with the slats running horizontally from left to right when facing you. Place a sheet of plastic wrap on the mat. Then, lay a sheet of toasted nori, shiny side facing down on top of the plastic wrap.

Have a small bowl of water nearby to dip your fingertips into. Using damp fingers, spread 3/4 to 1 cup of the seasoned and cooled sushi rice on the nori, leaving about 1 inch of empty space at the edge farthest away from you. Press the rice down into an even layer.

Lay 1/4 of the sliced shrimp horizontally, end to end, in the upper 1/3 of the rice closest to you.

Just above and next to the shrimp, layer a few slices of avocado. Follow that with a few strips of cucumber.

Start rolling the edge of the mat that is closest to you over the shrimp, avocado, and cucumber, pressing a little firmly. Keep rolling until you reach the empty edge of the nori. Wet this edge with a little water so it will seal well. Continue to roll until the maki is sealed into a log shape.

Remove the roll from the plastic and mat and place it on a clean cutting board. Repeat steps 3, 4, and 5 to assemble the remaining 3 rolls.

Using a small-toothed serrated knife or a very sharp chef's knife, slice each roll into 8 equal pieces.

Transfer the sushi roll slices, cut side facing up, to a serving platter. Place the wasabi, pickled ginger, and soy sauce in individual ramekins for serving. Serve right away or store in a sealed container in the fridge to enjoy later.
Nutrition
Calories:
567
kcal
|
Carbohydrates:
110
g
|
Protein:
10
g
|
Fat:
8
g
|
Saturated Fat:
1
g
|
Polyunsaturated Fat:
1
g
|
Monounsaturated Fat:
5
g
|
Sodium:
334
mg
|
Potassium:
413
mg
|
Fiber:
8
g
|
Sugar:
3
g
|
Vitamin A:
240
IU
|
Vitamin C:
9
mg
|
Calcium:
36
mg
|
Iron:
2
mg
Notes & Tips
Rolling the perfect maki does take a little practice. You might not nail it immediately. I definitely ruined a couple the first time I tried. The trick is to roll as tightly as possible while still being gentle so the filling doesn't push out the open ends. If your rolls aren't perfect, simply toss the contents into a bowl and turn this dish into a healthy grain bowl.
When cutting the rolls, you do need a very sharp knife. It helps to dampen the knife blade with a small amount of water so it glides through the rice easily.
Substitutions & Shortcuts
Sushi Rice: I think authentic Japonica sushi rice is perfect for this recipe. There are other types of white rice that can work. The Lundberg brand offers a sushi rice that is grown in California. You could also use short-grain white rice. Short-grain brown rice also works but you need to cook it for about 30 minutes. One of my favorite sushi roll shortcuts is to buy a container of already-cooked sushi rice from my local sushi bar.
Rice Vinegar: You can actually buy seasoned rice vinegar that already has sugar and salt in it if you want to save a small step. If you can't find rice vinegar, mirin will work. Mirin is a Japanese sweet rice wine that most grocery stores carry.
Toasted Nori: I do know some people who absolutely don't like sea vegetables, including nori. You can make sushi rolls without the nori. Just use rice as the base for the roll. This is what is referred to as a ghost roll. Another option is dampened and softened rice paper wrappers.
Shrimp: This roll is excellent when made with salmon, crabmeat, or just fruits and veggies. I will often make a vegan roll with avocado, carrots, and cucumber.
Cucumber: There isn't any reason why you can't use other fruits or vegetables than a cucumber in this recipe. I like julienned carrots, Japanese pickled vegetables (oshinko), daikon radish matchsticks, bamboo shoots, or shredded napa cabbage.
Wasabi Paste: Wasabi is a spicy Japanese horseradish root. When it is transformed into a paste, it is very strong and will clear your sinuses when ingested. I love it, but it is pungent. A milder substitute is finely diced semi-mild kimchi added to the filling.
Soy Sauce: Traditional soy sauce is a brewed condiment made with soybeans and wheat. If you are following a gluten-free diet, tamari, liquid aminos, or coconut aminos are all good alternatives.
More Sushi Roll Recipes
Once you get the hang of making your own sushi rolls, you are going to want to try different recipes. Here are some that we like that are also fairly easy to assemble.
---
Recent Recipes