Simple Sweet & Savory Sfinci Sicilian Fried Dough
Sfinci, or Sicilian fried dough, is also known as zeppole. It is traditionally served on Christmas Eve and other holidays as a festive treat. They can be made either sweet or savory. We offer two variations below.
Table of Contents
Sweet Sfinci Recipe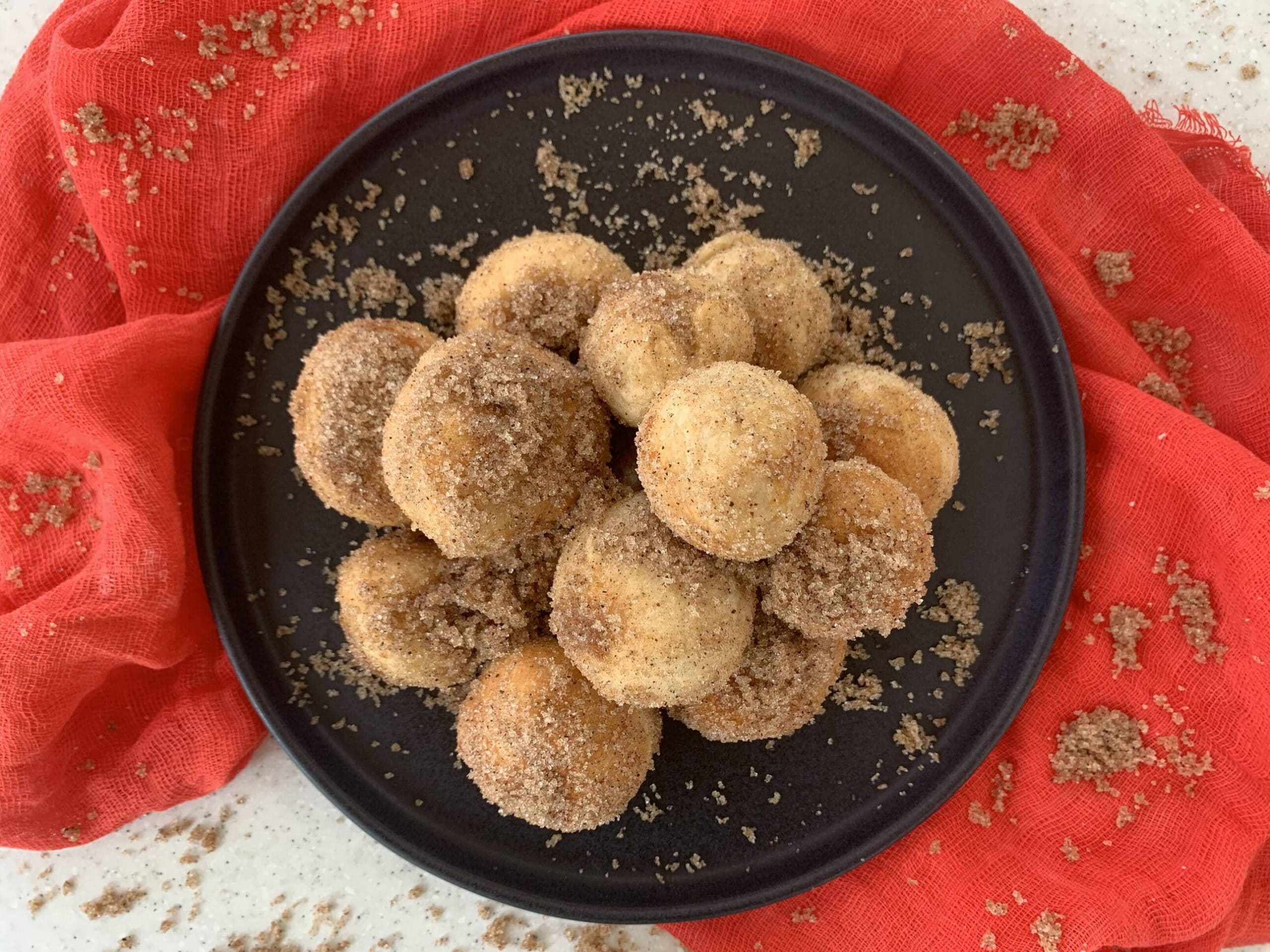 Ingredients
1

c.

+ 1/4 c. sugar

1

tsp.

cinnamon

4

c.

all-purpose

or gluten-free flour

1

tsp.

baking powder

1

tsp.

salt

2

tbsp.

dry active yeast

1

tbsp.

vanilla extract

2

c.

warm water

heated to 110-113 degrees

Vegetable oil for frying
Instructions
To prepare the dough:
In a small bowl, combine flour, baking powder, and salt. Set aside.

In a larger mixing bowl, add yeast and 1/4 cup sugar to warm water. Stir to dissolve. Add the vanilla and stir to combine. Let the yeast bloom for about five minutes.

Pour the yeast mixture into the mixture bowl of a stand mixer. Use the whisk attachment and gradually add the flour mixture, whisking after each addition. Switch to the dough hook and knead the dough for about five to seven minutes until it forms a smooth ball.

Put the dough into an oiled bowl, cover, and set aside to rise for about 90 minutes or until it has doubled in size. Punch down, cover again, and let it rise for an additional 30 minutes.

Transfer the dough to a well-floured surface. Divide into four large pieces. Pinch into smaller pieces and roll into balls, then place the balls on parchment paper dusted with flour. Repeat with the rest of the dough. This should yield about 24 balls.

Combine the 1 cup sugar and 1 teaspoon cinnamon in a shallow bowl and set aside. This will be the dusting on top of the sfinci.
To fry:
Heat oil to about 350 degrees in a skillet on the stovetop. Carefully place about six sfinci in the skillet at a time.

Fry about three minutes on each side, flipping once, until the sfinci balls turn golden brown.

Drain on paper towels.

Roll the sfinci in cinnamon sugar.

Serve warm.
Video
Nutrition
Calories:
376
kcal
|
Carbohydrates:
82
g
|
Protein:
9
g
|
Fat:
1
g
|
Saturated Fat:
1
g
|
Polyunsaturated Fat:
1
g
|
Monounsaturated Fat:
1
g
|
Sodium:
208
mg
|
Potassium:
112
mg
|
Fiber:
3
g
|
Sugar:
20
g
|
Vitamin A:
1
IU
|
Vitamin C:
1
mg
|
Calcium:
42
mg
|
Iron:
4
mg
Savory Sfinci Recipe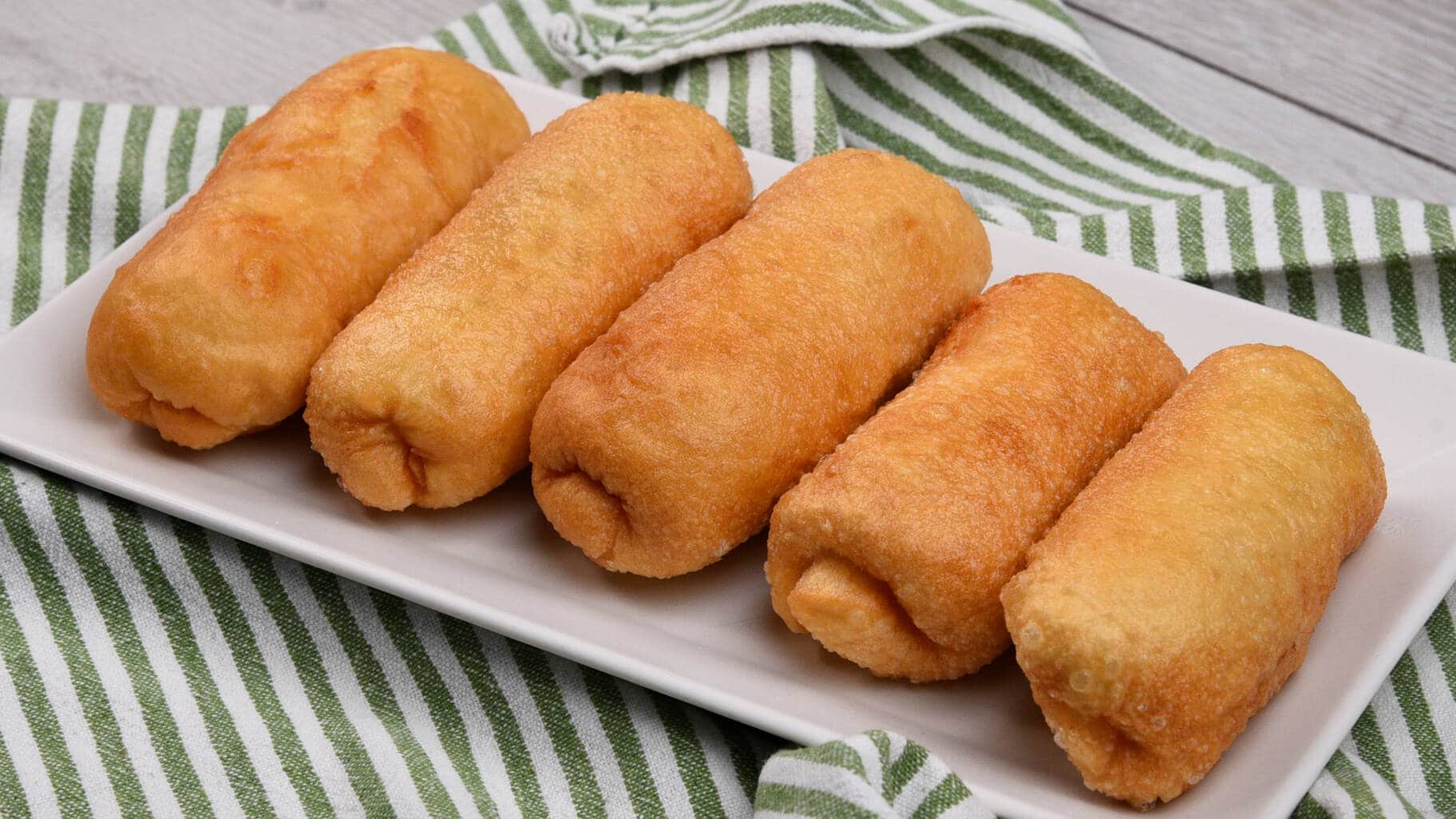 Ingredients
2 1/2

c.

water

1

teaspoon

sugar

1

envelope dry yeast

8 grams

4

cups

all-purpose flour

or gluten-free flour

1

tsp.

salt

Vegetable oil for frying

Sliced ham

1

tsp.

ricotta

or a cheese alternative
Instructions
To prepare the dough:
Warm a small saucepan until lukewarm. Pour 1/2 cup of water into a small bowl and stir in the sugar. Pour the yeast over the water and let it stand for about ten minutes.

Pour the last 2 cups of water into a large bowl and stir in the yeast mixture. Add flour and salt and stir vigorously using your hand. Continue stirring for about five minutes until the dough is thick and smooth.

Cover the dough with a few kitchen towels and let it sit for about four hours. You will know when the dough is ready because bubbles will form on the surface, and it will have doubled in size.

To put in the filling, spread the dough on a well-floured surface and form into a rectangular shape. Place half a slice of ham and a little ricotta (or your cheese alternative) on the dough, then roll the dough over the filling.
To fry:
Fill a heavy-bottomed saucepan about halfway with vegetable oil. Slowly heat on medium-high heat. The oil will be ready when you drop in a piece of dough and it starts to sizzle.

Drop pieces of dough into the hot oil using a spoon, taking care to not overcrowd the pan.

Carefully turn the sfinci over after about one minute so that it can brown on the other side.

Remove the sfinci with a slotted spoon when they turn a light golden color. Put on a dish covered with paper towels for absorbing excess oil.

Serve hot.
Video
Notes
You can put pretty much any filling in the savory sfinci. In this variation, we will use cooked ham (prosciutto) and ricotta. If you are dairy-free, you can substitute the ricotta for a cheese alternative.
Nutrition
Calories:
222
kcal
|
Carbohydrates:
32
g
|
Protein:
10
g
|
Fat:
5
g
|
Saturated Fat:
2
g
|
Polyunsaturated Fat:
1
g
|
Monounsaturated Fat:
2
g
|
Cholesterol:
18
mg
|
Sodium:
495
mg
|
Potassium:
126
mg
|
Fiber:
1
g
|
Sugar:
1
g
|
Vitamin A:
2
IU
|
Calcium:
11
mg
|
Iron:
2
mg
Notes & Tips
Because the dough needs to rise, both the savory and sweet variations of sfinci require at least three hours of prep and cook time. These are good weekend recipes to make when you have a lot of time to devote to the project. But the effort is worth it! You will be sure to impress your family and friends at your next gathering.
Adding the filling to the savory sfinci will be a very sticky process. Make sure your surface is well-floured and use more as needed when rolling out the dough and while putting in the ham and ricotta.
Shopping For Sfinci Ingredients
Even though this is a Sicilian recipe, you can make it anywhere. The ingredients – cinnamon and sugar for the sweet kind, or cooked ham and ricotta cheese for the savory kind – can easily be obtained at any grocery store.
Optional Sides & Compliments
The savory sfinci can be served with Baccala alla ghiotta, which is a salt cod dish with potatoes, olives, and tomatoes.
The sweet sfinci can be served with your favorite coffee or tea as a warm, tasty treat.
Storage
Leftover sfinci can be refrigerated in an airtight container for up to three days. To freeze, store the sfinci either in a freezer bag or wrapped in foil.
History
Sfinci is a Sicilian tradition. Legend says that once, during a great famine in Sicily, the villagers prayed to St. Joseph for help. When the famine ended, they celebrated with a thanksgiving feast, and that is why these treats are also often served on St. Joseph's Day, not just on Christmas.
Where Should I Let The Dough Rise?
Cover the container well with a few kitchen towels and put it in a warm and draft-free location in your kitchen.
What Does Sfinci Taste Like?
Savory sfinci tastes like a bit like mini quiche with a flaky crust. What's inside will depend on which filling you choose to use. Sweet sfinci will remind you of doughnuts.
---
Recent Recipes