Sweet & Creamy Strawberry Matcha Latte
Remember that Starbucks pink matcha drink that was trending on TikTok back in 2020? This sweet & creamy strawberry matcha latte is even better! And the recipe is fully vegan! If you want it to be. But I love adding whipped cream on top. Mmm, it's heavenly. If you love matcha green tea and juicy strawberries, you've come to the right place. I promise you, this strawberry matcha latte will make all your matcha dreams come true. It's perfect for a hot summer day when you're craving something cooling, sweet, and luscious. Or you can have it for breakfast (as I did today myself). I'm embarrassed to admit it was gone in 5 seconds. Oops.
Did I mention this strawberry matcha latte is super Instagramable? The three distinct layers make this drink so pretty. You won't want to visit Starbucks any longer knowing that you can make this gorgeous creation in under 10 minutes. The secret to layering this drink is stocking it up with ice and then pouring the matcha latte on the back of a spoon. You'll feel like a pro barista. Make sure to check the Notes & Tips so that you avoid making a big mess like I did the first time. Nobody wants Matcha latte spilling everywhere.
This recipe makes one large 16oz or 2 small 8oz Strawberry Matcha Lattes. You can always double the recipe and then not feel bad about sharing. Because trust me, you're going to want this whole sweet creamy goodness to yourself. Okay, enough talking, let's make this beauty!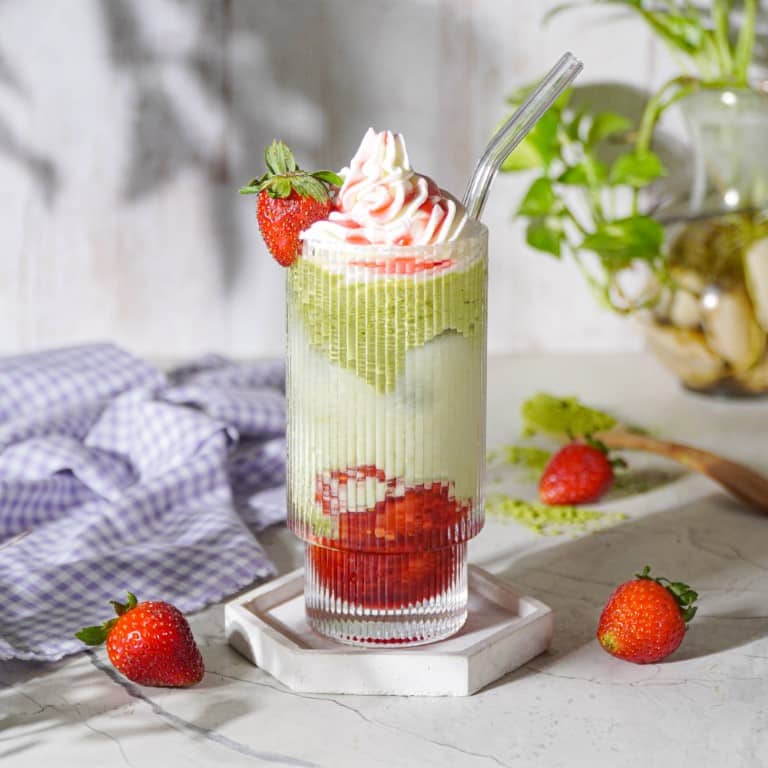 Ingredients
The strawberry puree:
⅔

cup

fresh or frozen strawberries

1

heaping Tbsp. sugar
The matcha latte:
1

tsp.

matcha powder

2

tsp.

sugar

3

Tbsp.

boiling water

⅔

cups

milk of choice
The matcha cream:
⅓

cup

coconut cream

1

Tbsp.

maple syrup

1

tsp.

matcha powder
For serving:
1

cup

ice

or more if desired
Toppings (optional)
Strawberry syrup

Whipped cream

or a vegan alternative such as more coconut cream

Fresh strawberries
Instructions
Prepping:
Make sure you have all the ingredients at hand.

Place the can of coconut milk in the fridge overnight or in the freezer for 10 min.

If you're using frozen strawberries, let them thaw for 30 min – 1 hour before making the latte.
Strawberry puree:
In a small or medium bowl, mash strawberries with the back of a fork.

Add sugar and let rest for 5-10 min (while making the other layers).
Matcha latte:
Place matcha powder into a small pitcher or measuring cup. Add hot water. Beat the matcha powder and hot water with a whisk or matcha whisk until combined. Add sugar and whisk until dissolved.

Stir in milk.
Matcha cream:
Beat or whisk coconut cream with matcha powder.

Add maple syrup and beat until combined. Let chill in the fridge.
Assembling the strawberry matcha latte:
Fill your serving cup with ice and let sit for 2 minutes.

Remove ice and put it back in the freezer (if it's super hot out).

Drizzle strawberry syrup on the inner edges of the cup.

Put the strawberry puree in the bottom of the cup.

Fill the cup up with ice.

Pour matcha latte in using the back of a spoon to avoid mixing the layers.

With a big spoon, add the matcha cream.

Optional: top with whipped cream, more strawberry syrup, and a fresh strawberry to make this drink extra attractive. Enjoy!
Nutrition
Calories:
276
kcal
|
Carbohydrates:
26
g
|
Protein:
7
g
|
Fat:
17
g
|
Saturated Fat:
14
g
|
Polyunsaturated Fat:
0.4
g
|
Monounsaturated Fat:
1
g
|
Cholesterol:
10
mg
|
Sodium:
41
mg
|
Potassium:
436
mg
|
Fiber:
3
g
|
Sugar:
20
g
|
Vitamin A:
395
IU
|
Vitamin C:
65
mg
|
Calcium:
135
mg
|
Iron:
2
mg
Notes & Tips
The most important tip is to use a small pitcher or measuring cup with a spout for pouring the matcha latte. Otherwise, it's going to spill everywhere and make a big mess. I learned the hard way. This is especially important because you're going to be pouring the matcha latte over the ice slowly (aka the spillage likeliness is high).
The colder the ingredients, the more beautiful the drink will look. If you're adding the strawberry syrup on the inner edges of the cup, make sure your cup is cold first. This will help the syrup stick to the edges and not mix in with the drink. Also, it's best to refrigerate the syrup before. In fact, I recommend refrigerating all of the layers while they're waiting to be assembled.
Substitutions & Serving Suggestions
I love this vegan version of strawberry matcha latte, but you can use regular milk and heavy cream instead. Here is the non-vegan version of the matcha cream:
1 tsp. matcha powder
1/4 cup heavy cream
2 Tbsp. milk
3 tsp. sugar
Blend until creamy. The milk prevents the heavy cream from turning into whipped cream. You can always leave it out and have matcha whipped cream on top instead. Yummy!
As for which milk to use for the matcha latte, I recommend oat or almond. I find the flavor and sweetness go well with the matcha green tea. But you can use your favorite milk. Remember, this is your masterpiece which means that you can make it as sweet & creamy as you like. Adjust the sweetener according to taste. Substitute low-calorie cream and low-fat milk if you're watching your diet.
I love to add the toppings before serving because they make this drink so beautiful. But it's still delicious without them. You could sprinkle some freeze-dried strawberries on top instead if you wish to omit the whipped cream. Don't forget to serve with a straw.
Usually, when making matcha latte, it's advisable to use a liquid sweetener such as maple syrup, agave, or simple syrup because they dissolve better. But I like to use granulated sugar since it doesn't affect the color or flavor of the matcha. Just make sure to mix thoroughly so that the granules dissolve.
Which Matcha Is Best For Lattes?
When it comes to choosing matcha green tea, quality is crucial. For making drinks, always opt for ceremonial-grade matcha powder. Ceremonial-grade matcha powder has a richer, more vivid green color to it. It's also sweeter and fresher in taste. You could use culinary-grade matcha powder, but the color is duller and the flavor is more bitter.
You can invest in a matcha whisk if matcha lattes are like your indispensable morning coffee. But a regular whisk or milk frother will do the job. The secret to making a flawless matcha latte every time is to make sure you dissolve all the little clumps of matcha in hot water before adding the milk.
Does Matcha Latte Have Caffeine?
Yes, but not as much as coffee. Also, matcha green tea is rich in antioxidants which make it healthier than coffee. The caffeine in matcha helps to increase its antioxidant properties. So, if you're looking for a coffee alternative that'll still give you a caffeine boost without any caffeine crash, matcha is your new best friend. There is even evidence that caffeine can help you lose weight by increasing your metabolic speed. Not to mention, strawberries are chock full of antioxidants and vital nutrients as well. So, you could say this sweet & creamy strawberry matcha latte is healthy.
---
Recent Recipes