Best Vegan Caesar Dressing To Buy
If you've decided that it's time for you to switch to vegan foods, or even if you've been eating vegan for many years, you may miss some of the foods you enjoyed in your old diet. Especially when it comes to American crowd-pleasers like Caesar dressing, it can feel like you're missing out on something that was a staple part of your old way of eating. Luckily today, there are so many brands making vegan salad dressings that it is much easier to find substitutions for your old favorites.
Many well-known brands make vegan versions of Caesar salad dressing, and they can vary quite a bit in taste and quality. The texture and thickness of the salad dressing differs across the brands, as do the ingredients they use to emulate the rich, savory, and creamy taste of Caesar dressing
We've gone through the top-selling brands, comparing their taste, consistency, and how closely they mimic traditional Caesar salad. With this list, you'll be able to find a vegan Caesar salad dressing to buy that will make your tastebuds happy and allow you to enjoy a good old American-style Caesar salad again. We looked for thick, creamy sauces that offered traditional Caesar's rich, umami taste and included dressings that had other great selling points.
Best Vegan Caesar Dressing to Buy
Traditional creamy, delicious Caesar salad dressing is made with raw eggs, lemon juice, Dijon mustard, anchovies, Worcestershire sauce, garlic, olive oil, and parmesan cheese. The anchovies, egg, and cheese make the standard Caesar dressing unsuitable for vegans, but these days there are many vegan substitutes to choose from.
One thing to remember is that Worcestershire sauce is made with anchovies, so you may find that even if dressings are advertised as plant-based, the use of Worcestershire sauce would not be vegan and may make it unsuitable for you.
When making vegan alternatives to Caesar dressing, different companies will try replicating the savory, slightly fishy flavor of the parmesan, eggs, and anchovies with various vegan options.
Popular vegan anchovy substitutes include capers, dulse, and other seaweeds, miso, tamarind, and soy or tamari.
To get the distinctive creamy consistency of Caesar dressing, brands will use non-dairy alternatives and thickeners. If you're allergic to gluten or soy, you'll need to ensure that these ingredients are suitable for you. Popular creamy substitutes are tofu, hemp and chia seeds, tapioca flour, and nutritional yeast.
Some brands will also make low-fat vegan Caesar salad, which helps if you are watching your fat intake.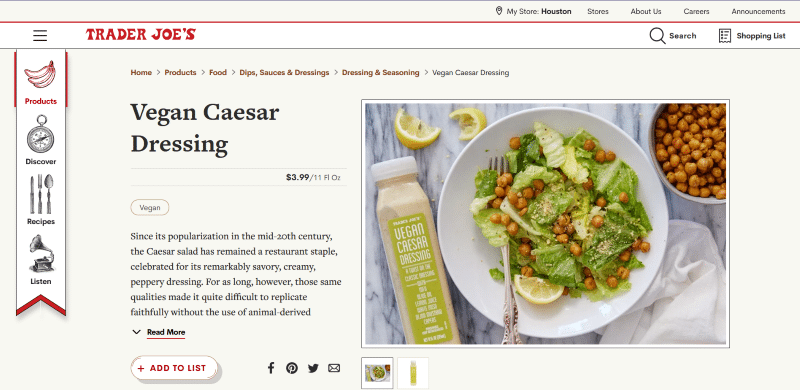 Trader Joe's has made a great addition to the vegan salad dressing list with this delicious, savory Caesar dressing. It's packed with flavor and recreates that rich, creamy umami taste with tofu, white miso, garlic, turmeric, shiitake mushroom powder, and Dijon mustard.
As you can see, there is no hint of fish, dairy, or eggs, but if you have allergens to soy or soy products, this one won't be suitable. Although Trader Joe's uses tofu to give this Caesar dressing its rich, creamy body, there's no hint of a bean-like taste. The addition of ground capers provides that briny note that anchovies would give, and organic rice koji adds to the unique flavor.
As a lighter salad dressing, it is also suitable for those watching their calorie intake, but the sauce isn't runny or thin and can easily be used as a dip too.
Trader Joe's Vegan Caesar Dressing was one of the most popular vegan Caesar dressings available, and people loved the richness and complexity of its taste.
Vegan
Uses soy
Lower calorie
This plant-based, dairy-free Caesar dressing from Daiya is rich and creamy and also happens to be gluten-free. It's an allergy-friendly dressing that contains no soy, dairy, peanuts, nuts, or gluten. Daiya is a particularly good brand if you're concerned about potential allergens.
Taste-wise, some testers found t to have a slightly odd, artificial aftertaste, similar to a vegan cream cheese, which made it rank lower in the taste scores. It has a bit of a tart, vinegary taste.
It's a smooth, thick dressing that could also be used as a dip or topping. This Canadian brand lists vinegar, potato algal flour, natural vegan flavors, spices, and garlic among its ingredients, with no sign of Worcestershire sauce, and is certified vegan by vegan.org
While this particular dressing was a bit on the bland side, it's an excellent choice for those concerned about allergies, as well as wanting a vegan salad dressing that uses only plant-based products with no artificial colors, flavors, or preservatives.
This particular brand of salad dressing was quite divisive, with some hating and others loving it.
Some testers said it was pretty close to the real thing and could fool non-vegans into thinking they were eating regular Caesar dressing.
Vegan
Allergen free
Non-GMO
Mother Raw is a company with a mission to make organic plant-based products without artificial ingredients. They use hemp seeds and chia seeds to thicken their products and the seaweed dulse for flavoring, packing in extra nutrition. All of their products are certified Kosher, vegan, and non-GMO.
Their creamy Caesar dressing uses extra virgin olive oil, hemp, and chia seeds to make the dressing thick and creamy. Meanwhile, dulse, capers, and nutritional yeast help pack in that briny, cheesy taste you expect from a Caesar salad dressing.
Due to the use of raw and natural ingredients, there are no artificial preservatives. You'll find Mother Raw Caesar Dressing in the refrigerated section of your grocery, and the bottles must be kept in the fridge. This dressing is an excellent choice for those allergic to soy or gluten.
Tasters found Mother Raw Caesar Dressing to be a very thick dressing but packed with flavor and deliciously creamy. If you find the Caesar dressing too thick, you can try watering it down; using vinegar will make it tangier, while a plant-based milk like oat or almond will make the flavor a little milder and creamier.
Vegan
Organic
No artificial ingredients
Climate Pledge Friendly
Not only vegan, Fody Foods Caesar Dressing is also listed as low-FODMAP, which is excellent for those who need to keep an eye on the food that may affect their digestion. We have a complete introductory guide to low-FODMAP foods if you're looking to know more.
To keep the dressing low-FODMAP, FODY's do not use garlic or onion in their product for flavor; instead, they use tamari, nutritional yeast, mustard flour, rosemary extract, and lemon juice. Note that this dressing is neither soy- nor gluten-free due to the tamari and the mustard flour.
Testers found this one to be full of flavor despite having no garlic or onion but decided it was not quite a perfect substitution for the real thing. The lemon and vinegar give it a more tangy flavor, more like a vinaigrette than a Caesar salad dressing. Fody Foods salad dressing was another Caesar dressing that got very different reactions – some thought it tasted more like an Asian salad dressing, while others loved the tangy flavor.
While other brands overshadow it in terms of taste, few of the vegan Caesar dressings can claim to be low-FODMAP, so this one is perfect for those with limited diet options who miss the taste of a Caesar Salad.
Vegan
Low-FODMAP
Non-GMO
Gluten-free
Lactose-free
No artificial color, sweetener, preservatives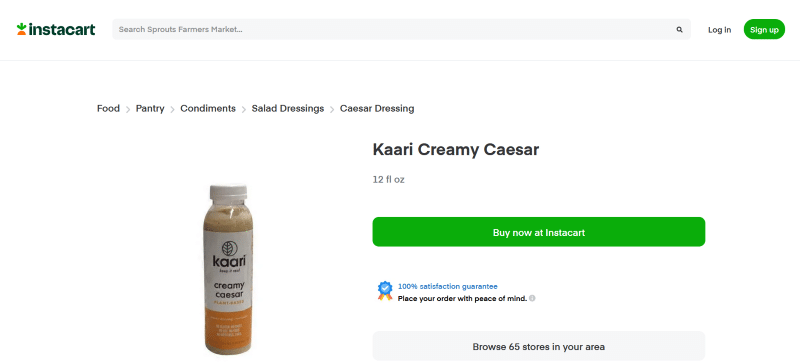 Kaari uses organic products to make a thick and creamy vegan alternative to Caesar Salad dressing. This is a decadent, whole food option with raw cashews and avocado oil as the base. Capers help add to the salty flavor, and this brand uses vegan Worcestershire sauce, so it remains suitable for vegans.
Kaari foods pride themselves on using no gluten, no dairy, no soy, no gums, and no additives, so if you're looking for more organic, whole food options, you may want to check out their offering.
If you're allergic to nuts, Kaari won't be suitable due to the use of cashews.
Vegan
Gluten-free
Dairy-Free
Soy-free
No additives
CONTAINS CASHEWS
Cleveland Kitchen Veggie Caesar Dressing is a creamy vegan salad dressing, full of flavor thanks to the addition of fermented vegetables. And thanks to those fermented veggies, you also get a probiotic boost — a top choice for a healthy salad dressing with fewer calories than traditional dressings.
The Hail Caesar Dressing uses fermented cabbage, garlic, and herbs to create a gluten-free, vegan, non-GMO salad dressing and marinade. It has a thick creamy texture despite being dairy-free. This one is quite tangy and incorporates fresh herbs to add more flavor.
The brothers who started Cleveland Kitchen are interested in making a range of fermented products to promote gut health. They started making sauerkraut but have branched into other healthy fermented and vegan options with their salad dressings. Cleveland Kitchen uses seaweed to get more of that subtle flavor of the sea that would normally come from anchovies.
With fermented veggies as the base, you may be surprised to find testers have found it delicious and packed with a taste almost like a regular Caesar salad dressing.
This one stands out as being unique — it's the only one of the vegan Caeser dressings we came across that could improve your gut health. If you're keen on fermented foods like kimchi and 'krauts, then definitely check this dressing out. Those looking for a healthy, probiotic vegan Caesar dressing that doesn't lack flavor should look no further than Cleveland Kitchen.
Vegan
Fermented vegetables
Probiotic
Looking for an organic vegan Caesar dressing that tastes just like the real thing? Organicville's Caesar dressing scored highly for its rich flavor, though some found it a little salty and grainy. The sauce is very thick, and you may want to water it down with vegan milk like coconut or almond.
While Organicville doesn't use capers or seaweed to add umami flavor, it does incorporate mustard, lemon juice, and cayenne to help kick it up a notch. Lemon and vinegar add a tangy note.
Organicville uses tapioca flour as a thickener in their vegan dressing to keep it gluten-free. They also don't use any hydrogenated fats or high fructose corn syrup, keeping their Caesar dressing healthy for you.
Vegan
Organic
Gluten-free
No hydrogenated fats
No high fructose corn syrup
Follow Your Heart make a small batch organic Caesar dressing that uses no dairy, eggs, or fish. Their Caesar dressing lists Worcestershire sauce in the ingredients, but it's a vegan Worcestershire sauce made with vinegar, soy sauce, agave syrup, tamarind paste, and spices.
Testers found that this would make a good dressing for Caesar salad, but it was a little lacking in flavor, so it really needs extra croutons and ingredients in the salad itself to make it feel more like Caesar salad.
The texture was a little runny, which is fine for a salad dressing, but if you're looking for a very thick sauce, almost like a dip, Follow Your Heart won't be the one. However, several testers preferred this dressing to other vegan Caesar dressing brands and said it tasted the most like the real thing.
Follow Your Heart Vegan Caesar Dressing was one of the most popular makes tested, and many people love the flavor and said they would order it again, even though it is on the pricer side.
Vegan
Organic
Gluten-Free
Non-GMO
No Preservatives
Kosher
What's The Best Vegan Caesar Dressing To Buy?
While there are more choices now when it comes to vegan foods, you need to look carefully at the labeling to make sure that the brands don't include Worcestershire sauce, which would make them not strictly vegan. Many of the companies making vegan Caesar salad dressings are also looking at making their food healthier in other ways. Because of this move toward more nutritious options, you can now buy vegan Caesar dressings that are also low calorie, organic, gluten-free, low-FODMAP, or probiotic, depending on your dietary needs.
---
Recent Recipes