Perfectly Cooked Ostrich Fillets
When I lived in South Africa, it was always easy for our family to buy ostrich steaks as an alternative to beef. Nowadays, the rest of the world has caught up with how wonderfully healthy and tasty ostrich meat is and what a great steak substitute it makes. Particularly if you're looking to control your dietary fat intake, you may be wondering how to go about cooking the best ostrich fillets that are filled with flavor.
Due to being a reasonably lean meat, ostrich has become a popular choice for many who are avoiding beef due to the higher fat content. Despite coming from a bird, ostrich is a lovely dark red meat that can make for a great beef steak substitute. It does not taste quite like other poultry such as turkey or chicken, and though the subtle, gamey flavor is not as intense as some cuts of beef, it does taste similar to filet mignon.
Ostrich meat performs best when it is well-seasoned and marinaded, which helps to keep the flavors in while cooking. Many recipes that call for beef steaks can be altered to suit ostrich if you take into consideration the lower fat content and adjust the cooking accordingly. The leanness can mean you'll need to season the ostrich a bit more to make up for any depth in flavor.
Recipes that use very short cooking times, like stir-fry, are ideal for ostrich fillets, and recipes with rich sauces accompany ostrich very well. Below is a simple recipe to produce perfect pan-fried ostrich fillets every time. By cooking them in the pan, you'll easily judge if you're overcooking the ostrich meat, as ostrich is best served rare to medium-rare.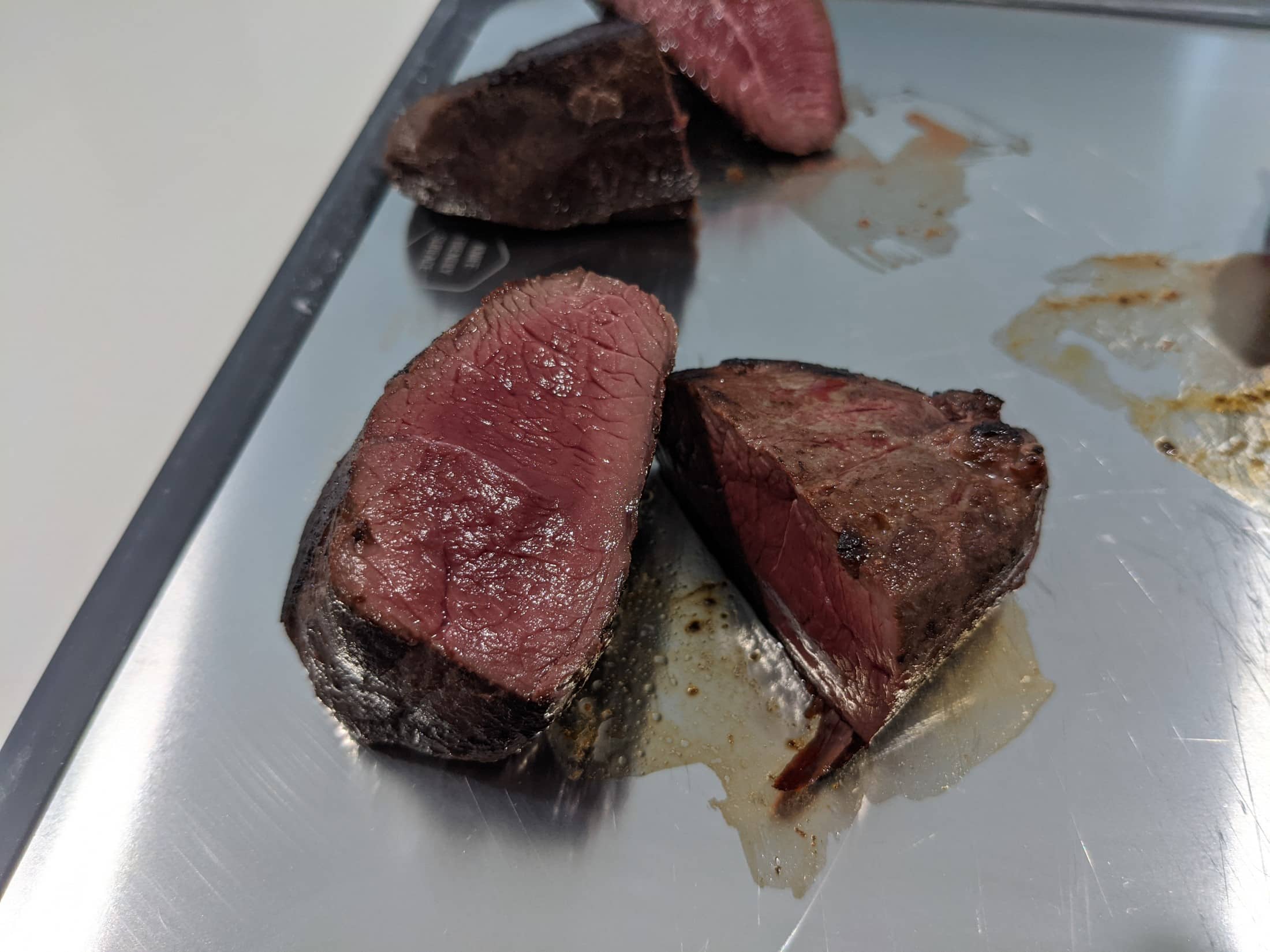 Ingredients
2

Tbsp

olive oil

2

Tbsp

Worcestershire sauce OR 2 Tbsp soy sauce

2

minced garlic cloves

1

tsp

ground black pepper

1

Tbsp

chopped fresh thyme

4

ostrich steaks

4-5 oz each
Instructions
Get your ostrich fillets ready to go and defrost before you begin if they are frozen, ideally in the fridge overnight.

Combine the minced garlic, black pepper, Worcestershire sauce, thyme, and one tablespoon of olive oil in a bowl and mix to create a seasoning rub.

Apply seasoning to both sides of the ostrich fillets, ensuring even coverage. The seasoning will flavor the meat and help it retain moisture when you fry or grill the steaks.

Cover the steaks and leave them in the fridge for 2 to 5 hours.

Remove the fillets from the fridge and let them stand at room temperature for 15 minutes before cooking.

Gently heat a splash of olive oil in a heavy frying pan.

Add the ostrich fillets and fry until both sides are browned, but the steak is still rare to medium-rare. If the pan heat is high, this could take 3 minutes each side (6 minutes total) for rare and 5 minutes each side (10 minutes total) for medium

Remove the fillets from the pan and season with salt to taste.

Garnish with sprigs of thyme before serving.
Notes
Although the time may seem long, the preparation is incredibly simple. Defrost frozen ostrich overnight in the refrigerator, and allow the seasoned meat to rest in the refrigerator a few hours to really develop flavor.
Nutrition
Calories:
260
kcal
|
Carbohydrates:
1
g
|
Protein:
13
g
|
Fat:
22
g
|
Saturated Fat:
7
g
|
Polyunsaturated Fat:
1
g
|
Monounsaturated Fat:
12
g
|
Cholesterol:
50
mg
|
Sodium:
35
mg
|
Potassium:
228
mg
|
Fiber:
0.2
g
|
Sugar:
0.02
g
|
Vitamin A:
3
IU
|
Vitamin C:
0.5
mg
|
Calcium:
10
mg
|
Iron:
2
mg
Notes & Tips
Allow your ostrich meat to rest at room temperature for about ten minutes before cooking.
Pat the fillets dry to remove excess moisture.
Only salt your ostrich after cooking to ensure your meat stays juicy and tender.
Ostrich meat will end up dry and tough if overcooked, so avoid long cook times and keep your attention on the fillets while you pan-fry them.
Ostrich meat readily absorbs flavors, so if you prefer to marinate your fillet, you do not need long marinade times.
Substitutions
It's usually easier to find frozen ostrich meat rather than fresh. Specialty butchers may stock fresh ostrich meat if there is a nearby game farm, but you may have to scout a bit for fresh if you prefer not to use frozen.
If you're swapping beef for ostrich due to the lower fat content, you may be able to use alternatives if ostrich is not readily available. Replace ostrich with emu, rhea, turkey, or lean beef steaks, but be advised the beef will be higher in fat than ostrich meat.
Sides
Ostrich fillets go well with many sauces traditionally served with steaks. You can choose from Asian-style sauces with sweet and sour notes to creamy wine and mushroom sauces if desired. If you are going to serve your ostrich fillets as Asian fusion, substitute the Worcestershire sauce with soy sauce.
Depending on your chosen flavors, you may want to serve your ostrich fillets with matching sides. Options include jasmine rice and green vegetables such as bok choy or with mashed potatoes and vegetable sides such as green beans and carrots.
Ostrich fillets are often paired with root vegetables and greens as sides. Here are some other ideas for different flavor combinations.
Swap mashed potatoes for mashed sweet potato with red wine jus.
Make a classic creamy potato mousseline instead of a regular mash. https://cookgem.com/potato-mousseline/
Green salad with apples.
Serve alongside minted yogurt, an arugula salad, and fresh pita bread.
Serve with jasmine rice, Asian greens, and groundcherries cooked in ginger syrup.
Make a glaze of port and blue cheese from the leftovers in the pan.
Storage
Ostrich can last longer than beef if correctly stored. Since most ostrich in America will be frozen, you will be pleased to know that ostrich that has been frozen at peak freshness right on the farm conserves many nutrients and still has a great taste.
Uncooked, frozen ostrich fillets will keep in the freezer for up to three years if they are vacuum sealed and frozen at a temperature below zero degrees Fahrenheit. However, once you've cooked the ostrich meat, you will need to consume it within a few months if it is frozen again.
When thawing your frozen ostrich, never leave it out at room temperature to do so. Defrost ostrich fillets overnight in the refrigerator.
Any cooked ostrich fillet leftovers must be left in the refrigerator and consumed within ten days.
Where To Buy In USA
Looking for a few places to buy this fine meat? See our list below. You may also be able to find them on some of these stores that sell exotic meats.
---
Recent Recipes