Homemade Olive Oil Popovers
Popovers are a classic breakfast or brunch food that's a great alternative to serving the same pancakes or French toast every week for your family. This recipe is made with olive oil instead of butter.
The popovers also so easy to make that you can get the kids involved in helping to make it. It's a simple dish that is sure to please everyone. Even just the smell of these tasty treats will have everyone crowding into the kitchen.
Popovers pair well with pretty much any breakfast or brunch food. You can also serve it with some savory sides to make it a dinner dish.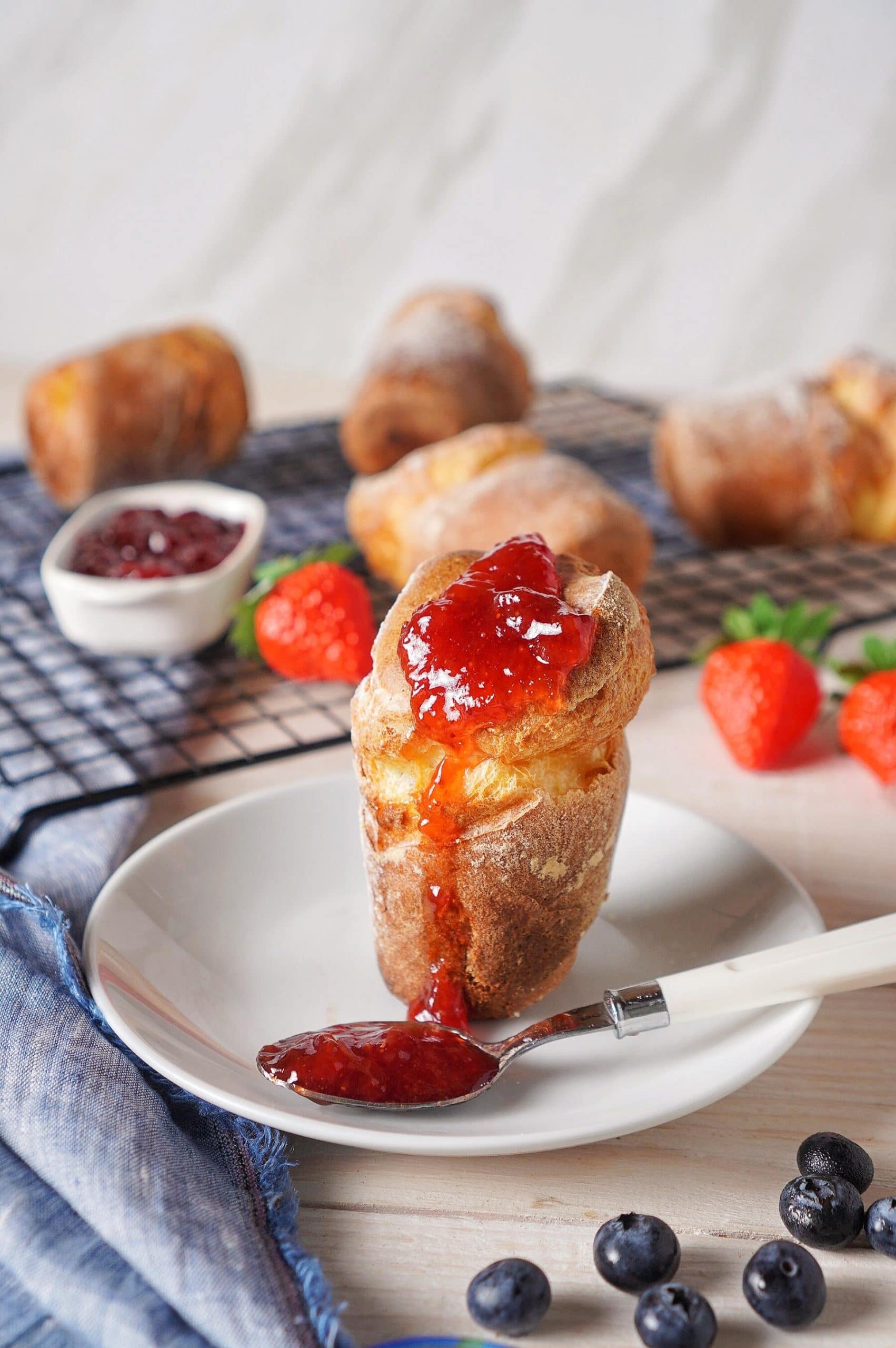 Ingredients
Shortening or non-stick spray to grease the pan

2

eggs

1

cup

milk

1

tablespoon

olive oil

3/4

cup

all-purpose flour

1/2

teaspoon

salt
Instructions
Assemble the ingredients!

Preheat the oven to 400° Fahrenheit (204° Celsius)

Spray the popover pan (or muffin tin) with non-stick spray or grease with shortening. This will help the popovers come out of the pan easier when they've finished baking.

In a medium-sized bowl, beat eggs, milk, and olive oil with a whisk or beater.

Add the flour and salt.

Beat until the mixture is blended but still a little lumpy. It should be roughly the same consistency as pancake batter.

Fill the popover or muffin cups halfway. Bake for 40 minutes or until the crusts are very firm.

Turn off the oven. Remove the popovers and prick with a fork to let out the steam.

Return popovers to the oven for an additional 5-10 minutes until desired crispiness.

Serve hot for optimal crispy flavor!
Video
Nutrition
Calories:
150
kcal
|
Carbohydrates:
17
g
|
Protein:
6
g
|
Fat:
6
g
|
Saturated Fat:
2
g
|
Polyunsaturated Fat:
1
g
|
Monounsaturated Fat:
3
g
|
Trans Fat:
1
g
|
Cholesterol:
70
mg
|
Sodium:
279
mg
|
Potassium:
109
mg
|
Fiber:
1
g
|
Sugar:
3
g
|
Vitamin A:
174
IU
|
Calcium:
68
mg
|
Iron:
1
mg
Notes & Tips
Not filling the tins too high ensures that the popovers will all bake evenly, and the batter won't spread out too much while cooking. Eyeball about two spoonfuls of batter per popover or muffin cup in the tin and keep an eye on them while they're baking.
Pricking the popovers with a fork to let out the steam is a key step. Just a few pokes on the top of each popover will do the trick.
Shopping for good olive oil for this recipe isn't complicated at all. The best olive oil as a rule of thumb will come from only one location, like California or Italy for example. California Olive Ranch is one of the best non-blend olive oils you can buy right now. There are plenty of excellent blends out there and they will taste just as great.
Start by checking the label. Always buy extra virgin olive oil, since that is your highest guarantee of quality, regardless of brand.
Steer clear of "light" olive oil, too – since oil is a fat, there really isn't a way to get true "low fat" olive oil. Light olive oil is just refined and treated with heat, so it won't have any of the odor or flavor you would normally expect, and want, from olive oil.
Finally, choose olive oil that comes in a darker bottle. This protects the oil from light and heat, which disrupts the flavor.
Substitutions
You can make substitutions for the eggs, milk, and flour in this recipe to make it vegan, gluten- and dairy-free.
Eggs: mashed fruit works best in moist and dense recipes like this one. Use 1 mashed banana or 2/4 cups unsweetened applesauce in place of the eggs.
Milk: instead of dairy milk, use your favorite nut or oat milk.
Flour: use your favorite gluten-free flour.
Common Questions
Can I cook popovers ahead of time?
Yes if you don't mind them being slightly deflated. You can make popovers up to four hours ahead. Rewarm them for a few minutes at 250° Fahrenheit (121° Celsius) before serving.
Can I cook popovers in a convection oven?
Yes, you can use a regular or convection oven to bake them.
Can I cook popovers using a muffin tin?
Yes, they don't require a popover pan (which has straight-walled sides) to make. A muffin tin (which has slightly angled sides) will do the trick just fine.
Optional sides or compliments
Popovers taste great with many familiar breakfast and brunch favorites.
Keep in mind that serving popovers with butter, whether it's traditional or vegan, is not the best option. This is because the steam from the bread will melt the butter and cause the popovers to become soggy.
Sausages or bacon
Fresh fruit
Scrambled eggs
Jams or fruit preserves
Flavored cream cheese (or vegan cream cheese alternative)
Nut butters
For sides that are a little savorier, try the following:
Creamed mushrooms
Pork sausages and onion gravy
Roast beef
Mashed potatoes
What do olive oil popovers taste like?
Popovers are a light, tasty baked treat. You won't taste the olive oil that much in the finished product.
Storage
Popovers will taste best the day that they are made. If you want or need to store any leftovers, you can keep the extras in an airtight container for up to two days.
It's best to reheat them in the oven before serving. Try five to ten minutes in a 325° Fahrenheit (163° Celsius) oven. The popovers will get soggy if you try to reheat them in the microwave.
You can also freeze the popovers. Store them in an airtight container or heavy-duty freezer bag. They will last for up to three months.
To reheat them after freezing, preheat the oven to 325° Fahrenheit (163° Celsius) and allow the popovers to thaw on the counter while the oven is preheating. Then stick the popovers in the oven for five to ten minutes.
History
Popovers are an Americanized version of Yorkshire pudding.
Yorkshire pudding has been made in England since at least the 17th century. Popovers were first referenced in America in 1850, and first included in cookbooks in 1876. Popovers are taller in appearance than Yorkshire pudding
---
Recent Recipes