All the Cracker Barrel Vegan Menu Options
Cracker Barrel brings country food to city folk and to weary travelers driving down America's long roads. However, given the origin of its cuisine, it's no surprise that Cracker Barrel doesn't have very many choices when it comes to vegan-friendly food options.
That said, you might occasionally be stuck at Cracker Barrel because one of your family members wants to eat there or because a Cracker Barrel restaurant is the only place within 50 miles for you to get a bite during a road trip. If that's the case, or you find yourself sitting down at Cracker Barrel for any other reason, you'll need to know what you can order on their menu while sticking to your vegan diet.
That's what this page will break down, so let's get started! Here is a quick overview in the table below:
Menu Item
Type
Notes
Coarse Ground Grits
Main
Impossible Sausage
Main
Cooked on the same grill as animal products
Fried Apples
Side
Maple Syrup
Topping
Coffee
Drink
Fresh Seasonal Fruit
Side
Fresh Apple Slices
Side
Multigrain Toast
Side
English Muffin
Side
Regional
Sweet Peppper n' Red Skin Hash
Side
Regional
100% Pure Maple Syrup
Topping
Blueberry Syrup
Topping
Sugar Free Syrup
Topping
Low-Sugar Fruit Spread
Topping
House Salad
Main
No bacon, cheese, or croutons
Country Plate
Main
No biscuits or corn muffins
Baked Potato
Side
Plain, optional topping: green onions
Baked Sweet Potato
Side
Plain, optional topping: pecans
Vegetable Soup
Main
Varies daily
Steak Fries
Side
Cooked on the same grill as animal products
Breaded Fried Okra
Side
Cooked on the same grill as animal products
Fresh Steamed Broccoli
Side
Boiled Cabbage
Side
On: Sun, Wed
Lima Beans
Side
On: Tues, Thurs, Sat
BBQ Sauce
Topping
Ketchup
Topping
Mimosas
Drink
Peach, strawberry, orange flavored
Note: Menu items as of 1/9/2023 as menu items may have changed.
Cracker Barrel's Vegan-Friendly Sides
Unfortunately, Cracker Barrel doesn't have any main menu items or entrées that are vegan friendly, as practically all of them include meat or are cooked in meat products like beef oil.
However, you can order several different sides and Cracker Barrel's Coarse Ground Grits. The Grits are a popular choice for breakfasters who stop by Cracker Barrel for a bite to eat before work. These can be ordered as is without any modifications on your part.
Your other vegan-friendly sides at Cracker Barrel include:
Fried apples. These are fried in vegetable oil rather than animal oil, so they are actually vegan friendly even though they may not look it!
Fresh seasonal fruit, which is obviously vegan by definition
Fresh apple slices if you would rather have your fruit normally rather than fried up for a different flavor
Multigrain toast. Some Cracker Barrel restaurants will add butter to your toast by default, so be sure to specify no butter when placing your order
English muffin. The plain English muffin is the only vegan-friendly choice, but this muffin is unfortunately only available on a regional basis. Ask your server if they carry it before ordering
Sweet Pepper N' Red Skin Hash. This breakfast hash is pretty tasty, but only some Cracker Barrel restaurants have it. Should your restaurant have it in stock, feel free to order it without any modifications as it is vegan friendly by default
It's shame that doesn't offer any vegan-friendly main menu items or full meals. If you want to eat a complete breakfast, lunch, or dinner, you may have to supplement your Cracker Barrel order with a snack from a gas station or visit a different restaurant entirely. Places like Perkins have a little more variety for vegans, so consider stopping there instead if you have the choice between these restaurants.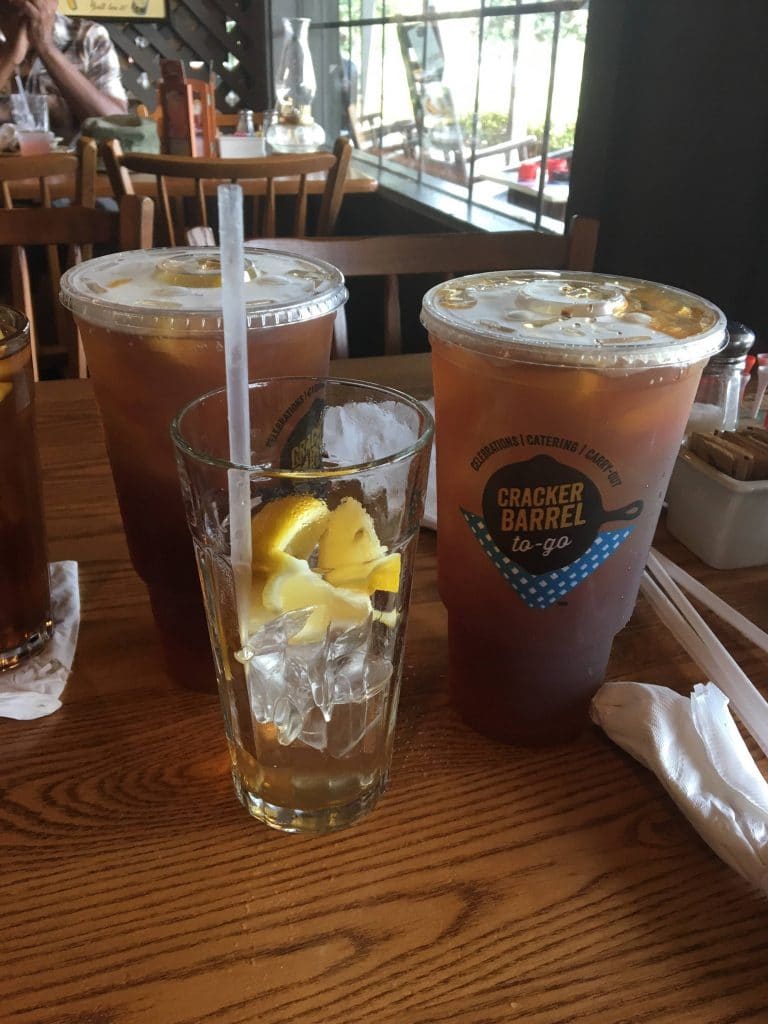 Sauces and Salads for Vegans at Cracker Barrel
Aside from the above sides, Cracker Barrel does make a Country Salad that can be extensively customized to your liking and to ensure that it is vegan friendly. You can make this salad suitable for your vegan diet by ordering it without croutons, eggs, or cheese.
You can also add a variety of dressings or sauces to your order to change the salad's flavor, like:
Fat-free Italian dressing
BBQ sauce
Balsamic herb vinaigrette
Ketchup
Cracker Barrel offers a handful of sweet toppings you can use with some of the breakfast options mentioned above, such as:
100% pure natural syrup
Cracker Barrel's blueberry syrup
Sugar-free syrup
Low-sugar fruit spread
Why Aren't There More Veggie Options at Cracker Barrel?
While country food traditions often include a lot of animal fat and carbohydrates, they also usually have plenty of vegetables. So why can't you order just a side of cooked vegetables at Cracker Barrel if you want something nutritious and filling?
It's because Cracker Barrel unfortunately cooks most of its vegetables in lard, which is an animal product. Furthermore, most restaurants don't have enough vegetable oil on hand to make an exception in your case if you request frying in veggie oil.
Therefore, all of Cracker Barrel's pinto beans, turnip beans, carrots, green beans, and corn are non-vegan since they are cooked in lard. That's a huge bummer, especially for vegans who just want something small to eat while their friends or family members get something more substantial.
Cracker Barrel Vegan Options FAQs
Is Cracker Barrel's oatmeal vegan?
No, sadly, though this would be a great breakfast option otherwise! Unfortunately, the oatmeal at Cracker Barrel has milk. However, you might be able to order this with hot water instead of milk; it all depends on what your local restaurant's policy is.
Are the biscuits or fried apples at Cracker Barrel vegan?
The biscuits are not, but the fried apples are. The fried apples are made in vegetable oil instead of lard like most other fried options on this restaurant's menu. The biscuits, on the other hand, are always made with buttermilk, which is an animal byproduct.
What about Cracker Barrel's pancakes?
Nope – that's another strike for Cracker Barrel. The pancakes always contain milk and eggs, as does the French toast. So if you want breakfast, you are basically limited to the above-mentioned grits, toast, or an English muffin.
Should You Eat at Cracker Barrel if You're a Vegan?
In the end, Cracker Barrel isn't quite as bad for vegans as you might initially expect. But we certainly won't say that Cracker Barrel is vegan-friendly! In fact, you only find a few vegan suitable options here, ranging from a customizable salad to an English muffin plus a couple of other choices.
Because of this, we'd recommend checking out a different restaurant if you want a vegan breakfast or lunch. Fortunately, we've put together a breakdown of popular restaurant menus for vegans on Cook Gem. Check it out before your next road trip so you know where you can get a bite to eat without sticking to sides or salads.
---
Recent Recipes