All The Wawa Vegan Menu Options
When you get hungry, sometimes you don't have the luxury of visiting a restaurant or café. Instead, you might need to check out a rest stop or gas station. Many of the best gas stations include Wawa cafes, which are surprisingly decent when it comes to vegan friendliness thanks to their delicious lunch and dinner choices.
This is not that surprising given that practically all gas stations have at least a few vegan choices; after all, plenty of chips and crackers are vegan friendly by default. That said, let's still break down some of the snacks and more complete meals Wawa has to offer for vegan travelers.
| Menu Item | Type | Note |
| --- | --- | --- |
| Build-Your-Own Sandwich | Sandwich | See sauces/bread/toppings below |
| Build-Your-Own Burrito | Burrito | See sauces/bread/toppings below |
| Breads | Bread | White Bread, Wheat Bread, Rye Bread, or Plain White Sub |
| Toppings | Topping | Avocado, Cucumbers, Salsa, "Hot Peppers," Jalapeno Peppers, Onions, Pickles, Roasted Red Pepper Slices, Spinach, Sweet Peppers, Sliced Tomatoes, Roasted Veggies, or Shredded Romain Lettuce |
| Sauces | Sauce | Sriracha Sauce, Mustard (Spicy or Regular), Ketchup, Buffalo Sauce, BBQ Sauce, Olive Oil, Mocha Sauce, Oregeno, Pepper & Salt, Vinegar |
| Beyond Meat Breakfast Sausage Patties | Breakfast | |
| Bagels – Plain | Breakfast | |
| Bagels – Cinnamon Raisin | Breakfast | |
| Bagels – Everything Seasoned | Breakfast | |
| Cappuccinos | Drink | Pick Almond or Soymilk |
| Coffee – Plain | Drink | Pick Almond or Soymilk |
| Fruit Cups | Breakfast | |
| Fruit Smoothie | Drink | Pick no milk or use almond/soy milk, no yogurt |
| Hash-Browns | Breakfast | |
| Jason's Almond Butter | Breakfast | Best nut-butter option for bagels |
| Lattes | Drink | Pick Almond or Soymilk |
| Sabra Hummus & Pretzels | Breakfast | |
| Tea-Bags | Drink | |
Note: Cross-contamination can occur. Menu items as of 1/11/2023 as menu items may have changed.
Vegan Breakfasts at Wawa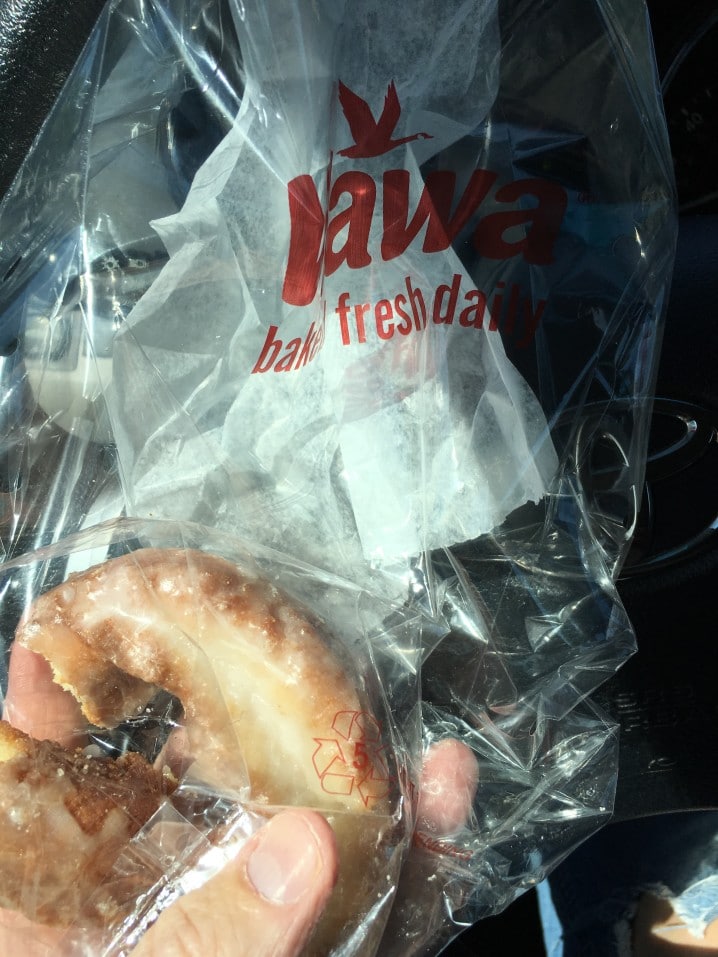 For many, breakfast is the most important meal of the day. Luckily, Wawa has several vegan-friendly breakfast options available, including:
Sealed fruit cups. These are great since you don't need to worry about cross-contamination. They're a great way to give your body nutrients and some quick sugar for energy
A variety of bagels, including plain bagels, everything bagels, cinnamon raisin bagels, and more
Hash-browns, which are great if you want something a little more filling for breakfast
Sabra hummus and pretzels
Although these are all great choices, they aren't exactly full breakfast platters or meals. Still, choosing just a few of these options should let you create a decent breakfast for yourself if you need to get back on the road quickly.
Vegan Lunches and Dinners at Wawa
Travelers may want to grab something to eat for lunch or dinner at Wawa. Good news: this café offers plenty of vegan-friendly choices at all their locations throughout America. At Wawa, you'll be able to build your own hoagie or sandwich or build a burrito bowl depending on your preferences.
For hoagies, your options are:
White, wheat, rye, and plain white sub bread, all of which are 100% vegan friendly choices
Tons of vegan-friendly toppings, like cucumbers, avocado, romaine lettuce, roasted veggies, sweet peppers, onions, pickles, and more
Vegan-friendly sauces, like mustard, sriracha sauce, ketchup, buffalo sauce, BBQ sauce, and more
With all these choices, it'll be relatively easy for you to make a vegan hoagie role for your lunch. Unfortunately, Wawa doesn't offer any vegan meat alternatives, like Impossible meat. Still, it's a far cry from the scarce options at other rest stop restaurants!
As mentioned, Wawa also offers burritos or burrito bowls. You can build these yourself to make sure they are 100% vegan friendly. You can either choose a tortilla or bowl or even ask for a vegan tortilla on the side if you choose.
You'll also find a variety of vegan-friendly toppings to choose from, including avocado, fresh salsa, black beans, white or brown rice, jalapeno peppers, and/or lettuce. Sriracha sauce and all the other sauces mentioned above are also available for your burrito or burrito bowl.
As you can see, it's pretty easy to create a good vegan lunch or dinner at Wawa. As a bonus, none of these toppings or sauces require extra charges should you choose them. So feel free to go crazy and pile all of the veggies you want in your burrito or on your bowl; it won't cost you more than normal!
Wawa Vegan Drinks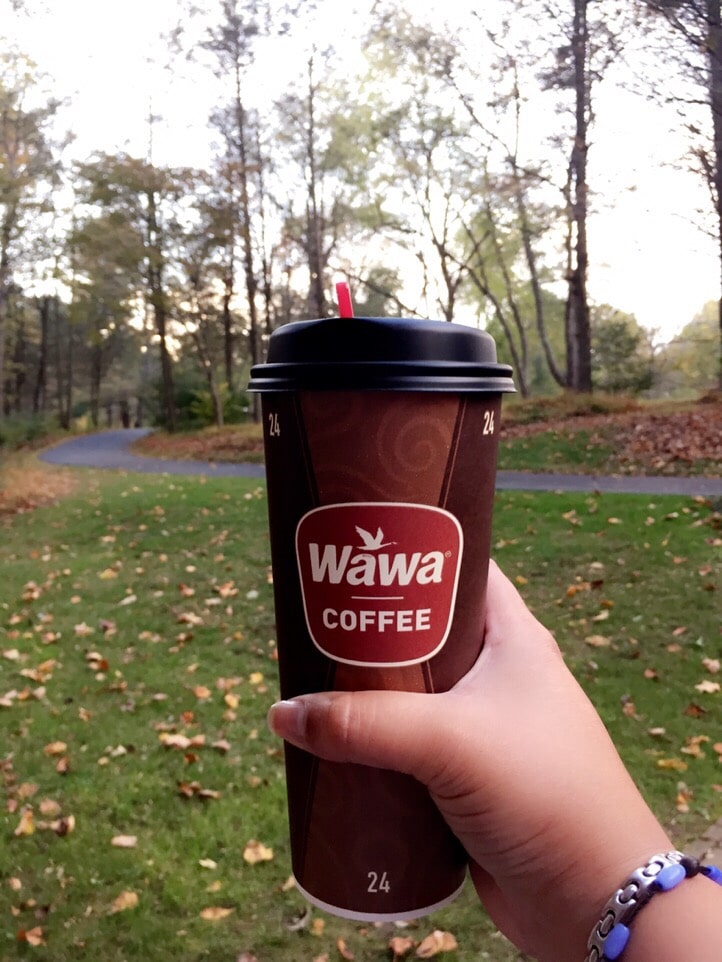 We'd be remiss if we didn't mention all the vegan-friendly drinks available at Wawa cafés throughout America. Naturally, you can drink all the coffee they offer; just add soy milk or almond milk to your beverage instead of a dairy alternative.
Even more importantly, Wawa can make lattes, cappuccinos, and other fancier coffees with soy and almond milk rather than regular or nonfat milk. So you can enjoy practically any type of coffee you prefer at Wawa without compromising your diet.
More than that, Wawa offers teabags, made-to-order fruit smoothies (which you can make 100% vegan by refusing yogurt and asking for almond or soy milk), and graham cracker crumbles or mocha sauce for toppings. You'll also be able to find plenty of soft drinks or sodas that are vegan-friendly, though they are quite sugary!
In this way, Wawa is actually a major competitor to Sonic, which also offers lunches and drinks for travelers on the road. But Wawa is a far superior choice compared to Sonic for vegans and vegetarians by far.
Vegan-Friendly Sides at Wawa
Last but not least, Wawa also offers several vegan-friendly snacks and sides. These include the above-mentioned fruit cups and:
Traditional or everything seasoned soft pretzels
A garden salad, which can become more satisfying if you add some of the toppings and add-ons described above
A market mixed salad
Hummus with pita bread
Cups of seasoned white rice or seasoned black beans
Naturally, since Wawa locations are paired with gas stations and rest stops, you can also choose from all the snacks, chips, cookies, or anything else you find that seems to be vegan friendly.
The only thing you want to keep in mind is that many ingredients may seem outwardly vegan friendly but are actually anti-vegan when you do more research. We don't recommend buying things from gas stations willy-nilly without doing a lot of research beforehand.
So, is Wawa a Good Place to Eat for Vegans?
Absolutely! At Wawa cafés, you'll be able to eat breakfast, lunch, and/or dinner as a vegan without optimizing your diet whatsoever. Even better, these locations have a good spread of different food options and seasonings, so you don't have to eat the same thing every time.
Therefore, vegan truckers or other travelers should be able to eat relatively healthily and with plenty of variety when they visit Wawa. In fact, the vegan options are so good we recommend planning your trip around Wawa locations if you know you'll be on the road for a long time.
Interested in vegan-friendly eateries or restaurant menus? Cook Gem has a variety of vegan restaurant menu guides, plus some recipes you can use to create tasty vegan foods right at home! Check them out today.
---
Recent Recipes