Eggplant Ragu offers the perfect blend of ingredients to send your taste buds soaring. It's like you're eating a meaty meal but without the meat. There's so much flavor here and tons of excellent textures to satisfy cravings and crush hunger.
What's more, you don't need a lot of culinary experience to whip up this recipe. It's beginner-friendly and a breeze to make. We love the comforting Italian seasoning and the healthy benefits that Eggplant Ragu provides.
So join us below as we walk you through the steps to create this delectable dish. Best of all, it's perfectly vegan-friendly, so you can enjoy Eggplant Ragu if your diet prohibits meats.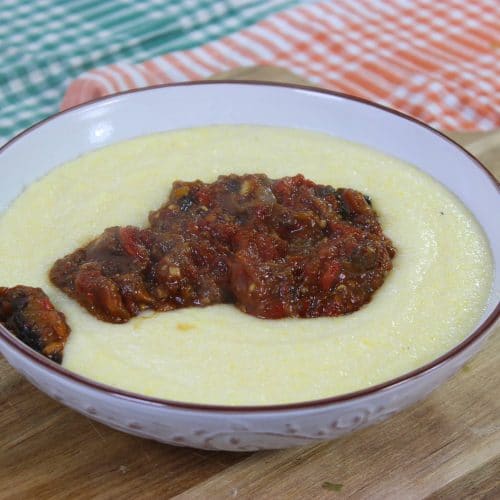 Ingredients
Ragu:
28-

ounce

can of San Marzano plum tomatoes

8

ounces

of sliced mushroom mix

1

teaspoon

of smoked paprika

1

pinch

of red pepper flakes

2

teaspoons

of oregano

5

garlic cloves

minced

½

yellow onion

diced

¼

cup

of fresh basil

3

red bell peppers

1

pinch

of sea salt

2

eggplants
Polenta:
1

cup

of yellow cornmeal

½

cup

of cashew milk

6

cups

of water

1

leaf bay
Instructions
Ragu:
Over medium-high heat, start by preheating a cast-iron skillet.

In the skillet, char the peppers on all sides by roasting them.

Transfer to a bowl, cover with a towel or lid and let cool.

Poke the eggplant in several places with a knife to help the steam escape during roasting. This will also prevent the eggplant from bursting and making a mess.

You can cook the eggplant in the pan where you roast the peppers or roast both the peppers and eggplant until charred. Let them scorch nicely on all sides, then transfer to a bowl until you can safely handle them.

Using your hands, remove the skins of the eggplants and roasted peppers. Throw away the cores.

Transfer the peppers to a cutting board and dice them.

Chop the eggplant and set it aside.

Over medium heat, preheat a large pot or frying pan. Add just a dash of water and fry the onion until it is translucent.

Add the red pepper flakes and garlic and stir, then cook for about a minute until the aroma permeates your kitchen.

Add the oregano, smoked paprika, and mushrooms, then stir. Let cook for a few minutes until you see that most of the remaining liquid has evaporated.

Add the eggplant, roasted peppers, red wine, and San Marzano plum tomatoes. Stir everything together nicely and let simmer.

Cover the pot or pan with a lid and cook on low heat for 45 minutes. Keep cooking to reduce the sauce. In doing so, it will become thicker. Continue according to your preference and season with sea salt.
Polenta:
Boil 6 cups of water, then slowly add cornflour. Whisk.

Add a pinch of salt and the bay leaf, then simmer slowly.

Partly cover the pot with a lid, then cook for approximately 45 minutes or until it thickens to your liking. Be sure to stir frequently.

Remove from heat and stir in cashew milk. At this point, the polenta will keep thickening as it cools. If it's not as thick as you like it, just give it time to thicken more.

Continue by dividing the polenta into 4 bowls, then put the roasted eggplant sauce on top. Garnish with fresh basil and serve.
Notes
Additionally, you may add ¼ cup of red wine, but it's completely optional.
Notes & Tips
When chopping up the eggplant, you can do it by hand as directed or use a food processor. Using the food processor method is preferred by people who like their eggplant to be a smoother texture. So take that into consideration when you reach this step in the recipe.
If you have leftover Eggplant Ragu sauce, you can use it in other recipes, such as Ricotta and Spinach Lasagna. You can simply eat it with ciabatta or your favorite vegan bread if you just want a quick and easy snack any time of the day.
Substitutions
Rather than use polenta, feel free to use rigatoni instead. Just add it to the sauce like you would the polenta as per the instructions. Both combinations offer an excellent taste that is sure to impress you and excite your taste buds.
You can also substitute the paprika if you don't have any on hand for this recipe. We've covered the best paprika alternatives in the past, so be sure to click over here and read our top recommendations. Just a few of the notable entries include cayenne pepper, chili powder, and ancho powder.
Common Questions
I have leftover red peppers and eggplant. Now what?
You can actually use those leftover ingredients in a variety of ways. We like to combine them with mushroom mixes or chickpeas and lentils. They go well in the original recipe, too, so don't be afraid to experiment with different combinations and put those extra ingredients to good use.

You can also toss your red peppers and eggplant with penne pasta or rigatoni. Add some cashew ricotta for a delightful treat. We enjoy it with red wine but feel free to try others.
I love the polenta; are there any other uses for it?
You're in luck; we have just the recipe for you. We shared a Homemade Polenta Lasagna recipe once before, so check it out and see what you think. It's loaded with different types of cheese, but we show you which substitutes you can use in their place if need be.
Sides and Pairings
This might come as a surprise, but eggplant actually pairs well with a wide variety of sides, including antipasto salad, garlic bread, grilled zucchini, and roasted broccoli.
For more great recipes, we invite you to head on over to our recipes section and explore the many unique meals and treats that we've compiled for your consideration.