Best Side Dishes To Serve With Scallops?
Scallops are considered one of the more delicate shellfish dishes to cook, and presenting them as part of your menu shows class and prowess in the kitchen.
Cooking with scallops can be tricky, and once you get that right, pairing it with a suitable side dish will be a feather in your culinary cap. So, what are the best side dishes to serve with scallops to woo your dinner guests?
With delicate flavors and a quick cooking time, scallops can be served with various sides that include light salads, wilted or roasted vegetables, fresh purees, or thick and hearty mash or grits. These sides can either balance out the flavors you've used to season your scallops or enhance them.
Are you serving scallops with the best side dishes to enhance the flavor of this delicacy? Are there easy, light, and fresh dishes that complement the taste of this unique shellfish? And how do you serve the perfect scallop-based meal? Let's look at the options a little more closely.
What To Serve With Scallops?
Across the culinary world, cooking with scallops is seen as a test of your skill. These tender seafood morsels are very delicately seasoned and most often seared in a hot pan with butter, wine, a splash of citrus, or paired with cream and herbs.
Other popular ways of cooking scallops include poaching, baking, or sautéing, and scallop chowder is equally delicious. If you're planning a meal with scallops, you're going to need some fabulous side dishes that highlight the delicate flavor and show off your seafood entrée in the best way.
The beauty of this delightful shellfish is that there is a wide variety of delicious sides you can serve. Here are a few suggestions:
Grilled Vegetables, A Bed Of Leafy Greens, And Scallops
One of the best ways to present these tasty bites is to simply set them on a bed of perfectly cooked leafy green vegetables. This looks great as the color of sautéed baby spinach, chard, or even leeks highlight the golden crust on pan-seared scallops.
Similarly, grilled vegetables of your choice make a great accompaniment, especially if you've cooked your scallops with citrus juices, which can be pulled through to the vegetables. Top with parmesan, a few sesame seeds, and the simple yet delicious flavors combine beautifully.
Scallop Pasta
There are various ways to use pasta in scallop dishes, and one of the best ways is to deglaze the scallop pan with some white wine or vermouth, add parsley and thyme, cream, and salt and pepper to taste. Adding cooked pasta to the pan and tossing it will coat it in the delicious flavors of the scallops.
Presenting a plate of comforting, creamy pasta with seared scallops nestled on top not only looks impressive, but the rich tastes combine perfectly to make a satisfying, filling meal.
Scallops With Avocado And Mango Salsa
Since the taste of scallops can be very rich, pairing it with something slightly acidic cuts through the richness and adds a different layer of flavor entirely.
And, since scallops are so delicate and light, it makes for a perfect Spring or Summer meal, where a fresh and zesty salsa will enhance the taste even more.
The combination of creamy avocado and sweet mango complement the slight sweetness of the scallops too. A slightly tangy dressing is an excellent accompaniment to this dish, which can be either a light meal or an appetizer.
Perfect Purees With Scallops
A popular and aesthetically-pleasing way to serve scallops is by making a puree. The differences in texture are outstanding, with a smooth, velvety puree and the soft, tender flesh of the scallop playing brilliantly off each other.
It looks lovely when plated, and you can play with a variety of flavors when choosing a vegetable to puree. Some of our favorite examples are pureed cauliflower, which you can top with pine nuts, raisins, or capers for a flavor explosion.
Using parsnips in your puree is also a great suggestion, and when finished off with butter, it makes for a super, slightly nuttier, earthier taste.
For something different in taste and color, a mint-and-green-pea puree will not only create a pop of color on your plate, but the minty taste is extraordinary combined with the richness of the scallops.
Easy Salads To Showcase Scallops
Salads are an effortless, healthy, and tasty side dish to serve with scallops. As the taste and texture of the seafood meat are so light and fresh, a salad makes perfect sense.
A delicious yet straightforward arugula salad is a staple – toss baby arugula leaves, thinly sliced shallots, parmesan cheese shavings, and top with lemon juice, olive oil, and seasoning to taste. Add some beets for color, and you have fresh flavors that allow the scallops to shine.
If you want a few more layers in your side salad, think of adding more robust flavors from fennel as an example. The licorice taste doesn't overpower the scallop flavor, and you can enhance it with juicy orange segments, pine nuts, and a citrusy dressing over the top.
Another brilliant option is a pomegranate-based salad which has fruity flavors that pair exceptionally well with the scallops. Add some green apple slices for added tartness, crumble some goat cheese over the top, and the plate will look gorgeous, too.
Seasonal Quinoa With Your Scallops
For something a little more comforting, which is especially good for when the weather turns colder, seasoned quinoa is a great idea too. Because the taste isn't overwhelming, it allows the scallops to be the star of the show.
A tip is to rinse the quinoa before cooking it to reduce bitterness and fluff it up before adding your choice of seasoning.
Some of our favorite additions to quinoa include simple butter, which adds a nutty and sweet flavor to the pot. Adding garlic works well, too, as does dried oregano for a little Mediterranean vibe. You could add some crumbled feta, especially if your scallops are cooked with lemon juice.
Sautéed Mushroom And Onions With Scallops
Mushrooms are incredibly versatile, and you can enhance the depth of flavors by trying a variety of mushrooms. Earthy brown portobello mushrooms or baby Bella mushrooms are ideal for this as they have a more robust flavor than plain white button mushrooms.
If you're feeling adventurous, try shiitake and oyster mushrooms. Cook up your mushrooms with onions and season with fresh lemon juice, salt, and pepper to taste, maybe even try a little Worcestershire sauce.
A glorious pile of rich, nutty mushrooms topped with scallops is spot-on for a starter before a meal and isn't too heavy.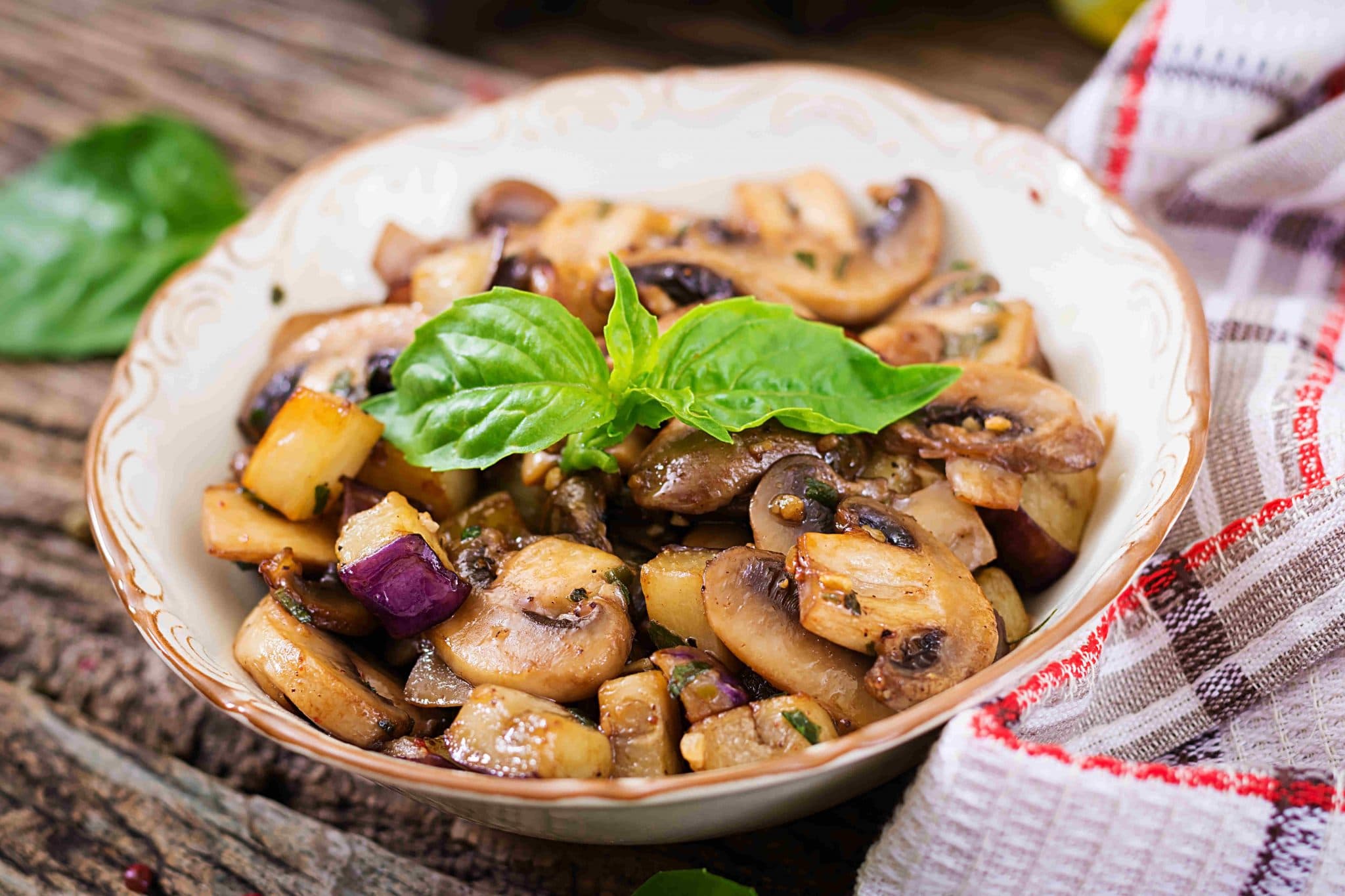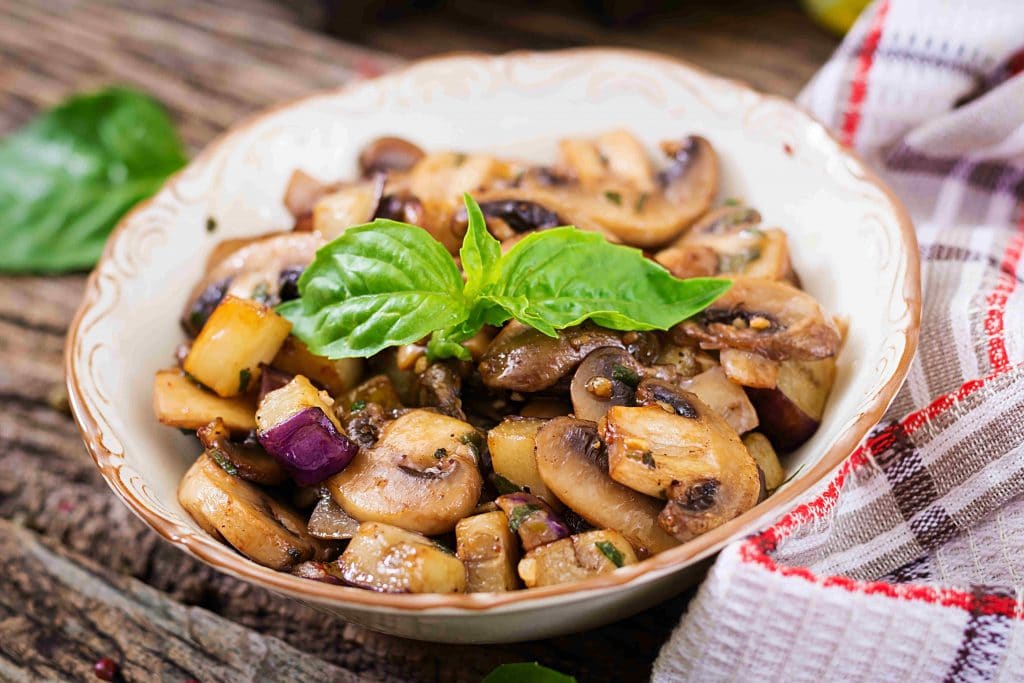 Seared Scallops With Chorizo And Corn
A slightly different approach, frying up the scallops in the fat rendered from spicy Chorizo sausage, is a great idea, too. Cook up some fresh corn, and combine with fried Chorizo, scallions, garlic, and chili.
Dress with buttermilk and cilantro with seasoning to taste, and you have diverse flavors that work incredibly well with the scallop taste.
A bonus of the Chorizo and corn side dish is how beautiful it looks once plated. The bright colors are a delight, and perching your crispy, seared scallops on top makes for a tasty, tempting dish to present to your guests.
Scallops With Apples And Pan Sauce
Tart flavors tend to go well with the sweetness of juicy scallops, and using Granny Smith apples means you already start with a sweet-tart combination.
Cook apple pieces in the juices of your seared scallops, season with lemon juice and butter and apple puree, and you'll have a flavor combination that is out of this world.
The golden colors of the apple pieces and scallops are beautiful and delicious when plated up, and the tartness of the fruit cuts through the rich seafood taste perfectly. This is also a quick and easy combination to prepare.
Scallops With Rice
Rice may sound bland, but there are various ways you can serve rice as a side dish with scallops. Fluffy white rice offsets the golden crust on a perfectly seared scallop, even more so if you enhance the flavor with red chili oil, fresh parsley or cilantro, and blanched green beans tossed into the rice or on the side.
Spicy, Mexican-style rice will also do well with lightly-seasoned scallops. Bits of Chorizo, garlic, and paprika add layers of flavor and create a gorgeous, colorful pile of rice to accentuate the seafood bites.
Creamy Mash With Bacon And Scallops
An ideal combination of surf and turf, using bacon with scallops results in a delicious flavor combination. And, when you're serving scallops with mash, searing them in the bacon fat adds a different flavor to simply using butter.
Crisp up your bacon, fry the scallops in the fat, then add butter and sage leaves to make a tasty pan sauce.
Simple, fluffy mashed potatoes with a splash of cream, topped with your bacon bits and scallops, and drizzled with that incredible pan sauce, is so satisfying and so simple to prepare.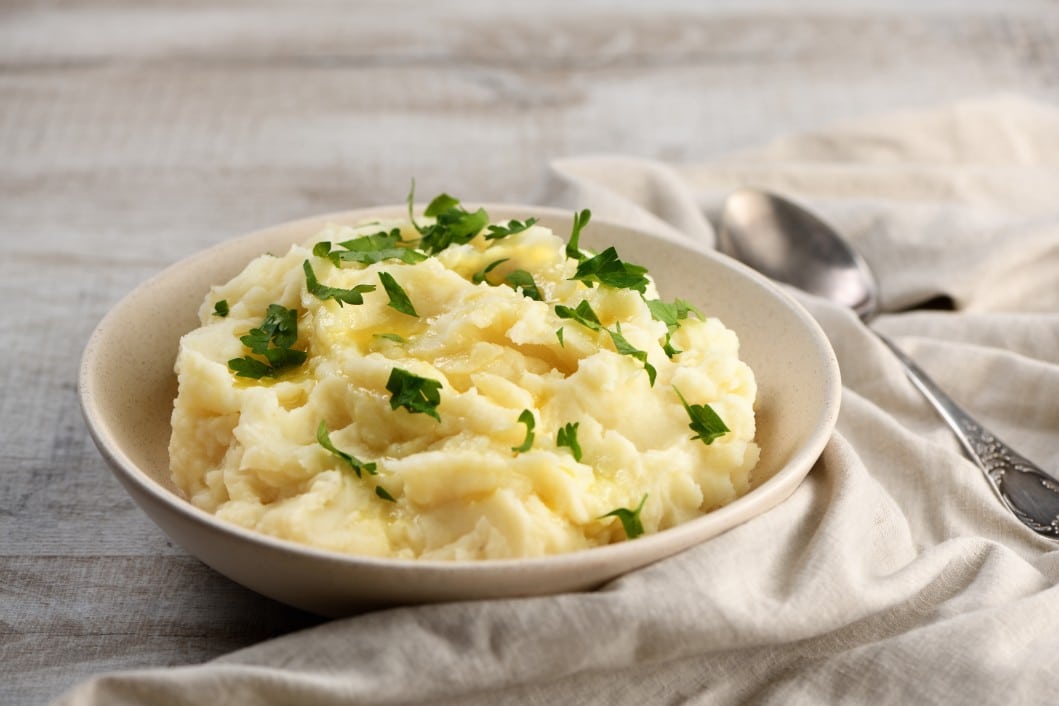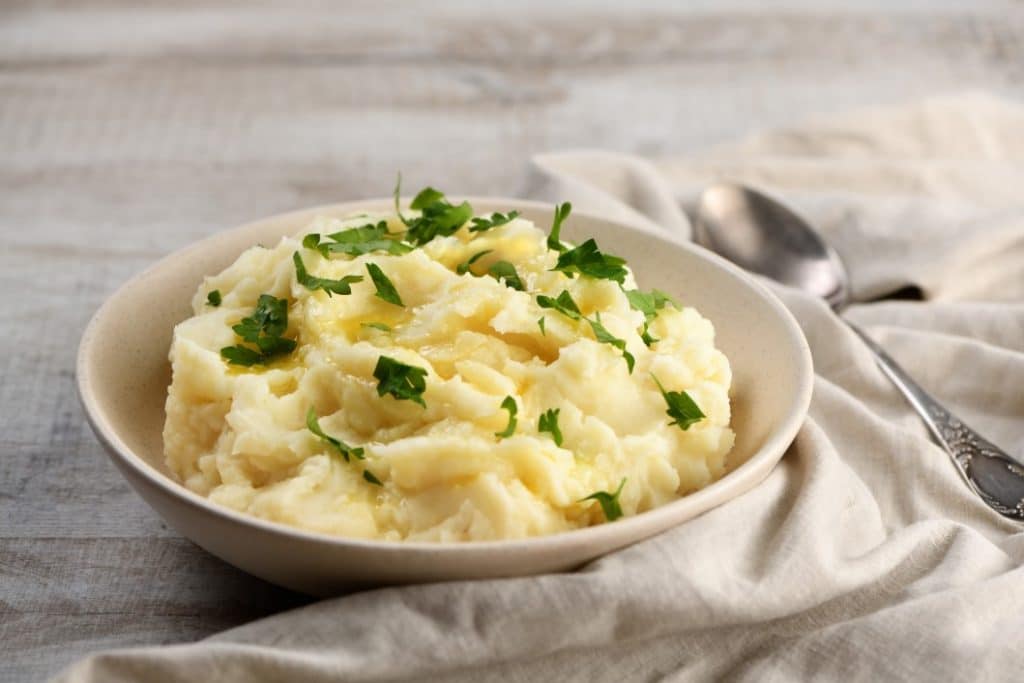 Summery Squash With Scallops
For those hot days when you need something refreshing, light, and quick, a salad with squash is an easy side dish to prepare to accompany scallops.
Thin squash shavings, strips of zucchini, prosciutto, fresh mint, and feta cheese are the essential components of this salad, and when topped with a dressing made of olive oil, lemon juice, and black pepper, the combination of healthy and delicious reaches epic proportions.
The delicate zing of citrus and mint in this salad offsets the flavors you'll get from pan-seared scallops, and as these ingredients are simple to put together, you can have this ready in less than thirty minutes.
Scallops With Pancetta Peas On The Side
Peas have made an appearance on this list in the form of a gorgeous green puree, but if you take pan-fried pancetta and onions, fresh thyme and black pepper, and simmer together with peas and white wine for a few minutes, you'll have a magnificent side dish for your seafood delicacy.
Scallops are excellent for quick meals, and side dishes like these make it even easier to present a posh dinner in only a few minutes. And, if you sear your scallops with loads of garlicky flavors, the wine and thyme in the pancetta-pea side dish complement it extraordinarily well.
Sublime Lemon And Asparagus Risotto With Scallops
For something a little more substantial, risotto makes an ideal side dish. It's hearty, filling, and comforting, although it takes a little longer to prepare. You can also vary the veggies you add to the risotto.
Asparagus and thin slivers of red pepper not only look colorful and tasty but enhance the taste of the risotto to another level.
Cooking risotto takes patience and skill, but when done right (with a flavorful chicken broth, fried onion and celery as a base, and white wine to top it off), you'll have a side dish that works incredibly well with the taste of the scallops.
Steam asparagus spears to add to the risotto, and top with parmesan and lemon juice – it's an unbeatable combination.
Scallops With Zucchini Quiche
For a different approach, a zucchini pie or quiche works well to accompany your scallops, too. This is especially good if you're wrapping the scallops in bacon for added depth of flavors.
A simple pastry crust, filled with cooked zucchini slices and onion, seasoned with oregano, salt and pepper, and parsley, topped with an egg and cheese mixture takes only twenty minutes in a preheated oven.
This type of quiche offsets the glorious fatty flavors from bacon-wrapped scallops perfectly, is just as light and tender as the scallops, and will win you extra points for being unique.
Scallops With Baby Tomatoes And Hazelnuts
The great thing about scallops is how much you can play with accompanying flavors. Because of the delicate taste of the scallop meat, your side dishes can be either rich and deep or light and refreshing. And warmed cherry or grape tomatoes with hazelnuts are a great pairing with scallops.
Fry up some grape or cherry tomatoes and shallots in the skillet you seared your scallops in, season with salt and pepper, and deglaze with white wine vinegar. Finish it off with the hazelnuts and tarragon, and you'll have a rich, savory accompaniment for your scallops.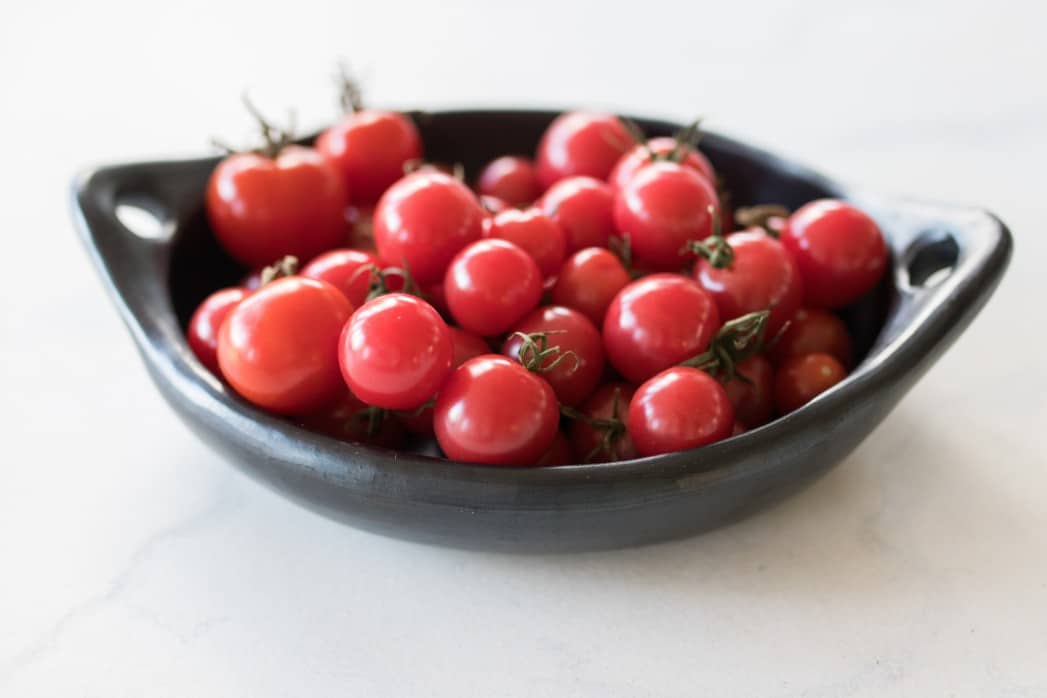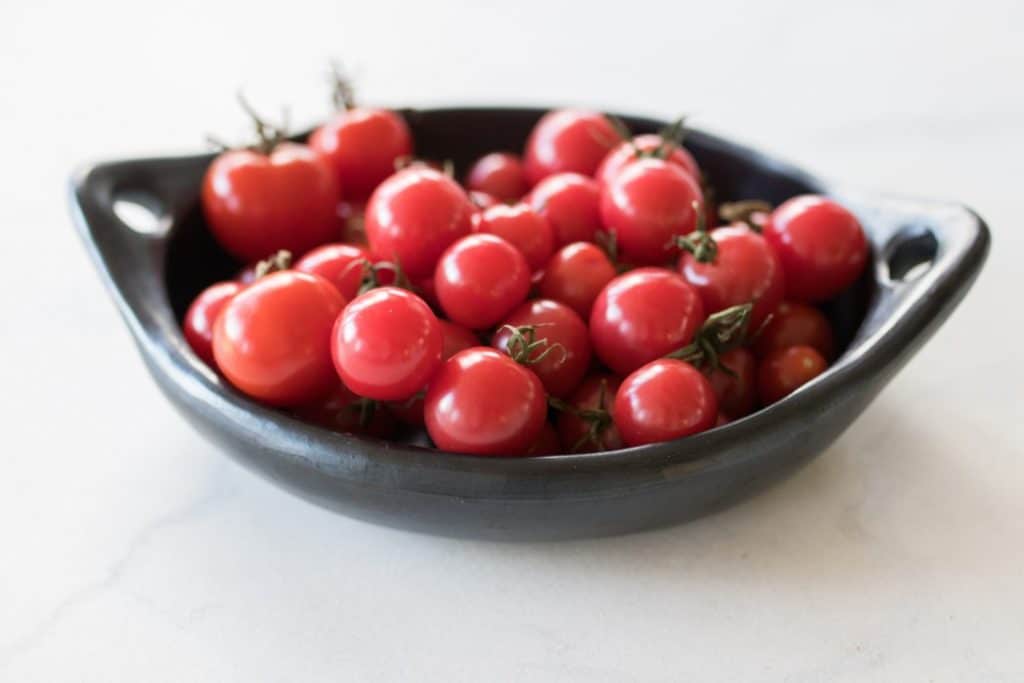 Soft Grits With Scallops
As a final idea for what to serve with scallops, don't discount grits. Sometimes seen as cheap and a little less classy, there's no reason to shy away from doing grits with your scallops and proving this thought wrong.
Especially great when paired with wine-poached scallops, grits make a delicious side dish that also displays so beautifully in a bowel.
Cook your grits in chicken stock till tender and stir in a quarter cup of Parmigiano-Reggiano, some butter, and season to taste. The comforting flavors from the grits will balance out the wine-poached scallops incredibly well and make for a meal that your guests won't soon forget.
In A Shell…
There are many wonderful options for side dishes for scallops, from fresh salads to rich purees, wilted vegetables, and even quiche. You can enhance the delicate flavors of the scallops, depending on your menu.
If you're serving scallops as a sweet summery starter, choose something light and fresh, perhaps even a little zesty, like a salad or salsa.
There are also savory and rich options for those colder days when you need something to warm you up, and in this case, rice and quinoa, pasta, mash, and purees are all excellent options. Choosing the most suitable dish doesn't have to be a daunting chore, have fun with it, experiment a little, and enjoy!
---
Recent Recipes