Best Slow Cooker Under $100
Slow cookers can be a fantastic appliance to have in your kitchen and can make cooking a breeze. Like most modern appliances, slow cookers can sometimes come with a hefty price tag, making it hard to find one on a budget.
The best slow cookers under $100 include the brands you've likely heard or seen before: Instant Pot Duo, Hamilton Beach, Black + Decker, Ninja Foodi, GreenLife Healthy, and Elite Gourmet Electric Slow Cooker.
Quick Picks
Instant Pot is your best all around utility for your kitchen with slow cooking, electric pressure cooking and many other features.
Elite Gourmet will get you a whopping 8.5 quarts of space for a great value if you want a pure play slow cooker.
Hamilton Beach has great extra slow cooker features if you are looking for a slow cooker with features like a built-in temperature probe.
We've compiled a list of the best slow cookers under $100 to help you find your perfect new kitchen appliance. Plus, our simple buyer's guide will tell you everything you need to know about what you can expect to find in a budget-friendly slow cooker.
Please note: the sub $100 prices were accurate as of 8/2/2022 at 2:06 PM EST and may have changed – see disclaimer here.
Best Slow Cookers Under $100
There are plenty of slow cookers on the market under $100, but how do you know that you are picking out an appliance that will last?
Settings
Modern slow cookers usually have features that go beyond simply cooking a stew for eight hours. They can cook a myriad of food items and sear meat. Some may even come with a Sous-Vide option, which involves slowly cooking vacuum-sealed meat in water at a precise temperature.
The most crucial part of a slow cooker is the slow-cooking preferences themselves. Some slow cookers are simpler, with a dial to switch between low, medium, and high-temperature settings.
There are also more modern models that offer programmable timers, recipe-specific settings, and the ever-handy 'Keep Warm' setting. This setting will keep your food at the perfect temperature until you're ready to eat.
The amount of customization you need for your recipes will largely influence the type of settings you will need to be built into your slow cooker. The more settings the appliance has, the higher the price point will be.
So, suppose you're a relatively simple cook that wants a slow cooker purely for that specific functionality. In that case, you may want to skip a digital slow cooker and opt for a more basic model.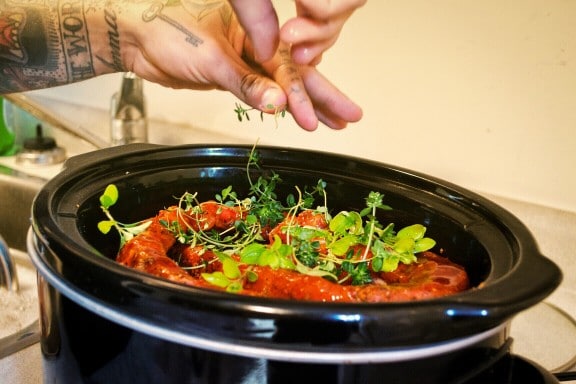 Capacity
Slow cookers come in a variety of sizes, each with a different capacity. The more a slow cooker can hold, the more expensive it will be. There are a few rules of thumb to help you decide on the perfect size capacity for your slow cooker.
If the slow cooker is between 1.5 to 5 quarts, it will be best for a single person, couple, or cook who wants to use it primarily for side dishes rather than a full meal.
A slow cooker with a capacity of 6 to 7 quarts is ideal for a family of up to six or seven people.
Capacities above 8 quarts are usually only used by people who tend to entertain for big parties or celebrations or small catering companies.
If you've heard of a slow cooker, you've probably heard of Instant Pot. The brand is known for having some of the best kitchen appliances around, and for a good reason.
The Instant Pot Duo replaces more than one appliance with its seven different settings. The seven settings are:
Air fry
Broil
Bake
Dehydrate
Convection oven
Toast
Roast
This handy appliance includes EvenCrisp technology, which gives you all the tenderness and tasty crunch of deep-frying without all the oil. With a one-touch smart setting pre-programmed into the machine, the Instant Pot Duo is easy to use.
We love this slow cooker for its ability to feed bigger families. It also cooks two to six times faster than a conventional slow cooker and uses 70% less energy!
You can leave your slow cooker on while you go to work and spend your workday feeling worry-free. The Duo has over ten safety features, including a safe-locking lid and protection from overheating.
The Duo comes in 3-quart, 6-quart, and 8-quart size options that are all under $100.
Top Features Of The Instant Pot Duo
Seven pre-programmed settings
Easy to use
Various sizes available
Good for families
Faster cooking with energy-saving features
The Hamilton Beach Set & Forget is integrated with smart technology, meaning you can change the cooking time and temperature setting. The pot will automatically switch to the warming function when it hits a specific temperature or reaches its time limit.
The Set & Forget is easy to clean, and the cooking pot and glass lid are both dishwasher safe. It also won't make any messy spills when cooking, and its clip-tight gasket lid makes it portable as well.
We love the handy power interrupt safety function that keeps the machine on during a brief power outage.
The slow cooker also has a useful temperature probe that can be inserted into your meat. The probe helps to cook the meat at a specific temperature, and the control panel displays the temperature as the food cooks.
Top Features Of The Hamilton Beach 6-Quart Set & Forget
Integrated with smart technology
Easy to clean
Power interrupt protection feature
Temperature probe
Portable
Like the Hamilton Beach Set & Forget, the Black + Decker 7-quart digital has a built-in temperature probe. This will ensure that the food is kept at its optimal cooking temperature. The Black + Decker switches heat cycles to hold the food at the temperature you've set.
The digital control panel makes this slow cooker easy to use, and selecting a cooking function or setting a target temperature (when using the probe) is a breeze!
This machine is one of the only models we have found that has a Sous-Vide function. The Sous-Vide setting helps to bring the internal temperature of the food to the perfect level using the temperature probe. The probe monitors the water temperature around resealable cooking bags inside of the pot.
There are two disposable bags to use with this function included when you purchase the slow cooker.
If you're new to using a Sous-Vide function in a slow cooker, you may find it useful to know that there are a few recipes included that can help you on your way to using your new appliance.
Top Features Of The Black + Decker 7-Quart
Temperature probe
Sous-Vide function
Easy to use
Recipes included
The Ninja Foodi is a 2-in-1 appliance that combines both a pressure cooker and an air fryer. The machine has a 6.5-quart non-stick ceramic cooking pot and a 4-quart crisp and cook basket for air frying.
It also comes with TenderCrisp technology, which helps to cook ingredients quickly and efficiently. At the same time, the Crisping Lid gives your food a delectably crunchy finish.
You can even use the Foodi to cook food directly from frozen with no thawing required. The frozen food cooks from the inside and comes out of this fantastic machine perfectly cooked every time.
The Ninja Foodi can boil up to 70% faster than a traditional slow cooker, and the air fryer can fry with as much as 75% less fat than other frying methods. These incredible functions make it the ideal purchase for the health-conscious foodie.
The machine includes fourteen different levels of safety that will help to put your mind at ease while you leave your slow cooker unattended.
Top Features Of The Ninja Foodi Slow Cooker
2-in-1 appliance
Boils up to 70% faster
Fries with up to 75% less fat
No thawing is required before cooking
14 Safety levels
GreenLife Healthy Ceramic Cook Duo
This exceptional slow cooker comes with a 6-quart capacity, making it ideal for family-sized meals. The GreenLife is ceramic and easy to clean with a dishwasher-safe cooking pot and glass lid.
The cooking pot is also lightweight and is removable, so you can use it directly on your stovetop or in your oven if your recipe calls for it.
Included in the GreenLife are three simple modes (low, medium, and high) and a delay start timer that you can set between half an hour and up to twenty hours. You can program the slow cooker to cook your food for up to ten hours, after which it will switch to the 'Keep Warm' function for at least four hours.
If you prefer to keep your kitchen appliances on your counter, the GreenLife is perfectly suited to any kitchen aesthetic. It is available in four colorways, including black, white, pink, and turquoise.
Top Features Of The GreenLife Healthy Ceramic Cook Duo
Dishwasher safe
Three simple modes
Delay start timer
Available in various colorways
Removable pot
The Elite Gourmet comes in a variety of sizes to suit almost any occasion. The extra-small 1.5-quart MST-250XS or the 2-quart MST-275XR would be the ideal kitchen and cooking companion for a couple or single person.
If you're cooking for a family, the 6-quart MST1234BX can accommodate food for around six people. But, if you love hosting a Sunday lunch with friends, family, and other loved ones, the jumbo 8.5-quart MST-900V can help you to make entertaining easy and painless.
We love that you can get your hands on this incredible slow cooker for under $100, no matter what size option you choose!
The machine comes with cool-touch handles to protect your hands against burns and injury. It also has an adjustable heat setting that you can set to either low, medium, or high. The cooker also has a 'Keep Warm' function to keep your food at the perfect temperature while preparing the rest of your meal.
The removable oval cooking pot and glass lid are dishwasher safe, making cleanup as easy as 1,2,3.
Top Features Of The Elite Gourmet Electric Slow Cooker
Various sizes available
Cool-touch handles
Dishwasher safe
Removable cooking pot
The Pot For Cooking
There are several fantastic options for a slow cooker under $100. While some may be on the simpler side, there is no shortage of options to choose from.
And a cheaper model doesn't mean poor quality. All the slow cookers on our list come highly recommended and are among the top-rated slow cookers on the market for anyone on a budget.
Using our simple guide, you'll be picking out the best slow cooker you can buy in no time!
Index
---
Recent Recipes