I am a big fan of cocktails regardless of what they look like, but the bright blue of an AMF cocktail makes it the perfect fun cocktail to make a gloomy weekday night a little more entertaining. As far as cocktails go, I have found myself reaching time and time again for an AMF simply because of how easy it is to make. It is a great way to use up the last dregs of my drink supply without having to settle for an eye-watering concoction.
Like most cocktails, this AMF drink does not have many variations as it is the specific alcoholic ratio that makes the cocktail unique in the first place. That being said, after testing this cocktail out arguably one too many times, I can confirm that this is the best possible way to make an AMF cocktail.  
Blue curaçao plays a large part in AMF, but if you are more of a fan of orange curaçao, why not try making our easy orange crush cocktails instead which can be made with orange curaçao in place of Triple Sec.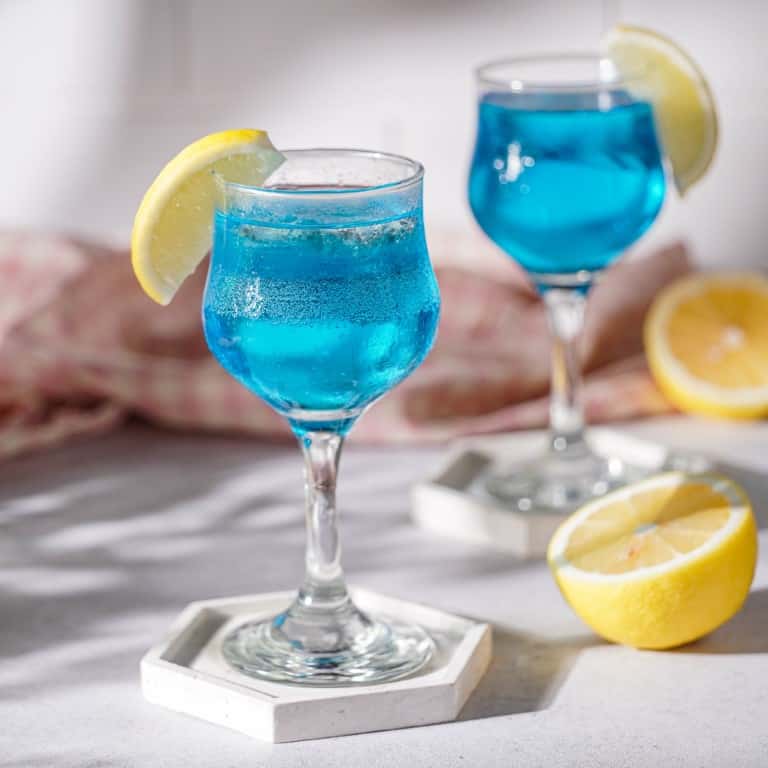 Ingredients
½

cup

sugar

½

cup

water

2

tablespoons

lemon juice

Ice cubes

2

tablespoons

vodka

2

tablespoons

tequila

2

tablespoons

gin

2

tablespoons

rum

2

tablespoons

blue curaçao

1

can of Sprite

Lemon wedge
Instructions
All ingredients ready? Let's begin!

To make an AMF cocktail, you first need to make a batch of Sweet and Sour mix, aka simple syrup. Set a saucepan to medium low heat on your stove and wait for it to warm up. Add both the ½ cup of sugar and ½ cup of water to the pan.

Using a small whisk, gently stir the mixture in the pan to prevent the sugar from burning at the bottom. Continue to do this until the heat has completely dissolved the sugar into the water.

As soon as all of the sugar has dissolved, kill the pan's heat. Set the pan aside and leave the syrup to cool completely.

When the syrup is cold enough to touch without burning your fingers, you can add the 2 tablespoons of lemon juice. Give the syrup a good mix to combine all of the ingredients.

Pour the sweet and sour mix into a bottle or jar. Set it in your fridge to keep while you make the main portion of the cocktail.

Add some ice to a cocktail shaker.

Then pour the vodka, tequila, gin, rum, and blue curaçao into the shaker.

Give the ingredients a quick shake to ensure that they are combined. You do not need to shake the drink for long at this point, just enough to mix the alcohol together. Add ½ cup of your sweet and sour mix to the cocktail shaker. Now you can give all of the ingredients a good long shake until they are all combined and cold.

Pour the contents of the shaker (including the ice) into 2 large glasses. There should be enough drink to fill the glasses at least half way.

Crack open the Sprite can and top off each glass with the Sprite until full. You do not need to mix the Sprite into the rest of the cocktail.

Finally, add a lemon edge to your glasses.

Serve and enjoy!
Nutrition
Calories:
398
kcal
|
Carbohydrates:
70
g
|
Protein:
4
g
|
Fat:
1
g
|
Saturated Fat:
0.3
g
|
Polyunsaturated Fat:
0.04
g
|
Monounsaturated Fat:
0.3
g
|
Cholesterol:
9
mg
|
Sodium:
32
mg
|
Potassium:
82
mg
|
Fiber:
0.3
g
|
Sugar:
69
g
|
Vitamin A:
3
IU
|
Vitamin C:
11
mg
|
Calcium:
13
mg
|
Iron:
0.4
mg
Notes & Tips
Seeing as sweet and sour mix is easy to make in advance, you can use mix that you may already have to hand. You don't need to make the mixture from scratch every time.
You can easily adapt the taste of your sweet and sour mix to your personal preferences by adding more or less lemon juice. The sugar and water have to keep at a 1:1 ratio so there isn't much you can change there. But adding more lemon juice will make the sweet and sour mix obviously sourer. Reducing the amount of lemon juice you add will make the sugar a lot more prominent, making it a sweeter mix. Keep in mind that any changes you make to the sweet and sour mix will affect the taste of your AMF drink.
Likewise, if you want to add a little bitterness to your sweet and sour mix, swap out the lemon juice for lime juice. The fresher the juice the better as you will really be able to taste the difference between the two citrus juices.
We are aware the not everyone owns a fancy cocktail shaker or has one to hand to use whenever they are feeling a little more adventurous on a Friday night. But no worries, this AMF drink is easy enough to make without a cocktail shaker. Just add the ingredients directly to a tall glass with ice and ensure that you give the drink a good stir to better combine the ingredients with every addition.
What To Do With Left Over Sweet And Sour Mix (AKA Simple Syrup)
A sweet and sour mix is the perfect mix to have on hand. It is used in an array of recipes so it always helps to have some pre-made in your fridge. That way you can just whip out the mix whenever you are craving a sweeter cocktail and easily add it to your drink. For example, our classic lemon drop shot.
However, we know that not everyone has time to make bougie cocktails every weekend and sticking your fridge with alcohol-specific ingredients may be a big waste of space for you. Luckily a sweet and sour mix can be used for more than alcoholic drinks.
As the base of the mix is a simple sugar and water combination made a little sour with a squirt of lemon juice, it can be used in a range of dishes. From citrus bakes to sweet meat sauces, just a tablespoon or two of this mix can instantly brighten any dish.
So long as you are very aware of how sweet a sweet and sour mix is and you use it in moderation, you won't have to worry about the mix ruining the delicate balance of your dish.
---
Recent Recipes