Comforting Mexican Cabbage Soup
I make a rotation of soups as Fall rolls around and as the weather gets colder, I bring out my Mexican cabbage soup. If anyone has grown up with the Cabbage Soup Diet, you'll know just how healthy it is. It definitely helps take care of a few extra pounds if you are so inclined, but this soup is simmering on my stove frequently because it hits the spot. It is healthy, delicious and filling and I make it a little spicy, so the Fall scratchy throats are taken care of as well.
My son loves this with a bowl of warm rice, while I love a nice bread to dip into this. There is definitely a variation in the spices used; I like using serrano peppers and cumin and maybe even a dried red chili or any potent green chili because the cabbage and broth are mild, and this gives it a bit of a sting. You can also add vegetables or chicken or even beans to give it more texture and make it more interesting, the options are limitless. So, if you're ever in the mood for a simple but filling meal that could be an appetizer or entrée, then go with the Mexican cabbage soup.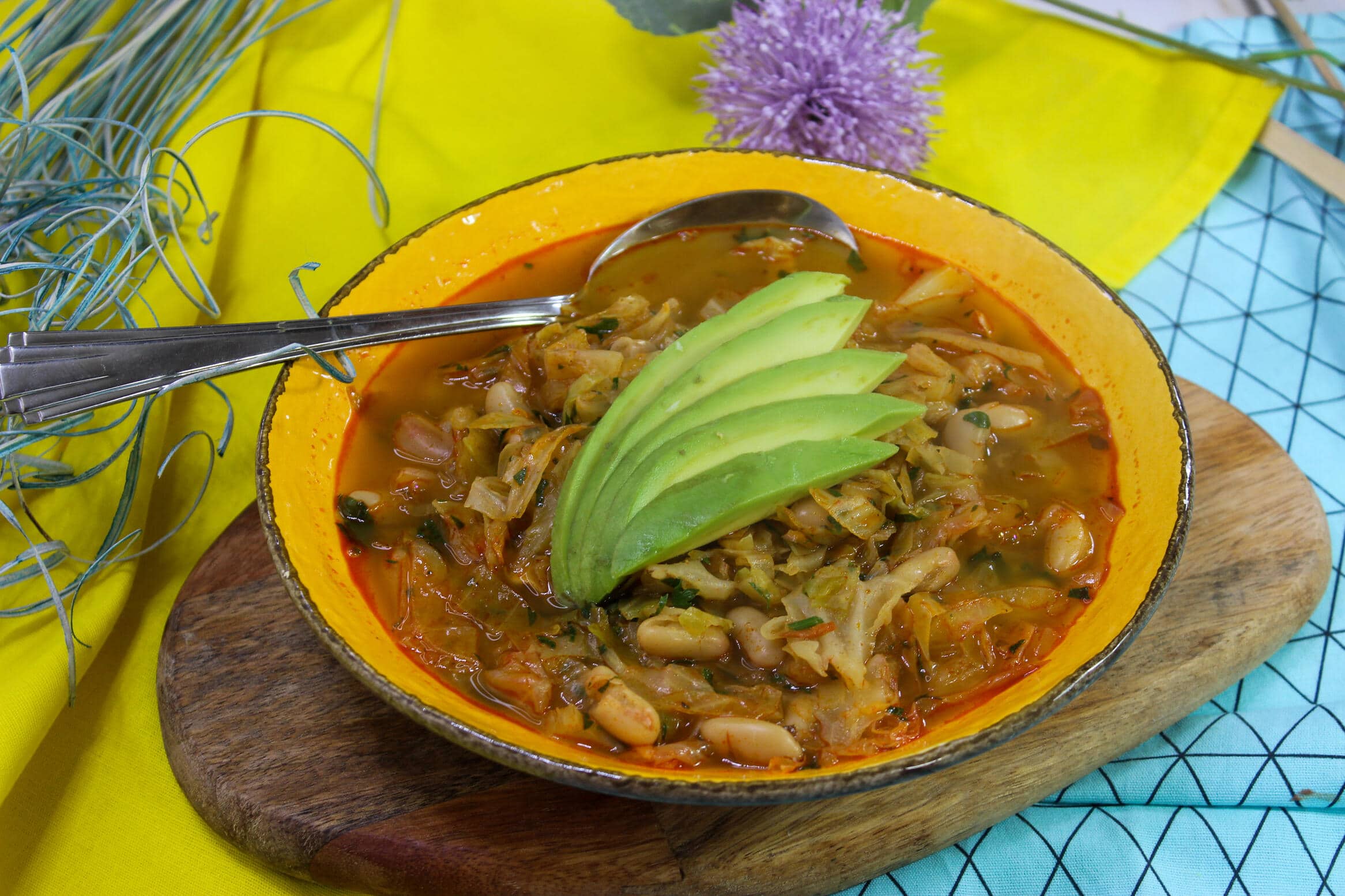 Ingredients
½

head of cabbage

cut into thin strips

1

medium onion

finely diced

2

cloves

of garlic

minced

1

serrano pepper

minced

1

can white beans

drained and rinsed

4

cups

of chicken broth

1

teaspoon

chili powder

1

teaspoon

paprika

1/2

teaspoon

cumin powder

2

tablespoons

of olive oil

Salt

1

avocado chopped

A squeeze of lemon for garnish

Fresh cilantro for garnish
Instructions
In a large pot heat the olive oil

Add the minced serrano chili, the onions and garlic and sauté till they soften and become aromatic, about 2-3 minutes

Now add the chili, cumin and paprika powder. Mix well till everything is coated in the spices and sauté till fragrant.

Now add the cut cabbage, the white beans and 4 cups of chicken broth and bring to a boil

Then reduce the heat and let it simmer for 10-15 mins till the cabbage softens and beans are cooked. Add more broth or what if it is too thick.

Add salt and combine.

Take it off heat and add a squeeze of lemon and sprinkle the cilantro.

Add the avocados on top when ready to eat.
Nutrition
Calories:
199
kcal
|
Carbohydrates:
16
g
|
Protein:
4
g
|
Fat:
15
g
|
Saturated Fat:
2
g
|
Polyunsaturated Fat:
2
g
|
Monounsaturated Fat:
10
g
|
Sodium:
894
mg
|
Potassium:
693
mg
|
Fiber:
7
g
|
Sugar:
5
g
|
Vitamin A:
394
IU
|
Vitamin C:
68
mg
|
Calcium:
79
mg
|
Iron:
2
mg
Tips & Tricks
Ensure that the cabbage is chopped thinly, it is more soup-friendly than thick, uneven pieces that take longer to cook
The spices and garnish are what gives this soup a Mexican dish so don't skimp on them.
The white beans give it more heft and richness. It definitely makes the soup more filling.
You can flash fry the cabbage a little to give it a bit more crunch, but I prefer the cabbage to be soft.
Fry the spice powders instead of adding them to the broth as they wake up the spices and enhances their flavor.
Storage
The Mexican cabbage soup can be stored in the fridge for up to 3 days. It can be frozen for 1-3 months. Thaw in the fridge overnight.
Questions
The beans make the soup too heavy, but it is not filling enough without, what else can I add?
You can halve the amount of beans used or if you don't want to use beans at all, shredded chicken works great. You can also use potatoes or any other vegetable of your choice; celery and carrots are what I use when I don't add the beans. Or just take two tablespoons of the beans blend it and add it along with the chicken stock. It makes the soup thicker, giving you a hearty spoonful while not making it heavy.
The serrano, chili powder and paprika make it too spicy, which spice can I eliminate without affecting the flavor?
I'd personally keep the serrano because it has a lovely, fresh, bright taste to it, though quite potent. Or you can use jalapeno instead as it is milder than the serrano and instead of sauteing it with the onion and garlic, you can just use it as a garnish on top.
Substitutions
Beans: The white beans are a personal favorite, but black beans can also be used. You can also not use any beans and keep the soup lighter.
Vegetables: I usually add carrot and celery. You can use it with or without the beans. Sweet corn is another good addition, especially if you are also using black beans. Potatoes and mushrooms can also be added, they both go well with the cabbage.
Proteins: Chicken tastes fantastic in this cabbage soup. Beef and sausages can also be used.
Cabbage: I sometimes use precut coleslaw mix. It makes the process easier, and the added carrots are a bonus.
Garnish: Shredded Mexican cheese is a great garnish. I sometimes add a dollop of sour cream on top, right before serving. Gives the soup some creaminess. Lemon or lime can be used. But the sprigs of cilantro are irreplaceable, you need it for its freshness and fragrance. You can also use fried onions or fried garlic for some extra crunch. Add right before serving, else they will get soggy. Sliced serrano peppers or jalapenos give it more heat.
Chicken Broth: You can use vegetable broth or just water. Add more or less as per preferred consistency.
Spices: This is the critical element in this dish. This gives the soup all the fire. You can use cayenne instead of paprika and if red chili powder is too hot, eliminate it. But if you want a bit of spice and depth to the soup, definitely use the spices, reduce the amount to what works for you.
Serrano Peppers: This is very spicy, you can use it as a garnish, instead of sauteing it and combining it into the soup. You can instead use jalapeno or even Thai green chili. Instead of chopping up the chili, you can just make a slit on one side and keep it whole, So, you don't get to bite into it with every spoonful, but you can still feel the burn.
Accompaniments
The soup is a great and filling entrée that goes well with bread or even a tortilla. White rice or herbed rice makes it a more filling meal and rounds it up nicely.
Try the Vegan Farro Soup for more healthy fall recipe ideas or this quick and easy Mexican Quiche for a more decadent meal.
---
Recent Recipes