All About Drinks & Cocktails That Start With The Letter A
Welcome to the A list of drinks and cocktails. An A list both literally and figuratively, the cocktails and beverages listed herein will surely knock your socks off (again, both literally and figuratively). From sophisticated martinis to refreshing spritzes and sweet after-dinner drinks to a wildly popular non-alcoholic beverage, the A list of drinks is a real treat.
Adam & Eve
Adam & Eve is a fruity mixed drink that was invented in New York City in 1902. It's purportedly one of the most popular mixed drinks in Manhattan. Made with a mix of Forbidden Fruit, which is a grapefruit-flavored liqueur, as well as gin, brandy, and lemon juice, Adam & Eve is shaken and served over ice in a highball glass. An Adam & Eve is typically served with a citrus garnish such as a lemon slice. Although other variations of this refreshing yet understated cocktail do exist, most seem to include Forbidden Fruit as a key ingredient. Is anyone else surprised that this liqueur is not apple-flavored?
Alexander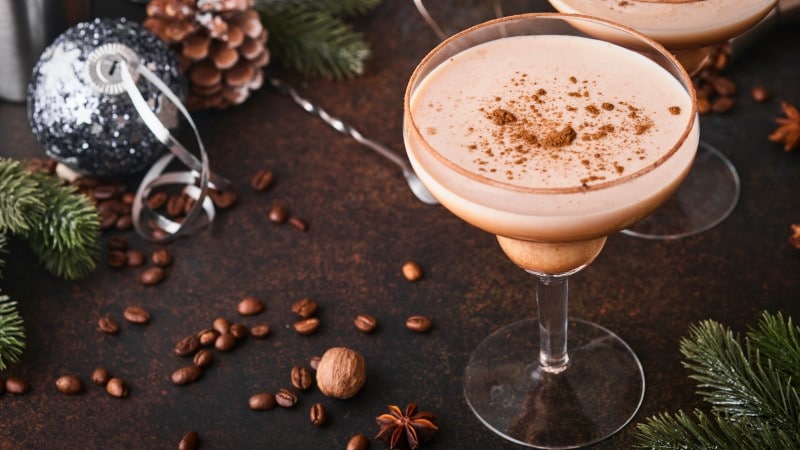 An Alexander is a gin drink that is thought to have originated in New York City sometime around 1915. Although there are many variations of the original cocktail, most famously the Brandy Alexander, the original recipe calls for equal parts gin, creme de cacao, half-and-half, and (gasp!) an egg white. An Alexander is shaken and strained, served "up," into a coupe glass. A coupe glass is a stemmed glass similar to a champagne or martini glass. An Alexander is garnished with a dash of (preferably freshly-grated) nutmeg. The result of an Alexander is a creamy drink that tastes subtly like chocolate. As a result of the rich sweet flavor, Alexanders are typically served as an after-dinner drink. Finally, some popular variations of the original Alexander include the Brandy Alexander which substitutes brandy for gin and a Coffee Alexander which substitutes a coffee liqueur for the creme de cacao.
Amalfi Coast
An Amalfi Coast is a cool, crisp cocktail perfect for al fresco sipping. An Amalfi Coast is made with light rum and limoncello, giving it a light and citrusy flavor. Similar to an Alexander, an Amalfi Coast also calls for a pasteurized egg white which tones down the tartness of the lemon. The Amalfi Coast is served chilled and straight up in a coupe glass and garnished with fresh lemon zest and a mint leaf. The Amalfi Coast is a refreshing cocktail perfect for day drinking or poolside imbibing.
Amaretto Sour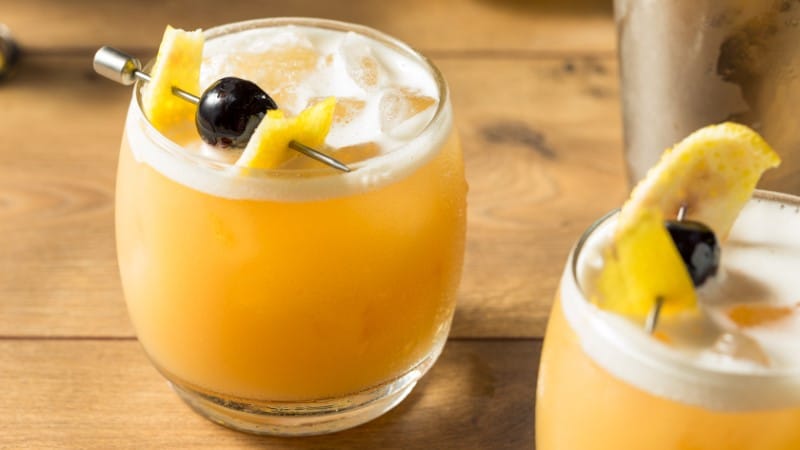 Although there's disagreement about which Sarronna, Italy family invented the Amaretto Sour, history suggests that either the Reina or Lazzaroni family, the latter in the 18th century and the former in the 16th century, invented this time-tested cocktail. The Amaretto Sour is a simple yet tasty cocktail that was popularized in the 1970s. Notably, this beverage is made with two simple ingredients: amaretto and sour mix. Served over ice, the Amaretto Sour is a mix of sweet and sour, refreshing, and akin to lemonade. Amaretto Sours are served in a lowball or rocks glass. An Amaretto Sour, like most sour drinks, is commonly garnished with an orange slice and cherry.
Alabama Slammer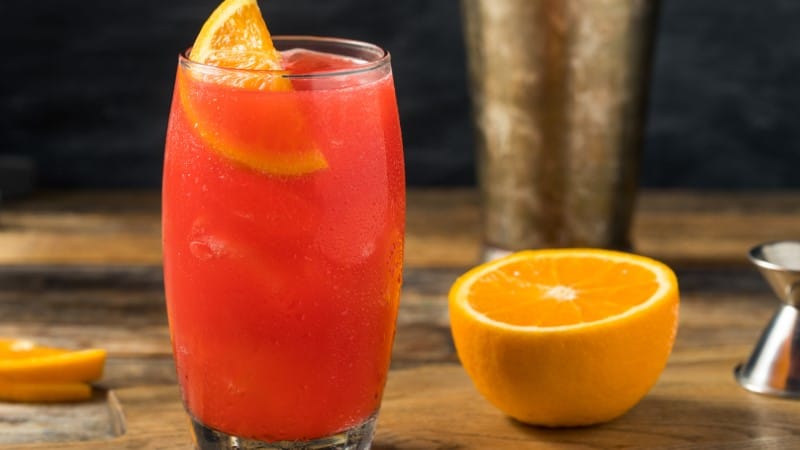 As its name suggests, the Alabama Slammer is a shot that's meant to be slammed in one fell swoop. A fruity blend of liquors and juices, the Alabama Slammer goes down easy but sneaks up on you. Popularized on college campuses throughout the 60s and 70s, the Alabama Slammer has staying power. The recipe for an Alabama Slammer was even featured in a Playboy cocktail guide in the mid-70s. An Alabama Slammer is made with vodka, Southern Comfort, orange juice, and grenadine; the ingredients are shaken with ice and strained into shot glasses. Because of the number of ingredients in an Alabama Slammer, it's difficult to make just one so be sure to have some friends nearby to enjoy these with.
Alpine Spritz
The Alpine Spritz is meant to evoke the chill of the Swiss Alps in a cocktail. Created as an aperitif (before-dinner drink meant to stimulate one's appetite), the Alpine Spritz is light, refreshing, and bubbly. Although there are variations of this drink's recipe, they all seem to include elderflower syrup, prosecco, and either rosemary or muddled mint. An Alpine Spritz can be served over ice in a wine glass or double highball and depending on which recipe you follow, it's garnished with either a rosemary sprig or fresh mint leaf.
Ambassador Cooler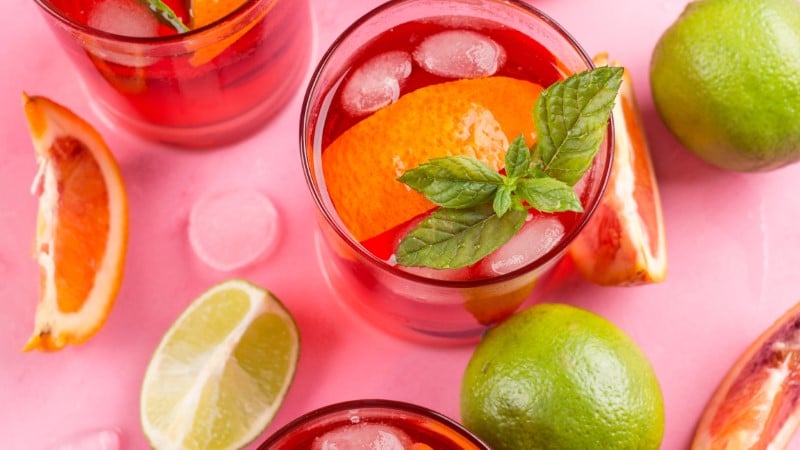 The Ambassador Cooler originated in the 1920s as a signature cocktail at the famed Ambassador Hotel in Los Angeles, California. Despite closing its doors in 1989, this sweet and tasty cocktail lives on. The Ambassador Cooler is a punch-like cocktail that's made with a mix of white rum, sloe gin, grenadine, and pineapple and orange juices. It's customary to make this drink in a shaker to blend the ingredients well and serve over ice in a rocks glass. It's typically garnished with an orange and cherry and is the perfect afternoon pick-me-up.
Americano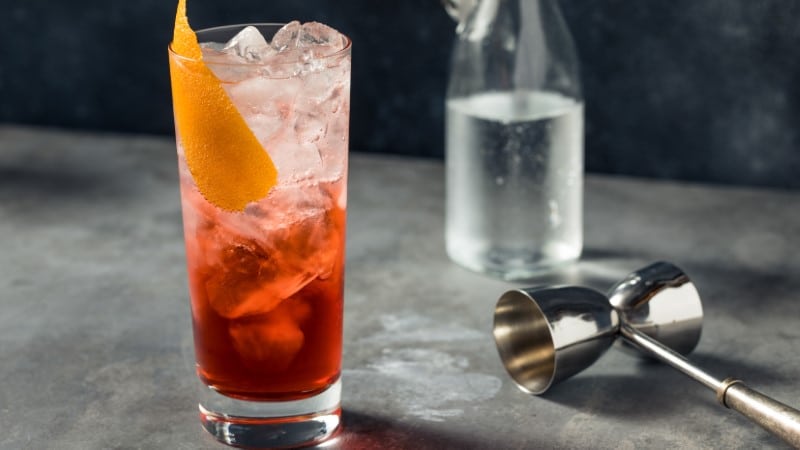 The Americano was invented in the mid-1800s in Milan, Italy. The Americano was popularized, just like "shaken, not stirred" martinis, by James Bond in "Casino Royale" which debuted in 1953. Created by Gaspare Campari, the Americano is a mix of Campari and sweet vermouth topped with sparkling water. The first two ingredients are layered over ice in a highball glass and then topped with soda. Americanos are garnished with an orange slice. It's a light and refreshing drink that was popular among American travelers to Italy, thus its name.
Aperol Spritz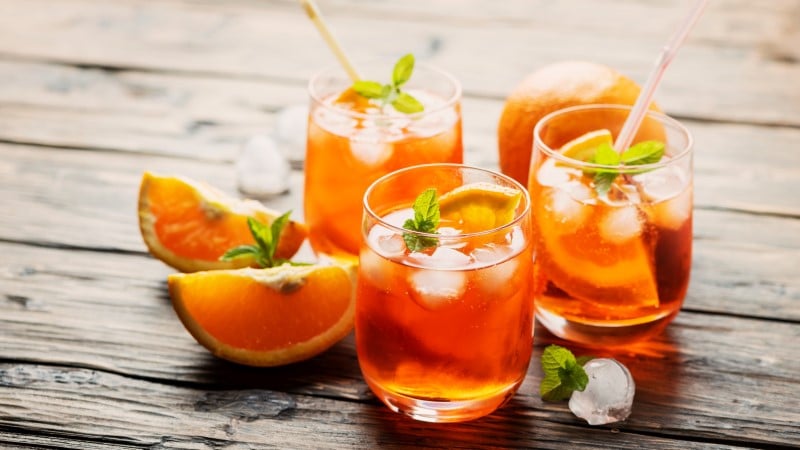 A much-loved Italian aperitif, the Aperol Spritz is made with two simple ingredients: Aperol and prosecco, sparkling water, or club soda. Aperol is a bitter orange liqueur with vibrant citrus notes. Aperol was invented by the Barbieri brothers in 1919 and the Spritz followed shortly thereafter. In 2003, Campari purchased Aperol and an aggressive marketing campaign made the Aperol Spritz incredibly popular. An Aperol Spritz is made by pouring Aperol over ice in a highball glass then topped with the bubbles of your choice. The Aperol Spritz is a popular cocktail enjoyed at brunches and other social gatherings.
Appletini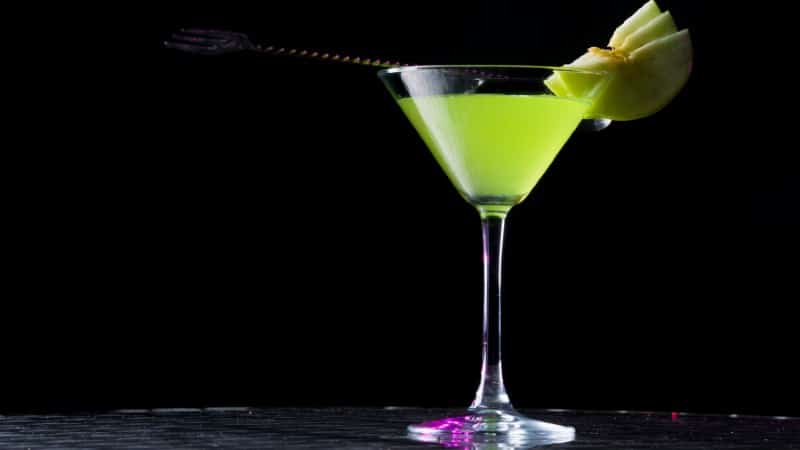 Invented by a Los Angeles bartender in 1997, the Appletini was originally called the Adam's Apple Martini after the man who created it. The Appletini is a twist on the standard martini that adds sweetness to an otherwise dry cocktail. The Appletini is made with two simple ingredients: a good vodka and apple schnapps. The art of the Appletini is in how it's crafted. Like a standard martini, the Appletini is made with equal parts of the two ingredients and either shaken or stirred, depending on your preference, in ice. Shaking your Appletini will break down the ice cubes more than stirring thereby subtly diluting the mixture. Lastly, the Appletini is served strained and straight up in a martini glass. Although it's counterintuitive to do so, the Appletini is typically garnished with a cherry which holds up better than an apple slice which will inevitably brown.
Arnold Palmer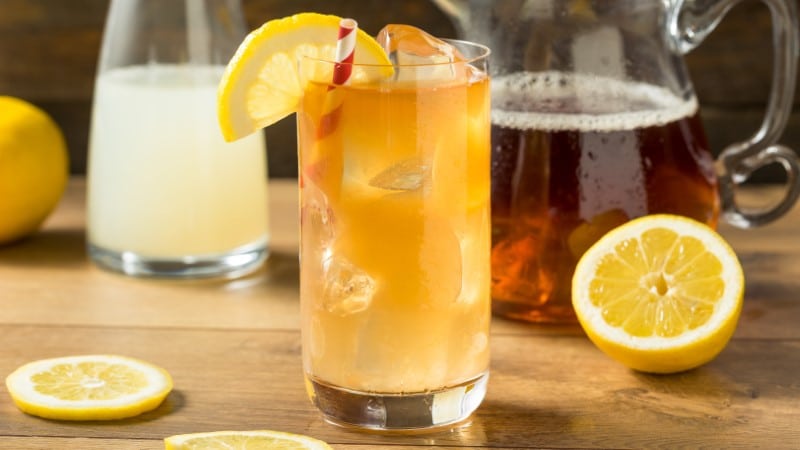 Created by none other than famed PGA golfer, Arnold Palmer, this drink is a refreshing mocktail that's delicious any time of day or year. The story goes that after a long, hot day on the golf course, Palmer would ask his wife Winnie for a tall glass of unsweetened iced tea mixed with sweet lemonade. A popular spinoff of the Arnold Palmer is the Winnie Palmer, named for his wife who preferred to mix sweet tea instead of unsweetened tea with lemonade. Nevertheless, the Arnold Palmer is a popular drink in restaurants and homes across America. Furthermore, the Arnold Palmer is also a branded drink that can be purchased bottled or canned in convenient stores and supermarkets all over the US.
Aviation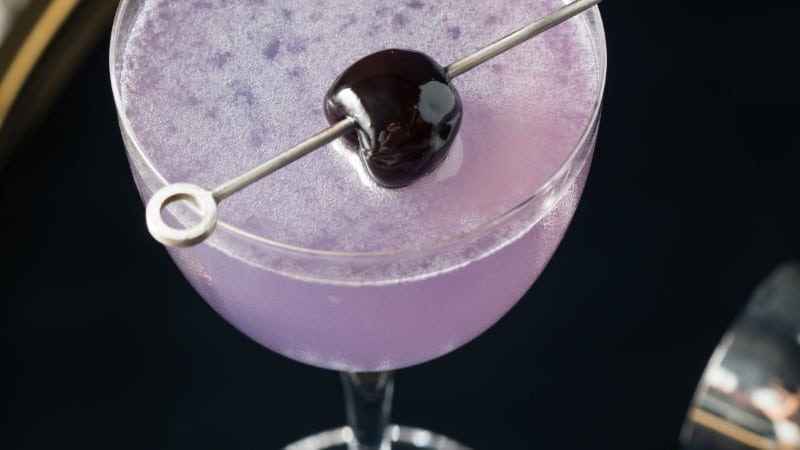 The Aviation is as beautiful to look at as it is tasty to drink. This lavender-colored, gin cocktail dates back to the early 1900s and was popularized in a New York City hotel. Although it was popular for a time, one of the cocktail's main ingredients, creme de violette, ceased importation, therefore, discontinuing the crafting of this drink for a while. Creme de violette, which is imported from Austria, was once again available in the states in 2007 commencing the return of the Aviation. This craft cocktail blends creme de violette, gin, maraschino liqueur, and fresh lemon juice in a sophisticated, chilled straight-up martini-esque cocktail. Not surprisingly, the Aviation is served in a martini glass and garnished with a cherry.
The Final Letter
The A list of drinks and cocktails deliver great taste, refreshing libations, and easy-to-make-yourself drinks you'll surely want to try. Whether you're looking for a new spin on your favorite martini or something refreshing to enjoy poolside, the A list has it all. Cheers!
---
Recent Recipes