All About Drinks & Cocktails That Start With The Letter O
The O list of cocktails is rife with strange names, obscure recipes, odd combinations, and lots of inspiration. Whether you're looking for new shots to get the party started or old classics that have been around for ages, the O list has it all. Take a peek.
Oatmeal Cookie
Though there are a few variations of the Oatmeal Cookie recipe, the origins are unclear. Nevertheless, an Oatmeal Cookie is as sensationally delicious as a fresh-baked cookie out of your oven. Of note, the Oatmeal Cookie is a shooter that's most commonly made with a mix of Goldschlager, butterscotch schnapps, and Irish cream. While some bartenders layer the three ingredients, others prefer to shake and strain them into a shot glass. Another possible twist to the recipe is to add cinnamon schnapps which deepens the shot's flavor. 
Obituary Cocktail
The Obituary Cocktail is a drink that purportedly has its roots in New Orleans nightlife. The name of the cocktail is a warning that this drink is not for the faint of heart. A strong and unique cocktail, the Obituary Cocktail should be sipped with care. The Obituary Cocktail, which is a spin on the classic Martini, calls for gin, dry vermouth, and absinthe. The former ingredient is the one that will put hair on your chest! The drink's ingredients are cold-shaken and strained into a chilled martini glass; it's left ungarnished. 
Old Etonian
First featured in the 1930s edition of "The Savoy Cocktail Book," the Old Etonian is yet another take on the gin Martini. Mixed and named for Eton College alums, who are post-collegiately referred to as "old Etonians," this cocktail was popularized in London. The Old Etonian is a concoction of dry gin, Lillet Blanc (which is an aromatic wine), creme de noyaux (an almond-flavored liqueur), and orange bitters. The ingredients are shaken in ice and strained into a coupe glass; it's garnished with an orange peel. The result of this unusual blend of ingredients is a nutty, aromatic, and slightly bitter cocktail. 
Old Fashioned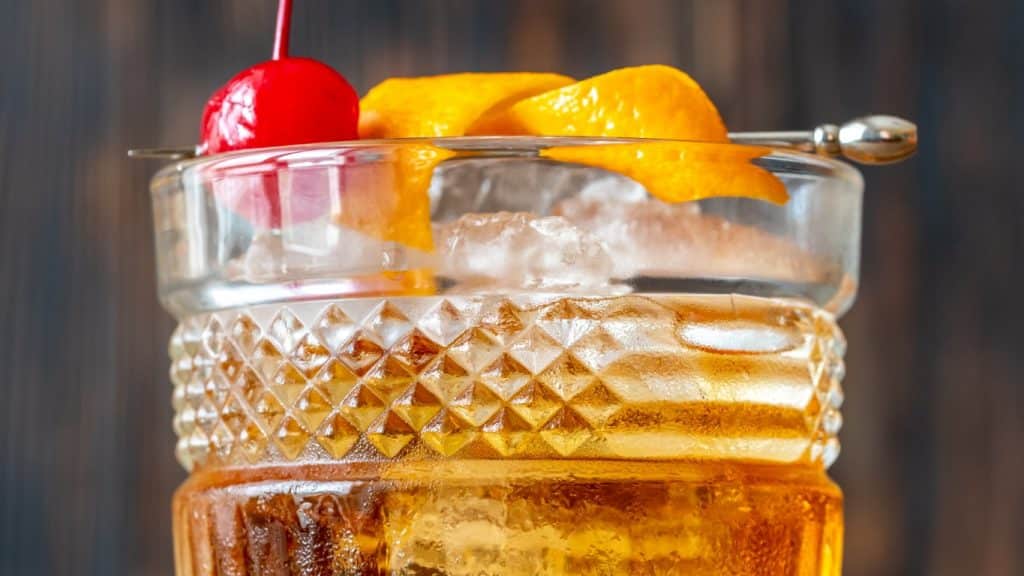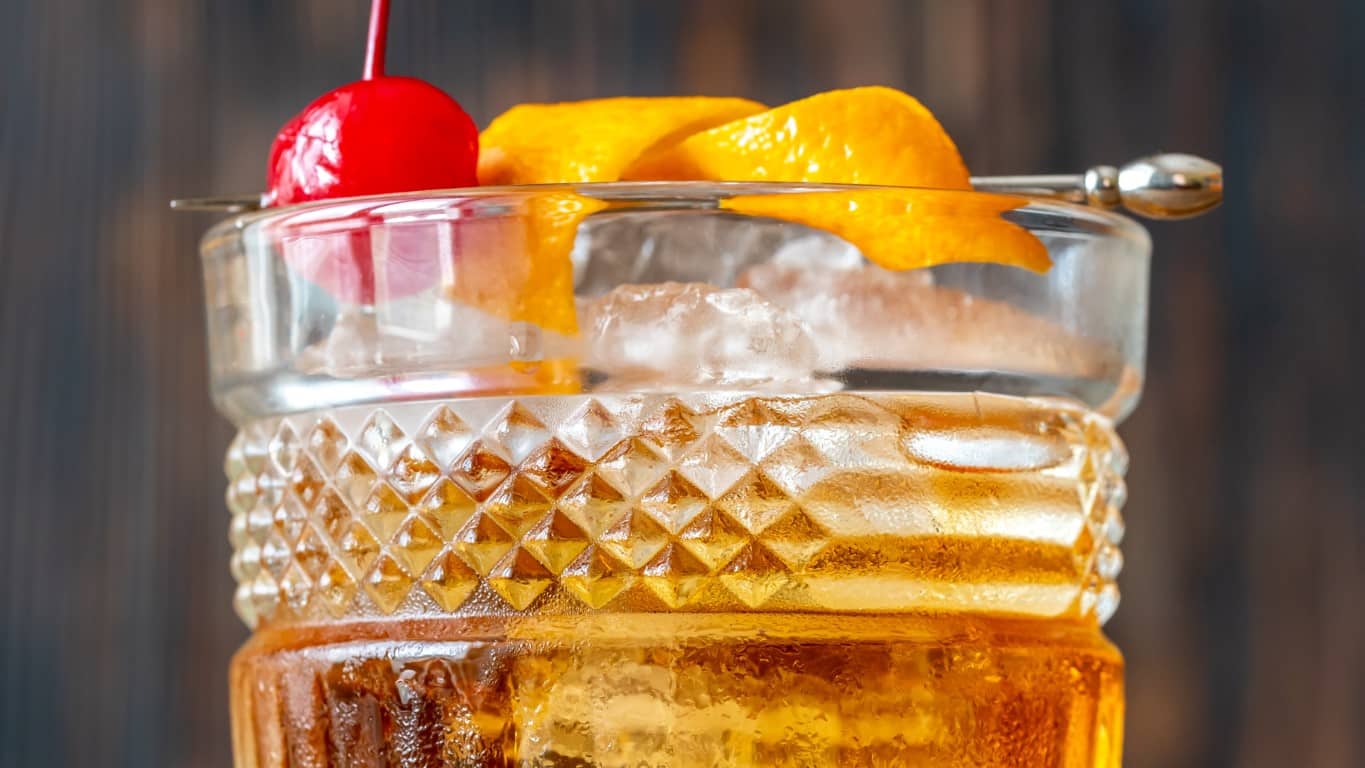 The Old Fashioned is just as old-fashioned as its name suggests; invented sometime in the late 1800s, the Old Fashioned has stood the test of time. One of the first cocktails taught to mixologists in bartending school, the Old Fashioned is well-known by bartenders but the most dreaded drink to make on a busy night. An Old Fashioned begins with a muddled base of fresh orange, cherry, simple syrup, and bitters. After muddling these ingredients in a rocks glass, ice is added which is then topped with whiskey and splash of water. The Old Fashioned is a classic cocktail whose recipe has been played with over the years. For instance, in the South, the Old Fashioned is made with brandy instead of whiskey. 
Orange Margarita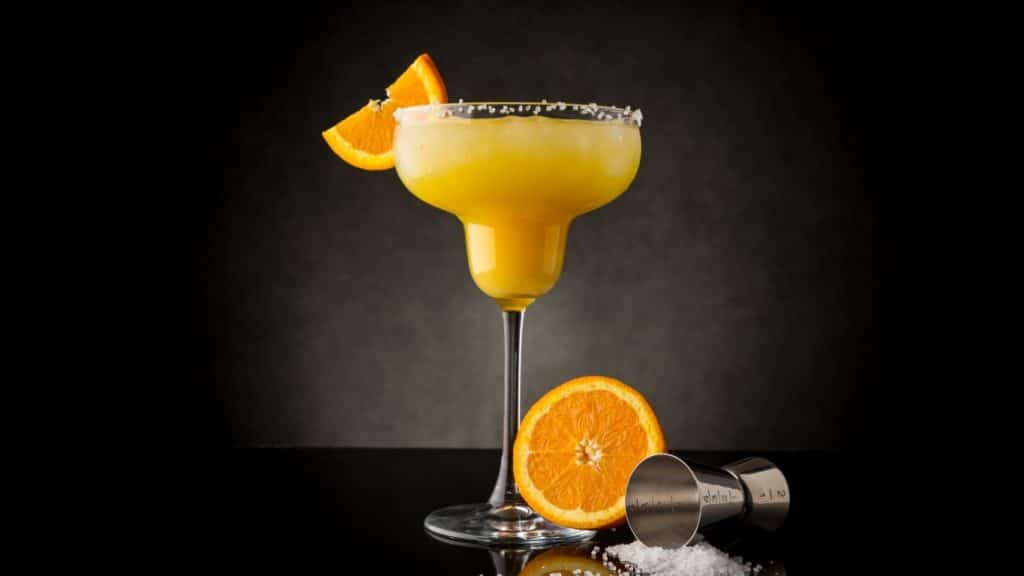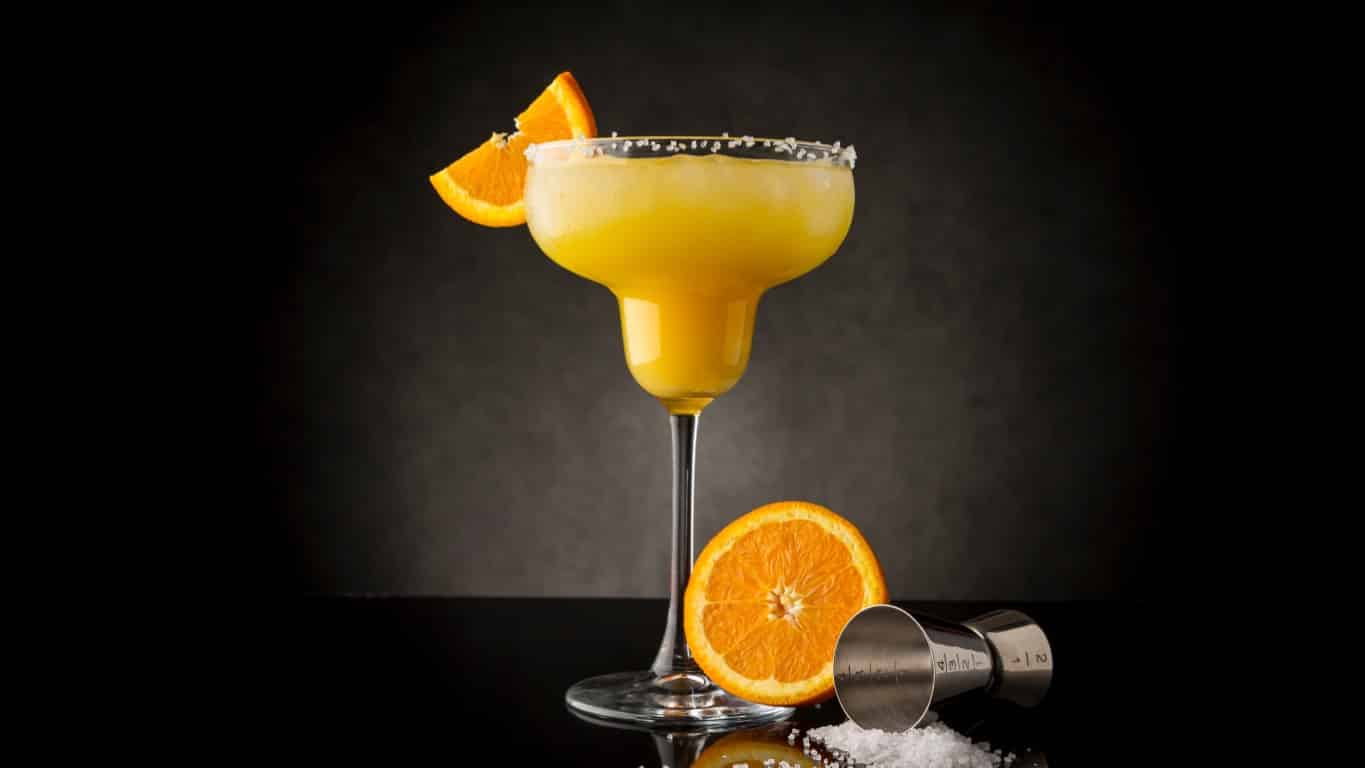 A sweeter and juicier variation of the classic Margarita, the Orange Margarita makes a simple tweak to the original recipe. Simply, the Orange Margarita substitutes freshly squeezed orange juice for the sour mix in the classic recipe. The orange juice along with the tequila, lime juice, and orange liqueur, is a divine blend. It's even fun to play with different orange varieties in perfecting your Orange Margarita. As with a classic Margarita, the Orange Margarita is served in a highball, with or without a salted rim. 
Orange Safari
The Orange Safari is a take on the classic Screwdriver recipe of vodka and orange juice. The Orange Safari, however, substitutes the vodka for Safari liqueur which is a fruit-flavored liqueur with notes of passionfruit, papaya, and mango. Safari gives this beverage a fruity, juicy, and tropical taste that's to die for. The Orange Safari is served over ice in a highball and can be garnished with an orange slice. 
Orange Tundra
First discovered in the early 2000s, the Orange Tundra was supposedly created by a college student attending Bowling Green University in Kentucky. A strange blend of ingredients with a surprisingly tasty outcome, the Orange Tundra requires perfect attention to detail. The Orange Tundra is made by slowly layering, in the following order, vodka, cream soda, coffee liqueur, and orange juice. It's made over ice in a highball and shouldn't be stirred before drinking. 
Orchard Breeze
The Orchard Breeze is a U.K. drink that was first noticed in 2003. The Orchard Breeze is a refreshing summertime drink that conjures aromatic orchard breezes with every sip. The Orchard Breeze is a mix of vodka, elderflower liqueur, sauvignon blanc, apple juice, and lime juice. The floral and fruity notes taste just like what an orchard smells like on a perfect sunny day. The ingredients of this cocktail are mixed over ice in a highball and garnished with a lime wheel. 
Orgasm
This versatile cocktail is a fun shooter to get the party started but it can also be sipped as a rocks drink too. The Orgasm first appeared on the bar scene sometime in the 1970s in Florida. The Orgasm is a sweet and creamy drink made with Irish cream, orange liqueur, and cream. If you plan to shoot yours, you'd shake it in ice and strain it into a shot glass. If you'd prefer to sip your Orgasm, which is a great way to have it as an after-dinner drink, you'd mix the ingredients over ice in a rocks glass. 
Ouzini
A superb cocktail to sip on a hot summer night, the Ouzini was developed by novelist Michael Paraskos in 2014. Since that time the Ouzini, which was crafted as an alternative to the Brandy Sour, has gained some traction. Notably, an Ouzini is made with Ouzo (an anise-flavored aperitif), bitters, lemon juice, and orange juice. The Ouzini is made over ice in a highball and garnished with an orange slice. The Ouzini is juicy and sweet with a heavy licorice flavor. 
Oyster Shooter
This unusual yet delightful shooter is said to have gotten its start in San Francisco in the late 1800s. If you love a briny oyster in and of itself and you've never tried an Oyster Shooter, you're missing out. Essentially, an Oyster Shooter is just what it sounds like: a shot containing a freshly-shucked oyster. Typically, an Oyster Shooter is made with the chilled vodka of your choice, one raw oyster, and a touch of homemade cocktail sauce. The ingredients are layered in a shot glass and down the hatch they go!
The Final Letter
With both sweet and tart and refreshing and hard-hitting gracing the O list of cocktails, there's truly a drink for every occasion. From the sophistication of the classic Old Fashioned to the debauchery-inducing vulgarity of the Orgasm, the O list runs the gamut.
---
Recent Recipes