Homemade Cocktail Sauce without Horseradish
Classic cocktail sauce is typically made with ketchup, prepared horseradish, Worcestershire sauce, lemon juice, and hot sauce, or some variation of those ingredients. I usually have a jar of prepared horseradish in my fridge. However, sometimes that jar has been sitting there for a little bit too long and I will forget to replace it. That is very frustrating when I want to make cocktail sauce.
I always keep a bag of frozen shrimp in my freezer. I can make a quick snack of shrimp cocktail when guests show up and I am looking for something to tide them over while I figure dinner out.
But what about that iffy jar of horseradish? First, some people just don't like horseradish. I can usually come up with something in a pinch that leaves out this ingredient and sell it as a recipe I am working on. I have often served boiled shrimp with Russian dressing that I make with ketchup, mayonnaise, pickle relish, and a splash of Tabasco. I have never gotten complaints when I have served that. But pickle relish is another item I have in the fridge that I often forget about.
It isn't a stretch to take the classic ingredients for cocktail sauce and make them taste really good without the horseradish. Prepared horseradish is naturally spicy and acidic. The grated horseradish is generally preserved in a vinegar base. To make a similarly tasting sauce without horseradish, you will need to increase the lemon juice and hot sauce to make up for that acid/heat deficit that is in the basic horseradish-infused recipe.
The recipe developed here does just that. And it works. I did some research on this and was getting confused with recipes that included sugar, mustard, and other things that just didn't seem right. When I tried the sugar and mustard, I basically made barbeque sauce — not for shrimp cocktail but okay for grilled shrimp. So, I went back to the basics and stuck with my instincts about increasing the acid and heat. I also added some seasonings.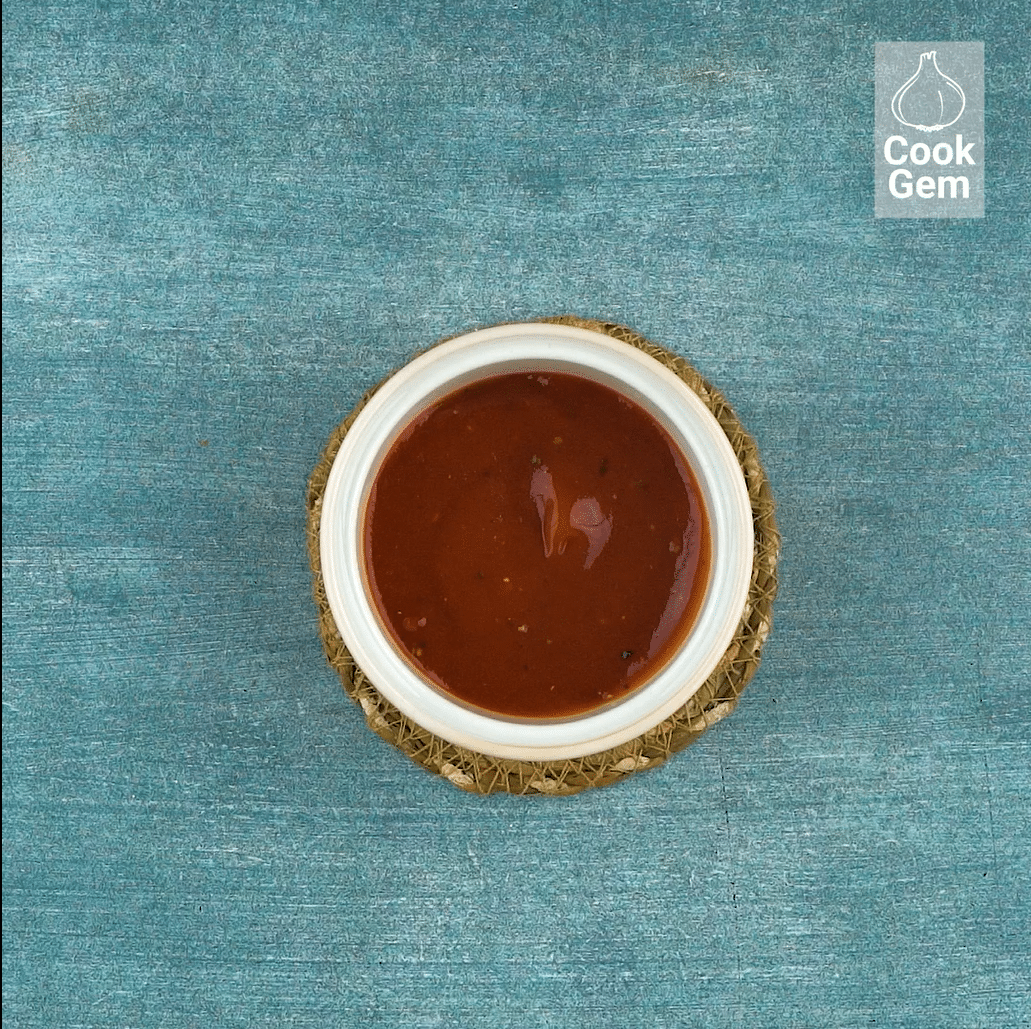 Ingredients
1

cup

ketchup

3

Tbsp

freshly squeezed lemon juice

1-1/2

tsp

Worcestershire sauce

1

tsp

chili powder

1/2

tsp

hot sauce

or sriracha

1/2

tsp

ground celery seed powder

1/4

tsp

freshly ground black pepper

optional
Instructions
Are all ingredients ready? Let's begin!

Start with adding 1 cup of ketchup.

Next, pour a 3 Tbsp freshly squeezed lemon juice.

Add 1½ tsp Worcestershire sauce.

Add chili powder, ground celery seed powder, and freshly ground black pepper.

Add ½ tsp hot sauce (or sriracha).

In a small mixing bowl, whisk together all the ingredients.

Serve in individual martini glasses or ramekins rimmed with cooked jumbo shrimp. Enjoy!
Video
Nutrition
Calories:
73
kcal
|
Carbohydrates:
17
g
|
Protein:
1
g
|
Fat:
1
g
|
Saturated Fat:
1
g
|
Polyunsaturated Fat:
1
g
|
Monounsaturated Fat:
1
g
|
Sodium:
574
mg
|
Potassium:
222
mg
|
Fiber:
1
g
|
Sugar:
13
g
|
Vitamin A:
459
IU
|
Vitamin C:
7
mg
|
Calcium:
18
mg
|
Iron:
1
mg
Notes & Tips
You do need to use fresh lemon juice in this recipe. The bottled juice is way too concentrated and sour.
When making this recipe, taste the sauce to see if you like it before serving. You can always add a little more ketchup, lemon juice, or hot sauce. You can't really take ingredients away, obviously.
You can make this cocktail sauce a day ahead. In fact, I recommend doing that so the flavors of the ingredients can come together. Just cover your container well and place it in the refrigerator.
Substitutions & Additions
If you happen to have chili sauce in your fridge, that is a really good substitute for cocktail sauce. You can add lemon juice to it and call it a day. That is super easy in a pinch.
I often have wasabi paste on hand because I do make nori rolls for an easy weeknight dinner. Wasabi is made from a root that is similar to horseradish. It is naturally spicy. You could add a little bit to your cocktail sauce for a kick.
Another ingredient that will add some spice is a tiny bit of ground mustard powder. Again, a little bit goes a long way in cocktail sauce.
If you don't have fresh lemons or limes for the acid component in the recipe, you could use vinegar. I would recommend the raw, unfiltered apple cider vinegar or red wine vinegar. And, I would use a little less than the lemon juice called for. Taste the sauce before you add more.
Creative Uses for Cocktail Sauce
Cocktail sauce isn't just for dipping boiled and chilled shrimp into. You can use it in so many other ways. Here are some ideas:
Fried mozzarella stick dipping sauce
Add into deviled egg filling
Mix into crab cake filling or top crab cakes
Dipping sauce for crab claws
Spoonful added to a bloody Mary
Top raw oysters
Mix with mayonnaise and sour cream for spreading on fish sandwiches or burgers
Make a compound butter to serve with your clam and lobster bake
Add to scrambled eggs
My dad did not cook too much, but he knew how to make a few things that were delicious. One of those was a Shrimp Louie Salad. Shrimp or crab Louie is a simple salad of iceberg or romaine lettuce with hard-boiled eggs, cherry tomatoes, sometimes avocado, and well-seasoned boiled shrimp or crab meat. He generally added Old Bay seasoning and some white wine to the boiling or steaming water.
The salad is coated with a creamy dressing that has pretty much all of the cocktail sauce ingredients plus a few other items. His version was cocktail sauce mixed with mayonnaise, a little Dijon mustard, sweet pickle relish, and a few extra dashes of hot sauce. He sometimes topped the salad with homemade croutons. It was yummy.
---
Recent Recipes