Key Takeaways
Whether low MGO or high-strength medicinal manuka honey, supplementing with this tasty natural sweetener grants countless health benefits. Anyone who's a fan of the flavor of wild honey will do well to treat themselves to a jar of manuka.
As little as one to two tablespoons, a day will steadily heal the gut while strengthening the immune system and clearing up any skin conditions and infections that may be present. It's a great sugar replacement and a must-try for anyone who needs an effective treatment or a supplemental therapeutic aid to conditions that call for antibiotics.
Just make sure that you pick from a reputable brand like Steens, Comvita, The New Zealand Honey Co., or any of the other reliable sources covered below, and you can rest assured that you've got the purity and strength needed to promote total wellness.
There's no denying the potent health benefits of manuka honey. From treating ulcers to speeding up the healing of wounds and destroying antibiotic-resistant pathogens, you'll be blown away by its properties. Pure manuka honey is a supplement that every health-conscious individual should consider, and we've got all the information you need to pick out the best brand for your body and loved ones coming up.
What Is Manuka Honey?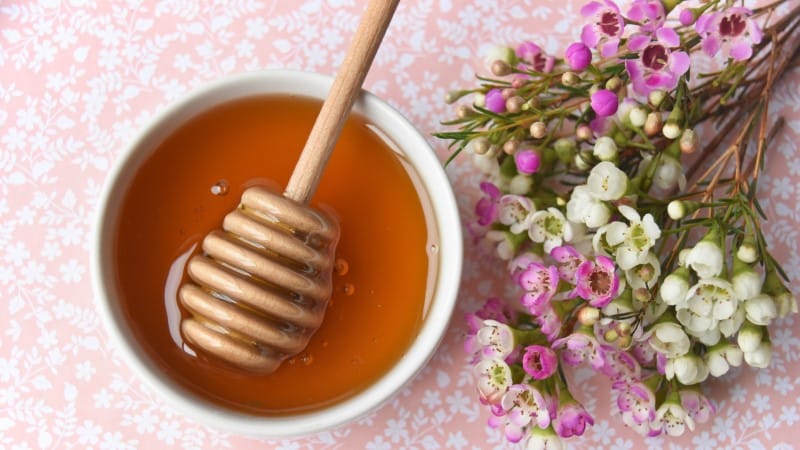 Manuka honey is dark honey with high microbial activity made by the European honey bee foraging on and pollinating tea tree bushes, or Leptospermum scoparium, which grow naturally throughout New Zealand and Australia. With antibacterial action that's one-hundred times or more than that of regular honey, manuka honey supports general total body health while destroying pathogens, including many types of antibiotic-resistant bacteria, when the right strength is taken regularly.
What Does Manuka Honey Taste Like?
Expect a subdued earthy sweetness with a bitter aftertaste, cooling menthol undertones, and floral highlights that can best be described as a midway point between heather and dark honey. Every brand of manuka honey has its own distinctive flavor ranging from light and sweet with a flat body to rich and strong with intensified dark sweetness comparable to caramel.
Best Places To Buy Manuka Honey Online
Pick from any of the leading manuka honey brands listed below, and you're ensured authentic active raw honey of the highest quality and purity.
Product Range: MGO 40, MGO 85, MGO 120, MGO 263 / UMF 10+, MGO 514 / UMF 15+, MGO 829 / UMF 20+, MGO 1122 / UMF 24+
Shipping: Free Shipping On Orders Over $50
Shopping Options: SteensHoney.com | Amazon.com | Walmart.com
Steens Honey is one of the finest brands available with a thorough quality assurance system. From its warehouses in the US, UK, and NZ, Steens has a global presence while offering home-to-hive traceability information on each label. Steens grants four different grading markers and thus cites methylglyoxal, NPA & leptosperin in addition to the UMF. With ample varieties to choose from, there's high-quality manuka honey to suit every budget at Steens. From the rich flavor to creamy texture of its products, you can't go wrong with this trusted retailer. There are even wholesale prices available to qualifying stores.
Product Range: UMF 5+, UMF 10+, UMF 15+, UMF 18+, UMF 20+, UMF 25+ | Multifloral MGO 50+ | Ultra-Premium Special Reserve MGO 1200+ UMF 25+ | Supplements For Kids | Bee Propolis | Olive Leaf Extract
Shipping: Free Shipping For US Orders
Shopping Options: Comvita.com | Amazon.com | eBay.com | Walgreens.com | Walmart.com
Comvita is a brand that's been in beekeeping since 1974. There's a huge variety to pick from, with both monofloral and multifloral manuka honey on offer. Those who value sustainability will most likely resonate with this brand, which is on track to be carbon positive by 2030. They're responsible for planting over 10 million trees, rescuing over 10 million bees from extermination, and setting over 200 bee hives in place. In terms of quality, Comvita's range and quality can't be faulted. Be on the lookout for additional products like bee propolis, olive leaf extract, and manuka honey solutions for kids. Even the prices are reasonable – this is one brand that's well worth a look.
Product Range: MGO 850+ / UMF 20+, MGO 600+ / UMF 16+, MGO 100+, MGO 50+, MGO 1123+ / UMF 24+ | Daily Honey Sticks
Shipping: Free Shipping On Orders Over $50
Shopping Options: Manukora.com | Amazon.com
Manukora Honey began as a company in a small town at the base of the Kamai mountains in New Zealand in 1998. Ever since, the company has expanded and thrived whilst collecting manuka honey from difficult-to-access locations throughout the country. The quality of each monofloral bottle from its collection is vetted by means of a QR code that delivers data concerning the individual sequencing of each product. There's a high-quality type of honey to suit just about every budget, and shoppers can look forward to finding convenient products like manuka honey in squeeze bottles and stick packets as well.
As the name suggests, WildCape Honey is sourced from the eastern expanse of New Zealand, commonly referred to as the Wild Cape. WildCape has been harvesting monofloral manuka honey from its own hives situated in a remote coastal region for over forty years. Leptosperin, dihydroxyacetone (DHA), and methylglyoxal (MGO) levels are all stated on each bottle. Like all good honey, the UMF and other ratings are confirmed by independent testing. What makes WildCape manuka honey different is its mild flavor in contrast to the rich, dark taste of most other brands. It is definitely worth a try for anyone who is looking for something lighter.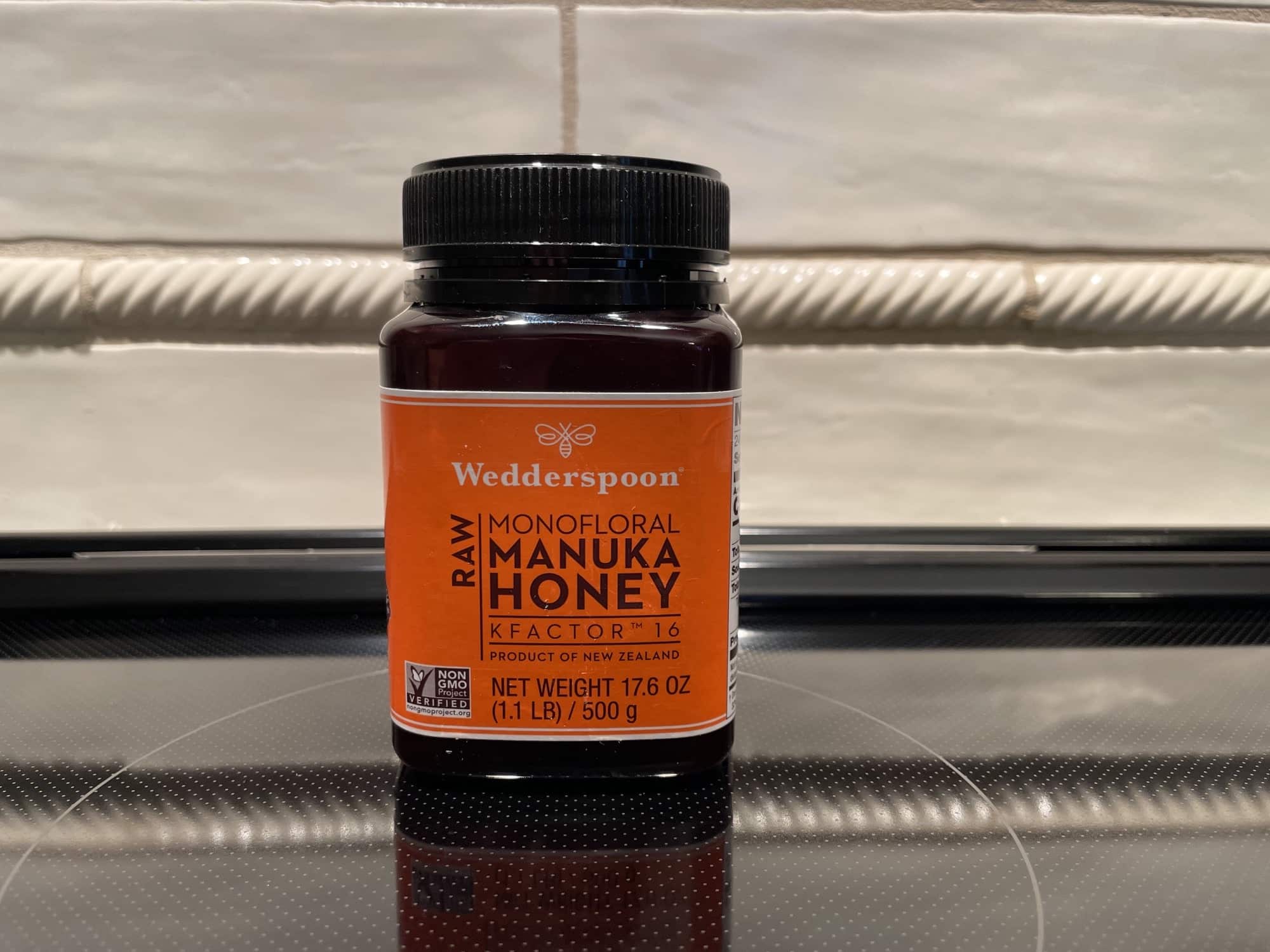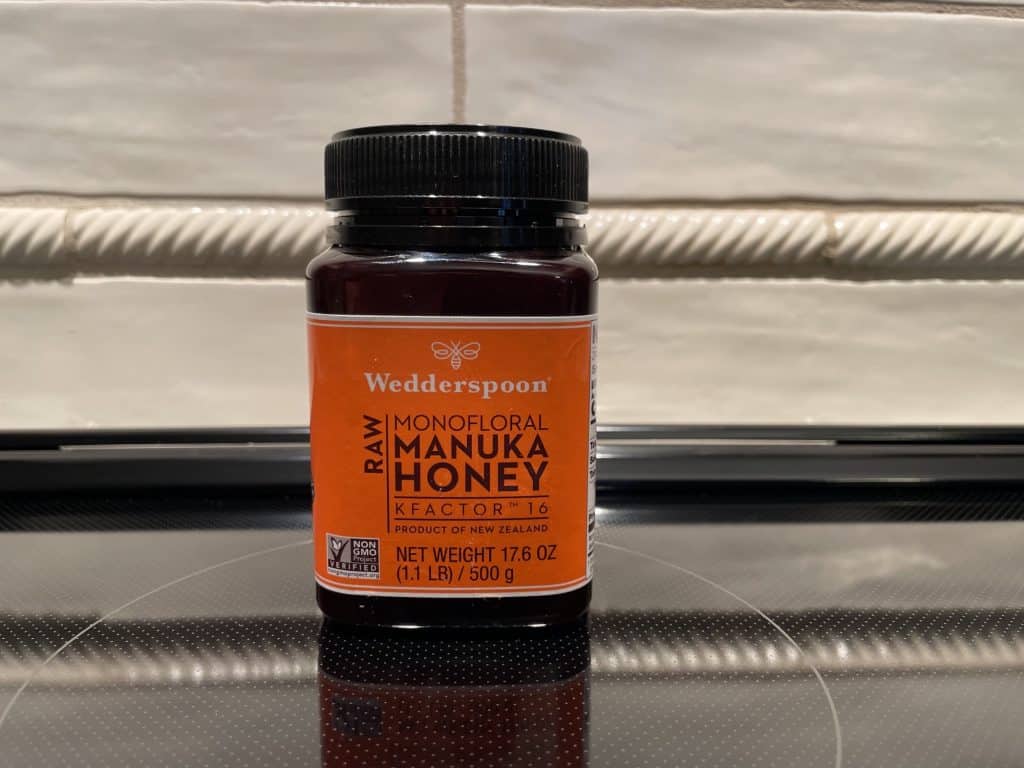 Product Range: KFactor 16, KFactor 12 (Jar & Squeeze Bottle) | Gummies | Lozenges | Beauty Products
Shipping: Free Shipping On Orders Over $25
Shopping Options: Wedderspoon.com | Amazon.com | Walmart.com
There's no denying the appeal of the well-known Wedderspoon brand of manuka honey. Instead of a UMF or MGO rating, Wedderspoon lists the KFactor of each of its products. Wedderspoon's monofloral range includes everything from immune boosting and digestive gummies in various flavors to manuka beauty products, bundles, and raw manuka honey in just about every strength you could hope for. As a brand featured by large publications like Women'sHealth, Elle, and Cosmopolitan, the raw honey is priced a little higher than similar competing products, but the other manuka honey items and bundles offer remarkable value. Even at its price, the pure, smooth, and tasty honey with a lingering sweetness is well worth its cost.
Manuka Doctor's high-grade medicinal honey has been around since 1901 and is today sold worldwide. The family-owned business maintains over 60,000 bee hives in the North and South of New Zealand. If you're looking for daily use multifloral or monofloral manuka, Manuka Doctor has you covered. Even though the company does keep lower MGO manuka honey in stock, it is far better suited to shoppers looking for high MGO honey. While the range peaks out at around 1025 MGO, the affordability will surprise you.
Product Range: UMF 15+, UMF 16+, UMF | Manuka Oil | Manuka Honey Soap, Throat Drops, Hair Care Products, Oral Hygiene Products, Ointment, General Health & Beauty Items | Pohutukawa Honey | Borage Honey | Bee Venom
Shipping: Standard UPS Shipping Charged
Shopping Options: ManukaHoneyUSA.com
Manuka Honey USA is headquartered on the East Coast of America but sources its authentic manuka honey from New Zealand. The company carries a UMF license of its own while sourcing some of its products from Cammel's Honey in New Zealand, which has been providing beekeeping products since 1974. Anyone who's on the hunt for manuka honey products and skin care solutions should give Manuka Honey USA a look. From manuka oil to manuka lozenges, propolis toothpaste, and more, you'll find some interesting, healthy products at great prices. It's also the ideal place to shop for larger than normal quantities of honey so keep this in mind if you're a bulk shopper.
Product Range: UMF 5+ / MGO 83+, UMF 10+ / MGO 263+, UMF 10+ Snap Packets, UMF 15+ / MGO 514+, UMF 20+ / MGO 830+, UMF 20+ Snap Packets, UMF 24+ / MGO 1122 | Acai Berry Powder, Cacao Powder, Camu Camu Powder, Chia Seeds, Maca Powder, Maqui Berry Powder, Moringa Leaf Powder | Various Spices | Assorted Supplements
Shipping: Standard Shipping Rates Apply
Shopping Options: KivaHealthFood.com | Amazon.com | Walmart.com | Sears.com
Kiva has a broad range of manuka products available and carries only pure honey with high MGO. Both the quality and flavor are very good even at the higher activity levels. Just like all other leading monofloral brands, each batch undergoes independent testing. Customers are free to check the details of the UMF grading of their bottle on the Kiva website by simply entering the batch number or scanning the QR code. The flavor is a little dark than competing mild brands, and the price is a little higher than some would expect, but the purity of both its composition and taste is what keeps customers coming back.
Product Range: UMF 5+ / MGO 83+, UMF 10+ / MGO 263+, UMF 15+ / MGO 514+, UMF 20+ / MGO 829+, UMF 24+ / MGO 1122+, UMF 26+ / MGO 1282+
Shipping: Free Shipping On All International Orders
Shopping Options: NewZealandHoneyCo.com | Amazon.com
You'll only find pure, high-quality manuka honey available from the New Zealand Honey Co. No other products other than a branded serving spoon. The New Zealand Honey Co. has competitive prices for high-end manuka honey that comes with the opportunity of being discounted by means of a generous loyalty program. Anyone who shops for manuka monthly has to check out the rewards system, whereby every dollar spent earns a point. From 100 points, a discount of $10 upwards can be redeemed against any purchase. The honey undergoes testing via two private laboratories to verify its composition has a clean, sweet taste that's a little on the dark side even when opting for a low MGO honey.
Product Range: 850+ MGO | Manuka Honey With Herbs | Manuka Honey With Cacao | Chlorella Spirulina Powder
Shipping: Standard Shipping Charged
Shopping Options: GoodNatured.info | Amazon.com | eBay.com
Good Natured is an Australian brand certified by the Australian Manuka Honey Association. In addition, every batch undergoes independent testing. Even though the MGO levels are consistently high across the range, this raw honey is loved by fans for its rich flavor. It's not only medical-grade manuka but extremely rich and satisfying in flavor as well. Shoppers who end up fans of the brand will also be happy to know that chlorella spirulina is available in tablets and powder for both humans and animals as well.
Product Range: UMF 5+ / MGO 100+, UMF 10+ / MGO 250+, UMF 12+ / MGO 400+, UMF 15+ / MGO 515+, UMF 20+ / MGO 800+, Blended Manuka Honey MGO 30+
Shipping: Free Shipping On Orders Over $49
Shopping Options: FloraHealth.com | Amazon.com | iHerb.com
Flora Health has specialized in natural foods since 1965. Today, the company carries a diverse range of affordably priced, high-quality products that includes six different types of manuka honey sourced from a beekeeping company in New Zealand that is entirely owned by native Maori. The honey comes from several islands in the region. Just like most leading brands, simply scan the label, and you can trace the exact origin of your manuka honey and see its lab test results. Expect a flavor with prominent menthol-like notes, very low sweetness, and a subdued bitterness that lingers.
Product Range: UMF 5+, UMF 10+, UMF 15+, UMF 20+, MGO 50+ | Liquid & Squeezable Honey | Manuka Honey Sticks | Manuka Honey Skin Care Products | Manuka Oils | Lozenges | Oral Health Products | Bee Pollen | Bee Venom | Propolis | Royal Jelly
Shipping: Standard DHL / FedEx Shipping Rates Charged
Shopping Options: HappyValley.co.nz | Amazon.com
Happy Valley Honey has been a family-owned business specializing in manuka honey for over six decades. As a result, you'll find just about every manuka honey product you could hope for as well as a range of manuka oils, beeswax, propolis, bee pollen, bee venom and royal jelly available. Whether it's skin care products, squeezable honey, or high MGO and UMF manuka, Happy Valley has it all at competitive prices. Customers love Happy Valley manuka honey for its pure earthy flavor, creamy texture, and high levels of its active constituents. All varieties of manuka honey from the company carry a caramelesque sweetness but remain dark and strong.
Product Range: NPA 5+ / MGO 150 +, NPA 10+ / MGO 260+, NPA 20+ / MGO 800+, NPA 25+ / MGO 1200+, NPA 28+ / MGO 1443+, NPA 31+ / MGO 1717+, MGO 2000+ | Lozenges | Manuka Honey Straws | Manuka Honey Superfoods
Shipping: Free Standard Shipping On International Overs Over $350 AUD / $240 USD
Shopping Options: Biosota.com.au | Amazon.com
The Australian firm BioSota Organics stocks some of the strongest manuka honey around. It is about the only place that you'll find MGO 2000 manuka on offer, but prospective customers should be warned – this is a limited edition. All customers are covered from MGO 30+, and shoppers will be happy to find one of broadest varieties of manuka honey products like lozenges, straws, and superfood blends readily on offer. If you're looking to gift someone manuka honey, BioSata gift boxes should be a prime consideration. From the product diversity to surprisingly low prices, there's every reason to shop at BioSata.
ManukaGuard is a brand of medical-grade manuka honey from New Zealand that comes in a broad range of different strengths and forms. There are nasal sprays for boosting the immune system, cleansing sinuses, and keeping kids free from congestion. Manuka cough & throat syrups are effective and affordable just like the rest of the range. There's even a manuka honey heartburn remedy readily available as well. The raw honey and honey-based products are extremely well priced so prepare to be blown away by the affordability.
Product Range: MGO 30+, MGO 100+, MGO 200+, MGO 550+ | Skin Care Products | Gift Packs
Shipping: Free Shipping On Orders Over $50
Shopping Options: NelsonHoneyUS.com | Amazon.com
Nelson Honey US may be an American brand, but the manuka honey is sourced from pioneering New Zealand beekeepers who have been excelling at their trade since 1899. Honey is harvested from the remote forests and gorgeous bays of New Zealand's South Island. Shoppers will find some of the highest MGO manuka honey around in stock at Nelson Honey, and while the range isn't as broad as many would hope, the quality is remarkable. Expect dark viscous honey with strong earthy and menthol tastes.
Product Range: MGO 350+, MGO 550+, Blended Honey
Shipping: Standard Shipping Rates Apply
Shopping Options: BeesandTrees.com | Amazon.com
Honey from Bees & Trees may be coming from New Zealand, but it doesn't carry a UMF rating. Instead, the three different varieties on offer have been laboratory tested to confirm their purity and MGO level. Don't let this deter you because all Bees & Trees manuka honey comes from the Taranaki Hillsides of New Zealand and is harvested in small batches only. The company is indeed reputable and offers up much lighter honey than manuka honey fans have come to be used to. Even the high-activity manuka is a golden hue that's closer to orange than brown. As a result, shoppers can expect a much sweeter flavor than the dankly earthy, richly menthol-like taste of most other brands. The cost is a little higher than one normally finds but the antibacterial level in each of the three offerings is outstanding, and all are tasty enough to eat on just about anything while serving as sweet, satisfying sugar replacements in beverages.
Product Range: UMF 8+, UMF 10+, UMF 15+ | Manuka Honey Skincare Products
Shipping: Free Shipping On Orders Over $50
Shopping Options: MeloraLife.com | Amazon.com
Melora Life Manuka Honey is one of the most ethically and sustainably sourced varieties based on the company's ethical harvesting program, which takes place across the East Coast of New Zealand. Melora shares the sales equally between owners, beekeepers, and honey processors. The company's Mānuka Originz program lets shoppers trace the origin of their honey straight to the source. There's raw manuka honey across various activity levels and a broad selection of manuka skincare products available from Melora. The majority of varieties have a very earthy but light taste with slight sweetness as opposed to the strong but creamy caramel-like flavor of competing products.
Product Range: UMF 5+, UMF 10+, UMF 15+ / MGO 515, UMF 20+, UMF 25+ | Manuka Honey Snappaks | Clover Honey | Rewarewa Honey
Shipping: Standard Shipping Rates Apply
Shopping Options: OnukuHoney.com | Amazon.com
Onuku Honey sells premium manuka honey from New Zealand, and like most of the leading brands overviewed, it comes with both an MGO and UMF grade that has been independently verified. There's also ApiTrak authentication that allows for seamless track and tracing by anyone who wants to verify the purity, standards, and origin of all Onuku products. Despite the company's monofloral range carrying high MGO levels, the pricing is surprisingly low. One innovative addition to the product line that fans will love is the manuka honey snap packs containing a single generous serving of honey that's generally enough for toast, tea, or coffee.
Product Range: MGO 100 + Manuka Honey
Shipping: Standard Shipping Rates Apply
Shopping Options: Adagio.com
Manuka Honey from the family-owned company Adagio Teas comes from Australia and therefore doesn't come with a UMF grade. This isn't, however, a reflection on the quality as honey from Adagio is 100 MGO which means it's equivalent to UMF 15 or more. There's only one type available, but the flavor reportedly has a pronounced menthol base that underlies the rich, dark taste of honey that, in the case of Adagio manuka, tastes rather malty. The texture is also a step above many brands, arriving silky smooth and easy to handle. Don't shop Adagio Teas if you're looking for an expansive variety to pick from, but we do suggest giving it a try if you want to test out something new that's tasty enough for eating but healthy enough to use as a supplement. You will also find a ton of other high-quality non-manuka health products on offer.
Product Range: MGO 5+, MGO 10+, MGO 15+, MGO 20+, MGO 60+, MGO 150+, MGO 300+, MGO 500+, UMF 5+, UMF 8+, UMF 10+, UMF 15+, UMF 20+ | Blended Manuka Honey | Flavored Manuka Honey
Shipping: Free Shipping On Orders Over $35
Shopping Options: ShopPRI.com | Amazon.com | Walmart.com | eBay.com
Pacific Resources International (PRI) is a company that specializes in authentic products from New Zealand and Australia. As a result, shoppers will find manuka honey that's both UMF and MGO rated. Whether you're buying manuka from the PRI manuka selection, the Australian range, or the UMF manuka from New Zealand, the quality, flavor, and texture are outstanding. PRI easily has one of the broadest selections of raw honey available. There's a great selection of bundled deals, wellness products, and sweet treats of the finest quality available at PRI. In terms of flavor, expect a more subdued taste than other manuka honey varieties. The dark quality isn't quite as bold and earthy as the competition, and many describe the sweetness as diluted in essence.
Product Range: UMF 5+, UMF 10+, UMF 15+, UMF 20+, UMF 23+, UMF 20+ / MGO 829, UMF 15+ MGO 514, UMF 10+ / MGO 263, UMF 27+ / MGO 1360+ | Lozenges | Lollipops | Gift/Multi Packs
Shipping: Free Shipping On Orders Over $1000 (Shipped Direct From NZ)
Shopping Options: EgmontHoney.co.nz | Amazon.com
UMF Rated manuka honey from Egmont Honey is harvested by a family-owned beekeeping business situated in South Taranaki, New Zealand. Like all major brands, each batch is independently tested and certified as the type of monofloral manuka it is classified as. Prices are lower than one would expect across the board, and the product range reaches all the way to MGO 829. Egmont Honey is so popular that the higher UMF rating kinds of honey are typically sold out, so be sure to snatch up anything you decide on quickly. The company's store has every strength shoppers could hope for as well as lollipops and multi-packs.
Mother Earth is the house brand of Trader Joe's. Mother Earth's manuka honey is sourced from their beekeeping operations involving roughly 3.25 million bees across over 6,500 hives. There's no origin tracing like with many of the other brands, but Mother Earth's manuka is authentic. The New Zealand-based company carries a range of UMF-graded monofloral manuka honey, a separate range of manuka that's multi-floral and MGO rated alone, and a selection of affordable multiflora manuka honey for daily use as a sweetener as well. The broad product range ensures that there's something for all budgets and the flavor across the board is reportedly amazing.
Product Range: UMF 5+, UMF 10+, UMF 15+, UMF 20+ | Liquid Honey | Clover Honey | Bush Honey
Shipping: Standard Shipping Rates Apply
Shopping Options: Amazon.com
Product Range: UMF 10+, UMF 15+, UMF 20+
Shipping: Standard Shipping Rates Apply
Shopping Options: Amazon.com
Bee's Inn is a brand of New Zealand manuka honey that you'll only find on Amazon.com. Despite the online brand presence only, the quality of Bee's Inn honey is outstanding. All honey is UMF graded and sourced from North Island in New Zealand in a remote vicinity to the South of Hamilton. The high MGO levels are apparent in the taste, which most describe as medicinal and boldly earth. Don't let the lack of exposure scare you away from this company's outstanding products. From the appealing mild flavor to the price point, consistency, and sheer quality, Bee's Inn honey could well become your new favorite brand of manuka honey.
Best Manuka Honey Reviews
All of the brands listed above can be relied on for their quality. Yet, are you stuck trying to decide which to try? Here is a breakdown of four of the best types of manuka honey based on their strength and use-case scenarios.
The highest strength manuka honey available is from Biosota Organics but comes in a limited edition release only. To begin with, Biosoto has released 500 jars of their ultra-high MGO pharmaceutical-grade honey. The container even comes with a special humidity and temperature sensor lid to ensure that your valuable purchase stays in perfect condition. Even the jar is designed to block out sunlight, thus preserving the prime Australian manuka honey. At the equivalent price of just under $430, it'll only be the affluent or those treating difficult medical conditions that opt for Biosota MGO 2000+, but there's nothing quite like it at the time of writing. Biosotas limited edition is a whopping 700 MGO higher than the competition at a minimum.
The New Zealand Honey Co. has some of the best quality manuka honey in the world, and the company's UMF 26+ honey with 1282 or above MGO is an excellent choice for someone looking to supplement with high-strength manuka over an extended period. Unlike the highest MGO manuka honey reviewed, this honey isn't a limited edition which means that it is readily available throughout the year. Those who plan to purchase this high-strength honey frequently should consider a subscription service to net themselves a saving of just under $20 per replacement.
Steens Honey has some of the highest purity blends around, and the company's mid-range offering presents remarkable value. Steens UMF 15+ Raw Manuka Honey has an MGO rating of 515 and costs under $50. Despite having high methylglyoxal levels, the flavor remains mild and sweet with a dark underlying foundation and an easy-to-dispense creamy texture. Shoppers will also be pleased to know that steens run frequent promotions on their UMF15+ honey. At the time of writing, buying a 7.9-ounce jar rewarded customers with a free MGO 400+ jar of manuka honey which is ideal for use as a general sweetener. Whether you're buying for the health benefits or the flavor, Steens UMF 15+ is the ideal midway point available at a highly competitive price.
The ever-popular brand Comvita has two product lines made specifically for kids. Both are based on a basis of UMF 10+ certified manuka honey. Comvita Kids Day-Time Soothing Syrup blends manuka honey and ivy leaf extract to promote wakefulness and focus, whereas the Night-Time Soothing Syrup is made with manuka honey and camomile to facilitate restful sleep. Both blends soothe sore and irritated throats and chests while delivering a healthy dose of Vitamins C, D, and Zinc to provide comprehensive immune support. Comvita's daytime syrup carries an orange flavor, whereas the night blend is grape, and both varieties are tasty enough for kids of all ages to fall in love with.
In terms of a balance between infallible quality, come-back-for-more flavor, and affordability, there are few brands that can compare to Kiva UMF 5+ (MGO 83+) honey. There are no glyphosates. Like all of Kiva's manuka honey, every batch is fully traceable, and customers rave over the taste and texture. It's the ideal choice for those who want to use their honey as a general sweetener or atop snacks like toast and desserts while reaping the medicinal benefits of manuka without breaking the bank.
How To Choose Manuka Honey?
In regions like New Zealand, Australia, and the neighboring islands, manuka honey is consumed for its flavor and not its health benefits specifically. We suggest deciding whether you're looking for a new tasty honey-like spread to brighten up breakfasts and mid-day snacks or if you're buying it primarily as a health supplement. From this standpoint, one can determine a budget and the UMF or MGO rating range to look for.
Here's a general breakdown of the various strengths of manuka honey and what they're generally best suited for.
| | |
| --- | --- |
| Everyday Use As A Sweetener | MGO 30+ |
| General Health Support | MGO 100+ |
| Digestive Health Benefits & Antibacterial Action | MGO 200+ |
| Topical Use & Dedicated Healing Purposes | MGO500+ |
Manuka Honey Grading Systems
Manuka honey exported from New Zealand is graded according to two factors, namely UMF and MGO. The MGO rating is reflective of the concentration of the organic compound methylglyoxal, which gives manuka honey its powerful antibacterial properties. It is a simple and far more direct assessment that's easier for manufacturers to perform thanks to the single value being measured.
The Unique Manuka Honey Factor (UMF) assesses the purity and is a creation of a private organization called the UMF Honey Association based in New Zealand. UMF-graded manuka honey is tested for four components to gauge the quality, namely leptosperin, which is the primary and most dominant compound. Secondly, the methylglyoxal levels are tested. The third test is an assessment of the dihydroxyacetone levels, which are the unique carbohydrate metabolites present in manuka honey. Finally, UMF measures the hydroxymethyl furfuraldehyde (HMF), which reflects the breakdown of sugars in fresh honey.
KFactor
While in limited use, the KFactor is yet another measure of quality and purity. The KFactor is a grading system that assesses the guaranteed pollen count from manuka flowers which grants a reflection of the purity. Wedderspoon currently uses the KFactor grading system. KFactor 12 manuka honey is multifloral, whereas KFactor 16 and above are monofloral varieties. The higher the number, the purer the manuka honey.
NPA Rating
The scarcely used NPA rating is a measurement of manuka honey's non-peroxide activity. Manuka honey's non-peroxide activity comes from the concentration of methylglyoxal present. There's a direct correlation between the MGO and NPA. A higher NPA means that the antibacterial and antiseptic action of manuka honey will stay stable without degradation for longer. It also indicates the degree of antibacterial activity. Certain kinds of honey will list the NPA aside from the MGO and UMF, whereas others state the NPA alone.
How To Use Manuka Honey?
There are endless ways to incorporate manuka honey into a diet, but most people who are supplementing specifically for the health benefits typically eat a tablespoon or two of honey as is. Give it a try on toast or as a sweetener in any of your favorite beverages or baked goods like our delicious homemade honey walnut bread. Manuka honey can be applied topically to wounds to promote rapid healing as well.
How Manuka Honey Is Made
Bees convert dihydroxyacetone found in the nectar of manuka flowers into methylglyoxal which grants manuka honey its earthy, almost medicinal menthol-like taste and its antibacterial action. The manuka flower is only in bloom for between two and six weeks of the year, which is yet another factor that raises the price of this powerful, tasty health supplement. Beekeepers harvest the manuka honey from colonies without any additional heating or processing which is why all honey is branded as raw.
Manuka Honey Benefits
The unusually high level of methylglyoxal (MGO) in manuka honey that gives potent antibacterial action makes this rare variety of honey a very versatile healing supplement. There are so many different individual conditions that manuka honey helps for that it is largely considered a superfood. Let's take a closer look at just a few of the ways that regular consumption of manuka honey can promote good total health and heal the body.
Manuka Honey Immune System Boost
Regular honey is a known therapeutic aid to stimulate the healing of wounds by means of boosting cytokine production from monocytes. Manuka honey has even stronger inflammatory cytokine production enhancing properties. Cytokines bolster the immune system leading to a reduced immune response while also helping the immune system grow strong enough to start fighting tumors and other pathogens.
Natural Antibiotic Acton
The concentration of methylglyoxal and phenols in manuka honey grants it powerful antibacterial action. Its rich phenolic composition combined with the methylglyoxal concentration allow manuka honey to treat both gram-positive and gram-negative bacteria that have become resistant to other antibiotics. Conventional pharmaceutical antibiotics destroy bacteria by breaking down the cell wall, which isn't always possible, resulting in antibiotic-resistant bacteria. The antibiotic action of manuka honey works differently. Instead of destroying the cell wall, it starves pathogens of oxygen and, therefore, effectively eradicates many infections that regular medicines can't.
Manuka Honey For Wounds
Applied topically or ingested, manuka honey promotes the quick healing of wounds across the body. Any variety of honey with a high enough concentration of sugar alone hinders microbial growth, thus killing bacteria and promoting effective healing. Manuka honey is not only ultra-high in sugar, but it also contains exceptional levels of methylglyoxal and phenols. Unlike antibiotics which eradicate the cell wall of bacteria, honey draws moisture away from the habitat, which means that wounds lose any odors as the source of infection is destroyed, and damaged tissue at the wound site begins breaking down rapidly.
Digestive Health Benefits
Manuka honey's exceptional antioxidant activity is excellent for digestive health, and the high levels of methylglyoxal have no negative effect on gut microbiota. Quite the contrary. Supplementing with manuka honey with a UMF rating of 20 or more is proven to improve the growth of the probiotics Lactobacillus reuteri, Lactobacillus rhamnosus, and Bifidobacterium lactis while inhibiting pathogens at the same time. The non-peroxide antibacterial effect of manuka honey is specifically effective against Helicobacter pylori which is the bacteria responsible for stomach ulcers and a range of other digestive issues, including bloating, nausea, and a general loss of appetite.
Manuka Honey Skin Benefits
Both applying manuka honey to the wound site and consuming it reduces pain and inflammation, which allows cuts, abrasions, infections, and other skin conditions to heal quickly. The inflammatory response of manuka honey is so strong that it's even useful for combating eczema and skin conditions like psoriasis and dandruff.
Manuka Honey Hair Benefits
Manuka honey mixed with a little water to make it workable and applied to the scalp both improves scalp health and bolsters hair health. The honey's protein strengthens strands of hair while locking in moisture. Regular use of manuka honey results in softer, shinier hair with less frizz, greater volume, and far better overall health. Manuka honey's antioxidants can even reverse damage to the scalp and follicles.
Manuka Honey For Dental Health
Applying Manuka honey straight to the gums is an effective treatment for oral conditions like gingivitis, general inflammation, dental infections, abscesses, and bleeding gums. Simply rub a teaspoon of high MGO manuka honey directly onto the painful or inflamed area two to three times a day, and you should begin noticing a significant improvement within a week.
Manuka Honey MGO Vs. UMF
Both UMF and MGO are grading systems, but the MGO rating is simply a representation of the methylglyoxal levels in the manuka honey, whereas the Unique Manuka Factor (UMF) rating involves testing for dihydroxyacetone and leptosperin, which are key authenticity markers. UMF is the more advanced grading and, therefore, the clearer rating of purity and quality, whereas MGO is easier to test and thus more straightforward for manufacturers to list.
Manuka Honey Mono Vs. Multi
Monofloral manuka honey is always preferred over multifloral honey, as monofloral honey guarantees harvesting from a single source of nectar. Multifloral honey, on the other hand, has been harvested from a range of different plants. For the greatest health benefits and the purest flavor, pick monofloral manuka, honey as it has the greatest antibacterial action.
Manuka Honey Vs. Regular Honey
Regular honey is harvested from an assortment of different plants, whereas manuka honey comes from the flower of the manuka bush only. Manuka honey has more than 100 times the antibacterial activity of regular honey. Its high concentration of the antibacterial agent methylglyoxal that's present in manuka but not in regular honey grants such effective health support that it often leads to manuka honey being called medicinal honey. Additionally, manuka honey also exhibits non-peroxide activity (NPA), which translates to an ability to heal infections by destroying bacteria and lower pH levels.
Beware Of Fake Manuka Brands
One can't forget that manuka honey is an imported product that will arrive at a reasonably higher-than-normal price as compared to regular honey. Cheap manuka honey from a relatively unknown brand should always be checked out thoroughly prior to relying on it as a supplement.
How To Tell If Manuka Honey Is Real
Real manuka honey will always state the concentration of methylglyoxal (MGO) on the label at the very least, and it will always be made in New Zealand or Australia. Shoppers should also ensure that they buy a mono-floral brand of manuka honey and not multi-floral or blended honey if purchasing manuka for the health benefits specifically and not the flavor. Finally, to test the purity of manuka honey, there are two main methods available.
Cold Water Test
Drop a tablespoon into a glass of cold water. Real manuka honey will slowly ooze its way to the bottom and settle into a blob, while fake honey mostly dissolves into the water.
Fridge Test
To test whether manuka honey is pure or mixed with artificial sugar solutions, place it in the fridge for a few hours. Adulterated manuka honey will begin to harden and crystallize within just a short while in the fridge. Pure manuka will remain viscous and easy to dispense.
Frequently Asked Questions
If you're leaving wondering anything about manuka honey at all, our frequently asked questions will clear up all confusion.
How Long Does It Take For Manuka To Work?
As a natural treatment, manuka honey should be consumed daily over an extended period lasting months to reap the greatest rewards. The antibacterial, anti-inflammatory, healing, and immune-boosting effects may be noticed as soon as after seven days of treatment, but this duration is variable.
Where Does Manuka Honey Originate?
As honey made from the pollen of the Leptospermum scoparium, manuka, or 'tea tree' bush, Manuka Honey is native to New Zealand and Australia. New Zealand has the greatest number of manuka bushes growing in the wild and is responsible for 80% of global manuka honey production. In many other countries, you find the right species of bush scattered amongst far too many other plants, but there simply aren't enough bees in the vicinity nor the specificity of foliage to produce manuka, honey.
What Color Is Real Manuka Honey?
Authentic manuka honey starts off as a dark, rich cream shade that deepens to brown as the honey ages. Envision the color of honeydew just a darker hue that grows closer to the color of molasses as it ages. Eventually, when manuka honey gets really old, it begins to crystallize and develop cloudiness.
Is Manuka Honey Vegan?
Manuka honey, like regular honey, is not vegan safe. Vegans cannot supplement with manuka honey as it is a product processed by bees which means that it often leads to the exploitation of bees when sustainably farmed.
How Much Manuka Honey Per Day?
Manuka honey is very high in sugar, and consumption should therefore be limited. In order to reap health benefits from consuming manuka daily, you'll have to have between 1 to 2 tablespoons (15 g) a day. Feel free to take it whenever is preferred, but we recommend once in the morning and once at night before bed.
Can Manuka Honey Heal Ulcers?
Clinical studies show that manuka honey's effects promote the healing of chronic ulcers thanks to its profound antioxidant and anti-inflammatory properties. While the effective treatment of acetic acid-induced gastric ulcers was proven in rats, the number of gastric lesions dropped significantly following treatment, and the formation of new ulcers was inhibited as well. Similar effects are found in humans. Treatment has no negative side effects, and the manuka honey was proven to penetrate deep into the gastric mucosa and submucosa membrane as well as the muscular layer, which means it works in a gastroprotective and ulcer healing capacity. 
Can Manuka Honey Help With Allergies?
There is no direct connection between the active ingredients in manuka honey and suppressing allergies. Manuka honey doesn't function like an antihistamine, but the primary constituent, methylglyoxal, does ease many of the allergic symptoms like clearing away the mucus at the root of nose, throat, and chest irritation.
Is Manuka Honey Good For Acid Reflux?
Taking manuka honey quells inflammation in the stomach and heals the digestive tract, which addresses the problems that cause acid reflux. However, it is only the viscous consistency of manuka honey that has a minor immediate effect that helps keep stomach acids down instead of having them rise up as heartburn.
Why Is Manuka Honey So Expensive?
Only New Zealand and Australia have the right balance of bees to tea trees for manuka honey to exist, which makes it scarce in comparison to other similar products. In addition, manuka honey comes in different grades reflective of the antibacterial nature and thus the consequent scarcity of the prime health plants cultivated to supply bees with the pollen needed for honey production. Furthermore, there are only 1700 tonnes of manuka honey exported by New Zealand each year which shows just how limited this high-demand substance actually is.
Should Manuka Honey Be Refrigerated?
Do not refrigerate manuka, honey. Rather, keep it out of sight in a cool temperature-stable place such as a cupboard. Storing manuka honey in the fridge or at too cold of a temperature, such as in a cellar, will cause the honey to crystallize. Even though the texture will be very different from the smooth, silky viscous liquid we know honey to be, it is still safe to eat. Adversely, storage at too high of a temperature degrades the natural antibacterial properties of the honey, so always find a safe room temperature location that's out of direct light.
How Long Does Money Honey Last?
Honey does not expire. Its active microbial properties make it safe for consumption indefinitely as long as it is not contaminated by other means. Honey has even been recovered from ancient tombs such as those of the pharaohs of Egypt in perfect condition. Food safety standards usually recommend consuming manuka honey within three years of opening the jar. Don't panic if your honey starts becoming cloudy and has a thick crystally texture. It still has health benefits, and it's still going to be tasty to eat.
How To Reheat Crystallized Honey?
If manuka honey, or any other honey for that matter, crystallizes, then simply place the bottle or jar into a bowl of hot water. Keep it just below boiling point as you don't want to overheat the honey and diminish its active constituents. Within no time, it'll melt down and become pourably viscous again.
Who Should Not Take Manuka Honey?
The only individuals that shouldn't take manuka honey without first consulting a doctor are those with diabetes, people with bee allergies, and those under the age of one. It is only the concentration of sugar that manuka delivers that makes nutritionists suggest consuming limited quantities only.
Index
Table of Contents
---
Recent Recipes