Simple Pink Starburst Shots
I don't know about you, but when I'm a little tipsy, I want to eat some candy. Sometimes though I don't want to sacrifice my drink for the sake of a snack, but I have discovered the perfect solution: make your drink be the candy. Maybe that sounds crazy, but it's a method that's served me well (especially in college when I was definitely too poor to spend money on both booze and junk food).
Anyway, if you want to condense your drinks and your candy into one cup, look no further than this pink starburst shot! It combines all the sweetness and flavor of a pink starburst (which we all know is the best) with the fun of liquor. The only thing you will need to prepare ahead of time is the lemon-lime mix as it needs to be chilled before use. Once it's made though, you can continue using it in as many shots as you want until it runs out.
These proportions should make 6 individual shots, but if you'd rather just have a cocktail, you can mix together in a regular cup to get 2 small drinks. If you're really going for it, you can put it all in one glass and just have at it, though I recommend you have a snack to help balance it out, perhaps these homemade pizza rolls?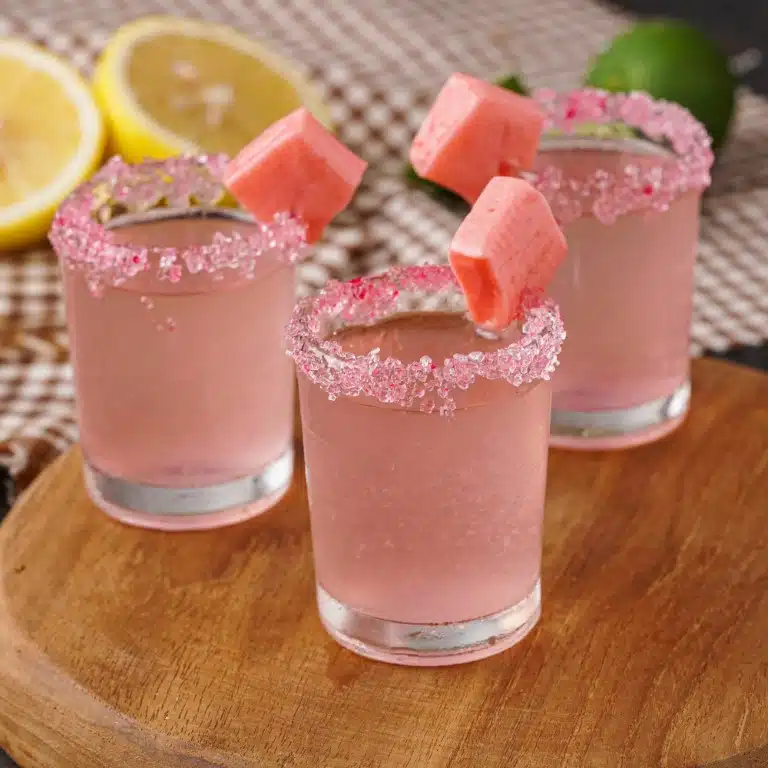 Ingredients
For the lemon-lime mix:
½

cup

water

1

cup

sugar

½

cup

lemon juice

½

cup

lime juice
For the shots:
1

tablespoon

coarse sugar

Pinch

of powdered pink food dye

½

cup

vanilla vodka

½

cup

watermelon sourz

½

cup

lemon-lime mix

6

pink starburst
Instructions
All ingredients ready? Let's begin!

In a small pot over high heat, add the water and sugar.

Stir and mix constantly until the sugar has completely dissolved (this may happen before it even reaches a boil).

Remove the pot from heat and allow to cool to room temperature. You can speed up this process by transferring the sugar water to a safe container and putting it in the fridge.

Once the sugar water has cooled to room temperature or colder, transfer it to a glass jar or other airtight container and add the lemon juice and lime juice.

Make sure the lid is on properly and shake to incorporate the juice and sugar water. Place in the fridge until needed.

To assemble the shots, first mix together the sugar and food dye until the sugar has been colored a pleasant pink shade.

Put the colored sugar on a small plate and set aside.

In a cocktail shaker, add a few ice cubes along with the vodka, watermelon sourz, and lemon-lime mix. Place the lid firmly on and shake vigorously for a minute to mix.

Dip the rims of your shot glasses in the lemon-lime mix then into the dyed sugar to coat the edges.

Pour the liquor from the cocktail mixer into the shot glasses (trying not to ruin the sugar).

Stick an unwrapped pink starburst on the rim, serve, and enjoy!
Nutrition
Calories:
247
kcal
|
Carbohydrates:
52
g
|
Protein:
0.3
g
|
Fat:
1
g
|
Saturated Fat:
0.4
g
|
Polyunsaturated Fat:
0.02
g
|
Monounsaturated Fat:
0.01
g
|
Trans Fat:
0.01
g
|
Sodium:
4
mg
|
Potassium:
60
mg
|
Fiber:
0.2
g
|
Sugar:
48
g
|
Vitamin A:
83
IU
|
Vitamin C:
18
mg
|
Calcium:
6
mg
|
Iron:
0.1
mg
Notes & Tips
If you want to drink this pink starburst drink as a cocktail rather than a shot, pour it over ice and serve that way. You can still rim the cups with pink sugar and a starburst too!
It may be easier to get the starburst to stick onto the edge of the cup if you cut a small slice halfway through one side.
The lemon-lime mixture can save in the fridge for up to three weeks. You can also freeze it in ice cube molds or a container, just make sure if it's in a container with a lid that there is empty space inside for the liquid to expand into when it freezes (otherwise the container may shatter).
If you don't have a cocktail shaker, you can put everything into a water bottle and shake like that or add it to a pitcher and use a whisk to stir well. Be careful if using a glass jar as the hard ice can cause it to break.
Leftovers can be kept in a covered glass in the fridge for about a week, though you should give it another little mix before serving again to make sure the flavors didn't separate.
Substitutions & Alterations
If you don't want to go to the trouble of making your own lemon-lime mix, you can replace it with store bought sweet and sour cocktail mix. I prefer making it myself because it feels a little healthier (at the very least it has no preservatives or artificial sweeteners) and I can tweak it to my liking if I want to. I also find that the homemade version offers a tangier and more enchanting flavor overall.
Perhaps you are making these pink starburst shots for a party or other large gathering, in which case you will need to double or triple the recipe. To make sure you have enough ingredients for that, you can premake a much larger batch of lemon-lime mix. The measurements for it here should make enough for roughly 18 shots (3 batches).
Maybe you don't like pink starburst for whatever reason, or maybe you do but want a more colorful variety for your party guests. Regardless, you can certainly try different starburst flavored shots.
What to Do With Leftover Lemon-Lime Mix?
The lemon-lime mix is, essentially, a citrusy simple syrup. Simple syrup is very versatile and can be used in a number of dishes (not just drinks), so there are plenty of ways for you to finish the excess. one way is to use it for an extra tart lemon drop shot. To do so, treat the lemon-lime mix as the simple syrup called for in the recipe. Depending on how sour you want your lemon drop shot to be, you may not need to add the straight lemon juice the recipe calls for.
---
Recent Recipes